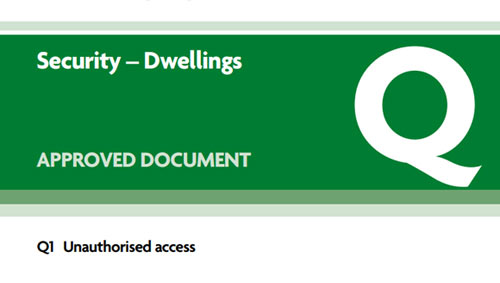 Why are Parts Q and Q1 Necessary?
Each Building Regulation carries with it a requirement to meet certain conditions so that every dwelling in the UK will meet certain standards of safety, efficiency and security. This is to protect the home owner, anyone entering a home and the home itself.
It is the aim of Building Control Departments all over the UK to get the UK housing stock into good condition so that it will last longer and be re-used more times.
No home will be anyone's forever and as each person moves in and makes changes there is a danger that the condition of the dwelling could deteriorate and become unusable in a relatively short time.
As the average age of the UK population rises it is increasingly important to protect the elderly. Part Q plays a big part here also.
If houses are all constructed to the same high standards, they should last longer and therefore become cheaper in the long run.
It will take a very long time but as each home deteriorates, it will be replaced by a new one which will need to meet the new Building regulation Standards.
By implementing Part Q of the Building Regulations, Building Control officers are trying to ensure that homes are much harder to be unlawfully entered and thereby damaged.
What do Parts Q and Q1 Actually Mean?
The aim of part Q and Q1 is to make sure that contractors and house builders of all kinds, including DIYers, Home Improvers and Self-Builders use doors and windows which are entirely suitable for preventing anyone gaining unauthorised access (breaking in) to a dwelling, or to any building containing dwellings such as flats, bedsits or rooms.
The cost to the UK housing economy, let alone the individual and Police costs, is huge and anything that can be done to reduce these costs as well as generally making houses safer and of a much better quality can only be a good thing.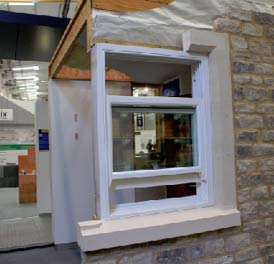 When Does Part Q Apply to my Build or Extension?
While Part Q and Q1 came into effect in February 2015, the legislation is actually applied to any new build or any change of use application received after 1st October 2015. In the case of a building (for example a barn) which applied for a change of use of that building to a dwelling would be subject to these rules.
If planning and regulation approval plans have been submitted before October 1st 2015 they are not subject to Part Q legislation providing the work is started before October 2016. If work has been submitted prior to October 2015 and the physical work has not started before October 2016, then Part Q will be applied to the build.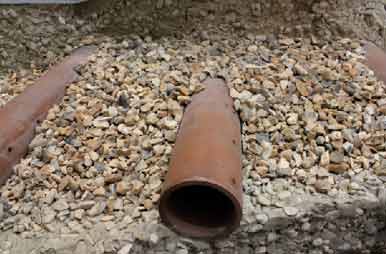 What Type of Doors and Windows Must I Have to Comply With Part Q?
In the UK, most construction materials and products are covered by something called British Standards. A standard, as a noun, is an agreed way of doing something and in the case of British Standards, a committee or well respected people, from every industry, called the British Standards Institution get together to agree on what is the most suitable standard for all building (and other) materials and products. Safety and durability are foremost with functionality being left to the designer and public.
To these ends, doors and windows used in new dwellings, under Part Q of the Building Regulations, must meet certain standards set out by the British Standards Institution. The regulations specifically governing the manufacture of doors and windows which may be used under Part Q are called PAS 24.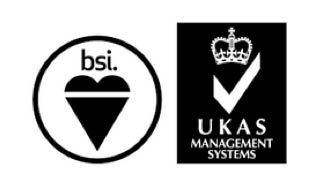 What is a Doorset?
A doorset is complete door assembly (either delivered complete or assembled on site) which includes the door frame, any door leafs, any hardware including hinges and locks and any fanlights or borrowed light apertures which form part of the door or frame.
What is PAS 24?
PAS stands for Publicly Available Specification. This, as the name would imply, means it is a specification which is available to the public, but at a cost! PAS 24 was drawn up in February 2016 and on 09 September 2016 and costs £234. PAS 24 can be bought here if you are in the business of manufacturing windows which will now need to meet the minimum guidelines outlined in PAS 24.
The specification for doors and windows which are permissible to use under Part q and Q1 is fairly rigid in terms of the timber used, the locks and keeps used in door sets. PAS 24 covers the accepted criteria and test methods used for the following windows and doors.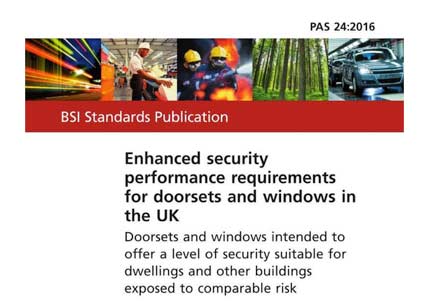 Who Needs to Understand PAS 24
As a home owner delving into having an extension or other dwelling built, all you need to know is that your door sets and window sets are manufactured to PAS 24. You need to ask for the certificate which proves this and your builder or window fitter must be able to provide this evidence.
If you are one of the following you must be able to submit your door or window set to the United Kingdom Accreditation Service, or (UKAS as they are also known) to ensure you have met all of the "fit for purpose" standards needed for PAS 24 certification.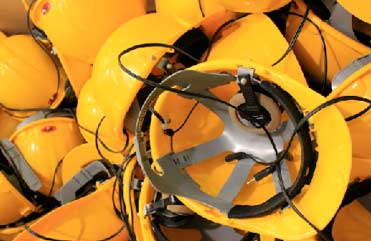 The onus is very clearly on the manufacturer and supplier, not the home owner. Responsibility is pretty useless without accountability and the British Standards Institute are ensuring that this is a top-down specification so the people who make the most money are responsible for the upkeep in British Standards.
Window and door manufacturers
Window and door suppliers
Fabricators of doorsets
Fabricators or windows and window furniture
Construction specifiers
Test house, certification houses and Standards houses
Architects
Trade Associations
What Doors and Door Sets are Covered by PAS 24?
In respect to what types of doors and associated door sets are covered by PAS 24, these are as follows:
Hinged
Sliding on a single or multi-track
Stable Doors
Single and double swinging doors
Pivot doors
Side panels and fanlights
Folding and folding and sliding on single or a multi track.
What Windows are Covered by PAS 24 (Multi Light and Singular)?
When it comes to what windows are covered by PAS 24, these are as follows:
Vertical and horizontal pivot windows
Parallel opening windows
Top and side hng projected windows
Top hung, bottom hung, side hung and butt hinged windows
Fully reversible windows
Fixed casements
Double opening windows
Tilt and turn windows
What if my Windows and Doors are 1-off Bespoke Items?
Your joiner or carpenter still has an obligation to meet Part Q even if your window or door set is a one-off item. Security is paramount in all cases.
Part Q of the regulations contains an appendix (B) which stipulates the requirements for bespoke doors and windows up to 1m wide and 2m high. You must seek further guidance for windows and doorsets wider and higher that this.
Appendix B to Approved Document Q covers
Doorset construction material
Doorset Dimensions
Lock, hinges and letter plates
Door limitation and caller identification
Glazing
Does Part Q Apply to Rooflights?
Yes, Part Q of the Building Regulations applies to any window or door which is accessible under the terms shown below:
What Does Accessible Mean?
An easily accessible door or windows is:
Any part of a doorset or window, which is lower than 2m (measured vertically) from an accessible surface, for example the ground, a balcony with access to a doorset or window or the basement level
Windows under 2m (measured vertically) from a flat or sloping roof (with a pitch of less than 30 degrees) that is lower than 3.5m from ground level
How Should my Doorframe be Attached to the Building Under Part Q?
The doorframe should be fixed to the structure in accordance with manufacturers instructions. This usually means having frame cramps or frame ties screwed to the frame and built into the masonry.
If however the structure is not masonry and is (for example) timber framed and clad then there is danger that unauthorised access could be gained by breaking away the wall around the doorset.
Part Q stipulates that where this is the case, then a resiliant layer of timber sheathing (plywood for example) of a least 9mm thick should be placed around the door, for the full height of the door and at least 600mm either side of the doorset.
If timber sheathing is not used, then the resilient layer should be expanded metal lathing or similar. The idea is to stop a hole being smashed in the wall which could allow either complete access or partial access to locks, keys or bolts.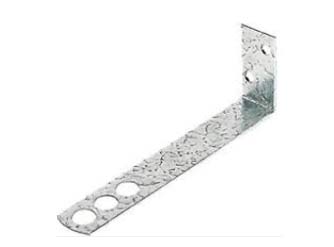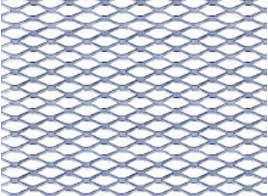 Does Part Q Include my Garage Door?
Part Q of the Building Regulations includes garage doorsets and public entrance doorsets which provide access into a dwelling or into a building containing a dwelling or dwellings.
After entering a garage door, there is no further access into the dwelling, Part Q does not apply.
If there is a further doorset into the dwelling, after the garage door, then either one of the garage door, or the second entry door need to be secure as per Part Q.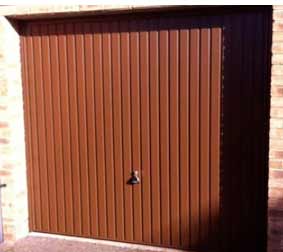 How Big can my Letter Box be Under Part Q Regulations?
If your door is to have a letter box it must be no bigger than 260mm x 40mm. It should also have a flap designed to hinder anyone tryong to gain entry by reaching for keys or bolts and locks etc.
Can I Have Glass in my Front or Back Door?
If the glass in any door, when broken, would allow someone to reach in and gain access by pulling locks and bolts, the glass must be of P1A quality.
If your door does not have glass or any means of identifying callers, a door viewer should be fitted as well as a chain or door limiter.
The chain or door limiter does not apply where (for example) care workers may need to enter the dwelling independently of the occupier.
What is P1A glass?
There are a number of tests for ensuring different classes of glass are safe against unauthorised entry such as burglary.
P1A glass laminated glass is tested by dropping a weight of 4.11KG from various heights onto the glass 3 times to simulate blows from a weapon as if trying to gain entry.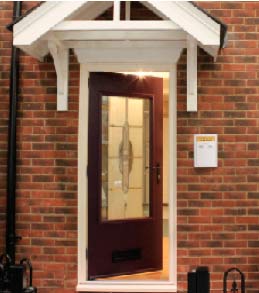 That's Part Q of the Building Regulations covered. If you want to know about any more about the other Regulations please see our project on an overview of the UK Building Regulations.