If you have a family cat then fitting a cat flap into a door in your home is an essential task so that the cat can come and go freely as it pleases.
If you are a novice DIY'er, then fitting a cat flap into a door may seem like a huge and risky job, but by following the steps below and using the instructions included with your cat flap kit, you are sure to achieve a great finish.
What is a Cat Flap?
A cat flap is essentially your cat's very own front door to your home and allows it to come and go as and when it needs to. If you do have a cat then fitting a cat flap is really a necessity.
If, like the majority of us, you work a fulltime job which means you leave early in the morning and may not get back until late at night, unless your cat is ready to go out when you leave it may be stuck inside all day. Likewise if it does go out when you leave, it's then stuck out all day until you return, in potentially all manner of weather.
By fitting a cat flap, it will allow your cat to come and go as and when it needs to and not just when you need it to, as being a cat owner, you will know, that they are fairly independent creatures and generally will want to do things in their time.
Additionally, cats that have access to a cat flap also tend to be a bit more healthy as they can exercise and when they need to, reducing any chances of contracting any serious health issues such as obesity.
Also, as we've briefly touched on, a cat flap will allow your cat to get back in your home in any emergencies, such as if it's in danger or if the weather takes a turn for the worse.
Finally, a huge benefit for you is that, if your cat needs to go out in the middle of the night, he or she doesn't need to wake you up to let them out!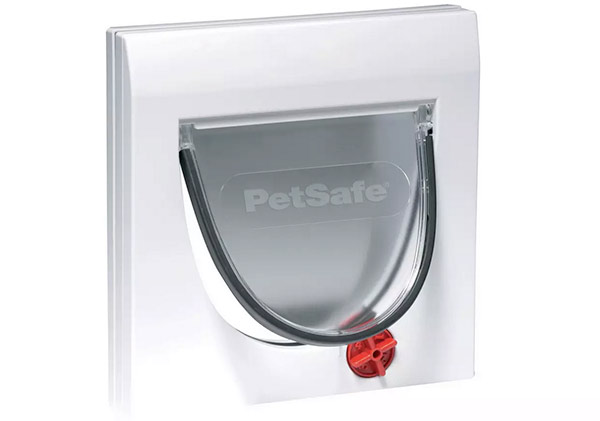 Different Types of Cat Flap
To cater for all the different situations, types of doors, cat requirements etc. that may arise there are several different types of cat flap currently available and these are as follows:
Standard Cat Flap
The most basic form of cat flap and generally also the cheapest. This type simply fixes to your door and features a two-way swinging door that allows your cat to enter and exit your home.
Generally, these are made of either plastic or aluminium and allow the cat to simply push lightly in either direction to come in or go out.
One of the downsides to these is that, as you have no way of vetting who is using them, they can potentially allow other cats and animals to enter your home!
If you are looking to purchase one of these, make sure that it seals well and you don't want it letting in any draughts!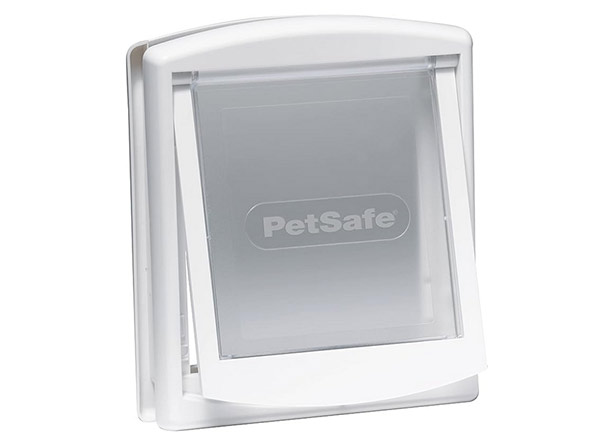 Locking Cat Flap
Generally, locking cat flaps are pretty much the same as a basic cat flap with one major difference in that, as you may have guessed, it features a locking mechanism.
There can be several different types of lock available, one that simply locks the flap shut from both sides and others that allow you to lock it for entry, exit or both.
These types give much more flexibility, as if your cat isn't in by the time you go to bed, you can simply engage the entry lock, allowing it to come back in but not go out again.
Additionally, once your cat is back in you can then lock the flap and ensure that no other cats ot animals can enter your home in the middle of the night.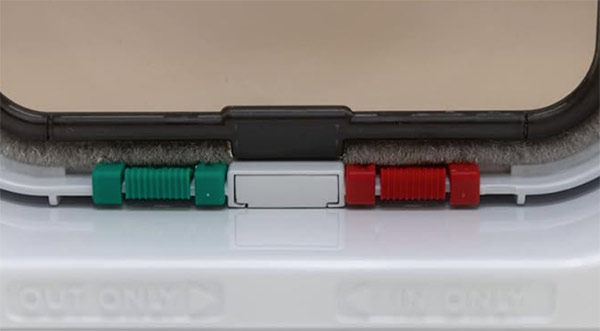 Magnetic Cat Flap
The magnetic cat flap is a form of locking flap but a little more sophisticated. The flat itself is locked closed by a magnet and a special magnetic chip is fixed to your cats collar.
When your cat gets within a certain distance from the flap, the magnetic chip turns off the magnet holding the flap shut and allows the cat to enter. Once through and away the magnet engages again and locks the flap.
This has the benefit of allowing your cat to come and go as he/she pleases but ensures that nothing else can enter.
Infrared or Microchip Cat Flap
The microchip or infrared cat flap works in pretty much the same way as the magnetic cat flap above. A special microchip is installed or attached to your cats collar that when within a certain distance from the flap allows it to open and your cat to enter.
Once a certain distance away, the flap then locks preventing access by any other cats or animals.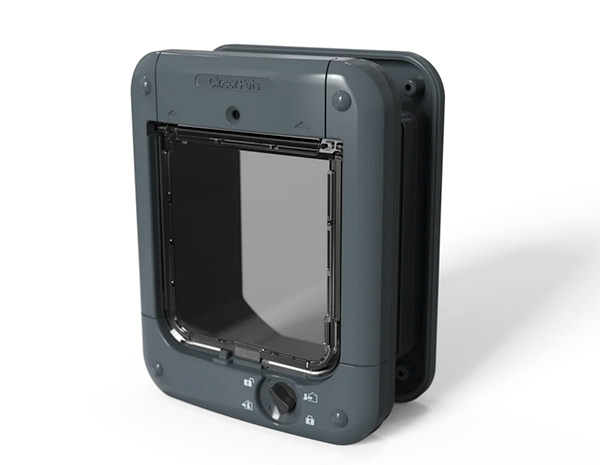 As briefly mentioned above, whatever type of cat flap you go with, ensure that it seals correctly and doesn't let any draughts in as although your cat may be happy, your wallet or purse won't be if your heating costs suddenly go through the roof!
Also, the majority of today's cat flaps are now square or rectangle in shape, but many older ones tended to be circular. This can pose some issues if you are replacing an older flap with a new one, so in these instances it's often the case that you will need to find a new flap large enough to cover the hole easily and then square the round hole off. This will then allow you to fit your new flap correctly.
Can you Install a Cat Flap in a UPVC or Glass Door?
Yes, you certainly can install a cat flap in both a UPVC door, glass door and also into a composite door. However this isn't quite as straightforward as fitting into a timber door as there are a great many different types and importantly thicknesses.
Whereas the area of a door a cat flap is installed into in timber external doors tend to be mostly a uniform thickness, UPVC and composite doors come in a range of thicknesses, some similar to timber doors and others only 6 or 7mm thick so this can have a drastic effect on how holes are cut and also what you have to fix into.
Additionally, when it comes to cutting the hole for the flap to fit in, there are a range of issues you may encounter. If fixing to a very thin section, this can easily crack and break meaning you will then have to replace the entire panel.
With some types of door, especially composite doors, they can feature sheet timber such as OSB, MDF or ply in the middle of the panel and some can also include a steel or aluminium sheet or bracing bars that give additional strength to the door, which can all add additional time and hassle to the job.
When it comes to glass doors, as you may imagine, these can be extremely difficult to fix into and require specialist glass drilling and cutting equipment.
If you need to fix to a glass door and have never worked with glass before like this, we would suggest that you leave this to the professionals to do!
Measuring for a Cat Flap
Before installing and even purchasing a cat flap, this first job to do is to measure up so that you know exactly what size cat flap you need for the size and type of door you have also, more importantly, to ensure your cat can enter and exit your home safely and comfortably.
To ensure that your cat flap is the correct size for your cat, you will need to take the following 2 measurements from your cat:
Torso: Measure from the top of your cats shoulders down to the base of their chest or stomach
Width: Measure your cats widest part. This is normally across their chest or across their hips
Height: Measure form the floor up to underside of your cats tummy
Depending on your cat, this can either be fairly straightforward or can be a bit tricky. Don't scare them or force them into doing anything they don't want to do.
Once you know these measurements you can then roughly measure the flat area at the base of your door to ensure that you have enough space to fit your flap and then also purchase a flap large enough for your cat to comfortably use.

Tools Needed to Install a Cat Flap
In order to fit your cat flap correctly and ensure its safe use, you will need the following tools:
Cordless drill/driver
Drill bits – one 5/6mm wood bit and one 10/12mm flat bit
Jigsaw with suitable blade for material you are cutting
Multitool if you have one in place of the jigsaw above
Ruler
Pencil
Tape measure
Cat flap kit including fitting instructions (for the shape template)
Spirit level
Screwdriver
Spanner for tightening fitting nuts
Sandpaper
File and/or rasp
Silicone sealant and/or caulk and applicator gun
Paint and brush (for painting internal cut section of door if timber)
How to Install a Cat Flap
For the purposes of this example, we are going to be installing a cat flap in a solid timber front door.
If you are installing in a UPVC or composite door and you have checked to ensure that the door is suitable for installing your cat flap, the process is pretty much exactly the same as detailed below for a timber door.
Step 1 – Measure Up
Using the steps outlined above, measure your cat as directed and note down each measurement.
If you haven't yet purchased your cat flap, make your purchase, ensuring that it is wide and high enough for your cat to easily get through.
Next, take the measurement from floor to the underside of your cat and transfer this onto the door you are fitting your flap to, around the centre of it. Using a small spirit level, place the level on the mark, level it up and then draw a horizontal line. This will mark where the bottom of the flap needs to go.
Step 2 – Mark the Centre of the Door
The next job is to mark the centre of the door along the line you have just drawn.
To find the centre of the door, measure its width and divide by two. Mark an "X" on this point on the door as this will be where the centre of the cat flap needs to be sited. Always remember to measure twice as once it's cut, you can't glue it back together again!
Step 3 – Mark Cat Flap Outline on the Door
Next, flick through the instruction included with your cat flap kit and find the template drawing that should be included.
Take the template and place it on the door so that the base of the opening section is lined up with your horizontal line and the centre is over the centre mark on the door and then stick it in place using some tape.
If for any reason you do not have the instructions you will need to dismantle the cat flap and mark out the opening on paper in order to measure the required hole diameter.
Ensure that you draw your shape, be it a circle or square, accurately on your piece of paper. If it's a square ensure that your shape is actually square (you can do this by measuring the diagonals between corners, they should be the same) and if a circle, it is actually a circle and not slightly ellipse.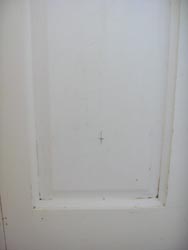 Step 4 – Drill Corner Holes for Your Jigsaw Blade
Once your template is securely fixed to the door, the next task is to drill out the holes at each corner of the opening section that will then allow you to get your jigsaw blade in to cut your square shape out.
Drill a hole slightly larger than the width of your jig–saw blade so that the edge of the drilled hole is right on edge of the line of your shape on the door. The ideal drill bit to use here is a flat bit around 10mm.
If your shape is square, drill a hole just inside each corner but if your shape is a circle you may be able to get away with drilling one hole at the top. If not, divide the circle into sections by drilling holes top, bottom, left and right.
Once drilled out, put the template to one side and then use a straight edge to draw lines around the square shape, on the outside of each drill hole so that the base of the hole is touching each line. These lines now mark the section that needs cutting out.
Step 5 – Cutting out Your cat flap Shape
With your holes and lines marked you can now start cutting out your shape. In an ideal situation you would remove the door and place it on a flat, level surface to do your cutting but sometimes this is not possible so we will assume that the door cannot be removed and you will have to cut it in situ.
Set up your jigsaw and insert the correct type blade. Often a fine cut blade is the best to go for (unless the door is particularly thick, in which case a correct timber blade is the one to go for) as it will give the cleanest cut and produce the least amount of vibrations.
Push the jigsaw blade through one of the holes you previously drilled and ensure the base plate is flat and level on the face of the door and begin to cut, following your line as closely as you possibly can. Take your time and don't rush!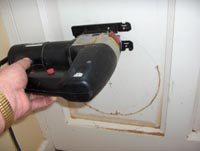 If you have a panelled door, as shown in the images below do not cut through the door mullions or vertical rails. Place the cat flap in the centre of one of the panels.
Do not attempt to push the jigsaw to make it cut faster. Let the blade and the motor do the work and you can then just guide the blade around to get a perfect circle or smooth–sided square.
A word of warning here: Some cats like to nudge themselves up against the door to let their owners know they are waiting to come in. Check the other side of the door before you start to drill and cut!!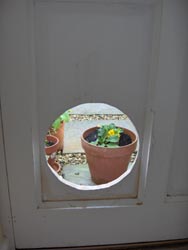 A further point to note here is that if you have a multitool handy then this will be much better to use than a jigsaw and they are much lighter and easier to manoeuvre and often cordless. This makes a huge difference, especially when cutting in situ!
Step 6 – Tidying up the Hole
When you have cut the hole, use a piece of sandpaper to smooth off the edge of the cut. In most cases a 240 grit sandpaper will do the job.
If you are indeed cutting a UPVC door, make sure that you are using the correct blade in your jigsaw. Again, this should be a fine cutting blade, usually marked for use with UPVC or metal.
If in doubt, ask for advice on blades at your local DIY store.
Step 7 – Check the Flap Swings Smoothly
With the hole cut out, place the flap section up against the door, ensuring it's in place and push the flap open to make sure it's a smooth action and it does not bind on anything.
If it does, make note of where it is binding and use a file, rasp or a more course piece of sandpaper to adjust the size of the hole as required.
Remove a small amount at a time, testing regularly so that you don't remove too much that could then create gaps!
Step 8 – What Section Goes Where?
There are many different kinds of cat flap but all are fairly self-explanatory from a fitting point of view as, usually, there is only one way they can go together.
Again, your instructions should explain fully which part goes where or on what side of the door.
In pretty much all cases, the section with the flap should always go on the outside of the door as this will provide the best protection from the elements as you don't want the insides of the door to be exposed to any wind and rain as this will rot the door if it is timber. The manufacturer's instructions should state this.
Once you have worked out what goes where, it's then time to mark and drill out any fixing holes.
Step 9 – Drill Fixing Holes
Take the flapped section and place it up against your door so that it sits exactly where you would like it to go e.g. over the hole that you have just cut with equal amounts of the piece sitting over the hole so everything is square.
Take a pen or pencil and use it to mark each fixing hole. Remove the flap and then drill out the holes using the correct sized drill (should be stated in the instructions).
It's also a good idea to use a little sealant to make the external joints between door and cat flap water–tight and if the joint between the door panel and mullion has been stretched at all by the jig–saw vibration, it may be as well to make good with some decorators caulk.
If your door is timber, it is also a good idea to paint what will now probably be the bare sections of timber inside your cut out. This will help prevent any water and moisture soaking into the wood and causing rot.
Step 10 – Fix it all Together
Place the outer section on the door and push each fixing bolt through each hole and through the holes in the door. As suggested, apply any sealant to the rear of the flap and also to any holes so that everything is fully sealed up.
To hold everything in place while you work it may be useful to get someone to help you. Trying to hold one section still and fit and screw the other while on the other side of the door can be a real pain!
Push the inner section of the flap over the fixing bolts and screw the provided nuts onto each one and tighten up.
Step 11 – Test Everything and Make Sure it Works Correctly
The Final job once everything is fixed in place is to test the cat flap out so first do a manual swing of the flap to ensure that it opens and closes easily both ways.
Next, as it's the cat that will be using it, the final test is done using the cat as it would naturally. Using some food or a treat, tempt your cat to come through the flap. If all is well the cat should happily come on through to retrieve the tasty reward.
If he or she is a little reluctant as its new don't force them through as this may scare them into not using it at all. Just leave the food and let them come through in their own time.
One point to note is that if you are using a magnetic, infrared or microchip cat flap then make sure you securely install the chip onto your cats collar so that they can actually access the cat flap.
Installing a cat flap into a door can seem like a daunting task if you have never done this before, however as long as check out the door and get the correct type of cat flap and take your time fitting it, you're sure to get a great result.