A flush door is a door without any additions. There are no panels or glazing windows just a straight forward flat faced door. Painting a flush door, although they are the most basic of doors, is the hardest job of all door painting as there can be no break when painting a side. If you stop for more than a minute or two the edge of the paint hardens and this can show through the painted finish as a ridge in the paintwork.
The flush door should be held open by using door wedges pushed in under the door after a piece of cardboard or old carpet offcut has been pushed under the door to protect the floor. Take off the door handles and smear a tiny bit of vaseline on the hinges. This will stop any paint sticking to them and if you do get paint on the hinges it will allow you to wipe it off easily. Use the hose of the hoover to suck out any sawdust from the lock or latch apertures.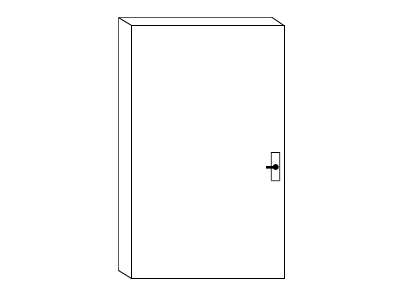 Flush doors can be painted by roller and if you do this use a small (radiator) roller. Go over the rolled door with a dry brush to brush out any stipple effects the roller may have left. It is much better, especially when using gloss paint to use a roller with natural fibres such as sheepskin, mohair or wool.
The order the parts of the door are painted in is shown in the diagram. First make sure the door is sanded down and de-greased. This can be done by rubbing over the door lightly with 150 grit sandpaper before wiping with a rag slightly damp from being dipped in white spirit. Wait 10 minutes for the white spirit to evaporate before painting. Do not be tempted to use cheap paint brushes as you will be forever pulling bristles out of the wet paint.