The majority of UK households utilise mains gas for heating and hot water purposes but there are (around 4 million) numerous homes that run oil fired central heating systems.
This can be down to several reasons but the most common is that the mains gas network is not close enough to connect to.
This herein defines the main difference between gas and oil fired systems – gas is delivered to a property via mains gas lines on demand and when required whereas oil is delivered by truck and stored on site at the property in a storage tank.
Using oil in a heating system can sometimes be referred to as a "wet" system.
How Efficient is Oil Fired Central Heating?
Is Oil Fired Central Heating energy efficient? This is a question asked by many many of our users. The answer is yes.
A good quality oil fired central heating system, well installed, should give you every bit as much efficiency as a gas system, if not a little more in some cases. For the best oil fired heating system the same control should be offered as those given in any similar system.
Room thermostats should be used, especially in the lounge
The thermostats and boiler should be wired in an interlock to stop any short cycling when either hot water or room heating are not needed
The hot water tank should have a cylinder thermostat
Hot water and heating should be programmed separately on a 7 day timer
Thermostatic radiator valves (or TRV's) should be placed on appropriate radiators
Advantages and Disadvantages of Oil Fired Central Heating
Advantages
Oil is highly efficient as a heating fuel
Oil fired condensing boilers provide more efficiency by recycling waste flue gases
Disadvantages
Prices rising and are likely to continue to do so
Not being on a mains supply might mean you run out before you get a new supply delivered
The boilers normally regulate flow rate for hot water meaning it may be slower than that supplied by gas
Boilers (including the oil tanks) need servicing annually
Locating the storage tank can sometimes be an issue
Oil Fired Boilers
An oil fired boiler, especially a condensing model, can give an efficiency rating of up to 98% just as gas can. From the 1st of April 2007 it must be noted that boiler installations must be made with a condensing boiler and they must also have a Sedbuk efficiency rating of at least 86%.
Oil fired combination boilers are also available but it should be noticed that the hot water on demand feature of a combination boiler is a little slower in the oil boiler field.
Oil boilers can be fitted with balanced flues or with open flues but we would suggest that a balanced flue boiler is much more versatile, efficient and can be used in more locations.
In terms of operation, they work in very much the same way as a gas-powered boiler. Using oil, they heat water that is then used to heat your radiators and provide hot water. The majority of oil fired combination boilers also feature an internal hot water store rather than relying on the on-demand heating of water most commonly found in gas combi boilers.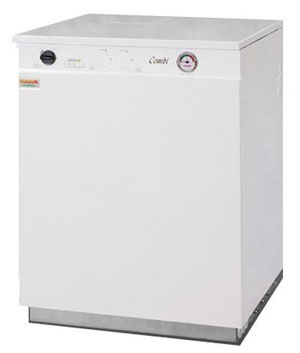 Oil Used in Central Heating
Just about all oil fired central heating used in Britain on a domestic level uses 28sec oil. This oil is sometimes referred to as Kerosene. The "sec" part of the oil description refers to seconds.
This seconds part is used to define the viscosity (or thickness) of the oil. Originally this was measured by the time it takes for a ball bearing of a set size and diameter to pass through a set distance of the oil.
28sec oil burns very cleanly leaving minimal deposits such as smoke and soot on afterburn. 28sec oil can also be used in popular kitchen ranges like AGA. The other type of oil that can be used in a domestic situation is 35sec oil.
You may be thinking, "how do I tell these two oil types apart?" There is quite an easy way of doing so by checking the colour of the oil:
28sec Oil = Yellow
35sec Oil = Red
The CO2 emissions for oil fired heating are, using an efficient boiler, no greater than normal gas.
Fitting an Oil Fired Central Heating Boiler
Fitting of Oil Fired Central Heating boilers should be done by a competent fitter. That is a fitter who is capable of measuring flow and pressure before the boiler is commissioned and again afterwards to make sure there are no leaks or dangers to the home owner. It is not recommended by DIY Doctor or Oftec (www.oftec.org.uk)that any form of central heating boiler is installed in a DIY Fashion.
If you are looking for a reliable and qualified engineer to install and oil fired system or provide you with a quote please see our find a tradesman section.
Central Heating Oil Tanks
Oil tanks are sited outside the house and should be separated from the boiler by an automatic shut off valve which will prevent any fire in the boiler spreading to the tank.
Modern oil tanks are made of plastic and are relatively easy to keep clean and maintain. They can be sited either above ground or some can be sunk below ground.
If the tank is to be sited above ground then there are some rules that have to be adhered to in terms of what the tank can be placed on e.g. a solid base. The base itself has to be:
Substantially constructed so that it provides more than enough support for the weight of the tank and its contents
Flat and level
Made from non-combustible material such as concrete, stone or paving slabs
Suitably sized so that it is at least 300mm larger on all sides than the tank itself
Rules and regulations concerning the positioning and care of combustion appliances and fuel storage systems can be found in Approved Document J of the building regulations.
Information regarding Chimney stacks, flues and hearths can also be found in this document.
The rules governing how far an oil tank should be away from the building depends on a few things including whether part of the building will overhang the tank in any way or at any height. Slim line tanks could solve the problem if space is an issue.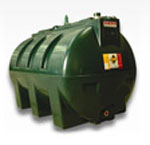 Providing, of course, that the walls to your house offer a minimum fire resistance rating a tank can be sited a lot closer to a house than one would think.