Most homes in the UK use a central heating system to heat them, however there has always been a fair bit of confusion surrounding them, particularly how they work, so in this guide we go through everything you need to know about boilers, central heating systems and how they operate.
What are Central Heating Systems and How do They Work?
A central heating system generates heat in one central location and then distributes it around a building using one of two different methods, either pipework for water or ducting for air.
Traditionally the heating in a home was supplied by an open fire, but in mid to late 80's mains gas supplies began to reach UK homes and with this gas boilers and gas-fired central heating systems that were much cheaper and more efficient to run and manage.
How do Central Heating Systems Work?
In terms of how a central heating system works, it will very much depend on the type of system you have, however most homes in the UK have what's known as a wet central heating system, where a single, central heating appliance such as a boiler heats water that is then pumped through pipes to radiators around the property that in turn then heats the air through convection.
Most central heating boilers today use oil or gas to heat the water in the system before it's piped to the radiators. Older systems like this only featured a single pipe that ran between radiators and back to the boiler. This was very inefficient in that as the water flowed from radiator to radiator it lost temperature meaning the last radiators were often much colder.
With newer twin-pipe systems this issue has been eliminated as one pipe supplies hot water to the radiator and the other takes it back to the boiler for re-heating, making the system much more efficient.
For even more fine tuning and efficiency a room thermostat is used to turn the heating on and off according to the temperature it's set to and a system programmer allows occupants to set the boiler to turn on and off at specific times.
Today's modern gas-fired combi-boilers also take care of heating the hot water, heating it on demand rather than older systems where it's pre-heated and stored in a tank for later use, which is much less efficient.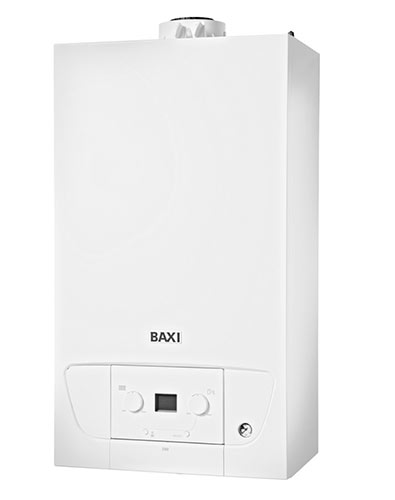 Types of Central Heating System
There are numerous different types of central heating systems that can be used to heat a home, but in general the most common are wet heating systems, storage heating systems, dry systems, fireplaces or wood burners or furnaces and central or district heating systems.
The type of heating system that is suited to a particular building will depend on many factors including size, how they function, existing infrastructure, cost, efficiency etc.
For example, although a boiler fed system with pipes and radiators is very efficient in a standard home, when used to heat an office block it becomes very inefficient due to the size and space that needs heating, so a larger system is more suited.
Wet Heating Systems
As we've discussed above, a gas or oil boiler is used to heat water that is then piped around a series of radiators that in turn heat the room they're in.
Wet central heating systems are very efficient and low maintenance, generally requiring only annual servicing unless faults occur, however if quality parts and products are used then any faults should be minimal.
Most systems such as this also run the hot water in the home, heating it on demand rather than needing tanks to store pre-heated water, which is costly and inefficient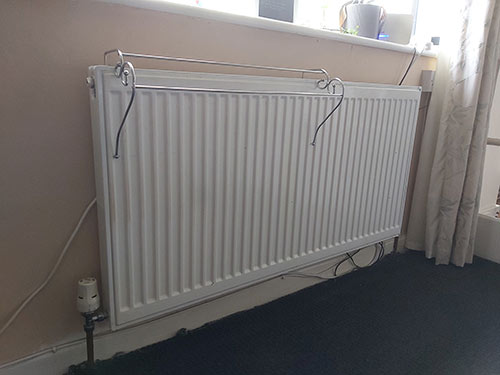 Storage Heating Systems
Although quite old and dated now a few homes in the UK still use them. Electric or night storage heaters as they are also known use electricity to heat firebricks contained within a metal cabinet.
The bricks then hold on to the heat and releases it slowly throughout the following day keep the home warm.
The heating of the bricks is done overnight outside of peak hours so in many cases, systems like this can utilise Economy 7 and 10 tariffs, meaning electricity is charged at a much cheaper unit rate.
Despite this though they do take a long time to heat up and don't actually give off much heat so are regarded as quite inefficient and now obsolete.
Dry Heating Systems
Also known as a warm air system, they featured in some homes up until the 70's but are very rarely seen now other than in large commercial buildings.
They work by using a boiler to heat air that is drawn in from the outside. The heated air is then pumped around the building using large runs of ducting.
Although they work well with larger structures they're not terribly well suited to smaller areas due to amount of ducting that is needed and the space that it takes up.
Fireplaces, Wood Burners or Furnaces
In days past, the fireplace was the main source of heat in the home and in a lot of cases also doubled up as a cooking source.
Although many older homes still have fireplaces in them, and many still use them, most new build properties are built without them as they rely on modern wet central heating systems for heat.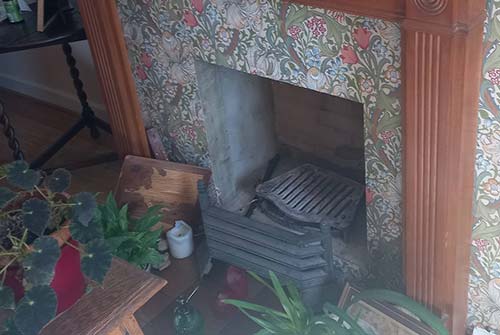 Due to the cost and availability of gas, many homes have reverted back to the open fire or a woodburner.
Woodburners have become a very popular choice in recent years due to their ease of installation (especially if you have an existing fireplace), relative cheap cost and efficiency as the heat is contained more so than an open fire so fuel tends to last longer.
Although restrictions are now in place in terms of what fuel you can burn in a woodburner, only timber with a moisture content of 15% or less, they can also be fueled using eco-friendly wood pellets.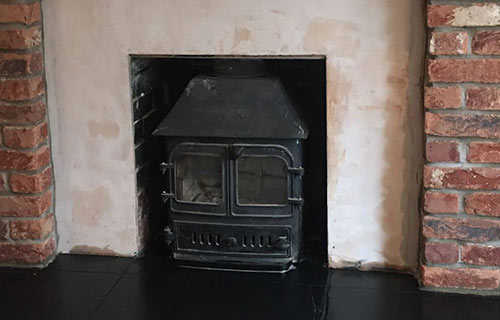 In terms of central heating, it is possible to use both open fires and woodburners to run this using what's known as a "back boiler", but these tend to be very inefficient and pretty much totally outdated these days.
When it comes to furnaces, these are generally only used in the U.S. more so than in the UK. Typically a gas, oil or similar fueled furnace will either heat water or air that is then pumped via pipes or ducting around the home to heat it. Systems such as this also normally handle the heating of the hot water
Central or District Heating Systems
This type of heating system is similar to a standard wet system in that water or air is heated by a central boiler, however instead of just being sent around one home it's sent around two or even more. In some cases a whole town!
Normally a central boiler will heat water to be used for heating or hot water and it's then pumped to individual homes via a network of pipes.
Although this type of heating system isn't commonly found in the UK, it is becoming more common due to the fact that there is only one boiler involved and no associated costs, other than the shared maintenance costs of the single boiler and the pipework, and the initial outlay.
Types of Boiler Setup and Central Heating Configuration
Within UK homes there are 3 different types of boiler setup and configuration for central heating systems; the conventional heating system, the pressurised or system boiler system and the more modern combi-boiler system, each has it's own positives and negatives.
The Conventional Heating System
The conventional heating system was at one time the most popular type of heating found in UK homes.
It requires two water tanks located high up, normally in the loft; one being a cold water storage tank the other an expansion/feed tank. This system also requires a hot water cylinder to be installed, normally in an airing cupboard.
The mains cold water from the feed storage tank is fed down to the boiler through mains pressure and gravity where it is then heated when the heating is switched on and then pushed around the pipework and radiators. The expansion tank is used as additional storage space to allow for the fact hot water expands.
The boiler also heats water for the hot water system. Once heated this is then stored in the hot water storage tank and is available immediately (or as soon as the feed allows). However when this store has been used up it has to be reheated, this could take anything up to 1 hour.
This type of system is considered the least efficient as there are heat losses from the pipe work to and from the boiler to the cylinder and the cylinder itself. Also as the system relies on gravity there are often issues with water pressure.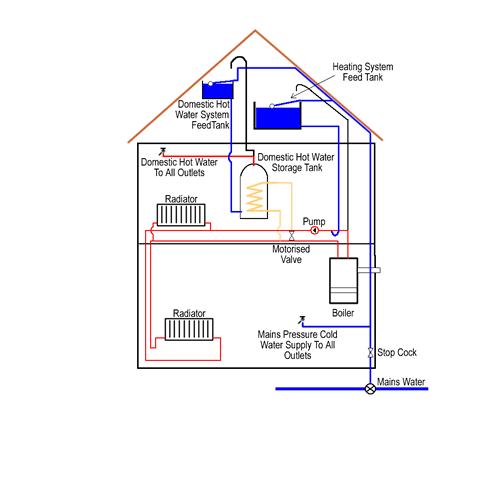 System Boiler or Pressurised Heating Systems
The system boiler or pressurised heating system is an evolution of the conventional heating system that fixes some of it's major issues, so it operates in a similar way to a combi-boiler system.
As opposed to using feed and expansion tanks to store water, it is taken directly from the mains and piped straight into the boiler where it's heated for the radiators. This is known as a Heat Only system as it only heats the radiators.
The hot water for this type of system is then heated in a hot water storage tank where it is also stored.
Variations on this type of system are known as S Plan and Y Plan system boiler systems and with these they also heat the water in the hot water storage cylinder as opposed to the cylinder doing it itself.
The main benefit of this setup is that by using a storage tank, it can then feed multiple bathrooms or locations at the same time at mains pressure without any drop off, much better for large properties with high hot water demand.
System boiler systems also come in two types, vented low pressure and un-vented high pressure.
Although a great solution for high demand, pressurised heating systems are very complex and due to this expensive to install and maintain. Additionally they don't work well in areas where there is low mains water pressure.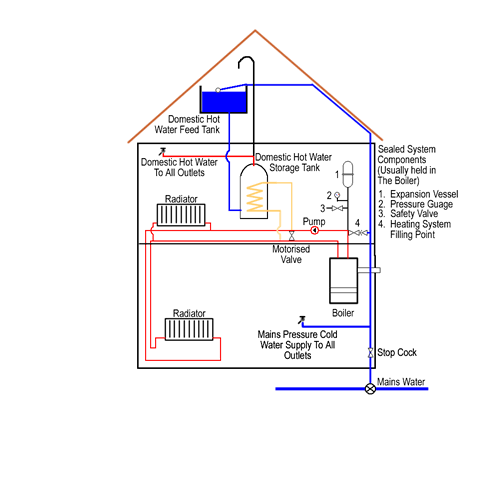 Combi-Boiler Heating Systems
The combi-boiler heating system is now the heating system of choice and on the whole the most popular type of system installed in UK homes.
Most combi-boilers run on mains pressure water and so do not require tanks to be placed in the loft. They also eliminate the need for a hot water cylinder as they instantly heat the water when it is needed for both the central heating and hot water systems.
As water is only heated on demand when you actually need it, it is much more efficient than storing it and having to reheat it when it cools over time.
Another benefit with the combi is that everything runs at mains water pressure meaning it has good pressure, including being able to run power showers without the need of a pump.
Combi-boilers require the least amount of plumbing thus offer a cost saving when installed, however they are much more complicated so need regular maintenance form a Gas Safe registered engineer and as they heat on demand, running 2 hot taps at the same time with result in poor flow and not very warm water, so not great in large properties with multiple bathrooms.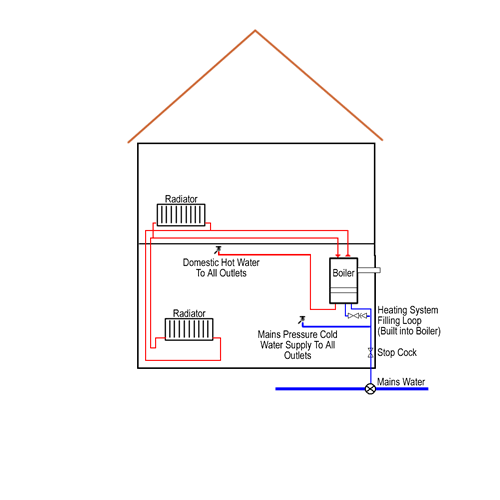 Central Heating Controls
In order to turn the heating or hot water on or off or control the amount of heat being produced by a given radiator for any of the central heating systems above there are a number of different control units that are used, these are as follows:
System Programmer
The Programmer control unit for your boiler is pretty much how the heating and hot water systems are controlled and depending on the type of system you have will depend on whether one or both systems can be individually adjusted.
If you have either a conventional or system boiler/pressurised system then you should be able to control both the heating and hot water independently, but this will depend on the type of system you have. If you have a combi-boiler system then you will only be able to control the heating.
With newer heating systems you will probably have a digital or electronic control unit that will be located next to the room thermostat or in the kitchen, hallway or possibly the airing cupboard if you have one.
However if your system is pretty old then you may only have a time clock programmer. This is basically the same as a mechanical timer plug and timing is set by lining up arrows or setting pins.
When it comes to what you can do, heating programmers usually allow you to set on and off times for your heating twice a day (morning and night time), turn the system on or off or set it to stay on all the time.
Room Thermostat
This is the next most important control unit and as you may guess it sets the temperature for your heating system.
To ensure your home is heated correctly the thermostat is normally located in the hallway or in the most frequently used room e.g. the living room.
It works by sensing the surrounding temperature of the room and then turning the heating on or off depending on what the temperature is set to on the thermostats dial. This is normally somewhere between 18°C and 22°C in most homes.
For example, if the dial is set to 19°C and the room temperature falls below this the thermostat will signal the heating to come on and when the temperature rises above this it will then signal the boiler to turn the heating back off.
In recent years "smart technology" has really blown up, especially those systems geared around central heating. One of the best known is the Nest system from Google. This is part of a full blown home automation system but it also features a smart thermostat that can be used to control your heating over the internet.
Systems such as this can make already efficient systems even better by allowing you total control. For example if your heating is set to come on at a certain time but you don't make it back, you can turn it off or delay it, preventing any wasted energy.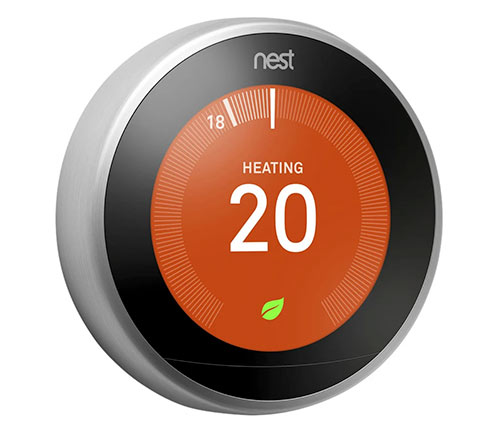 Thermostatic Radiator Valves or TRV's
The TRV is a fairly recent innovation and it allows you to control the heat output of an individual radiator.
They resemble a traditional radiator valve but have a much larger cap with numbers 1 – 5 stamped around the edge.
Each TRV has it's own thermostat built into it and depending on what number the valve is set to, will depend on what temperature the radiator is set to turn off at.
As a rough guide each number equates to the following temperature and once the ambient temperature around the TRV valve hits this temperature, the valve turns off the flow of water and when it drops it allows water back in and the radiator heats up:
0 = off
1 = 10&dec;C
2 = 15&dec;C
3 = 20&dec;C
4 = 25&dec;C
5 = 30&dec;C
* (frost setting) = 7&dec;C
TRV's are now fitted to all modern radiators and when used correctly can have a real impact on reducing the amount of wasted energy and in turn help reduce your heating costs.
Alternate Types of Heating
Aside from the central heating systems listed above there are some further heat sources that can be used to heat a home
Plugin Portable Electric Heaters
There are numerous different types of portable electric heaters, some work on a convection basis, heating the surrounding air and some radiate heat, heating objects immediately in their path.
Most types have some form of heating element inside that creates the heat that is then dispersed, however some are oil or liquid filled and a heating element heats the liquid that then radiates the heat.
One the whole, heaters such as these are fairly good at heating small spaces such as a single room for short periods but are pretty inefficient and can use huge amounts of electricity.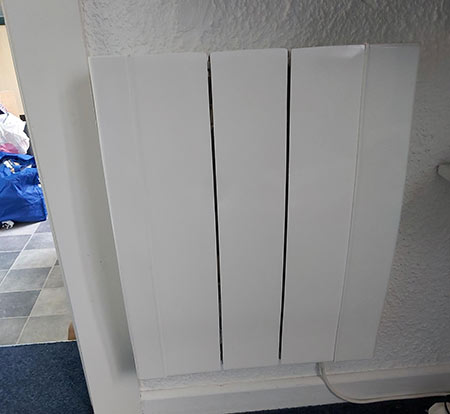 Gas/Kerosene Heaters
These types of heaters were popular from the 60's to 80's but are very dated now.
Although many still exist they are regarded as a bit of a health hazard due to the fact that they burn gas or kerosene inside a building and don't vent the exhaust gases outside, which if they don't work correctly can easily cause carbon monoxide poisoning.
Additionally as they use the oxygen within the room as well as vent the exhaust gas, this can also lead to oxygen depletion within the room space, so they must only ever be used with an open window for venting exhaust gas and allowing fresh oxygen in. In addition, oxygen depletion and carbon monoxide monitors must also be used.
Underfloor Heating
Underfloor heating has grown massively over recent years as a heating source for homes. It works in a similar way to a traditional heating system with radiators but instead of a few pipes supplying a few radiators, pipes or electrical heating mats are used to cover the entire floor area which turns your floor into one big radiator.
There are 2 different types of underfloor heating systems; electric underfloor heating that uses electric heating mats to produce heat and water underfloor heating that pumps hot water around a series of pipes buried in the floor.
If installed correctly in a very well insulated home, underfloor heating can be very energy efficient, and it also allows you to do away with any radiators that can take up valuable wall space, however installation can be very tricky, especially in a home that's lived in.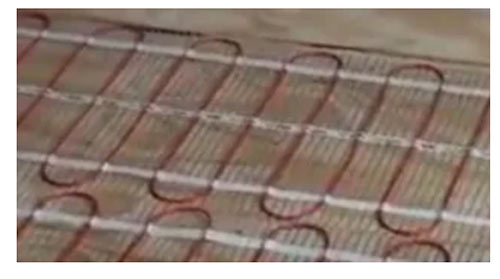 What Type of Heating System is Best?
Generally speaking, the best type of heating system is the one that's most efficient for the space it needs to heat and this is normally a modern condensing combi-boiler linked to a 2 pipe system using convector radiators, TRV's, a programmable controller and a good quality room thermostat.
This type of system will ensure that when the boiler fires up any fuel that is used, is used in the most efficient way to heat your home, without wasting any.
What Type of Boiler is Best?
The best and most efficient current type of boiler is a modern condensing combi-boiler.
Condensing boilers have low emission levels and are very energy efficient as they recirculate the exhaust heat from the gas burning process to help heat water as opposed to simply venting it out of an exhaust pipe and wasting it.
Old conventional boilers run between 60 – 70% efficiency, a modern standard combi or conventional boiler operates at around 80 – 84% efficiency, but condensing boilers, as they recover and recycle most of this wasted heat energy, can operate at up to 95 – 97% efficiency.
Whilst all new central heating boilers have to meet government-set minimum standards of operating efficiency (SEDBUK Band D or above), like cars and household appliances such as washing machines, some boilers operate more economically than others.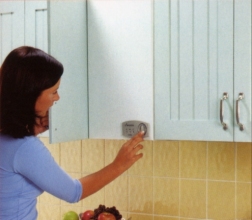 Common Types of Fuel Used by Boilers
There are 3 different types of fuel used in the UK for running boilers and heating systems and they are gas, oil or solid fuel, with gas being the most popular. The type of fuel that a given system uses will depend on the type of boiler you have.
Gas (Gas Boilers and Condensing Boilers)
The gas used to run a gas-fired boiler can come in 2 different forms:
Natural Gas – This is piped to your home via a supply company. If you're not connected to the mains it can cost a lot of money to do so. Natural gas is very convenient and there are a good variety of heating systems that use it such as combi's, back boilers, wall heaters etc. Another benefit is that you will not run out of fuel for your heating
LPG/Propane – This is an alternative to natural gas where it is too expensive or impractical to get mains gas. LPG is supplied to your home via large cylinders that stand about 4 feet tall or in a small tank installed in your garden that is filled when required. LPG and Propane works in exactly the same way as natural gas but you will need a boiler that can be made compatible via a conversion kit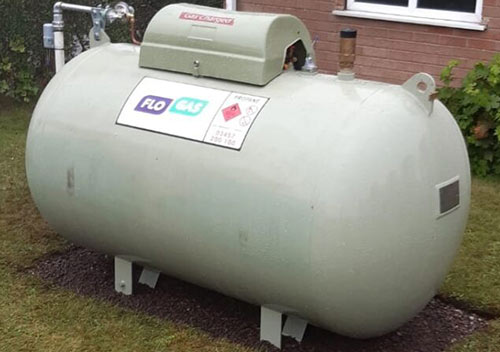 Oil Boilers
Oil fueled boilers are generally very efficient, however the choice of heating systems is fewer than with gas.
In most cases to run an oil boiler you will need a tank to be installed outside your home, these are usually large and very hard to disguise, you also have to conform to a variety of regulations in sighting it.
Another thing with oil is that if you let it run out then you will need a heating engineer to re-prime the system before you can get it working again.
To find out more about oil-fired heating systems, see our project here.
Solid Fuel Boilers
Solid fuel heating boilers are mostly limited to back boilers that use woodburners, Parkrays or open fires to provide a heat source, or kitchen ranges e.g. Rayburns or AGA's that can also run off solid fuel as opposed to oil and generally use wood, coal or the similar.
There are some solid fuel boilers which run the same way as other fuelled boilers and use automatically fed pellets from a hopper situated outside the house. These are known biomass boilers and are a fairly recent innovation.
The pellets used are generally come from renewable sources or are made from recycled objects such as sawdust or the likes. These systems are very efficient and are carbon neutral.
However, most older solid fuel heating systems are very inefficient and they also can be messy and require cleaning out once a day at least.
The Future of Central Heating Systems
Although modern gas boilers and central heating systems are about as efficient as a heating system can be, burning gas and indeed any fossil fuel as a whole is extremely bad for the environment and with the environment being in the state it's in an essential move is to stop using gas and any fossil fuels as a whole.
With this in mind, the government have now started planning to set rules in place that state that no new gas boilers can be installed after 2035 to help hit the 2050 target of net zero emissions, but this hasn't been confirmed as yet.
In terms of what they would be replaced with there are several options already out there being used.
Air-Source Heat Pumps
Although they have been around for a few years now, the technology has now been refined to be much more efficient so they are now a very realistic option.
The way an air source heat pump works is that it extracts the heat from the outside air and then concentrates it to a much higher temperature. The extracted heat is then used to warm the water for both the heating and hot water in a home.
The major advantages of this system are the obvious reduction in CO2 and fossil fuel usage but also the fact that your heating is then pretty much free, aside form the initial outlay for the pump and it's installation and its regular maintenance.
Find out more about air source heat pumps in our project here.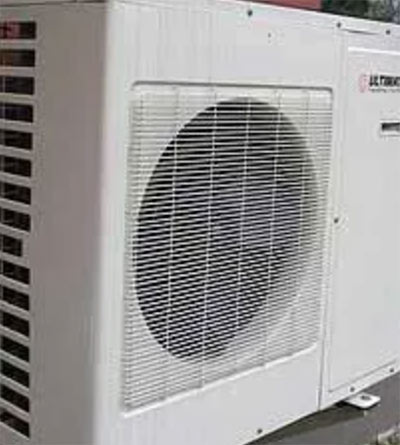 Ground-Source Heat Pumps
Ground source heat pumps work in very much the same way as an air source heat pump only rather than extracting heat from the air, the heat is taken from the ground.
During day light hours the sun heats the ground and the ground absorbs this heat. Installed in the ground will be a large amount of pipework that run all over a given area. The heat stored in the ground is then captured through the pipework using a variety of methods and is then used to heat the water used in both heating and hot water systems.
As the temperature of the ground stays fairly constant all year around, even at fairly shallow depths, this system is generally a little better and more efficient than its air source counterpart.
Again as the heat is extracted for free, aside form the initial purchase and installation costs, this massively reduces your bills and any effects on the environment, however due to the way the pipework needs to be installed, the actual installation is expensive and also very intrusive as in most cases your entire garden needs to be dug up to lay them.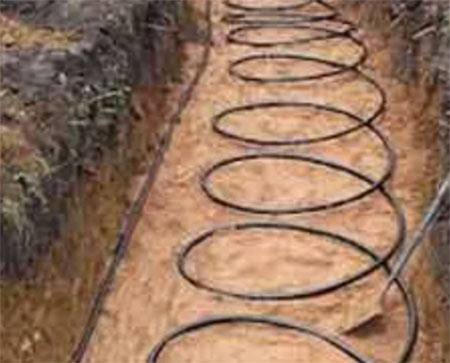 Biomass Boilers
We've already touched on these briefly above – the biomass boiler is pretty similar to a standard gas boiler but the major difference is, as opposed burning gas to create heat, wood pellets are used.
As the pellets are a renewable fuel made from compressed saw dust, wood chippings, bark and in some cases even animal waste, they are considered carbon neutral as they have absorbed as much CO2 as they have produced during their lifetime.
As the biomass boiler was developed as a replacement for the standard gas boiler it can essentially drop into your existing heating system as pretty much a direct replacement.
To learn more about biomass boilers see our project here.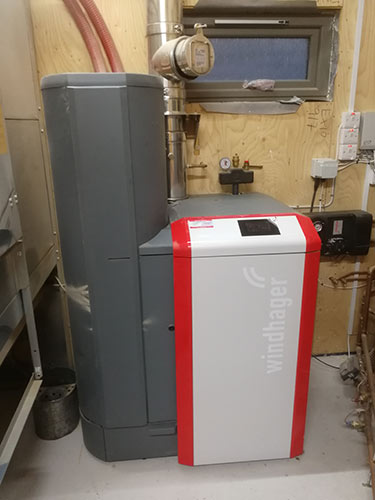 Electric Boilers
Until recently, effective electric central heating was limited to storage heaters or blown air systems. These were both run off cheap rate electricity supplied in the small hours, and in some cases for a short top up period in the afternoon, all of which are now old, inefficient and outdated.
In recent years, electric boilers have come on leaps and bounds as again they have been developed as a replacement for the traditional gas boiler.
These can directly replace pretty much any other boiler in a conventional heating systems; they are very compact, light and can also run off cheap rate electricity. Another benefit is that they are completely silent.
However, although the technology has been refined hugely in recent times it's still a fair way off and only really suited to smaller properties with limited heating and hot water needs.
Although not quite as environmentally friendly as the other options above as a great deal of electricity in the UK is generated using fossil fuels, if you couple it to a solar PV system then not only have you resolved the environmental issue but you can then also reduce your electricity usage costs.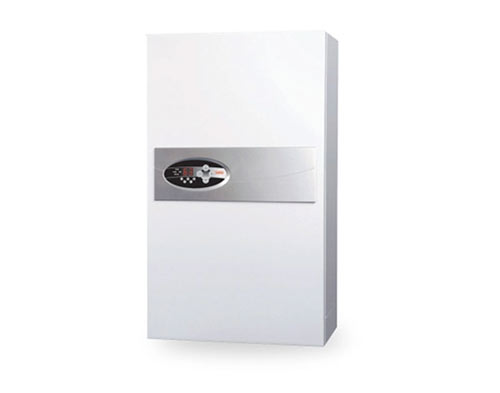 Who Can Work on a Central Heating System?
When it comes to who can actually work on a central heating system, it depends on what part of the system needs attention.
If it's the radiators pipework then this side of the system can be worked on by anyone, providing you know what your doing and don't cause damage that could affect how the system operates
However if it's a gas boiler that needs work then this should only be touched by a registered Gas Safe engineer.
In a similar vein, if the boiler in question is an oil boiler, this should only be touched by an OFTEC registered engineer.
What Size Boiler Should You Have?
The size of your boiler is dictated by the output you require. This is measured in terms of radiators and hot water cylinders.
It has been common in the past to oversize boilers to make sure the boiler would heat your house adequately. One result of this is that most boilers installed pre 1989 are as much as 30% oversized.
This is an incredible drain on finance as well as energy and these days boiler efficiency calculations are much more advanced.
There are a huge amount of resources online that run through how to calculate the correct sized boiler for you home, one such resource can be found here.
Boilers and heating systems can be very confusing in terms of how they work and how they're setup, but identifying the type of central heating system you have in your home is essential to ensure it is both right for your home and your needs.