Until recently the cost of inserting many metres of damp proof course has been prohibitive for large projects, or thick walls, because of the technical difficulties of high pressure injection.
The injection equipment is expensive, the technique is hit and miss, with even the 'professionals' struggling with blow backs, loss of fluid via fissures and the difficulty of getting a seal in crumbling masonry.
The only option was to pay for a damp proofing company to carry out the work, including expensive replastering.
In this guide we take a look at how the relatively new practice of damp proof injection works.
Chemical and Cream Damp Proof Courses
Now the second generation DIY damp proofing injection kits including DPC Creams have appeared and for the first time private individuals and developers, builders and DIY enthusiasts can reliably and cheaply inject their own chemical DPC.
Large jobs are no longer a problem – the small, hand pumped pressure pot dispenses the cream via a 10mm diameter aluminium tube, complete with on/off tap. Nothing could be easier!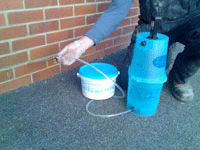 Main Features and Benefits of Cream DPC Damp Proof Injection
Quick and Easy to Install – Drill the required number of holes and the correct spacing's and blow out dust. Once the hole is clear and free of debris inject the cream
No Wastage of Cartridges – Purchasing the required amount of cream in a bulk pack allows you to pour it straight into the inexpensive hand pump pictured above
Low Hazard – Many creams available are environmentally safe and carry no health warnings
No Spillage or Mess – Due to the nature of a cream and that fact that it can be pumped there are no liquids to leak or stain
Simple Hand Pressure Pump – If using a hand pump then simple hand pressure is all you need. Electrical pumps are available but involve either plugging in to a mains source (cables to get in your way) or batteries/recharging that can obviously run flat. Hand pressure for a DPC pump also allows you a lot more control over how much chemical DPC is pumped
2nd Generation Technology – advanced emulsion uses active ingredient economically
Check Levels of Damp With a Damp Meter
You may also find a damp meter useful, for checking the location, extent and pattern of dampness.
These factors can affect the remedial work that is necessary – with your own meter and some technical advice you can minimise any costs involved in successfully injecting a new DPC.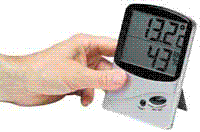 The Hygrometer pictured above shows the air temperature and the percentage of moisture in the air (relative humidity). This information is essential if you are suffering from condensation and black mould issues.
The damp meter measures the amount of moisture in a given materials. Simply stick the prongs on the top into the materials that you need to measure moisture levels and leave for the required time. The display will then give you a reading for "relative" dampness.
Damp Proof Course Injection Required Tools and Products
As mentioned, with the advanced in technology today it is now possible to buy all the items you need for your DIY damp proof course injection. Some can be bought as kits or in individual quantities as required to complete the job. The essential items are as follows:
Chemical or cream damp proof course
Hand operated pump
Drilling template
12mm diameter masonry drill bit
Suitable drill for drilling injection holes (length will need to be checked as it will depend on the thickness of walls)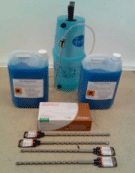 As mentioned above, the spacing required for drilling holes to inject your cream damp proof course is vital. If they are spaced too far apart then you may not get the coverage of DPC cream required in order to provide an effective damp proof course. The correct spacing's and info are as follows:
Holes should be spaced 4.5 inches apart
Holes should be drilled 3 inches deep
Drill all required holes before you start to inject your DPC cream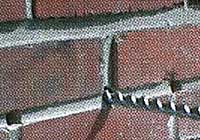 Important note: Depending on the type of wall and manufactures specified coverage, you should drill and inject your cream DPC on both the inside and outside of your property.
If you have a cavity then you will need to inject on both the inner cavity wall and outer cavity wall. If you have a solid wall then depending on it's thickness you may only need to inject from the inside.
If you are in any doubt about how you should inject DPC cream for an effective damp proof course then you should consult a specialist damp proofing company.
As mentioned, a masonry bit, 12mm in diameter (or the required diameter for the size of injection nozzle you have), is required and the length of the bit will depend on the thickness of the wall so you will need to find out how think your walls are.
Newer modern DPC injection systems are easy to use, even for DIY'ers and in pretty much all cases can create a suitable damp proof course and stop any rising damp issues.