In most homes across the UK apart from mortgages and rent energy bills are generally in the top 5 in terms of monthly costs. In winter months especially when it's cold and the heating may be on for most of the day these costs can go up even more.
Apart form reducing the amount of energy that's used in the home which will in turn reduce your bills another way is to make sure you are getting the very best deal from your energy supplier and if not why not switch to another supplier.
Read on below to find out how and why this could be a good move for you.
Why Switch Your Energy Supplier?
Over the past 10 or 15 years or so the energy market has changed a great deal. With the emergence of many newer energy suppliers no longer are renters and homeowners tied to the traditional "big 6" suppliers (Centrica or British Gas, E.ON, SSE, npower, Scottish Power and EDF). As with any market more competition essentially means better prices.
Many of the newer and smaller suppliers don't have anywhere near the overheads that the bigger 6 have to carry so in most cases they can be much more flexible on price.
Unlike in the past, unfortunately these days you get very little reward for being a loyal customer especially when it comes to utility suppliers. This is evident in the fact that with most suppliers, when a current contract comes to an end they automatically put you on to their standard variable tariff which in generally their most expensive plan.
With some suppliers this can mean an increase of as much as an extra £300 a year or more! Likewise by switching it is estimated that an average home can save somewhere around this figure on their current deal.
So with this in mind it's well worth considering changing you current supplier and deal for a better one and saving yourself potentially a sizable amount of money a year.
One final point that is also worth mentioning is that as of 1st of January 2019 the government gave the energy regulator Ofgen the ability to cap the kWh unit prices of both gas and electricity for all standard variable and default tariffs.

This is to ensure that no one gets overcharged and everyone gets a fair deal for the energy that they use.
Estimated costs of supplying both gas and electricity are checked by Ofgem every 6 months on the 1st of April and the 1st of October and unit price caps are set accordingly that every supplier must follow.
Why would you not switch to a new supplier?
Based on the evidence above this may seem like a fairly silly question but surprisingly many UK residents don't regularly switch their energy deals to get the best possible deal for them.
In fact, according to the Money Supermarket article here, roughly 60% of homes in the UK are actually on standard variable tariffs costing them huge amounts of money.
Even more surprisingly the article states that 23% of UK residents have never changed their energy supplier! That's nearly 7 million homes in total.
With the seemingly obvious savings making it well worth the effort, why don't consumers seem to be switching?
Some of the reasons are as follows:
Not fully understanding how switching suppliers works
Believing it's just too much hassle
It'll take far too much time
Might be left with no gas or electricity while the switch takes place
Think that any estimated savings from switching won't actually happen
The above information is quite surprising given the volume of information available online today and that's not just information from the actual suppliers that some may see bias. Many reputable and independent sites have produced their own guides, such as this one here on Money Saving Expert and also this guide on the Ofgem website covering switching energy suppliers.
How long will it take to switch energy tariffs?
Traditionally switching energy suppliers was not an easy job, in fact it was a nightmare. Many of the large suppliers would make the job of moving a complete nightmare mainly just to discourage people from doing so.
For those brave enough and with the available time to seek out a new deal and make the switch it would be a long and drawn out affair in most cases lasting up to 6 weeks all the while being stuck essentially between two tariffs and in most cases falling on to the current suppliers standard variable tariff and being charged the earth for any energy used.
Again the government and Ofgem stepped in to regulate this process in several ways:
Ensuring all customers are notified of the cheapest tariff they are eligible for
Providing a summary quote that estimates any potential annual costs for their energy supply
Ensure all tariff information is clear and simple to understand and is also formatted in exactly the same way across all suppliers
Providing support services such as the Energy Saving Advice Service (Energy Saving Trust) to help educate consumers on how to both save energy and also get the best deal for them
Ensure switching times are kept to the bare minimum and that suppliers handle the bulk of the work involved with the minimum of input from the consumer
The above efforts coupled with the emergence of the many price comparison websites such as Go Compare, Money Supermarket, Compare the Market etc means that consumers these days can get quotes for a variety of new energy deals in just a few minutes and complete a full switch in around 2 weeks.
How to find a cheaper energy deal
As we have mentioned above with the great many comparison websites around today, using one of these sites is in most cases the best way to see what new energy deals are available to you.
By simply filling in a few details you can quickly get a list of new energy deals detailing projected annual costs, any advantages that a given deal has and also a button that once clicked starts the switching process – how easy is that!
As good and efficient as price comparison sites are, before making a switch it's always a good idea to contact your current supplier and see what deals they have on offer. As easy as switching to a new supplier is staying with your current supplier is even easier still.
Also it's important to note that not every price comparison site lists the same providers and some providers don't feature on any comparrion sites so ensure that you not only check all the comparrion sites in full but also contact any independent suppliers as this will give you a full picture of all deals on offer.
When comparing energy deals the figures you should use are the kWh (kilowatt hour) unit price for each energy source and also the standing daily rate (more information on kWh can be found in our project here).
The kWh unit price is how much you will pay for every unit of gas or electricity and the standing daily rate is a fixed fee that you will pay for every day of the contract term. These are the most important figures to compare as they will define how much you have to pay.
One final point to note is that when you are setting up a quote be as accurate as possible with the amount of energy that you use.
On the 1st of July 2010 Ofgem introduced a rule that stated that all energy suppliers have to provide customers with an "annual energy statement" that details everything about they're past years energy usage including the total amount of energy that has been used.
Using these figures when generating quotes will give you a more accurate picture of how much a new deal could cost.
Energy supplier tariffs
When looking at new energy deals it can be quite a job understanding the variety of different tariffs available. Here follows a list of the most common types of energy tariff and what each includes:
Fixed price/rate tariff: As the name suggests all kWh prices and standing daily charges are at a fixed cost guaranteed for the term of the contract (normally 12 months but can be several years). This protects you as the customer from any potential increase in energy cost. Generally fixed rate tariffs are the cheapest and most readily available type of tariff
Standard variable tariff: In pretty much all cases standard variable tariffs are a suppliers default or fallback tariffs and are generally very expensive, normally just under the market rate. When current deals come to an end and customers don't renew most suppliers will drop them on to their default or standard variable tariff
Tracker tariff: These types of tariff are fairly uncommon but they do crop up from time to time. Tracker tariffs essentially follow the wholesale cost of energy and set their price based on this. Energy prices fluctuate greatly and when their low that's great but when they go up that could mean significant costs a fairly risky plan to be on
Dual fuel tariff: Pretty much all utility companies offer both gas and electricity and many will bundle the supplies of both onto the same plan. This is known as a dual fuel tariff. Ultimately it's much easier to deal with just one supplier as opposed to one supplier for each energy type so these plans make great sense
Prepay meter tariffs: Prepay meters require users to pay for their energy upfront as opposed to after its been used. With a prepay meter you get a card or token that you take to a supermarket or newsagent or today can do via a smartphone app that customers can add credit to for their energy. Most suppliers will have at least one prepay deal to offer. Ofgem have also capped all prepay tariffs to protect consumers from overcharging
Economy 7: Economy 7 tariffs run 2 separate price bands per day in most cases one price for on-peak day time and another price for off-peak night time with the off-peak prices generally being cheaper. In order to qualify for an economy 7 tariff you must have an economy 7 meter
Green energy tariffs: A green energy tariff will in most cases guarantee that all electricity supplied to you will have been generated through renewable sources, some even promising the same for percentage of gas supplies. Over the past few years the cost producing renewable energy has tumbled meaning that renewable energy tariffs are now competitive
As you can see from the above some tariffs are only available to certain types of meter so before signing for any new deals take a look at your meter to ascertain what type of meter it is. Help with this can be found in our understanding electricity meters project here and also in our project covering how to read gas meters here.
How to switch energy suppliers
Today, switching your energy deal is quick and simple and completely free as your new supplier will organize the entire switching process with no interruption to your supply during this process whatsoever.
The only changes that you will notice will be lower bills, possibly a greener conscience if you are on a green tariff and/or improved customer service from your new supplier so, it is now more worthwhile than ever before to switch your energy supplier to a product that suites your individual needs and budget.
As we have mentioned above if you are using one of the price comparison sites switching your energy deal is pretty much as easy as supplying a few details and clicking a button, it really is that easy!
If you have opted to stay with your current supplier then again switching your deal is easy. Simply see what new tariffs they have on offer and give them a call, confirm the deal that you would like to change to and they will take it from there.
It's also worthy to note that even if you are not near the end of your current deal sometimes it can still be cheaper to switch even after paying any exit fees (fixed price for ending your deal early) so it's well worth keeping your eye on what deals are about.
The eco-incentive
Both the usage and generation of gas and electricity is historically some of the most polluting and damaging to the environment so if you have the option to go with a supplier that can guarantee the electricity and also some of the gas they are supplying you with has come from a renewable source then this is certainly the responsible thing to do.
In past years when renewable energy was fairly new the cost of both producing it and getting it into the mains supply was huge so in turn the cost of using it was also huge. This meant that only those that could afford it could opt for a purely green tariff.
In recent years the technology has come on leaps and bounds and is now much more accessible meaning the cost of supply has plummeted.
Green supply deals are now extremely competitive and almost on a par with traditional fixed deals with the added bonus of having a clear conscience that your electricity has come from a renewable source.
Another technology that has emerged over the past few years is the smart meter. Although they have been somewhat shrouded in controversy (5G conspiracies and incorrect readings etc) many of these early teething issues have now been ironed out.
Although smart meters don't directly supply green energy they allow you to closely monitor the energy that you are using and identify appliances and fixtures that use the most.
In respect to this one of the most useful aspects in identifying energy-hungry appliances is that it highlights just how much they cost to run and when a monetary value is placed on something this can really make you conscious of how many times it's used thus ultimately reducing its use and reducing overall energy use.
Energy Efficiency
'You can change the world without leaving your house!'
Energy and its effect on the climate is a big topic as we have touched on above – big in importance and global in scale. Due to the world we live in both businesses and householders may not know how to cut energy use or realize how much they could save in a year by being more energy efficient.
There are many easy and cost effective ways to make your home more energy efficient and reduce your carbon footprint; Why not carry out a home energy check.
There are quite a few sites online with free to use energy assessment forms, one such is our very own energy assessment form located on our sister site – Be Energy Smart.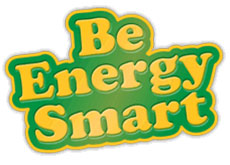 If you are interested in going green, the first start is to switch your electricity to a green product.
Many companies in the energy market place have started to offer Carbon Account (or similar) services and this lets you calculate your household's emissions by looking at your home, your energy consumption, and other lifestyle habits, and then measuring the impact of any changes you make.
They, like most of the other big energy suppliers now, offer some great tips and advice about how you can reduce your emissions and also bring your bills down. Of course you can't stop your emissions totally, but what you can do is to "offset" these emissions with activities that absorb the greenhouse gases that you are producing.
You can do this by investing in tree planting activities or even into renewable projects which produce no, or much less harmful emissions.
Switching your energy deal today is easy and hassle free and in many cases can save you a great deal of money so why not start looking right away!