As garage walls are almost certainly not built following the guidelines for building a wall of a habitable part of the house there are changes that need to be made to ensure that they are damp proof.
This is not a short cut but a very practical cost and time saving measure – there is no need to build to stringent regulations that do not need to be met.
Garage Conversion or Renovation Basics Before Sealing the Garage Walls Against Damp
Garages are meant for cars not people. As such, the building regulations focus mostly on safety rather than comfort. More about the building regulations, and the possible planning permission requirements for the conversion of garages can be found here.
Before we look at how to ensure your garage walls are dry before plastering we will run through the basic rules for a garage conversion.
It is unlikely you will want to keep all of the garage door opening and some of this will be filled with a new wall or windows or both.
This may place additional load on the floor slab of the garage and, subsequently on the foundations of the garage itself.
These foundations may have only been constructed to take the minimum weight of the garage as it stands and if any additional weight is to be placed on them the foundations may require strengthening. Please check with your local council (you can find your local planning office here).
If your garage conversion contains a toilet the foundations should extend to below the lowest point of the drain run which removes the waste from the toilet.
This is to stop the pipes cracking or moving as the new load of the heavier garage load settles on the base you have provided.
An existing concrete garage floor slab can be used as a base for your new living area, however a membrane (DPM – damp proof membrane) will need to be installed to stop water rising up through the slab. DPMs come in solid or liquid form, the latter being a better solution for garage conversion. More information about garage floors can be seen here
The garage floor will be below the level of your indoor floor slab. Thermal insulation may be required and can be placed on top of the membrane (if a liquid membrane is used care should be taken to ensure the two materials do not react with each other – a separation layer may be needed).  The exact details will vary depending on which products are used. Insulation should be used in the new floor to ensure the building meets the regulation requirements for heat loss in a conversion.
Garage walls should be brought up to the required standard of insulation. You can find out more about the building regulations for external and internal garage walls here
Any existing airbricks for the main house should not be obstructed by work on the garage. If there is a chance they will be locked they should be fitted with extensions to take trunking through any new floor so the original vent is still receiving outside air.
Getting Garage Walls Waterproof
In a great many cases the existing garage walls may only be 1 skin of brickwork thick.
For any type of conversion to take place this will usually need to be upgraded to a cavity wall in order to meet the requirements for insulation in a habitable dwelling.
This operation in itself will make the internal wall a lot dryer and may be all you need, internally, to solve the damp problem.
In many buildings, the garage is abutted to an outside wall of the house. Where this is the case this wall is usually quite damp.
This is because, as an outside wall, water is driven against it many times over the course of it's life. This water soaks into the external skin of the masonry and when it reaches the cavity it runs down to the ground.
This is one of the reasons for a cavity, to stop damp travelling through to your inside walls.
The water in the cavity can soak back through the wall as it runs down meaning that very often the wall, when it is inside the garage, is damp.
With modern regulations a cavity tray dpc is inserted into the wall just above the roofline of any abutting buildings to prevent water running down the cavity and being allowed to manifest itself as damp inside the abutting building.
The images below show how these cavity trays are installed. An important point to note is that they can be fitted retrospectively.
With the cavity trays inserted, water is now directed from the cavity to the outside wall where it escapes through weep-holes, then it runs down the outside of the wall onto the garage roof, keeping the inside wall of the garage dry for plastering.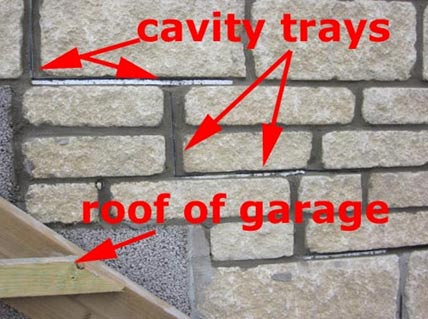 Plastering the Damp Inside Walls of a Garage
Having made sure no more water can run down the inside walls of your garage it's time to plaster or dry line them.
Obviously it takes months for the brickwork to dry out fully so there are special membranes and barriers that can be applied to the garage wall which will allow you to plaster or dryline them when they are still damp.
For much more information about these see our lining damp walls project here.
Wall Coverings and how to Keep the Walls Dry and Insulated
The main problem that you will be facing throughout the whole of this conversion process is trying to keep garage walls dry and insulated. There are two causes of these problems:
Cold outer walls; These are usually single leaf and constructed of brick or block and as such they are susceptible to condensation and penetrating damp. You should address this using the steps that we have shown above
Cold party wall with the main house; This particular wall will be partly outdoors and in all likelihood will not have cavity trays or weeps. Due to this it is likely to be cold and damp. Cavity trays need to be inserted to solve this situation.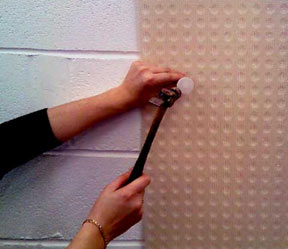 To damp proof these walls there needs to be a membrane fitted. The mesh membranes (seen in the above image and linked to in the project above) are fixed to the wall with special fixings and plastered, or dry-walled over the top.
This provides a waterproof membrane with an air gap for insulation and a perfectly dry surface for your finishing compound.
This membrane also stops any salts present in the masonry from coming through and causing efflorescence on your new wall.
Plastering a Damp Treated Garage Wall
Warning – You will not be able to apply modern gypsum plasters to any garage walls unless you can confirm that they are actually totally dry and feature no salt. However, if you do use such plasters it is pretty much certain that your inner decorated surface will suffer from damp patches.
There are three frequently used methods for plastering over walls inside garages that are going to be converted into a living space:
Air gap membranes – Normally, these are dimpled in appearance and are usually fixed to a walls surface using specially manufactured sealed plastic plugs. Once fixed in place you can plaster directly over the surface, dot and dab fix plasterboard or batten and board with plasterboard sheets. If using battens, you will also be able to fix insulation between them for additional thermal efficiency
Plastering with sand and cement – This form of render creates a semi-waterproof backing coat that provides a barrier between damp and salts and inner surfaces. If can be finished using multi-finish plaster and as a bonus it is also quite cheap! On the down side you have to ensure that it is applied exactly as specified and you should also apply "Admixture" such as Renderproof. Additionally, a surface of this type will still remain cold and prone to condensation
Stud partition wall – Best practice use would be to also feature an Air Gap Membrane. This type of surface is ideally suited to irregular stone walls or walls that are loose or not easy to fix. Similar to most partition walls they are built as a timber frame which then sits on the air gap membrane on the floor. It is then fixed to the ceiling, floor or walls as required. Similar to the above, this method also has the bonus that insulation can be added between the studs
In Summary, if you are going to damp proof a garage you will need to deal with damp walls and dry them out before plastering.
There are a number of techniques, depending on the type of wall you have and the budget they have, but the aim is to reduce the damp by sealing the wall so that the garage cam become a living space.