Damp walls are very prone to condensation and black spot mould, this is a fact!
If the walls are made of a single brick or block 'skin' or 'leaf', have no cavity, are below the damp proof course, are partially below ground or are earth retaining they will always be cold.
Solving Condensation and Mould Problems and Damp Wall Treatment
The traditional damp wall treatment was to cover up with wooden paneling, but this tends to become damp over time and rot. So, dry lining was invented and from this has evolved the 'air gap membrane', 'damp proof membrane' or 'cavity drain membrane'.
This is essentially a dimpled plastic sheet which, due to the dimples, allows air to freely circulate and flow.
This prevents moisture from becoming trapped (as in conventional 'tanking') which can drive dampness sideways and upwards and into other areas of your home and cause further damp and mould problems.
If you need any help and advice with lining cold or damp walls, damp wall treatment or 'tanking', Property Repair Systems staff will be pleased to give you completely free, no obligation advice. Just call them on 01626 872 650. In the project information below we will deal with how to line damp and cold walls but if you need additional advice call PRS on the number above.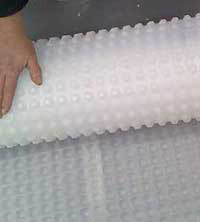 Lining Damp and Cold Walls – Choice of Methods
The three main methods are;
Board on Battens Over Walls Surface – Directly nailed or screwed to brickwork, stone, block or render – likely to decay on old, damp salty masonry, and at risk from Dry  and Wet rots unless efficiently treated and ventilated.
Inner Walls and Cavity Walls – Block walls built inside the building, with an air gap or insulation. Often used in Barn Conversions, where wall thickness and lost internal space is not an issue.
Not a vapour barrier, so damp and 'salts' from the unventilated cavity can eventually reach the inner wall decorations.
Air Gap Membranes, Damp Proof Membranes and Plastic Lining Membranes – A modern, vapour proof barrier lining – it is a dimpled plastic sheet fixed onto brick, stone, block or render with plastic plugs to form an air gap cavity. These Membranes can have a plain surface, for battening, or a Mesh surface for direct plastering or plaster boarding. Ideal for cold, single leaf walls and for lining rooms with cold solid walls.
How to Install Air Gap Membranes, Damp Proof Membranes and Plastic Lining Membranes
Remove all gypsum plaster (solid sand and cement render can stay) and also any wooden plugs or bonding timbers.
Check whether you have any 'active' water weeping from the wall, or if the area has ever suffered from flooding. If there has been any activity you will need to install a drainage method – either a traditional drain or a sump and pump. (Help, advice and information on this is available from PRS, call them on 01626 872 650)
Choose your wall finishing method – battens and plaster board (with or without insulation between the battens) or direct plastering with bonding plaster, or plasterboard on adhesive 'dabs'
Battens and nailed plaster board – For this you will need to use an air gap membrane or damp proof membrane such as the Kontact membrane mentioned above. Fix your chosen membrane to the surface using suitable fixings such as the specialist plugs in the below image. The plug heads have pre-formed holes ready for No.12 self tapping screws, to fix the battens to.

Kontract Membrane – install as a barrier then you can fix battens and then plasterboard over the top

Plastering or plasterboard dab fixed – Using this method you will need to use a mesh membrane as the supplied mesh facing on the lining will provide a ready-made surface to plaster straight over or apply adhesive to for sticking plasterboard straight onto. More information on suitable mesh membranes can be found here
The floor may also need to be covered with a membrane – a 'floating' tongued and grooved chipboard or concrete screeded floor can then be laid. Where liquid water is involved this floor Membrane has to be joined to the wall Membrane – this is called the 'sealed system' and must incorporate a drain or a sump and pump to remove the unwanted water
Once you have applied your chosen coverings and finishes, allow to settle for a period and monitor regularly for any evidence of damp or moisture before you apply your final chosen decoration. This is just to be sure that any issues have actually been solved once and for all
Other useful Products to be Aware of
Salt Neutraliser – a clear liquid used to neutralise 'salts' in render, plaster or masonry, either in an attempt to save otherwise sound plaster or as a preparation prior to replastering to a specification suitable for avoiding future damp or mould damage. Apply two coats, wetting in between each coat with fresh water. Information and advice on salt neutralisers can be found here. It is a good idea to apply a salt neutraliser to any damaged surfaces before you replaster as this will ensure that any salts that may be present in your wall or other materials are not able to reappear at a future date and damage interior surfaces
Chemical and Cream Damp Proof Courses – These types of products can be used to create a new damp proof course in a given property if the original dpc has become damaged or compromised. One such product that we use regularly and have found to be excellent is a product called Quick Cream as it is very easy to use, requiring no pump required and producing no mess or no smell. Ideal for use in properties where they are constantly occupied. It is also approved by the British Board of Agrèment – BBA Test Certificate No: 02/3961 ensuring that it complies to all relevant laws and legislation.
As mentioned previously, we have worked closely Property Repair Systems for a number of years on many different jobs. Due to this their staff are always on hand for additional specialist help and advice so if you need any, give them a call on 01626 872 650.