Cleaning graffiti from walls, whether they're the walls of a business premises or simply a child's scribbling with a marker or crayon across the walls of your living room is a nightmare job, especially if you're dealing with paint.
Although some graffiti art is absolutely amazing and worthy of awards, quite often where it's painted to is rather less than desirable. If an urban masterpiece is left on the side of your house, despite the fact it may be a work of art you probably won't want to leave it there.
Fortunately there are some fairly straightforward methods to remove graffiti from a variety of surfaces.
Can you Simply Paint Over Graffiti to Remove it?
The short answer to this in yes you certainly can paint over graffiti to remove it, however there are some points to be aware of if you are thinking of doing so.
The first is that you really need to paint over it with a dark colour. If just covering with a lighter colour, once it dries, very often you can see the outline of the covered up graffiti through it and over time this can get worse.
The second point is that you can't just paint over the direct area that the graffiti is covering with a colour that matches the existing surface behind it, you will need to repaint the entire area.
Simply covering the direct area of the graffiti with fresh paint will stand out a mile off as even if you use the same colour, the older paint will have faded over time and will no longer match the fresh paint.
One final point is that if you do paint over the graffiti and it does hide it fully then ultimately you have just created another blank canvas for any potential graffiti artists to once again cover! One solution to this is to repaint using a dark colour as this makes any future graffiti harder to create.
What Products are Used to Make Graffiti?
Before you can start removing any graffiti from a given surface you will need to know exactly what has been used to create it.
Depending on what has been used will depend on what products and techniques should be used to remove it. In general, most external graffiti is created using a selection of paints (spray paint, brush on paint etc.) however in some cases chalks and less permanent coverings are used.
As you may imagine, paint is much trickier to remove and often involves scrubbing or scraping and chemicals to get rid of it, whereas chalk is a little easier to remove and can often be scrubbed or power washed off, more about this below.
Types of Graffiti Removal Methods
baking soda, pressure washer, steam cleaning, scrubbing brush, solvent cleaners, abrasive cleaners (leave imprint), sand blasting
There are quite a few different methods of removing graffiti from a given surface and which works best for the given circumstance will really depend on the type of surface you are removing the graffiti from.
Here follows the most common methods of graffiti removal and how they are best used.
Baking Soda / Bicarbonate of Soda
Baking soda or Bicarbonate of Soda has long been used as a cleaning agent. Due to the fact that it's a mild alkali it's fantastic at removing grease, dirt, grime buildup and also paint as it can dissolve these in water.
Another great feature of baking soda is that it is a natural product and thus eco-friendly and non-toxic, so as you're using it there are no nasty fumes or toxins to worry about.
One down side is that to remove said dirt, grime and in this case paint it has to be scrubbed over the offending area. As you may imagine this is tough work and, especially with paint, you may need to go over it several times to totally remove it and it also has to be used in the correct way.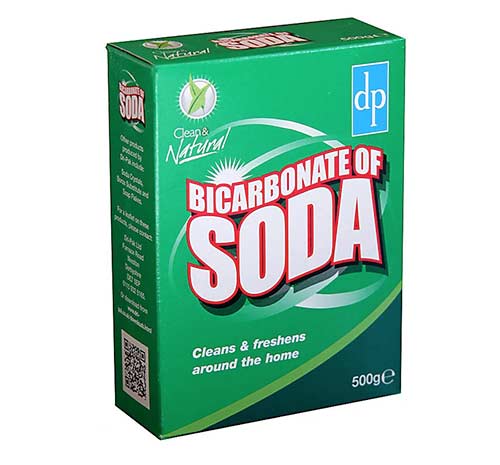 Pressure Washer
When ever there is anything to clean, cars, patios etc. the pressure washer is normally the go-to tool. Using a high pressure jet of water that's passed over the surface to be cleaned, the water blasts the dirt and grime away.
In most situations using a pressure washer is the way to go, it can quickly get a job done, but in some cases they can do more harm than good.
On some softer surfaces, limestone, render etc. the force of the water jet hitting these types of surface can literally blow them apart causing irreparable damage.
Steam Cleaner
The steam cleaner is a similar tool to the pressure washer but as opposed to relying on a high pressure jet of water, the steam cleaner uses high pressure steam.
The steam cleaning unit heats up water to 180° and more depending on the unit and then in a similar way to the pressure washer, pressurises it and ejects it from the nozzle of a lance or other attachment.
The high temperature steam dissolves and loosens dirt, grime, paint and other surface buildup removing it form the surface and as it's just hot steam it evaporates quickly leaving a dry surface.
One point to be aware of is that steam cleaners can be rather dangerous if not used correctly and also need to be used in a specific way to get the best results so often they're best left to the professionals to use.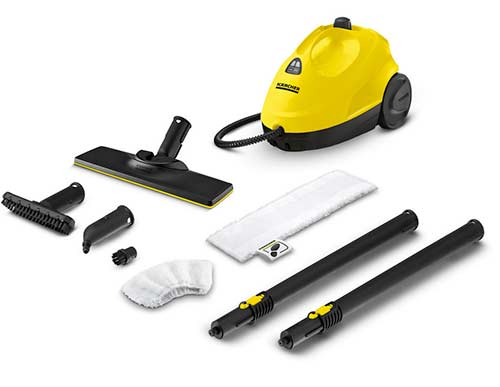 Scraping the Surface
If the graffiti you are dealing with has been applied to a smooth non-absorbent surface such as glass one great solution to get rid of it is to scrape it off.
By using a window scraper or similar tool you can simply scrape the paint off of the surface. However as you work, make sure that you hold the blade flat to the surface at all times as if it's allowed to dig in it can easily scratch it.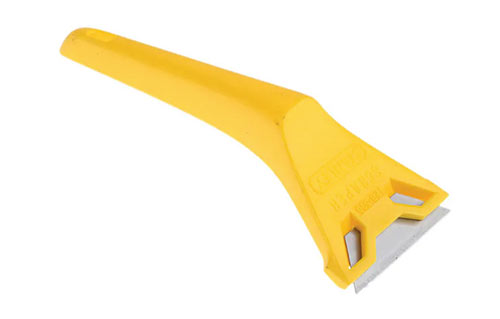 Solvent Cleaners (acetone, paint stripper, paint thinners, white spirit etc.)
Traditionally when ever you needed to clean paint off of an object, whether it's a paint spill or paint off of a brush you would use some sort of paint stripper, brush cleaner or acetone-based cleaner.
In most cases these are solvent-based solutions that use chemicals to dissolve the paint, removing it from the object or surface.
On the whole these do work very well however they do have some issues in that they give off toxic fumes that can cause nausea, headaches, dizziness, if you get it on your skin it can burn or get it in your eyes it can damage them badly so you have to ensure you wear goggles, gloves, old clothes and a respirator mask.
Also in some cases it can also damage the surface you're working on when it's applied, either physically dissolving them or causing them to fall apart or can discolour bricks and stone.
When using solvent-based paint strippers you also have to take great care about how you dispose of any waste and also ensure that you don't allow any chemicals to soak into soil or other similar organic substances or use it anywhere near pets and other animals as it can be extremely harmful.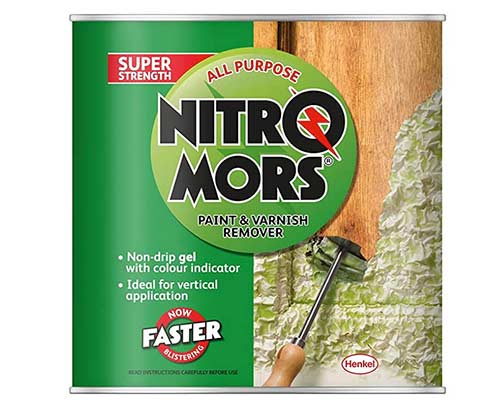 Eco-Friendly Cleaners
Over the last few years or so, there has been much more awareness made of the damage that is being done to the environment and wildlife habitats around the globe and one of the major causes has been the manufacture and use of solvents and toxic, poisonous substances such as VOC's and other similar chemicals.
Traditionally paint strippers and the like contained many of these harmful substances but in recent years these have mostly now been replaced with less harmful compounds.
One other trend has been the emergence of the many eco-friendly products that have been created to replace harmful chemicals and graffiti removal has certainly not been exempt from this.
Our friends over at Eco Solutions, whom we have worked closely with for many years, have indeed created their own eco-friendly graffiti remover called Graffiti Go!™. Having used quite a few different variations by other manufacturers over the years this is by far and away our favourite.
Graffiti Go!™ is the answer to the growing problem of graffiti damage estimated at over £2 billion in the U.K. alone.
Graffiti Go!™ is a safe and easy to use all-round product that simultaneously does the work for which several different products would have been necessary in the past. It was formulated by Eco-Solutions from the most advanced, patented water-based technology in the world. Being harmless to humans and the environment, the product is safely being used by an increasing number of consumers and professional users alike
Some of its key features are as follows:
It works on all woods, metals, stone, brick, marble, concrete and plastics
It will remove spray paint, adhesive from fly-posters, crayon, graffiti shadow, leather dye and chewing gum
One product does all – requires no pre or after treatment
No specialist personal protective equipment required
Will not affect substrates, as long as timing is adhered to. Graffiti Go!™ removes as many layers as you want to remove; ideal when removing unwanted paint marks from painted surfaces without damage to that painted surface (closely watch timing – test a small area first)
Minimal VOC content; 0.000004%, as certified by an independent laboratory, following a flame ionisation detection test
Non-hazardous: Non-toxic: Solvent-free: Totally safe – no fumes, no skin burns: One product works on all surfaces: Non-caustic. pH neutral – leaves no efflorescence or salts
Cleaning off is easy – just use a sponge and a bucket of water
Recently endorsed by the award winning decorator Wayne de Wet
We have used this product ourselves numerous times out on site and can certainly vouch for how effective it is. If you would like to purchase some it's available in our store here.
Abrasive Cleaners
As with solvent and chemical cleaners, abrasive cleaners can also be very effective at removing dirt, grime, graffiti and other unwanted surface coverings.
Abrasive cleaners can come as a liquid, powder or gel and in order to work, they contain very small hard particles, mostly minerals such as quartz, feldspar, granite etc.
When worked over the surface, the microscopic particles grind away at the buildup on the surface and remove it. You can also use such cleaners in conjunction with a stiff brush, scouring pad or similar to make them even more effective.
Abrasive cleaners come in a wide range of different types, in most cases different grades of abrasiveness so it's essential that you read the manufacturers usage guidelines fully to understand how to use it correctly as if you don't then a great deal of damage to the surface can be caused in a short space of time.
Sand Blasting
Sand blasting is in a way a form of abrasive cleaner and pressure washer rolled into one. Tiny mineral particles such as sand are forces through the nozzle of a lance or gun under a great deal of pressure.
The force of the sand or minerals hitting the paint or unwanted buildup on the surface simply blows it away.
Sand blasting is a very effective form of surface cleaning especially when it comes to graffiti, however if it's not done correctly by a skilled hand or the sand blaster is too powerful then you can easily cause irreparable damage to the surfaces requiring a great deal of money to put right.
One further point is that if sand blasting isn't carried out in a particular way then it can leave the outline of the graffiti remaining on the surface you've just cleaned it from.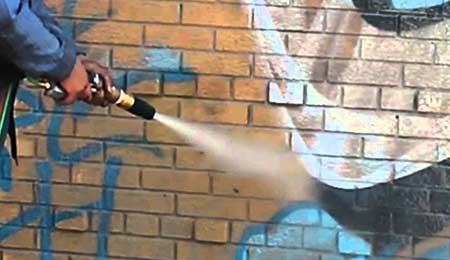 How to Remove Graffiti
Know about the various products and techniques for removing graffiti from a surface is only half the battle. The practice of removing it is a whole job in itself.
In order to ensure that any and all graffiti is actually removed from a given surface fully and cannot be seen afterwards and also that the surface it's painted on it not damaged, the technique used will depend on the surface you're working with.
If you are lucky enough to catch the offending graffiti when it's still wet, get an old cloth and dab off as much as you can before it dries. Try not to wipe it as this can easily spread it and make it much worse.
Removing Graffiti From Painted Surfaces
Masonry, whether it's brick, block, natural stone, plaster etc. is by its nature is porous and due to this will absorb liquids when they come into contact with them.
In most cases this will be water and moisture in the form of rain and when this meets a masonry surface it will soak in but it will eventually evaporate and dry.
As you may know, paint works in a similar way, once applied to a surface the solvent base evaporates but in this instance the binding agent in the paint binds it to the surface as well as it soaking in to a degree. This is what makes paint difficult to remove from these types of surfaces.
Another factor is that again by their very nature, masonry surfaces are pitted an uneven which makes scraping pretty much impossible.
So in terms of actually removing graffiti from masonry surfaces most methods listed above can be used however if you are cleaning off of a natural stone surface take care using high pressure cleaning systems such as pressure washers and also strong chemical strippers as both of these can easily damage softer stone.
Which ever method you choose make sure that you test it first on a hidden, inconspicuous area first and if it doesn't work or causes damage you will know not to use it and try another solution.
Ultimately the best treatments to use will be a Bicarb of Soda solution and stiff brush or even better the Graffiti Go ™ solution we've mentioned, this will deal with it quickly and efficiently with no damage or risks to your health.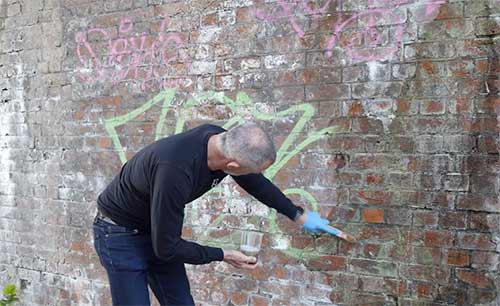 Removing Graffiti From Metal Surfaces
Removing graffiti from a metal surface is in most cases much easier than getting it off of a masonry surface.
As metal is for all intents and purposes non-porous and also tend to be very smooth any paint pretty much sits on the surface without any deep bonding.
In terms of getting it off a variety of methods can be used with the most successful one being scrubbing off with a brush and bicarbonate of soda based cleaner, wiping off using a solvent-based stripper such as paint thinners, using pressure-based power tools such as pressure washers, steam cleaners and sand blasters and also most abrasive cleaners and also simple sand paper can be used.
A point to note here is that again if the metal surface needs to avoid any damage, it's treated with a coating such as Zinc or it's been painted then there is a chance that most of the stated treatments may cause damage to the surface, paint or coating.
The safest options to go for would be to try a solvent cleaner such as acetone or paint thinners in very small quantities on a hidden area first to fully test, or again the Graffiti Go™ product.
Removing Graffiti From Timber
Timber, like masonry surfaces are tricky to remove graffiti from as again timber is very porous and in some cases the timber itself may not be smooth enough to successfully scrape.
Obviously one of the go-to options for removing any paint from wooden surfaces is to use a paint stripper or to simply sand it off.
If the timber has been previously treated with a stain or sealer then it may not have been able to seem down into the timber itself as the stain or sealer will prevent this. In this case it can in some cases be wiped off using a dab of white spirit on a cloth.
If the timber is a hardwood then in some cases a pressure washer can be used to blast it off, however if it is softwood it may take the graffiti off but in most cases it will start to blow it apart and cause it to splinter.
In terms of the best treatments, try a white spirit or paint thinners if it's been treated, if it's a hard wood try a pressure washer or gently scrape, if a softwood a good paint stripper, if there are no concerns about damaging the surface then sand it down, but again a safe all round option is to try Graffiti Go™
Removing Graffiti From Glass and Plastic/Acrylic
In a similar way to metal, both glass and plastic are very much non-porous materials meaning that any graffiti paint applied to such surfaces won't soak down into the material itself.
When it comes to glass, using white spirit, acetone, thinners etc. and then scraping will in most cases be very effective in removing any graffiti paint from the surface.
It is possible to also use a pressure washer but only on reinforced glass as if using on single-pain glass the chances are that it will blow it to pieces.
Plastic and acrylic surface are a little trickier to deal with as most solvent-based cleaners and strippers will also damage it, likewise steam from a steam cleaner will melt it and anything abrasive will again damage the surface.
The most effective treatment for removing graffiti from plastic and acrylic surfaces will be to gently use a pressure washer or again use the Graffiti Go™ cleaner.
Techniques for Graffiti Removal
As we have mentioned, regardless of what surface or material you are removing graffiti from always, always test it on an inconspicuous and hidden area first.
By doing so, if it does have a negative effect and cause damage then at least it won't be seen and you will know for sure that that particular treatment is to be avoided.
Also when opting for a graffiti treatment always start with the one that's least likely to cause any damage. If that works but is taking too long then you can try an alternate treatment, but again test in a small hidden area first.
When using any liquid-based treatment e.g. pressure washer, strippers etc. always start at the top first and work your way down so that any run off doesn't spill over areas you have just cleaned.
After going through the list of treatments above there is a very slim chance that none of them will be effective
Preventing Graffiti After Removal
Once you have gone to all the hassle of removing any graffiti what you don't want to happen is for any to come back again so employing some deterrents is a good idea:
Getting rid of any graffiti quickly will show any other budding artists that it won't be tolerated and all their hard work will go to waste
Normal security devices such as motion activated lighting or CCTV cameras (even fake ones) can be a great deterrent and put most people off
Let the police know quickly. In some cases they may be able to add you to their patrol routes, and with an active police presence, this is a great put-off for anyone
If repainting surfaces, use dark colours as graffiti artists prefer these much less than lighter surfaces
Once cleaned down, treat any surfaces with an anti-graffiti coating. This special coating helps to prevent any paint from bonding to the surface it's applied to, making it much easier to remove and in some cases even wash off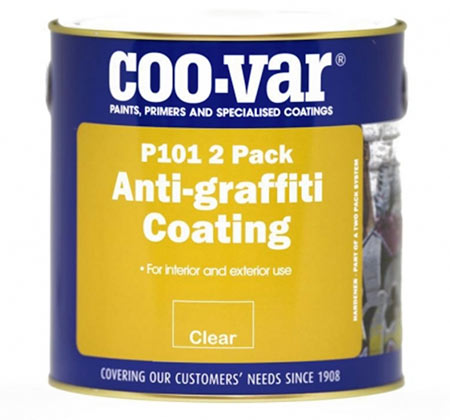 Although some graffiti art can truly be amazing, when it's on your home or business premises it can be a nightmare, devaluing your home or making your place of business seem uninviting, so no matter how good it may be, removing it is the only way to go, unless its a Banksey and worth millions of course!