If you live in an old house then the chances are that in some rooms you will have natural stone floors and when treated correctly and maintained can add a great deal of style and a very attractive feature.
Read through the content below and find all the information you need on how to clean and seal natural stone floors and surfaces correctly and keep them in tip top condition.
Why Should you Clean Your Stone Surface?
Pretty much all natural stone products feature pores in their surface, some large and some so small they cannot be seen by eye, but they're there for sure.
Over time dust, dirt and grime that naturally exists in the air and is also brought in by foot from the outside will collect in these pores and make the floor look dirty, stained and marked spoiling its look.
So, in order to keep a natural stone floor surface in top condition and looking at their best, they must be kept clean.
Once they are clean they can then be fully sealed over using a sealing substance, which seals the pores over preventing any further dust, dirt and grime from getting in, and ensuring they remain in top condition.
However, if dirt and the likes are trapped under the stone sealer, sooner or later it will cause a milky white residue between the top of the stone and the underside of the sealer. Once the sealer is applied the only way to remove this is to completely remove the stone sealer, clean thoroughly and re apply the sealer.
So with this in mind, before anything is sealed, it must be prepared correctly first.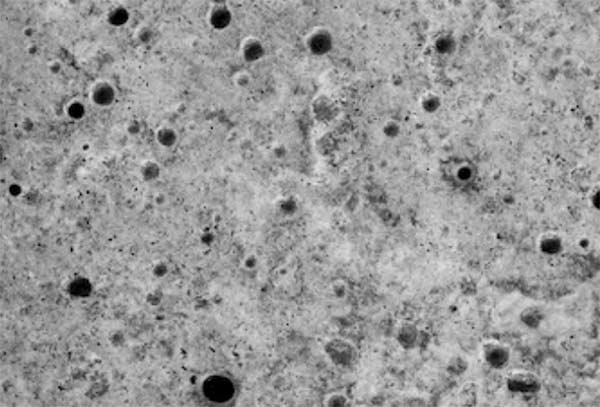 Why Should you Seal a Stone Surface and When?
As we have stated, in order to prevent the pores in natural stone products from becoming blocked with dirt and grime causing surfaces to look marked and stained, they should be fully sealed over. This will ensure they remain in top condition and also maintain a decent level of hygiene for a good long time.
Pretty much all natural stone products will stain almost immediately after spilling anything on them. As with dust and dirt, sealing these surfaces will in most cases avoid any permanent damage as it will prevent any substances from coming into direct contact with the stone itself, but to be on the safe side, any spillages should cleaned up straight away.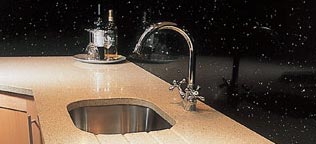 How Often Should you Re-Seal?
The key to getting a great finish as with all things is making sure that any surface preparation is done perfectly first before any type of surface finish is applied.
With this in mind, if the surface has been prepared and sealed correctly then it should not need re-sealing for at least 5 years.
To re-seal a surface, special sealant removers can be purchased that will completely remove any existing sealer and allow you to apply the new sealant to a clean and sterile surface. This will ensure that you get another 5 years worth of protection for your floor without any damage or imperfections.
A natural stone floor can keep its natural finish for a lifetime if looked after properly. To ensure that this is correct make sure that you are using the right products for your floor type, as if you don't then it can damage it. More on this below.
How Can I Tell if my Stone Surface is Sealed Already?
This is a very simple test and will confirm for you if your tiles, concrete, stone floor or worktop has already been sealed. It is know as the "Water Test".
Pour a little water onto your surface and level out with your finger and observe.
If the water is absorbed then your surface needs sealing as soon as possible!
However, if the water turns into small balls and is repelled then your surface is fine and has already been sealed.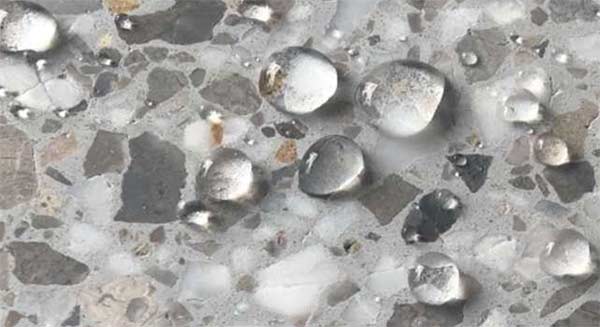 Tools and Products Needed for Cleaning and Sealing Stone Surfaces
In order to correctly seal a natural stone surface you will need the following tools and products:
Stiff bristled brushes of different sizes
Floor mop
Bucket
Plenty of clean water
Clean, dry rags
Correct cleaning solution for the type of floor you have
Clean paint brush or roller
Dustpan and brush
Long handled brush
Vacuum cleaner
How to Clean a Stone Surface
The first task before sealing a natural stone surface is to clean it thoroughly as we have already discussed above. To do so, work through the below steps:
Note: Make sure you purchase the correct type of surface cleaner for the surface you are working on as using an incorrect one can cause significant damage, e.g. an acidic cleaner on a delicate Travertine surface can damage it beyond repair. With any cleaner, always test it on an inconspicuous area first.
Step 1 – Brush and Vacuum Surface: Firstly, brush the whole surface over, getting the bristles down into any nooks and remove as much grime as possible and then vacuum the entire surface over as well as you possibly can to remove any final dust or dirt that remains. Pay attention to any cracks, or imperfections etc. as they trap dirt for a past time
Step 2 – Scrub Surface: Using the correct type of cleaner for the surface you are working with, mix up a solution in water as directed by manufacturer's instructions. Apply it to the surface using a mop, working it well in. Rinse the mop often to remove grime from surface. For stubborn stains and marks, work the solution in using a stiff bristled brush. Keep going until the surface is clean
Step 3 – Dry Surface: Using an old clean rag, wipe the surface over fully and dry as best as you can and then leave the surface to dry completely. This is best done by leaving it overnight
Step 4 – Check Over and Vacuum: Once fully dry, check the whole surface over for any remaining dirt and then give it one final vacuum over to remove any final grime left over from cleaning
When it comes to the level of dilution of the of the cleaner, this depends upon the surface you are cleaning. A stronger solution is required if you are cleaning Terracotta, unpolished marble or granite.
If the surface has already been honed or polished then in most cases a weaker solution is fine (this also includes limestone). Once the dirt has been completely removed the stone can then be sealed.
Quite often, if you are trying to reclaim a natural stone surface that's been covered over with a whole host of potential materials or substances, this will involve a fair amount of additional work.
In most cases, one or more of the following will need to be removed:
Removing Efflorescence: Efflorescence is a naturally occurring salt found in a variety of masony surfaces that's generally caused by damp and moisture ingress, so before removing be sure that you have first fixed the root cause. In most cases, efflorescence can be removed by brushing or chipping away, but if it won't come off, specific efflorescence remover should be used. Again, test that it won't damage any surfaces first
Removing Bitumen: In some cases, it can simply be pried up using a scraper and peeled off in sheets, but as it usually soaks down into the surface the only choice is to mechanically remove it by using a stiff course wire brush or by sandblasting it off
Removing Screed: Very similar to the bitumen above, quite often it can be chipped off in chunks that lift away from the original stone surface, however over time it can soften and damage natural stone so in this case it has to be sandblasted
Removing Cement and Grout: As both are similar substances they can be removed in similar ways. If hardened and the surfaces are smooth, use a sharp scraper. If still uncured, use a dampened rag to wipe away. Any grout haze should also be removed using a damp rag. If stubborn, use a small amount of the correct type of cleaning solution for the surface you are working with to wipe away
Removing Paint: If water-based paint, small amounts can be used by soaking with water. If it's flat and smooth a window scraper or similar can be used, but if the surface is rough, a stiff brush can be used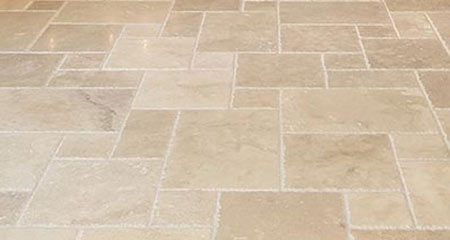 How to Seal Stone Surfaces
Now that you know how to correctly clean a natural stone surface off from a range of different coverings it's time to look at how then to seal it again to prevent and future damage.
When it comes to the actual method of sealing, it very much depends on the type of surface you are sealing and what it's made from.
As stated above, before any sealing solution is applied anywhere, the floor should be spotlessly clean and bone dry.
Sealing Different Types of Natural Stone
If you would like to seal Limestone, Sandstone or Terracotta surfaces they should be sealed before they are laid (if they are tiles) due to the fact that they are very porous and will absorb water from the grout or the adhesive you are using.
As grouts and adhesives contain minerals and the likes and also the moisture that's absorbed will contain some of the grout or adhesive, this water itself will also cause staining and mark surfaces.
This applies particularly to Terracotta surfaces as, out of all the different surface types, they are immensely porous and about as absorbent as it gets.
When sealing you should apply sealant to the front, back and sides of the material before laying.
Limestone is also particularly vulnerable and gloves should be worn when handling it as finger marks can stain the surface and will not necessarily show until it's too late.
Granite, Marble, Slate and Travertine are sealed on all edges and the top after being laid and grouted. These floors must be thoroughly cleaned prior to sealing. Granite and other stone kitchen worktops should be sealed to help prevent finger and water marks.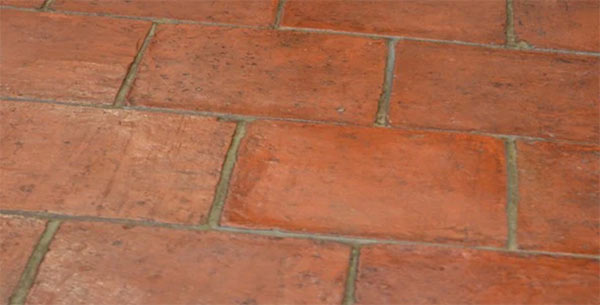 How to Seal Natural Stone Surfaces
To seal your surface you will first need to purchase the correct type of sealer for the material you are working with or one that is suitable for all natural stone surfaces.
To seal natural stone surfaces, particularly floors, work through these steps:
Step 1 – Ensure it's Clean: As we have said several times and will reiterate again due to its importance, make sure the surface is fully clean and dry
Step 2 – Apply Sealer: Using a clean paint brush or even better a roller, pour the sealer into a paint tray, dip the roller in and then brush it evenly on to the surface, ensuring that you apply an even uniform coat over the whole surface. Work in small areas at a time. Remove any excess from the surface using your roller
Step 3 – Cover Entire Surface: Repeat the above technique any work your way over the entire surface. Ensure you work towards any doors so you don't paint yourself into a corner
Step 4 – Allow to Dry: Once you've covered the whole floor, leave it to fully dry. Most sealers these days will dry in a few hours, however it's best to leave a good 12 hours or overnight to fully cure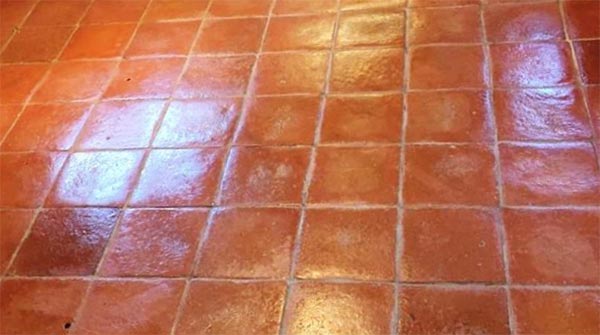 Sealing Other Stone Features
Aside from flooring surfaces you may find a great deal of other stone surfaces within a property such as stairs, tables, pilers, baths, bath surrounds and even fireplaces.
Fireplaces can be particularly susceptible to staining due to the carbon deposits produced (for open fires) and also UV damage. These surfaces should be sealed according to the methods above in order to prevent any damage or staining.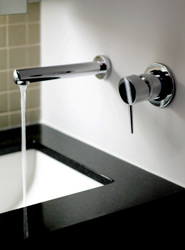 Cleaning and sealing natural stone surfaces, particularly floors is an essential job if you want to ensure they stay in prime condition.