Pretty much all building and construction trades involve some sort of dirt and mess. Ground work involves digging in the mud, concreting and drainage, painting and decorating involves paint, wallpaper paste and many other messy products, electrical work often involves crawling around in dirty dusty lofts….you get the picture!
As tradesmen our hands are the tools of our trade so we need to keep them in tip top condition and this means keeping them clean and free of injury.
Why do we Need to Clean our Hands?
As building work is manual work your hands above all else take the brunt of all of the dirt and mess that as tradesmen we are exposed to so it's essential that they are kept clean. After all it's not just dirty, messy work they do, they also undertake a lot of finishing work, caulking, sealing etc and if you try and do any such jobs with filthy hands, your beautifully finished surfaces won't stay nice for long!
Also many products and materials used in the building trade are corrosive, toxic and generally harmful to skin and other areas of the body.
With the above in mind, it is important to keep your hands clean, fresh and free of harmful substances when you need to but it's also important not to over wash them as this can do more harm than good.
The natural oils and bacteria that occur on your skin are essential in order to keep it healthy and strong. Every time you wash your hands these oils and healthy bacteria are removed. Without them your hands are at risk from drying out and cracking, especially when exposed to the cold.
Additionally without the good bacteria existing on your hands we may also be lowering our resistance to other more harmful bugs.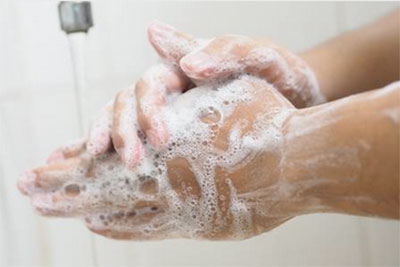 What's the Problem With Hand Cleaners and Washes?
As we have established in the above it is very important to keep you hands clean and free from harmful objects but what exactly should you use to do this?
As I'm sure anyone that has visited a supermarket will know there are literally hundreds of different types or soap and hand wash available today, the choice is overwhelming!
However, not all soaps and hand washes are actually good. Hand washes in particular can contain many different chemicals, two of which are of concern – Triclosan and SLS (sodium lauryl sulphate).
Firstly the chemical SLS is found in many, many different products today and acts as a foaming agent, so generally any products that create foam will probably feature SLS including hand wash.
As a substance SLS has been known to cause some skin conditions including contact dermatitis which is a red and itchy rash.

Triclosan on the other hand is essentially an anti bacterial chemical. You may be thinking that anti bacterials are good things, in a sense they are, but when used in hundreds of products that are sold to millions of people all around the world they can present a huge problem.
Firstly preventing exposure to everyday germs and bacteria is though by many health professionals to be very dangerous as it can lower a persons immune system leaving them open to more serious infections.
Secondly as Triclosan is featured in so many cleaning and grooming products huge volumes of it are washed down the drain every day and in many cases end up in streams and rivers where it can be extremely toxic to algae and other life forms.
Additionally Triclosan has also been linked to causing contact dermatitis and photo contact dermatitis.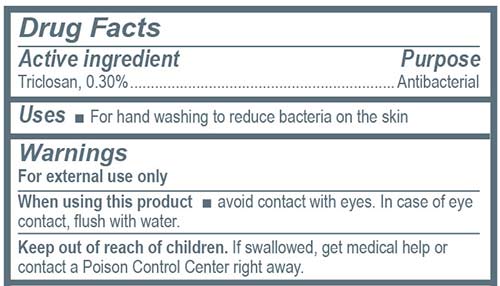 As we have also mentioned in the section above, over washing your hands can cause your skin to loose valuable natural oils and through this dry out. If repeatedly washed and dried and also exposed to cold they can dry out to the point they crack causing chaps and other painful fissures.
Aside from the pain and discomfort open wounds are particularly susceptible to germs and infection, not great when you consider the volume of dirt and grime they are exposed to.
So although the many different types of soap and hand wash available may do as intended and keep your hands nice and clean there are potential costs to both health and nature that need to be considered.
What are the Best Hand Cleaners for Builders and Tradesmen
So now that we know what issues soaps, hand wash and other cleaners can have it's time to look at what we have found to be the best hand washing products after many years of using many different brands out on site.
Swarfega Orange Hand Cleaner
Swarfega is a long running and established name in the world of hand cleaning so they have many years of experience with producing top quality hand cleaners and this product is no exception
It's advanced formulation doesn't include and solvents but does contain natural citrus oil and this is great at removing grease, oil and other dirt and grime.
To ensure hands are protected as much as possible it also features a moisturizer.
One downside is the fact that it contains polygrains which are not great for the environment!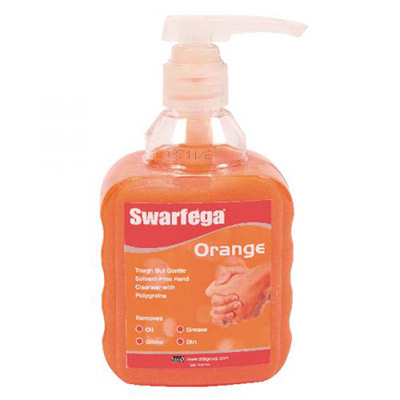 Swarfega Natural Hand Cleaner
As many of you that have visited our website before know we always try to look for an environmentally friendly eco alternative and again Swarfega come up trumps with their natural power hand cleaner.
This hand cleaner is packed full of natural alternatives to the usual chemicals used and in this case features orange oil extract for rapid and effective removal of oil and grease and also heavier deposits such as tar and bitumen.
To help keep hands as moist as possible vitamin E-rich wheat germ extract and jojoba oil are also included in the mix.
The eco considerations don't stop there either, as opposed to using the less than desirable polygrains, this has been replaced with cornmeal hand scrub.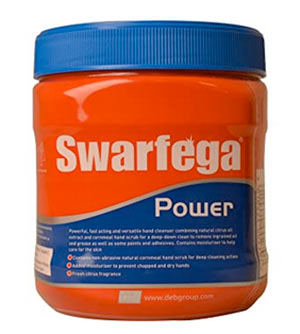 Everbuild Wonder Wipes
Wonder wipes are a great product to have in the van for any tradesman, regardless of the particular trade you work in.
They are extremely versatile in that they can be used on a great many surfaces and also a great many different stains and products such as paint, sealant, caulk, oil, grease and even bitumen.
Wonder Wipes are an excellent solution on site, especially where there is no running water which makes them ideal for cleaning down tools and due to their anti-bacterial coating, even on hands.
The down side is the fact that they are wipes and by the very nature of these types of products are not great for the environment due to the waste they cause, however they are also available in spray form.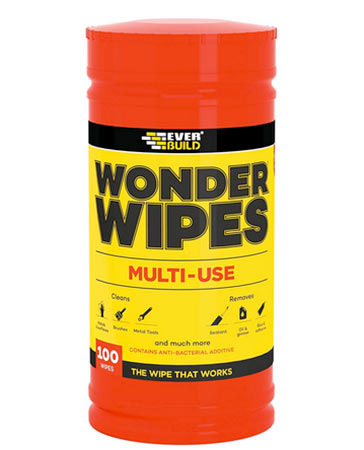 Standard Bar Soap
Good old soap! The standard bar of soap has been used by humans for many thousands of years for the purposes of cleaning. There are several different methods of making soap, cold process and hot process with cold process being the most popular today.
Essentially this process involves mixing lye (an alkali) with fatty acids, but these can come from a great range of sources and pretty much any oils can be used including olive oil and even hemp making it environmentally friendly, depending on the oils/fats used.
Additionally, bar soap tends to last much longer than liquid soap, its compounds break down much quicker and generally use much less packaging.
When it comes to cleaning ability, bar soap and liquid soap are much on a parr. When making your next purchase of soap, before reaching for the liquid soap, certainly consider bar soap instead.
The one draw back with bar soap is that it does require water so it's not always practical on sites with no running water.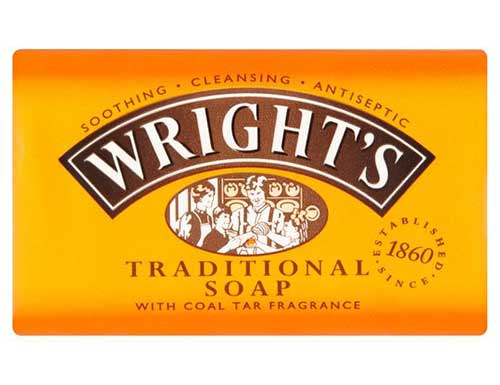 After Washing Hand Care
Washing your hands to remove all kinds of dirt and debris found on site is a necessary job as we have discussed above but over washing your hands, especially in cold and dry conditions can lead to dry cracked and chapped hands making working uncomfortable and painful.
To these ends here are some of what we think are the best moisturizers and conditioners for your hands to keep them in top condition.
O'Keeffe's Working Hands
This stuff is amazing! Having used it first on a pair of badly cracked and dry hands that were way past the ability for standard moisturizers to fix, within a few hours of applying you can really feel the difference.
The cream itself works by creating a barrier over your skin and locking in any moisture. This then keeps your hands fully hydrated.
Another great feature is that unlike most other moisturizers once applied they make your hands extremely slippery, making holding and operating some tools fairly dangerous. However this cream is non-greasy and after rubbing it in you literally can't feel it.
On the whole this is great stuff and we certainly recommend giving it a go! For best results, apply after and washing and also before sleep.
Neutrogena Norwegian formula hand cream
As with the O'Keeffes's cream above, this stuff is also fantastic and works amazingly well. Dermatologically developed, it contains glycerin that rapidly moisturizes dry and chapped hands.
Once applied and rubbed in it soaks into the skin very quickly so that your hands don't feel too greasy.
One of the great features of this cream is that a little goes a very long way. You only need to apply a very small amount to effectively moisturise both your hands fully.
For best results rub a little in after washing and drying your hands and again at night and you will have silky soft hands regardless of the hammering they may receive.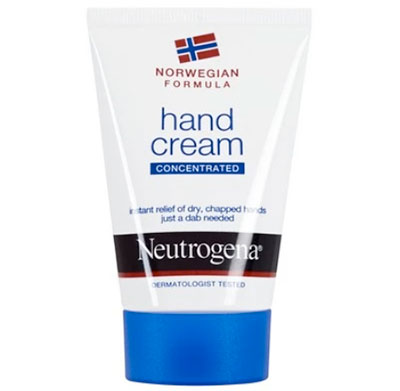 Keeping your hands clean and free of dirt and debris can be a tricky job when you are a tradesman and as the Autumn and Winter months draw it, keeping them in a good hydrated state is essential so that you are able to work free from pain and discomfort.
Obviously there are huge numbers of hand washing and hand conditioning products available today but these are the products that we as a company tend to turn towards but it's down to you. If you have a certain product you swear by then as long as it does the job, happy days!