At last a hand cleaner that really works and is water-based. Home Strip Hand Cleaner is made with an innovative formulation that is highly effective in removing all types of paint, stains, inks, oil and grime from your hands – safely.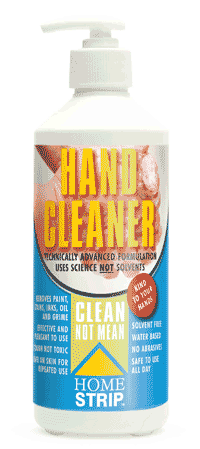 Easy to use straight from the pump action container, squirt enough Home Strip Hand Cleaner directly onto your hand and work in well. Rinse under tap water and dry thoroughly.
Your hands will be clean and your skin left softer than with a solvent based gel.
Product Features
Removes paint, stains, ink, oil and grime
Effective and pleasant to use
Tough not toxic
Safe on skin for repeated use
Solvent free
Water-based
No Abrasives
Safe to use all day
Eco Solutions products endorsed by Wayne de Wet, multi award winning decorator
If you would like to purchase this product or just require some more information visit the greenbuying website