Nuts and bolts or fasteners as they are also known are used to join pieces of wood, metal, plastic and other materials together, either permanently or temporarily. Many steel structures, including huge buildings are simply bolted together.
For example, the Eiffel Tower in Paris was originally a temporary structure and after twenty years it was to be dismantled. For this reason most of the steel components were bolted together. However, the tower has lasted well over a hundred years. The same goes for the Empire State Building in the USA as most of the internal frame is also bolted together.
Nuts and bolts come in many different types, styles and sizes to cover a huge range of different applications, and with this in mind some of the most common are shown below.
Different Parts of a Bolt
To help with understanding the information below, the first job is to take a close look at an actual bolt and all the different parts that make it up: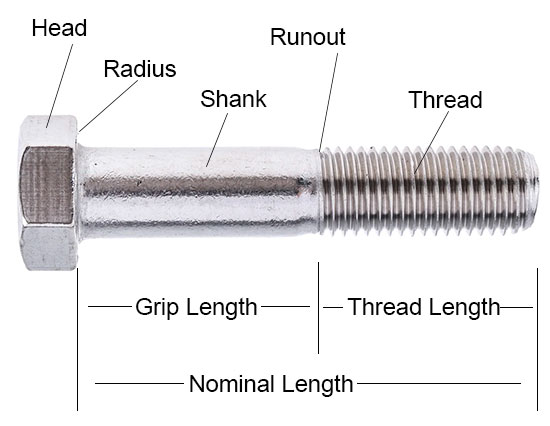 What Different Types of Thread are There?
The topic of nut and bolt thread-types is a rather complex one as there are simply so many different threads that have been used and developed throughout history, especially worldwide.
When it comes to the different types of thread that are used with nuts and bolts in the UK, typically today metric is the single most common, however in years gone there were 4 other distinct thread types in use in the UK, they were:
British Standard Whitworth or BSW (course threads for engineering, automotive)
British Association or BA (small, miniature threads for delicate use)
British Standard Fine or BSF (fine thread)
British Standard Cycle or BSC (for use on bicycles)
Although these thread-types are not too common anymore as they were substituted for the US SAE thread system in WW2 to aid with creating a common-type thread they do still crop up now and again, especially with older and vintage cars and even buildings, as they were still in use right up to the 1970's.
As commented, the ISO metric thread is now the dominant thread used simply down to compatibility reasons as now given sized bolt is (or should be) the same size and thread type whether it comes from the UK, Germany, France etc. This on the whole makes things a whole lot easier!
In terms of identifying what a given metric bolt is in terms of size, thread etc. each type should be designated a specific description, this should be on the packaging e.g. M10-1.5 x 40. The following explains exactly what this means:
M10: The M means metric and 10 is the nominal (average external diameter) diameter in mm
1.5: This means the thread pitch e.g. distance from thread to thread
40: This means the length measured in mm
Are There Different Strengths and Grades of Nuts and Bolts?
The overall strength of a given nut or bolt will ultimately depend on what it is made from. Typically most nuts and bolts today are made from one of the following materials:
Low carbon steel
Medium carbon steel
Low or medium carbon steel that has been annealed (partially or fully)
Cold worked low or medium carbon steel
Tempered medium carbon steel
Tempered alloy steel
More often that not, off the shelf readily available nuts and bolts will be made of low or medium quality carbon steel and in most cases will provide any and all required fixing strength.
However if stronger items are required to give more structural rigidity then tempered and alloy steel variations should be used.
Typically in most cases, most metric bolts today are designated with a specific grade (this should be stamped on most bolts).
The common metric steel grading's for bolt strength are as follows:
When it comes to the US SAE grading system that was adopted for a while (meaning these types of nuts and bolts will be around) the following grading system is used:
When comparing the two different types 5.8 is comparable to 2, 8.8 is comparable to 5 and 10.9 which are comparable to 8, however the metric 12.9 grade bolts tend to be the strongest of all.
Essentially when it comes to either the metric or or SAE grading systems, the higher the number the stronger the bolt.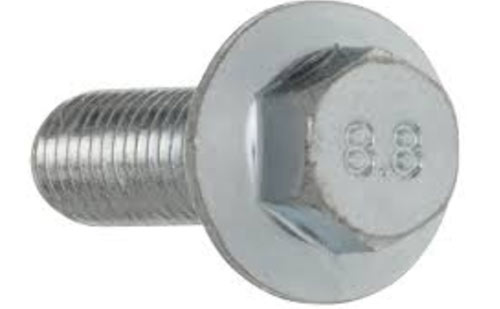 It's also important to mention that in the US bolts are also graded using radial lines on the head of the bolt, this grading system is as follows:
307A = low carbon steel
No marking on head = SAE Grade 2, low or medium carbon steel
3 radial lines = SAE Grade 5, tempered medium carbon steel
6 radial lines = SAE grade 8, tempered medium carbon steel
Different Types of Bolts
There is a huge range of different types of bolts available today, some for use with metal work, some for masonry, some for hanging, the list goes on and on. Here follows some of the most common types of bolt used in construction, DIY and other areas:
Standard Hex Bolt (Machine Bolt)
The hex bolt is arguably the most common type of bolt and used mainly with machinery and metal work e.g., for bolting together RSJ's and the like. The name hex comes from the shape of the head, being a six-sided hexagon.
Two spanners are needed to tighten this bolt and its associated nut, he first spanner fits round the hexagonal head of the bolt and a second is used to tighten the hexagonal nut and they are often used with a washer.
To suit a range of jobs they also come either fully or partially threaded along the length.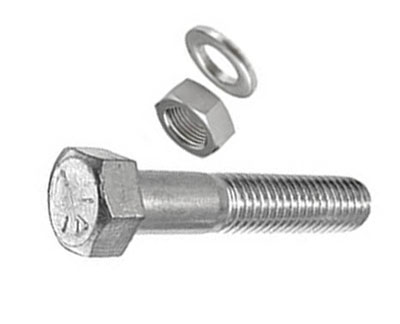 Coach or Carriage Bolt
The coach bolt is also another commonly used bolt and generally used to bolt lengths of timber together or act as a security bolt for use with hinges, locks etc. due to its domed head.
A handy feature of the coach bolt is the square section below the head. As the nut is tightened the square section bites into the material its inserted into and grips so you only have to use one spanner.
Again they are commonly used with a washer and can be either partially or fully threaded.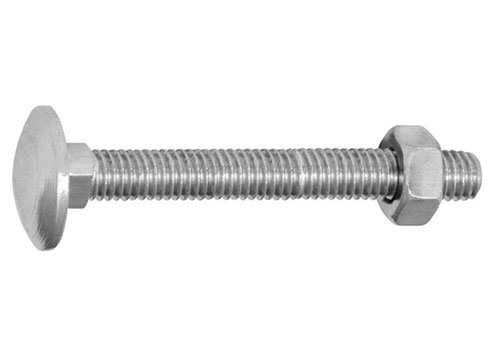 Anchor Bolts (Sleeve Bolt)
Anchor bolts are mostly used to fix timber, steel and other materials to masonry or concrete A suitable size hole is drilled in the material, the bolt is withdrawn from the anchor or sleeve section, the object being fixed is position and the bolt is pushed through and screwed into the sleeve.
As the bolt is screwed in it pulls the rear of the sleeve forwards pushing out the fingers that grip in the hole and hold the object in place.
Available in a range of different sizes and lengths and also types such as the through bolt (works in a slightly different way in that the bolt does not come out) this is the go to solution when fixing many objects to a solid surface.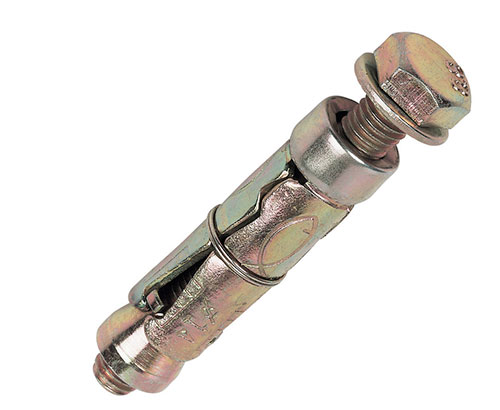 Double Ended Bolt (stud)
The double ended bolt or stud as it's commonly known is essentially a bolt with threads at either end and a clean unthreaded section in the centre.
The double ended bolt or stud has quite a few applications, the main one being joining two flat faced objects together. Used extensively in the motor trade a good example of their use is as a stud to bolt an intake or exhaust manifold onto an engine block, or in other trades for joining sections of pipe.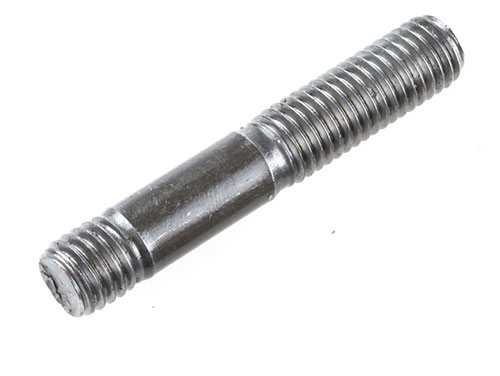 Blind Bolt
The blind bolt is the ideal bolt to use when access is only possible from one side of an object. To use them a hole is drilled through a given object and the blind bolt is inserted is. When it breaks through to the open side the retaining catch drops and catches on the rear of the fixing surface.
An object is then pushed over the bolt and the nut screwed on holding it firmly to the surface. The blind bolt is mainly used in construction applications.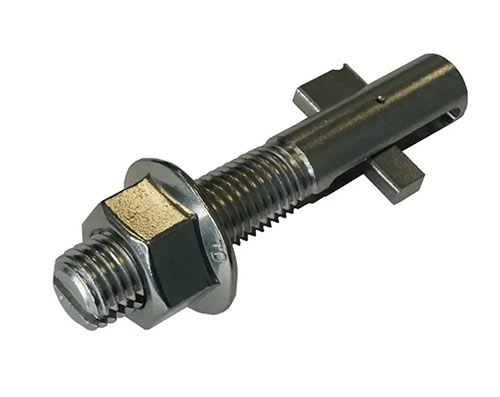 Eye Bolt
The eye bolt is a very handy bolt for lifting and holding objects in place. One end of the bolt features a thread and the other a circular eye.
A hole is drilled in and object and the threaded section pushed through and bolted from behind, always using a washer to prevent pull through. Once fixed a rope or pulley can be attached to the eye.
They are also used in various safety applications, one good example is a ladder tie where the feet of a ladder are strapped to a wall using an eye bolt to stop it striking out.
Available in a range of different sizes and capabilities, some able to left heavy objects and others only to be used with very light loads.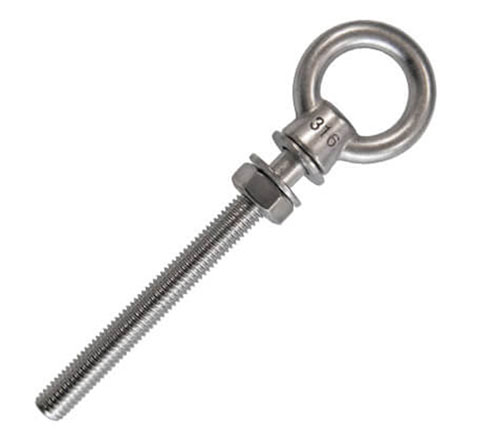 Shoulder Bolt
The shoulder bolt is very similar to a hex bolt, the main difference being that after the head there is a unthreaded smooth section called a shoulder.
The shoulder bolt is commonly used when the object it's fixing needs to rotate as it can spin on the smooth section or around a bearing or similar.
As before, the shoulder bolt is available in a range of different sizes and lengths.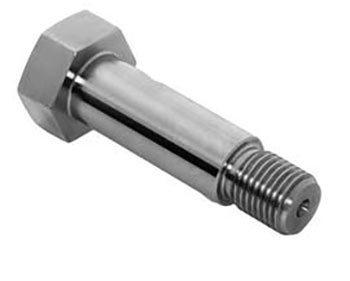 T-Head Bolt
The T-head bolt is mainly used where the head needs to be recessed and access is limited to only one side. Essentially the T section drops into a recess and is then held in place preventing it from turning. As it cant turn in the recess a nut can be easily screwed on the thread without the need to also put a spanner or socket on the bolt head.
The main areas of use for the T-bolt are in construction and engineering.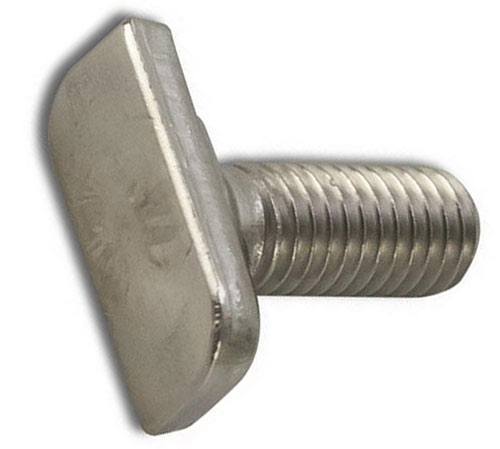 Hook Bolt or J-Bolt
As you can see the hook bolt of J-bolt as it's also known takes it's name from it's shape.
Mostly, the hook bolt is used in situations where an object needs to be fixed to an existing structure an ideal example and one of it's most common uses is in roofing, where roofing sheets and bolted down to an existing roof structure.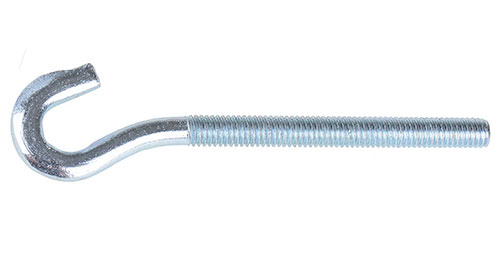 Countersunk Bolt/ Machine Screw
The countersunk bolt or machine screw is most commonly used in engineering situations with metal work typically where sheet metal is bolted down to a surface. As the bolt head is countersunk it is flush with the surface and as such wont catch in any objects.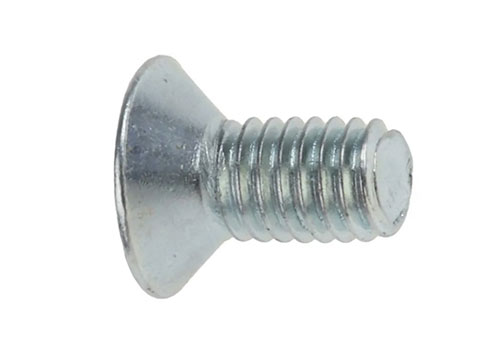 Flange Bolt
The flange bolt is named as such due to the "flange" that is attached to the base of the bolt head. The flange acts just like a washer and helps to spread the load applied when fully tightened up.
The flange bolt is most commonly used in engineering and the automotive trades. They are available in a range of different sizes and types but most commonly feature a hex head.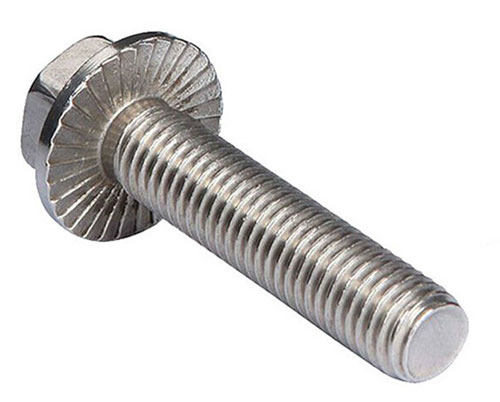 U-Bolt
The U-bolt is very much like the J-bolt in terms of how it is used. In most cases it is used for clamping something down or together. A good example again is for fixing roofing sheets to a roof structure and also clamping pipes together such as exhaust pipes.
As with all bolts they are available in a huge range of different sizes and lengths.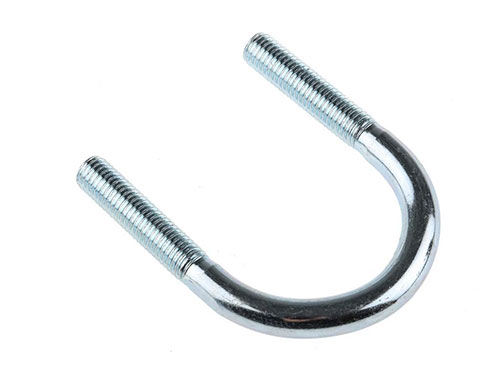 Hanger Bolt or Dowel Screw
The dowel screw or hanger bolt as it's commonly known is a little similar to the double ended bolt only as opposed to having the same thread cut into both ends, one end has a metric nut thread and the other has a course screw thread.
The main use of the hanger bolt is for the screw thread end to be screwed into timber and an object can then be bolted to it a good example is for fixing steel electrical ducting to walls and ceilings.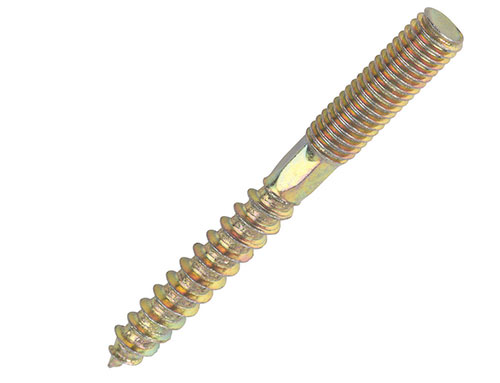 Different Types of Nuts
To go with the vast range of different bolts available there is also a huge range of nuts to go along, with each being specific to a particular task or job. Some of the most common types of nut are as follows:
Hex Nut
As with the hex bolt, the hex nut is arguably the most common type of nut in use. Again as with the bolt that shares it's name, the hex nut is a 6-sided hexagonal nut and is used in pretty much all industries from automotive, engineering and construction.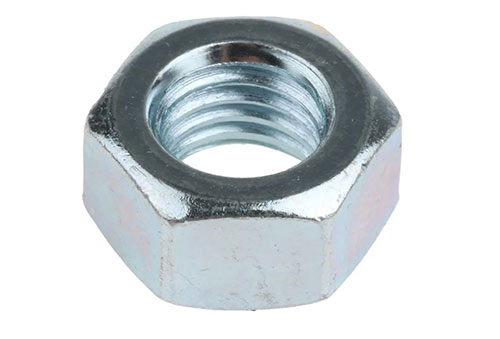 Flange Nut
As with the above, the flange nut is basically the same as the flange bolt and featured an in-built washer attached to the base of the nut itself.
Available in a vast range of sizes to suit the range of flange bolts available.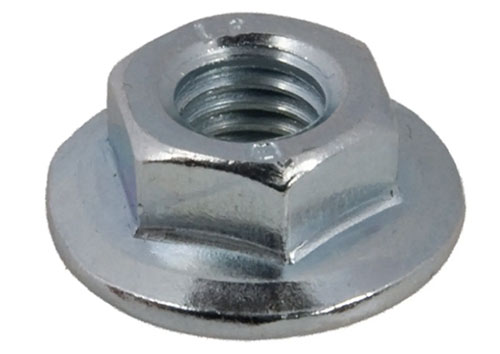 Square Nut
In the same vein as others above the square nut takes its name from the fact that it is square in shape. Due to its square shape it typically has more of its surface area in contact with the object it's holding, mainly meaning that it is less likley to loosen over time.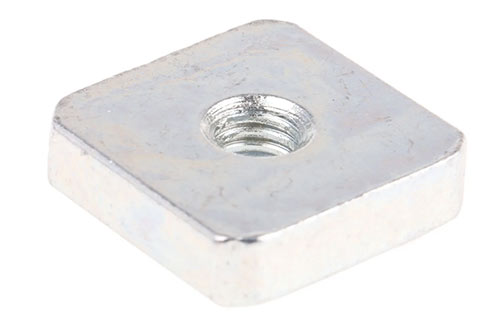 Wing Nut
The wing nut takes it name surprisingly from its looks and the two "wings" fixed either side of the nut. The wings have a very important job and allow the nut to be quickly tightened and loosened using your fingers.
Available in a huge range of sizes they can be used with pretty much any bolt as long as the thread type is the same.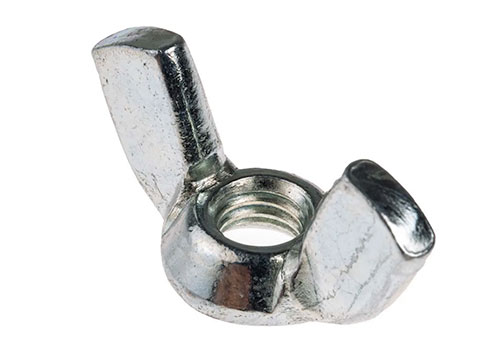 Cap Nut
Again as with others, the cap nut takes its name from that fact that it has a domed cap over what is normally an open end. Domed or capped nuts are typically used when a nice finish is required. An example of this is when fixing a mirror to a wall.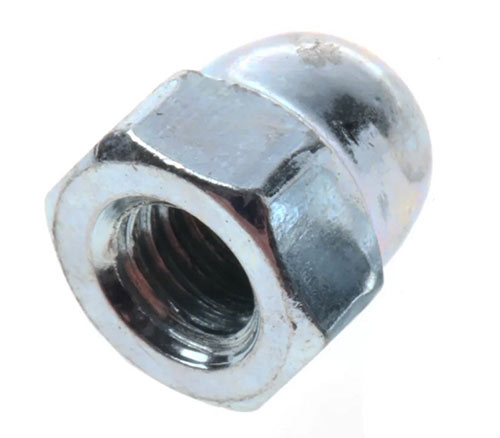 Nylock Nut
The nylock nut features a band of nylon built into the nut that once a bolt is screwed in, creates extra friction and hold on the bolt preventing the hut from loosening over time due to vibration.
Commonly used in automotive, engineering and electrical applications.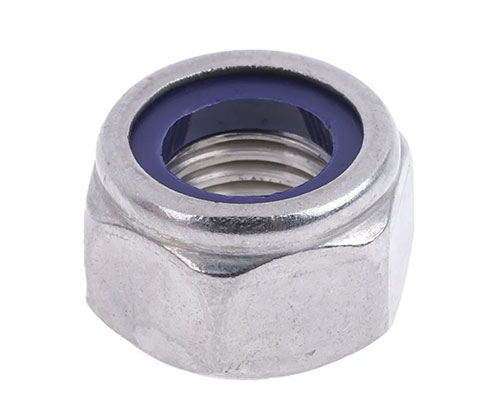 Tee Nut
The tee nut is commonly used with timber, mainly in furniture making and features 3 or sometimes 4 sharp splines that dig into soft materials such as timber and both prevents the nut from spinning and also produces a stronger joint.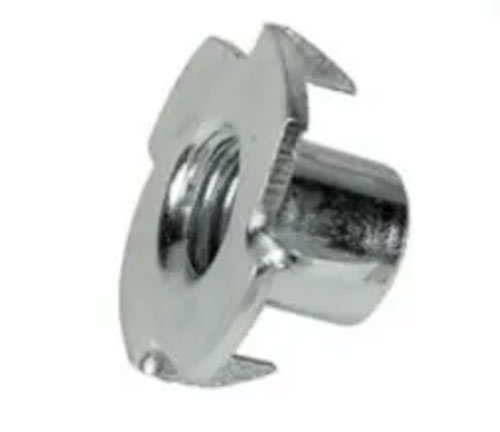 Split Pin or Slotted Nut/Castle Nut
The slotted nut or as it's also known, the split pin nut features a series of raised corners around the nut. A split pin or cotter pin as they are also known runs through a hole in the end of a bolt once its been screwed in and a split pin is pushed through.
The split pin sits in the raised areas and prevents the nut from turning, preventing it form loosening where heavy vibration is present.
There is a distinct difference between slotted and castle nuts in that the raised sections are flush with the edge on slotted nuts whereas they are recessed slightly with a castle nut, however their operating principles are pretty much the same.
Commonly used in the engineering and automotive industries.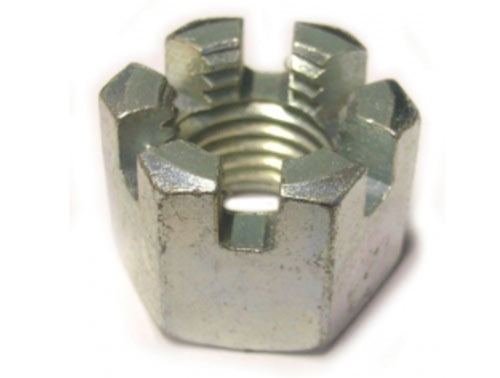 Different Types of Nut and Bolt Heads
As you may have seen in the above there are several different types of bolt head featured on the different bolts that we have looked at and there are reasons why each differs slightly. Some of the most common types are as follows:
Hex Head
As we have commented already, the hex head is the most common type of bolt head out there and for very good reason. The fact that it has 6 individual faces means that tools such as spanners can slotted on from a variety of angles and tight spaces and also the nut or bolt in question only needs to be turned a fraction of a way for you to be able to fit a tool e.g. a spanner onto the next face.
When working in cramped and tight conditions this is an absolute godsend.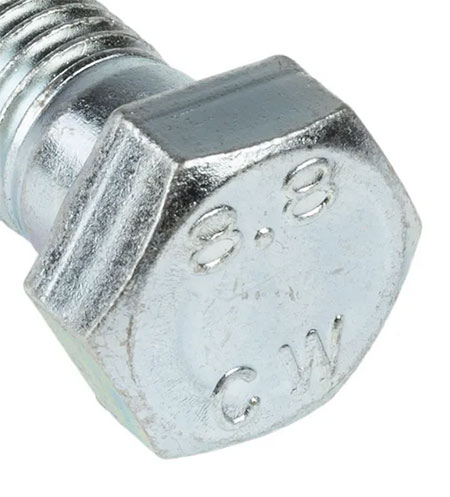 Square Head
The square head when used on nuts and bolts has several advantages, firstly that the additional surface area creates more friction and less loosening as we have described and secondly like the hex head, various tools such as spanners can easily slot on.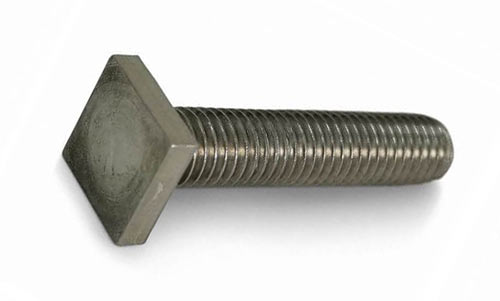 Domed Head
Mainly used as a decorative finish or one that needs to reduce the chances of anyone tampering, the domed head is exactly what it sounds to be.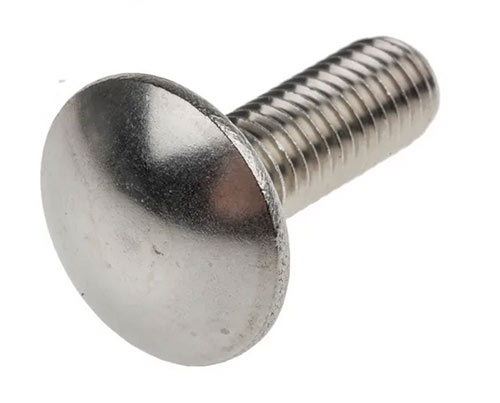 Flat and Countersunk Heads
Flat or countersunk bolt heads are as they sound, flat and low profile meaning that they can sit flush with any surrounding surfaces. This makes them ideal for surfaces that are used regularly or where an non-obtrusive finish is required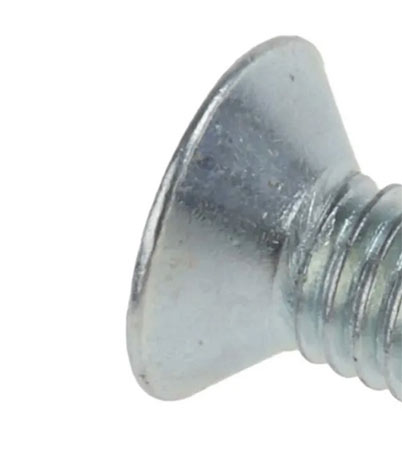 Security and Tamperproof Heads
Today there is also a massive range of security and tamperproof bolt heads available with a massive range of different fitments, with specific fitments often being common to only one manufacturer making them highly secure as you would need that specific adaptor to be able to loosen them.
Unfortunately we can't list them all in this guide as there are simply too many, but a quick search online will reveal many of them.