Fitting a roof window is certainly not as difficult as most people imagine. Roof windows are an easy, affordable way to give you extra light in the unused loft space in your home. Whether you have a loft conversion, or your loft is just used for storage, a loft window will be a great advantage. Roof windows and roof lights allow natural daylight and ventilation into a roof space while minimizing noise transmittance and heat loss.
These roof windows are fully compliant with part L of the building regulations (Doc J in Scotland) and in a full loft conversion at least one means of escape (MOE) roof window will be required to comply with the building regulations, 1992, in relation to Means of Escape in Case of Fire.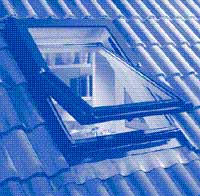 The windows below are available from stock, can be installed in roof pitches between 20 and 85 degrees, are manufactured from sealed, solid laminated softwood with a 24mm low E double glazed sealed unit already installed, are entirely factory assembled, you only need to install them.
They can be fitted entirely from the inside, no need to walk around on the roof or hire expensive scaffolding. They come complete with fully detailed fixing instructions, have adjustable ventilators in the frame and easy to operate handles which allow for ventilation in the latched position.
As mentioned above, full instructions come with each window, but some advance details may also help with the installation of roof windows and skylights. Roof windows come in standard sizes which are designed to fit with the minimum amount of removal of existing roof structure although, of course some is required.
Firstly you need to determine the position of the window in your roof. You must always observe Building Regulations and Planning Permission laws and if you are in any doubt, talk to the building control department of your local council.
In a full loft conversion for habitable use you will be required to install at least one window in each space created which will open to provide a minimum of 0.33 square metres of slope opening (MOE provides 0.47 square metres). MOE windows should be installed no more than 1.7m from the roof eaves (A) and between 600 -1100 mm from the loft floor. This is so the window can be accessed from inside easily and reached from a ladder from outside.
IF the window is installed in a loft only used for occasional storage (ie via a loft ladder) then the window may be installed in any sensible location provided that you ensure that the roof support structure – rafters, purlins and struts – is not weakened in any way.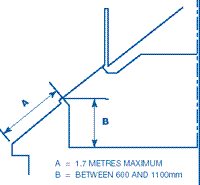 The opening should be prepared by removing enough tiles or slates from the area. These are accessed by cutting away some felt from underneath giving you access to the tiles and battens. By cutting away one of the battens from under a tile you will be able to slide that tile, and then the other tiles, into the roof space. Some tiles and all slates will be nailed. Once enough tiles are removed you will be able to cut away the necessary roof timbers to form the correct sized opening as shown in the window instructions. You will need additional timbers to strengthen the roof timbers left in place and to make the new framework.
The opening sash is removed from the new window and the remaining frame is fitted into the new opening using fixing brackets supplied. The roof flashing (this keeps the joint between the new window frame and the roof, watertight, is then fitted. The tiles or slates are then laid back into position up to the sides of the new window frame. It is extremely unlikely that they will all go back without at least some having to be cut up against the frame so use an angle grinder to cut them. Do not attempt to cut them in position on the roof, mark them, remove them to the ground and cut them there. Always wear safety goggles when using an angle grinder.
The sash (opening section) of the window is then re-fitted and you are ready to make good and redecorate inside.
A skylight is fitted in exactly the same way and can be used for the same reasons as a roof window ( Not including a Means of Escape window) Its is also very useful when the cost, weight and size of a roof window is inappropriate. The usual skylight size is 450 x 550mm and can be installed in roofs between 15 and 70 degrees from the horizontal. It is wood framed, clad in aluminum, double glazed to the same specification as the roof windows, top hung with a 3 position latch and all flashing's are included with full fitting instructions.
If you are wanting to provide additional light into a ground floor room space it may be a good idea to look at a sun tunnel. Check out our project on sun tunnels that includes full installation instructions and a description of what they actually do.
For a short film on installing a skylight, why not go to our video section on roofing.