I was going to put this at the end of the project but I actually think it is a good idea to remind you before you start your Tree house! Since 1st October 2008, you need to get planning permission for any raised 'verandas, balconies or raised platforms'. 'Raised' is defined as anything over 30cm. The Planning Department have made people dismantle tree houses they have constructed in their back gardens because they did not have approval, so don't get caught out.
The first thing you need to do when building a tree house is to choose the tree (or trees) you are going to use. Then you will need to do a little bit of planning. What size your tree house is going to be ie. a large tree house play area or just a little project, big enough for your child to just sit in?
Do you want it to be visible or hidden from sight? You don't want it to be looking over your neighbours or your neighbours might not want it over looking their garden.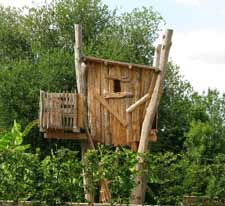 Also, for younger children, you don't want it to be built at a great height from the ground. An advisable height would be not higher than 5-6ft from the ground; children do not bounce very well.
Sunlight and heat will need to be taken in to account as you don't want your tree house to turn into a oven in the summer.
Access to your tree house, permanently fixed ladders, and a safety harness may need to be considered too for safety. Always make sure you have a first aid kit in the vicinity or close to hand.
The first thing you will need to construct is the platform. This should be placed as near to the trunk of the tree as possible for stability, using the strong and stable branches or supported with posts. The platform will need to be level and able to hold uneven loads – children will not think of sitting in their tree house with the weight evenly spread out!
When choosing the structural timber for your platform, it is advisable to overestimate what you may require. For that little more expense you might just stop everything falling out of the tree.
You can also bolt your structure to the tree. Trees are hardy things and they will take bolts being fixed to them.
When you have completed your base/platform section you will need to construct your floor. This should be made out of exterior grade wood sheeting or planks. If you can acquire tongue and groove planks, this will give your floor section even more stability.
Use screws instead of nails as these will be more secure at holding your structure together. Also make sure all screw ends do not protrude from any pieces of your floor as these will be sharp and have the potential to cut or scratch your children.
For larger projects, it might be easier to construct your tree house in sections and then raise them into position.
When you are constructing your tree house roof, remember to create fall to your roof, just the same as your own house, to make sure rain water is carried off and does not collect. A wet interior to your tree house will not go down well with your children! Your roof can be covered with roofing felt to keep water out and prolong the life of your tree house.
When it comes to windows you have the choice of leaving them as just an opening or you can construct proper opening windows. We would advise not to use glass as glass can break and hurt you children. We would advise using Perspex.
If you are planning any opening doors or windows, make sure they can be held in place when they are open or shut, as the wind will blow and you don't want anyone's fingers to get trapped.
You will need to protect your tree house. This can be achieved with the use of fencing stain/paint or exterior garden furniture stain/paint. Make sure that which ever you use does not give a chemical reaction to skin or inhalation.
If your tree is large enough, you may be able to construct a platform outside your tree house. This can make accessing your tree house easier – just make sure you place a guard rail of some kind around the perimeter of your platform, just to stop anyone falling off.
Once you have completed your basic tree house, you have many options for accessing your tree house, for example rope ladders, wooden ladders or staggered platforms. Whichever method you choose to use, make sure that it is securely fixed into position and can take the weight of your children, even if they all try to climb up the access at the same time!
It is always advisable to give your tree house a yearly check over especially after the winter months, before your children start using it again. Make sure all the fixings are secure, there is no rot, surfaces are not slippery due to mould build up and that your tree has not grown or changed shape too much to make your tree house dangerous.
As a suggestion, you can always construct a sand pit play area beneath your tree house as another line of protection for falling children. A slightly more expensive option, albeit an aesthetically pleasing one, is to add a few inches of tree bark under the tree house.