Wooden decking needs to be cleaned and treated regularly to keep it looking its best, and to stop the wood from rotting. Depending on the treatment you use and how sheltered your deck is, you will need to treat the wood every two or three years.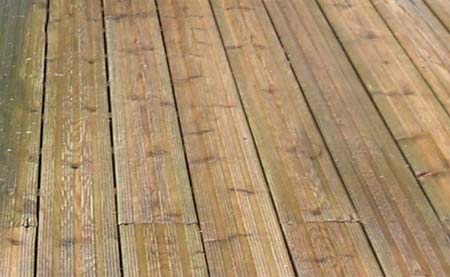 If your decking is brand new, provided the wood used is pressure-treated, you should not apply any stain for a few months. Give the wood a chance to dry and settle before treating it.
Equipment Needed for Staining Decking
You will need protective clothing and gloves, as no matter how careful you are, you are bound to find a couple of splashes of stain on you by the time the job is finished.
You need to decide on how you are going to apply the stain. You can use a brush, roller or specially-designed pad. An old-fashioned brush will probably take the longest, as it covers the smallest area. A roller can be quite messy, as they spray a lot. As you will be repeating the treatment every couple of years it makes sense to invest in a pad with a long handle – this will save you a lot of time and back-ache.
Equipment checklist:
Gloves
Overall or other protective clothing
Eye protection
Suitable chosen staining product
Roller or specialist paint pad
Paint brush (around 2 – 3 inches)
Masking tape
Sheets or covers if needed to protect non-movable items
Sandpaper
Power sander
Sodium Percarbonate or stain stripper (where needed)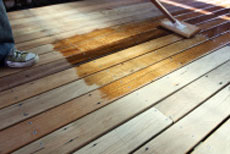 If your deck adjoins a patio or doorstep you will need to mask off the adjoining surface to protect it from any splashes.
Choosing the Right Stain for Your Decking
There is such a wide choice of wood stains available now that it can be quite bewildering. Any exterior wood stain will work, but there are specialist decking stains available that are generally more penetrating and hard-wearing.
If the deck gets a lot of foot-traffic you need to make sure it won't wear off. A translucent stain will age better – opaque stains in strong colours can flake off with age, leaving your deck looking old and messy.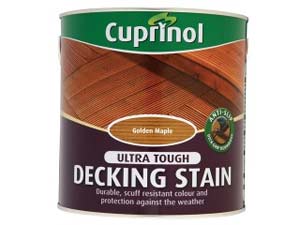 Be careful if you are choosing a dark or non-natural colour. That green or red might look nice on the tin, but when you're staring at several metres of it shining in the sun, it might be a bit too much.
It's a good idea to apply a small amount of stain to an off-cut of decking timber if you have any left over, or to a small area of the deck that's not too visible. Let the test area dry and decide if it's definitely the colour you want.
If your decking is close to a wooden fence you might want to use the same colour for both for a uniform effect, or you might choose to have a contrasting darker or lighter colour on the deck.
Preparation Before Staining Your Decking
You must make sure your deck is clean before applying the stain, or it won't adhere or soak into the wood. The best idea is to use a power-washer to clean the decking a few days prior to application. See our Powerwashing Decking project for advice.
There are also certain cleaners that you can use to clean your decking. Sodium Percarbonate (known sometimes as oxygen bleach cleaners) are great at cleaning aged wood and the majority are also non-toxic.
When you need to clean old stain off of a deck before re-staining a stain stripper is ideal. Although these can be quite toxic in nature they will remove the majority of any old stain. make sure you read the instuction before using!
If there are any blemmishes or marks remaining the best course of action is to sand these down with some sand paper or a small hand-held power sander.
Clear the area before you start, making sure any garden furniture, pots and planters, barbecues etc are moved out of the way.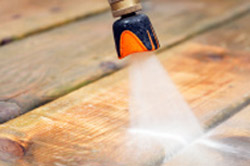 Where to Start Staining
If your deck has a balustrade or rail, use a brush to stain this first, starting at the top and working your way down so that any drips are brushed out as you go. Any benches or planters that are built in and can't be moved should be dealt with next.
When it comes to staining the actual deck, make sure you leave yourself an escape route – work your way backwards from the furthest edge or wall, so that you don't have to walk over the freshly-applied stain to get off the deck.
When to Stain Your Decking
Don't apply stain if it is very cold or frosty, as it won't dry.
As hard as this is to do, especially in the uk, try to pick a day when there is no rain forecast as even a quick-drying stain will run and wash-off if there is a sudden downpour before it has a chance to dry.
Don't apply stain in direct sunlight or when the surface of the deck is hot to touch – if the stain dries too quickly you won't get an even coverage, and it won't have a chance to soak into the wood, reducing the protective quality of the stain. You also run the risk of harmful gasses being released if the stain overheats. Wait until the deck is in the shade before applying.
Don't apply stain to wet timber, as it won't be able to penetrate wood that is already wet. Let the deck dry completely after washing it before starting work and also ensure that you do it at a time of year when there is no chance of dew settling on the deck making it wet. The main key here is to ensure that the deck is as dry as it can be before you start work.
Applying the Stain to Your Decking
Use a brush to make sure any corners are covered, then carry on with your implement of choice. Always move with the grain of the timber, and maintain a wet edge to avoid darker areas where you've overlapped. Maintain a wet edge by brushing into a wet area and back brushing.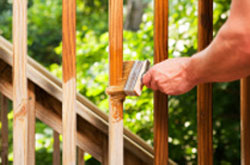 If you are using a pad or roller make sure the stain goes into any gaps between the decking panels. You may need to use a brush to make sure you get it down into the gaps.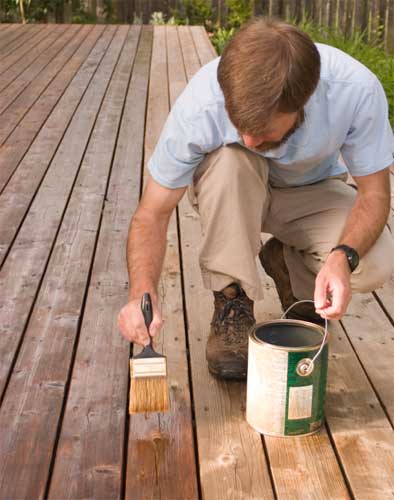 Apply liberally, making sure there is enough to soak down, fully penetrating the timber. Don't leave puddles though – back-brush or wipe off any puddles with a rag.
Make sure you fully saturate the end grains – if you have any ends showing where the wood has been cut, use a brush to saturate it completely – it will soak up a lot of stain, and needs to be well-coated to be protected from splitting.
Follow the manufacturer's instructions on whether a second coat is needed, and how soon it can be applied, and once finished allow the decking to dry for 24 hours before using it.