Extractor fans are an essential feature in any room in the home where large amounts of steam and moisture-rich air exist.
If air such as this is allowed to simply sit and collect in a given room then over time this can cause huge issues with condensation, damp and also black mould, which in itself is hugely dangerous and has been linked to many health conditions including respiratory disorders, allergies, skin conditions and many others.
To prevent these issues from occurring an extractor fan is used to pull the damp moist air from inside and vent it outside.
Read on below to find out about the different types of extractor fan and what situations each can be used in, how each type can be wired up and where certain types of fans can be installed.
Different Types of Extractor Fan
When it comes to the different types of extractor fan there are 3 main types – inline, axial and centrifugal.
The extractor fan best suited to your specific needs will depend largely on the room it's going in and the volumes of moist air and steam that need extracting.
Inline or Mixed Flow Extractor Fans
The inline extractor fan is, as it sounds, installed inline in the actual ducting the fan uses to draw any moist air away from the location it's installed in.
In most installation setups the fan itself is normally installed in a space above the ceiling or up in the loft and sections of ducting pipe are used to pull air from one location and vent it out to another.
Inline extractor fans are ideally suited to locations that require long runs of ducting when axial fans (below) would struggle to create the necessary draw required to pull air through longer runs and also in areas that require high rates of airflow to remove large amounts of air such as in kitchens or large bathrooms.
One further bonus is that as they can be installed pretty much anywhere meaning they can be hidden out of the way to reduce potential noise issues.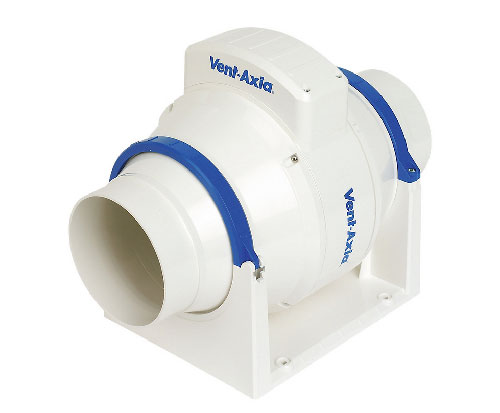 Axial Extractor Fans
The axial extractor fan is one of, if not, the most common type of extractor, found in millions of homes across the UK.
Essentially they are installed through an external wall so the fan inside the room draws any moist air through a short run of ducting which then vents to the outside.
Axial extractor fans do however tend to be slightly less powerful than the above and below types and due to this shouldn't really be used for any situations where ducting will run over 2 metres or so but should be more than up to the job for a standard sized family bathroom.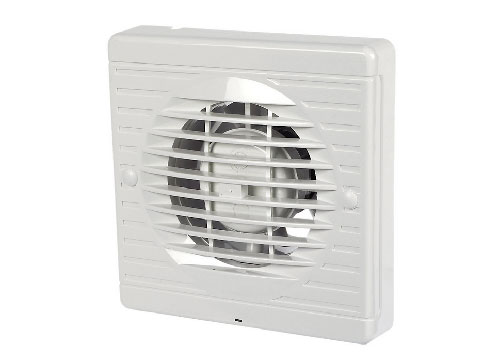 Centrifugal Extractor Fans
As you may guess form the name, the centrifugal fan uses centrifugal force in order to create the necessary airflow to move air from one location to another.
Unlike axial fans that draw air along a linear line, centrifugal fans draw air in to the fan's intake (the visible part mounted on the ceiling etc.) but then extract it at 90°s. This setup means that fans such as these can create greater amounts of pressure which in turn allows for greater air extraction rates.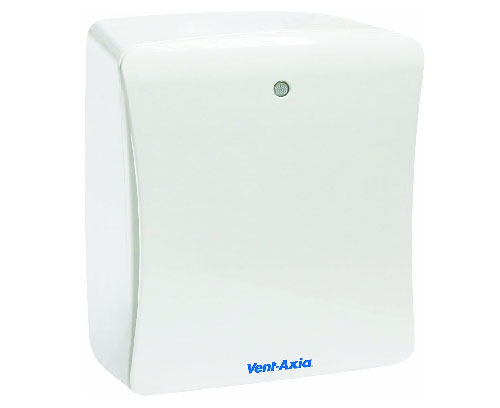 Extraction Rate and Fan Size
One of the most significant points to be aware of when looking at a given extractor fan is its extraction rate e.g. the volume of air that it can shift in a given time. This is important for two reasons, firstly to ensure that all the moisture rich air in a given space is extracted and secondly to comply with the Building Regulations (Document F) minimum extraction amount of 15L/s.
In terms of the actual measurement of extraction, this is calculated in either "L/s or litres per second" or m3/hr "metres cubed per hour". On a bsic level this simply indicates how much air a given fan can move over a given time.
Although the minimum amount of 15L/s is stipulated by the Building Regulations Document F, the majority of extractor fans on the market today, even the lower end axial fans will move considerably more air than that, with some of the more expensive inline and centrifugal fans hitting over 100L/s.
Here follows a summary of the minimum airflow rates for some common rooms that require extraction of wet or moist air:
Toilet / WC room = 6L/s
Standard size bathroom = 15L/s
Utility = 30L/s
Kitchen = 60L/s
Once further consideration to think about is the actual size of the fan itself, this will either be 6 inch (150mm) or 4 inch (100mm).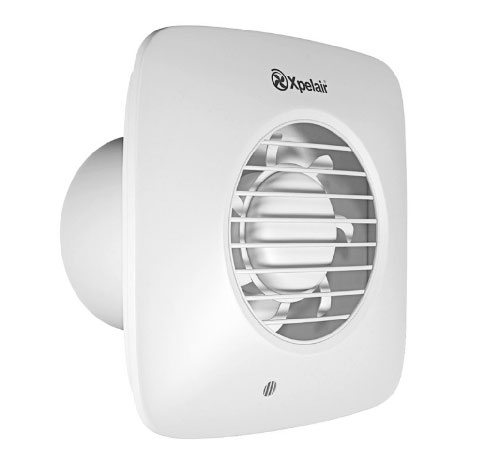 In general the smaller slightly less powerful fans tend to be 4 inch where as the larger fans tend to be 6 inch but in general this doesn't necessarily equate to much as the L/s or m3/hr figures are more relevant in terms of how effective a given fan will be.
Turning Extractor Fans on and off
When it comes to turning an extractor fan on when it's needed this can be done in several different ways:
Pull Cord: Extractor fans with their own pull cord switch as a little outdated now but are still available in limited numbers. An integrated pull cord protrudes from the fan housing and is used to trun the fan on and off
Sensor: A PIR sensor, similar to those used with outdoor security lights senses when someone walks in the room with the fan installed and turns it on
Humidistat: A humidistat senses humidity in a given space so when humidity levels rise due to a shower being turned on or pans getting up to temperature, the humidistat turns the fan on and then off again when humidity levels drop back below a certain level
Timer: Fans with built in timers allow them to run on even after the main power switch such as a light switch or pull cord has been turned off
Existing Light Switch: More often than not, an extractor fan is wired into an existing light switch so that when the light is turned on the fan comes on and then goes off again when the light is turned off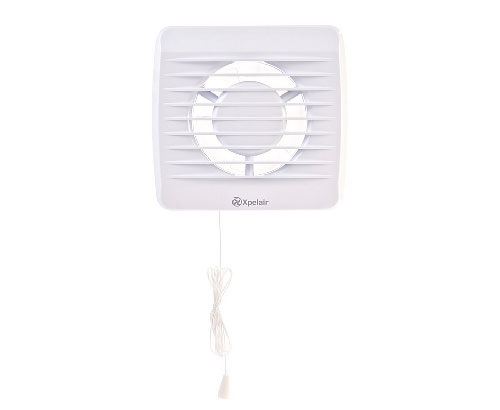 There are advantages and disadvantages to all of the above methods so you should in general go with which method or type of fan is best for you and your situation. However in some cases the type of fan you have or the way in which it's installed will decide which method of powering your extractor fan is best.
Note: One point to note in terms of the wiring setup for an extractor fan is that it has to be "locally isolated" and to meet these requirements it needs an isolation switch (in this case a triple pole fan isolator) between the fan and the incoming live supply which also needs to be with in 3 metres of the fan itself, normally outside above the door.
This is so that if the fan needs to be fully turned off and disconnected from the incoming supply for maintenance or another reason, the isolator can be turned off and the fan can be worked on in the safe knowledge that there is no risk.
Noise Levels
One other fairly major consideration to think about is how noisy it is. In general, the cheaper the fan is to buy the noisier it will be and the more expensive the quieter, but this isn't always the case as unfortunately noise is a bit of a byproduct when it comes to centrifugal fans and these tend to be more on the pricy side.
Noise isn't necessarily a consideration if the fan is only going to be used during the day, however if it's for a shower room that is likely to be used early in the morning or late at night when people are sleeping then a quiet extractor fan is going to be required.
In general most fairly decent quality axial extractor fans tend to be around the 35 – 40dB level but in recent years and with newer technology sound levels have dropped down to as little as 25dB with some models.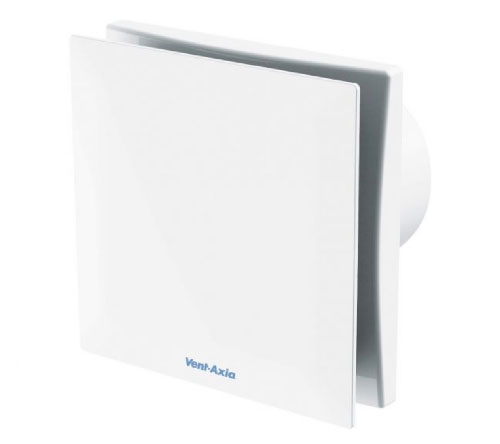 One ting that we have found over the years when installing extractor fans, especially inline extractors is that you should avoid using aluminium flexible ducting and try to use PVC ducting pipe instead.
This is due to the fact that is some cases when the fan is running, the sound of the motor and rotation of the blades reverberate though it and can sound even louder.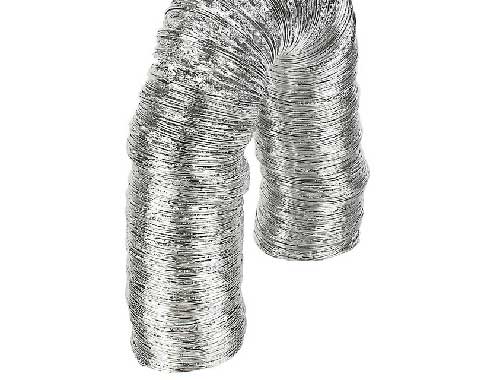 Where can an Extractor Fan be Installed?
Depending on what room you are installing your extractor fan in will depend on exactly where it can go as there are rules stated in the Building Regulations in terms of exactly where an extractor fan can be placed if it's close to a water source.
This is particularly the case when installing an extractor fan in a bathroom. In respect to this, the Building Regulations have divided a bathroom up into different "Zones" with set rules on what electrical appliances, if any, can be installed in that particular zone.
For a full and detailed run down on these electrical zones in a bathroom and what can be installed in them, see our project here.
In terms of the type of extractor fan that can be installed in each of the zones, namely zone 1, zone 2 or zone 3 to comply with the regulations, these are as follows:
Zones 1 & 2
As zones 1 and 2 pose the greatest risk in terms of the possibility of water and electricity mixing the rules are extremely strict on what type of fan can be installed in either of these areas, these are as follows:
IP45 rated – IP45 or "ingress protected" electrical products signifies that all electrical components are completely shielded from the possibility of coming into contact with any water
Extra low voltage (LV fans) – With extra low voltage fans a transformer that is installed in a separate location outside zones 1 or 2 reduces the mains power from 240v down to a much safer 12v
Inline fans – As the actual fan motor and other electrical components are installed in a loft or ceiling void somewhere the actual electrical components are away from the risk area
In terms of which is best, they both provide adequate protection from the risk of serious injury however LV fans do tend to be a little more pricy than IP45 rated fans.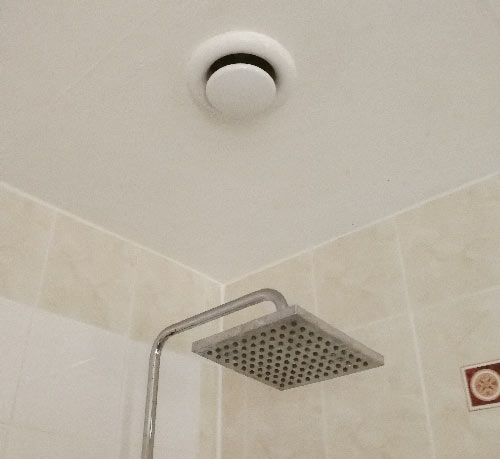 Zone 3 or Outside Zones
As zone 3 is or should be as far away as possible from any direct water sources and due to this should be a minimum risk, any fan regardless of rating can be installed in zone 3.
Can I Install an Extractor Fan Myself?
In short, it depends on the situation.
If you are simply replacing an old extractor fan for a new one as a like-for-like replacement and none of the electrical wiring needs to be adjusted then yes you can install the fan yourself.
However if you currently do not have an extractor and one will have to be installed form scratch e.g. running a new electrical supply to it then no you are not allowed to do this.
In this instance all electrical work must be carried out by a fully qualified Part P registered electrician. Read more about Part P regulations in our project here.
Extractor Fans Used in Kitchens
As we have mentioned above you can install axial and inline extractor fans in both kitchens and bathrooms and any other room for that matter that requires one.
However as the majority of damp moist air in a kitchen is created by cooking in most cases you would want to install your extractor fan over your cooker or hob so that any steam is sucked away as soon as it rises.
Fortunately there is an appliance made specifically for this job and it's called a cooker hood. It sits above your cooker and features an integrated extractor fan that then sucks away steam and moist air in much the same way as one of the traditional extractor fans listed above.
The major difference between them is the hood area. With a traditional extractor the vent within a room is rather small, typically 4 or 6 inches, where as a hood will cover the entire top of your cooker area, capturing much more steam than a smaller vent would making it much more effective in this situation.
Although not technically an extractor fan in the traditional sense it certainly needs mentioning so that you are aware that in this situation, this is the appliance to use as opposed to a standard extractor.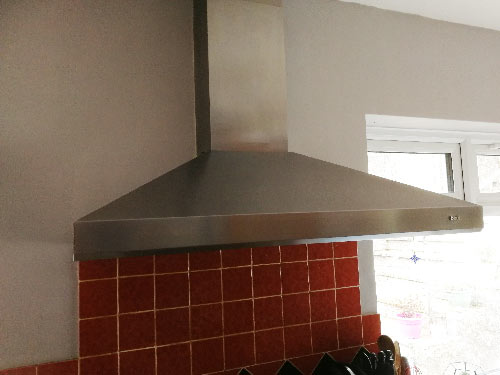 There are several different types of extractor fan available for use in the home with each being suited to a certain location or installation situation so if you are considering installing an extractor fan ensure you go with the correct one for your particular requirements.