Recognising and choosing different types of paint brush for different jobs is something even the pros have trouble with now.
As with all things in the building trade there is a tool made specifically for the job and this is no different when it comes to paint brushes. There are brushes for cutting in and tight spaces, large brushes for painting large areas, long reach brushes for painting behind radiators and the list goes on.
To this end, here we look at some of the most common types of paint brush used in construction and DIY projects.
What's the Problem With Paint Brushes Today?
Traditionally for both DIY'ers and trade professionals, to do any painting jobs you would first buy a set of paint brushes and after each painting job the brushes would be cleaned thoroughly and put away until the next painting job came around.
However today where brushes have gotten so cheap it's now possible to buy a pack of 10 reasonable quality paint brushes of varying sizes for as little as £5 meaning that whereas traditionally brushes would be cleaned ready for the next use, they are today simply discarded.
This has lead to a huge amount of waste, which some have estimated to be around 35 million paint brushes simply thrown away after use each year!
This is, however, still not true of the top quality brushes used by the top quality tradesmen and it is always a sign of a good decorator when you can see them cleaning their paint brushes. It may even be a question you want to ask them when you are getting quotes for a decorating job.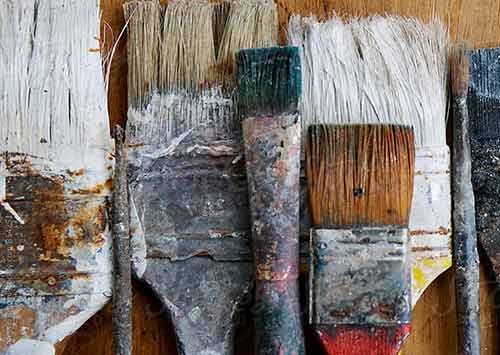 What are Paint Brushes Made from?
In general paint brushes are made from either synthetic fibres for the bristles and acrylic for handles or natural hairs for bristles and timber for the handles.
Synthetic Paint Brushes
Synthetic brushes will generally use Nylon or Polyester or a mix of both to make the bristles. These types of brushes can be used with all paints but their use with water based, emulsion paints, is more usual.
Generally the handles are also made from a synthetic material such as acrylic plastic.
Typically synthetic brushes tend to be cheap and as we have mentioned, due to this, disposable and simply thrown away when they are finished with.
However despite this if they are cleaned properly after each use they are perfectly fine for use!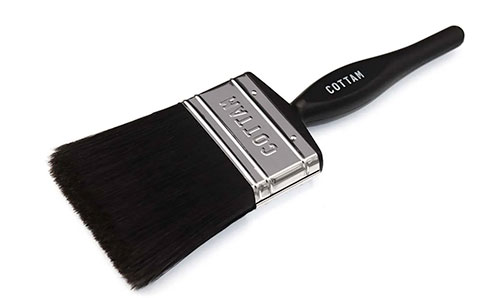 Natural Paint Brushes
Natural hair brushes usually use Chinese Hog or Badgers hair and are recommended for use with oil based paints as they flow more smoothly and actually paint on the surface rather than simply "spreading" the paint about.
Chinese Hog bristles absorb water which makes using them with water based paints very difficult and getting a good finish is almost impossible.
Other natural fibres used for good quality paint brushed are Camel hair brushes, Squirrel hair brushes and Sable hair brushes.
Specialist Badgers hair brushes are probably the most expensive brushes and have the softness to allow an excellent finish with oil based paints and all varnishes. When used properly they do not leave brush marks and literally smooth the paint or varnish over to a great and pretty seamless finish.
These are expensive compared to the throw away synthetic brushes but are much easier to clean and take care of and if you do take care of them then they will last you many, many years.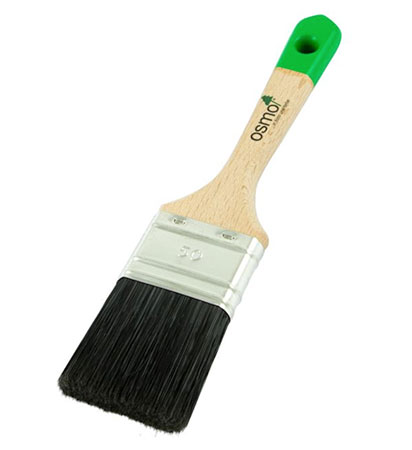 Synthetic and Natural Combined Brushes
As you may imagine from the name, these types of brush feature a combination of both natural and synthetic bristles.
By doing this you benefit form the features of both type of bristle in that across the board, regardless of what type of paint you're using, whether oil-based or water-based, you will get a great finish.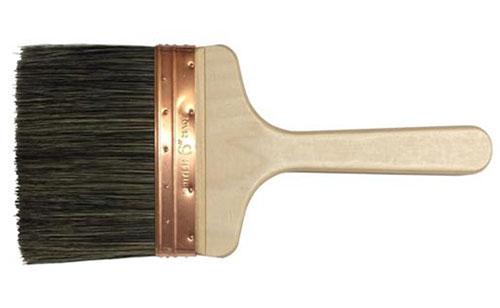 Paint Brush Handles
Different paint brushes also have different handles and these are generally made from either wood or acrylic plastic.
Paint brushes with wooden handles usually reflect the cost of the brush e.g. better quality brush, more expensive and are also better, and easier to hold. This is very important especially if you are spending long hours in a day holding one, you don't want blisters or cramp!
On the flip side to this paint brushes with plastic handles do tend to reflect a cheaper and lower quality brush, normally made using synthetic bristles.
However some better quality synthetic brushes feature ergonomically shaped soft grip handles which are much better and nicer to hold that just a bog standard plastic-handled brush.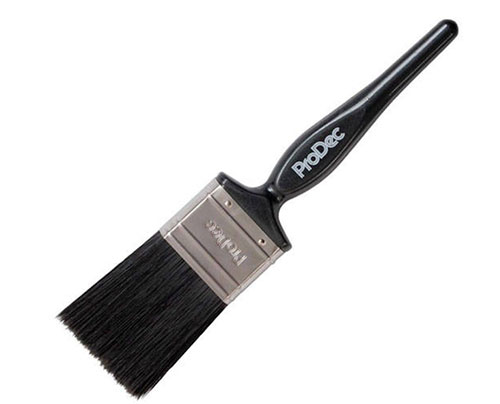 The Parts of a Paint Brush
There are 3 different parts that make up a paint brush; The handle, the ferrule and the bristles.
The Handle
As I'm sure you have guessed from the name and the thousands of other objects that have a handle, the handle is the part of the brush you hold in order to use it.
Paint brush handles are usually made from two different materials, either wood or a synthetic acrylic.
Handles come in a variety of shapes and sizes depending on what the brush is to be used for, the 3 main brush handle types are as follows:
Rattail Handles: These types of handles are long and thin and enable the user to hold it more like a pencil. Generally found on smaller, thinner brushes
Beavertail Brush Handles: Beavertail handles are generally shorter in length and are thicker and shaped with a wider end and thinner where it meets the ferrule so that they fit nicely in the palm of the users hand
Fluted Brush Handles: These handles are square in shape and uniform in thickness along the length. The corners are all rounded so again they fit the users hand comfortably
The Ferrule
This is the part of the brush that holds everything together. It holds the bristles firmly in place on the handle.
With lower quality brushes, the ferrule in generally made from mild steel which causes it to rust whereas with higher quality brushes it's made of stainless steel which avoids this issue.
Additionally in this ferrule there are tiny (in good quality brushes) wooden wedges which spread the bristles apart a little to give better paint holding quality.
In poor quality brushes these wedges are bigger and the amount of bristle is less.
The Bristles
As we all know, the bristles of a brush are what does the work, they get the paint on the wall or object you're working on.
As we have discussed above they can be made of a variety of different materials that all have different characteristics suitable for different types of paint.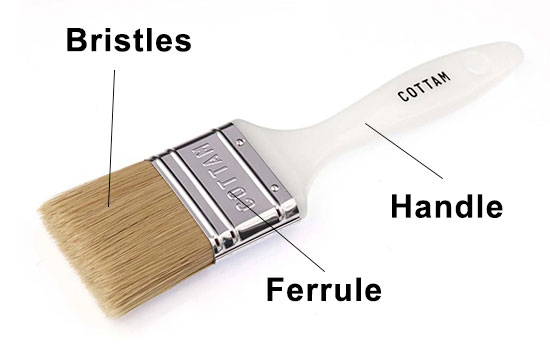 What Different Sized Paint Brushes are There?
Paint brushes come in a huge variety of sizes and each has its own specific uses. Decorators painting brushes (as opposed to artists brushes) are measured in inches and millimeters, with the smallest being 10mm or about half an inch all the way up to 6 inches or 150mm.
For example a 6 inch (150mm) brush would be great for painting a wall with emulsion but not a great deal of use for painting skirting boards as it would be far too wide.
Likewise, a 1 inch (25mm) paint brush is ideal for painting skirting board and architrave, but if you tried to paint a wall with one you would literally be there all day!
With such a range of different sized brushes sometimes its hard to know exactly which brush you should be using for which job. Here follows a rough guide:
10mm – 25mm Brushes: These sized brushes are generally used for delicate and accurate work such as cutting in and painting furniture
50mm Brushes: These are used for slightly larger jobs that still need a degree of accuracy such as painting skirting, architrave and similar objects and larger pieces of furniture
75mm Brushes: Used for larger jobs that don't necessarily require high degrees of accuracy such as painting doors and larger stationary objects
100mm – 150mm: These types of brush are used for painting large flat surfaces such as walls and ceilings, both internally and externally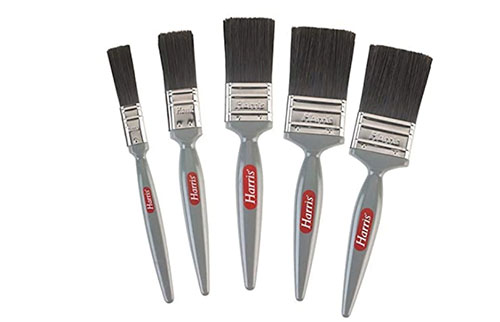 Cheaper vs. Higher Quality Paint Brushes
It may be very tempting to save money by opting for the cheaper paint brushes but if you consider how many times they are likely to be used over their lifetime and what the cost of buying a new set each time would amount to, by going down the more expensive route this may save you in the long run.
So with this in mind how do the cheaper brushes actually stack up against their more expensive counterparts and what other advantage sand disadvantages do they have:
Cheaper, Lower Quality Paint Brushes
The two real problems with cheaper brushes is that the bristles tend to be stiff, leaving brush marks in the surface and the bristles can fall out quite a bit.
This is a huge hindrance when painting a tricky door or window frame and adds hours to the painting work when you have to pick them out of new paintwork over and over again.
Another point to be aware of is that cheaper brushes contain single thickness, generally unflagged bristles (stiffer and straighter at the ends).
The best synthetics are Nylon and Polyester brushes. These are usually tapered and multiple sizes are used in the brush to give a better paint holding quality.
More Expensive, Better Quality Paint Brushes
Always look at the ends of the bristles when choosing a paint brush. Good quality brushes have split ends.
This splitting of the ends is called flagging and flagged end brushes will allow more paint to be collected and delivered to the surface in a much more even and smoother manner. The more a brush is flagged the more paint it will hold and it will leave paint on the surface rather than brush marks.
A further sign of a good quality brush is tapering on the bristles from a thicker end inserted into the handle to a thinner "business" end.
A good quality paint brush will also have bristles of varying lengths. This also helps to hold more paint and release it more smoothly onto the surface.
On the whole if you are just looking for a quick dust over of a given object with some paint to tidy it up then a cheaper brush may be the way to go, however if you are looking to get a good quality and smooth finish and a brush that can be used over and over again then the more expensive route is probably better.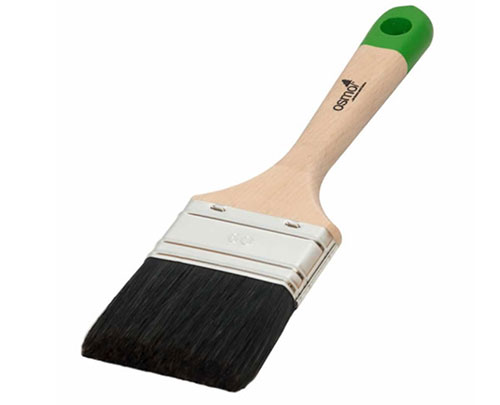 The Stiffness of Paint Brushes
It's important to also know that paint brush bristles vary in stiffness. This is down to 2 factors; What they are made from and how long they are.
In general, natural hair bristles are less stiff than synthetic ones due to the fact that when exposed to water e.g. a water based paint they soften up, while this isn't the case for synthetic bristles
On the whole stiffer bristles give much greater control and thus much crisper lines, ideal for cutting in or creating accurate lines. Additionally they also work very well with thicker paints such as oil-based paint.
In terms of softer, less stiff bristles, these are great for producing very smooth finishes with little to no remaining brush strokes in the finish.
What Different Types of Paint Brush are There?
As we have discussed there is in most cases a paint brush to suit each job or application it may be used in, here follows a list of the most common types.
1. Angled Brush or Chisel Brush
The angled brush or cutting in brush as it's also known is ideal for exactly what it sounds like it is, cutting in and getting into tight hard to reach areas.
The angled bristles allow you to create very accurate and crisp lines, just right for painting around windows, door frame, skirting etc.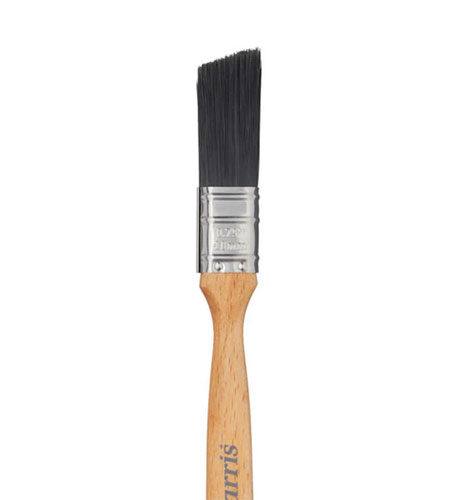 2. Shed and Fence Brush
Again, exactly as the name suggests, this is a brush for painting sheds and fences with a suitable shed and fence treatment.
They are thick and chunky with plenty of bristles, ideal for holding a large quantity of paint or treatment solution and coating large areas in a single application.
3. Masonry Brush
Similarly to shed and fence brushes, masonry brushes are chunky and generally wider than most brushes, around 5 – 6 inches in width.
They feature long, mostly natural bristles that are ideal for holding lots of paint and again allowing you to cover a large area with one application.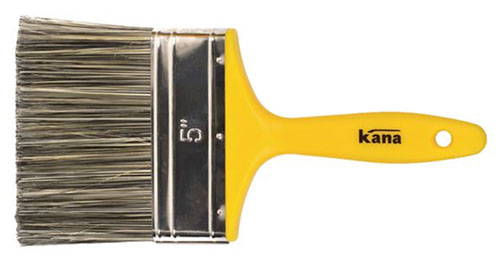 4. Radiator Brush or Long Reach Brush
The radiator brush features a long handle, some are also angled and allow you to get right down into hard to reach areas, such as behind radiators.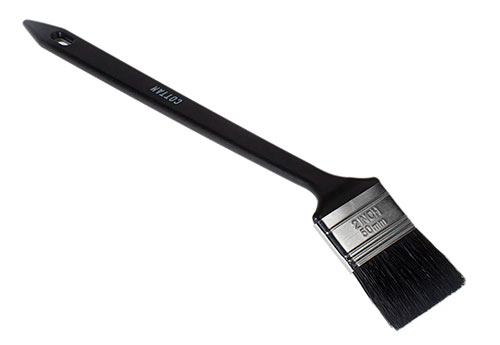 5. Round Brush
This is one of the most popular choices with the pro's as they are generally very high quality brushes. Their round and tapered heads allow for great accuracy and their high quality bristles produce a smooth even finish with pretty much all types of paint.
Often called sash brushes they are fantastic for painting and finishing sash windows. They are also available in a range of different sizes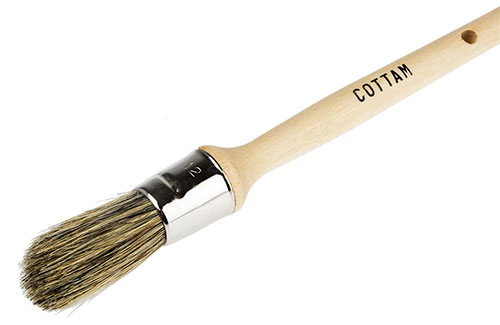 6. No-Loss Brush
The no-loss paint brush is a great brush for laying on a smooth and even finish because as you may guess from the name it doesn't loose any bristles.
They generally feature synthetic bristles, although some natural-bristled brushes are also no-loss. To prevent them coming loose, each bristle is wrapped over the block held within the ferrule.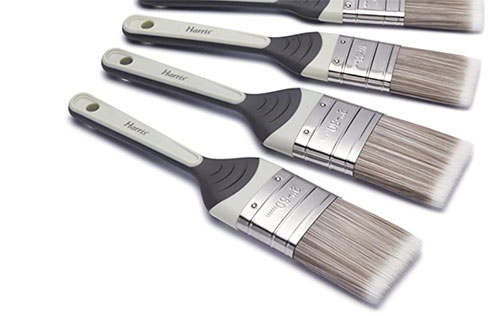 7. Foam Brush
The foam brush is something of a new comer to the scene and instead of bristles it features a foam pad!
Foam is great at absorbing paint and due to this can hold quite a large volume of a range of different types of paints, stains and the similar
They also produce a very smooth and even finish on a range of surfaces including walls, furniture, architrave etc.
8. Dust Removal Brush
Again as the name sounds, this is a brush for removing dust and dusting over surfaces after sanding, scraping or roughing over.
Dusting brushes generally have long and soft bristles making them ideal for getting down into tight spaces and removing dust and debris buildup.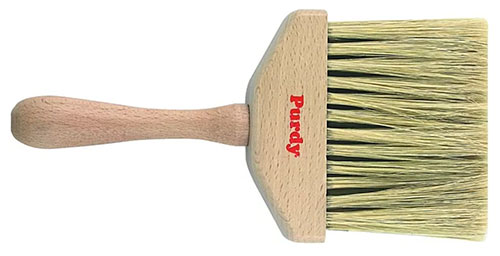 9. Fitch Brush
The fitch brush is a small brush similar in appearance to what you may deem and artists brush.
They can have rounded bristles similar to a round brush or flat similar to other types of paint brush.
Due to their short bristles and long handles they are great for detail painting and touching up damage or fine detailed areas and tight spaces.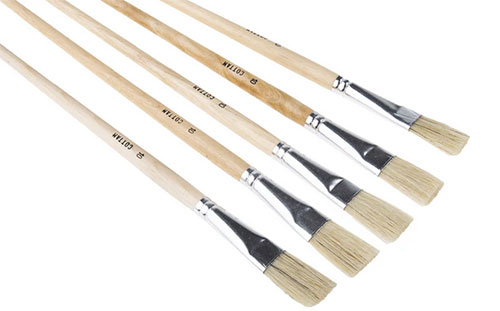 What Jobs are Different Paint Brushes Used for?
Selecting the right paint brush for the job you are doing can be tricky, but ultimately it is down to the type of paint you are using as to what brush is most suited.
Solvent-Based Paints: For DIY painting jobs a synthetic brush can be used to good effect, however for the very best results a seasoned or well broken in brush gives the best finish possible. A natural bristle brush is always the choice of the professionals when it comes to solvent paints
Water-Based Paints: These types of paint are best suited to a synthetic brush as the water content in such paints don't fair well with natural bristles
Important Paint Brush Maintenance
As we have established in this project, it is essential that once you have finished with your paint brush you clean it thoroughly ready for its next use. Simply throwing it away is no longer an option, especially for the planet.
If you have been using a water-based paint then you should immediately wash it out with warm soapy water. Work your fingers into the bristles and get all of the paint out as well as running tap down over the bristles and down into them from the end.
For oil-based paints you will need to use a solvent-based cleaner specifically for cleaning oil-based paints. Again work the solution into the bristles and get as much paint out as possible.
Once all the paint has been removed shake your brush out as much as you can and then leave it somewhere to dry thoroughly.
High quality natural-bristled brushes get better with age and use and to keep them in tip-top condition use a special brush comb to comb through the bristles.
More can be seen about this in our cleaning and restoring paint brushes project.
There are a huge range of paint brushes available today and to get the very best finish it's important to use the correct brush for the job you are doing and once you have completed your painting job, make absolutely sure you clean that brush to use again, do not simply throw it away!