A Band Saw is a bench type saw which uses a continuous metal blade (band) with one edge having teeth to cut.
Band saws come in varying sizes depending on the size of wood / metal products you are cutting. Smaller versions are called scroll saws for finer details of work and you can also get cordless portable bandsaw that can be easily setup and used in a variety of situations
Click on images for more details about each Band Saw.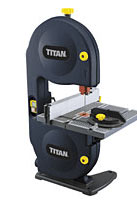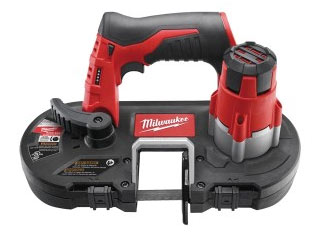 Depending on the size of your Band Saw will depend on whether it comes with a stand. If your saw does not you will have to make sure you have a strong and stable work platform to bolt your saw to so that the process of sawing is stable and safe (not your kitchen worktop, we don't think the wife would be too impressed!).
The Band Saw because of its design, is capable of cutting either straight cuts with the use of a guide bar or cutting curve designs through what ever product you are sawing. On occasion you might want to cut long or awkward pieces of material. Therefore, you need to think carefully about where you place your bandsaw so that you have sufficient room to swing or turn the material you are working on easily.
There are two important features you should consider before purchasing your Band Saw,
Depth of cut
Throat width
Depth of cut being the distance between the working surface and the top of the visible blade.The Throat width is the distance between the blade and the main body at the back of the working surface. These two factors will limit the size of the material you will be able to cut.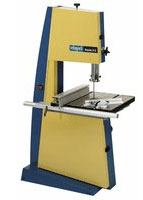 The cutting surface or table is constructed of metal for weight and stability. On larger models dust extraction devices are built in as waste dust can be a health problem and just get in your eyes and ears.
When first using your Band Saw we advise you to follow all setting up directions in your user manual as these are firstly a safety factor and also a way of improving your cutting and the life of your saw blades.
As always with machinery that creates dust, debris and sharp components DIY Doctor always recommends the use of gloves, dust masks and eye protection.