Water softeners and conditioners, limescale removing and water filtering are now part of everyday life. Over half of the UK has hard water (and in some cases very hard water) and the effect this has on appliances such as boilers, washing machines, kettles and dishwashers can be very expensive and potentially fatal.
Fortunately there are numerous water conditioners and water softeners available to treat the incoming mains water and reduce its hardness and in turn the damage that it does to appliances and heating systems. Below we look at the advantages and disadvantages of these conditioners and softeners.
Problems Caused by Hard Water and the Effects on Appliances
Hard water is caused by lime, calcium and magnesium carbonate particles (or salts as they are sometimes known) dissolving in water as it travels from source into your home.
Once in your home the mineral particles deposit themselves on electrical heating elements because as the water temperature rises around the element, the lime dissolves less easily and forms a scale on the element.
The problem doesn't only effect heating elements, in fact any item in that home that has water flowing over it or through it can be at risk – central heating pipework, shower heads, taps and many similar objects.
The system or appliance (what ever this may be) then becomes inefficient and costs more and more to run as the limescale builds up. Your appliances are only as effective and cost efficient as the water they are using.
As you can see in the image below the thickness of limescale on heating elements against the reduced effectiveness of those elements is dramatic.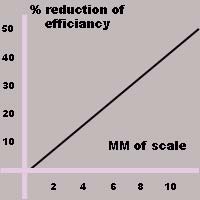 You can see from the graph that a heating element with a 5mm build up of limescale is 20 less effective than one with a clean element.
Not only are your energy bills likely to rise but to expect appliances to do 20% more work to produce the same result means, without resolving the hard water issue, they are likely to fail 5 times more quickly.
So, what's the answer to this issue? Well essentially it means treating the incoming water to either reduce or totally remove any mineral deposits and stop any problems at the source. The effectively means installing a water softener or water conditioner.
Water Softeners vs Water Conditioners
Although many infer that water softners and water conditioners are essentially the same thing in fact their not and each operates in a slightly different way to reduce mineral deposits and limescale buildup.
Before we get into the different types of water conditioner and softener we need to establish exactly what each type is and how they work.
A water conditioner does not in any way change the actual water that passes through it. Essentially the hardness is not removed from the water, once treated the water is still classed as hard water.
What a water conditioner does is through the use of magnetism, electrolysis or an electrical charge, it reduces the rate at which the mineral particles escape and settle on their surroundings.
Water softeners work in a slightly different way as they operate through ion exchange. In simple terms this means that the mineral deposits that cause hard water are removed and substituted with a different substance, in this case sodium chloride (salt).
Benefits of Treating Hard Water
In the images below you can see two very different heating elements. The top element has received no form of protection from the affects of hard water, and as you can see is caked in limescale.
However, the heating element in the bottom image has been serviced by water that has been conditioned. You can see the difference this makes, not a trace of any form of deposit!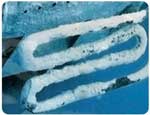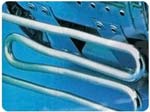 5mm of limescale takes no time at all to build up but for every single mm you can potentially knock 1 year off the life of your appliances.
The life expectancy of a new washing machine is around 10 years. You can prevent this machine failing after 2 years very easily by treating the mains water coming into your home. Its only very rich people who want to buy new washing machines every two years!
The benefits aren't just felt by your washing machine. Kettles, dishwashers, coffee makers and many other appliances also benefit as they innards are not clogged up with scale so they can operate at peak efficiency.
Your boiler and heating system will also be very grateful. Using water free from minerals will prevent any scale building up around the heating element in your boiler and also in the pipework running around your home. Protecting your heating system in this way will ensure it operates as cost effectively as possible.
If all of the water consuming and heating appliances in your home are allowed to function as intended, gas and electricity usage will be kept to a minimum saving you money and also protecting the environment form unnecessary energy usage.
Types of Water Softener and Water Conditioner and How They Work
As stated at the top of this guide, the most effective way to treat hard water is to install a water softener or conditioner and remove or reduce the mineral deposits that cause all these problems.
Here follows the main different types of water softner and water conditioner including information on how they work and how effective they are.
Salt-Based Water Softeners
Using salt to soften water is traditionally the most commonly used method. The practice in question is referred to as Ion Replacement and essentially the mineral deposits found in hard water are taken out and replaced with sodium chloride or salt.
As the majority of salt-based softeners are whole of house e.g. condition the water for the entire property, at the point that the mains water pipe enters your home it is intersected. At this point the water softener is plumbed in.
The incoming water is into the top of the first tank of the system that contains many, many resin beads that are all negatively charged. As the water passes down through the tank and through the negatively charged beads, the positively charged mineral deposits are attracted to the beads and stick to them while at the same time are replaced with sodium ions.
By the time that that hard water has passed all the way through the tank and reached the bottom it is now fully softened.
Over time all the resin beads become saturated with calcium and magnesium ions so they need cleaning. This is done through a recharge cycle.
During this cycle a brine substance is created through water being passed over salt blocks. The substance is then passed over the resin beads and as it is the mineral ions are exchanged for sodium ions regenerating the system and recharging the beads.
Once completed the waste water is then drained away.
On the whole, salt-based water softening systems are highly effective and soften water extremely well, however they do have some down sides.
The first is that you need to be sure that you only run the regeneration process as and when required as it uses a large amount of both water (up to 8 litres) and salt and salt is expensive (for the average 4 person home in a hard water area this could be as much as £200 per year). How regularly this needs to be done will depend on the volume of water used by the household.
Some systems feature an automatic regeneration process (automatic softener) but on the whole these can be very inefficient and use a lot more water and salt than is needed, so it's best to go with a system that measures the water usage in the home and how hard the water is and only regenerates when needed (DIR systems – Demand Initiated Regeneration).
There is also a third type of regeneration process known as Portable Exchange. With this system the homeowner effectively rents a tank of resin beads and once they have lost their ion exchange abilities, the tank is simply exchanged for a new one. Again, how cost effective this is will depend on how much water is used.
Aside from potentially high water and salt costs the initial cost of the actual system is well up there. For top of the range systems this can be as much as £1500!
One final huge disadvantage with these systems is that due to the fact that the softened water contains so much salt, you are not allowed to drink it and need to install a separate drinking water tap, yet more expense!
As an example of one of these systems, one of the best salt-based water softners is the Kinetico Premier Compact Twin. These and similar quality units are available from many outlets online.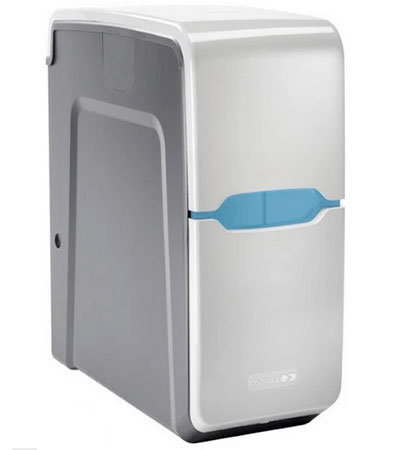 Non-Salt Water Softeners
The name non-salt or salt-free water softener is a little misleading in a way for several reasons, firstly these systems have nothing what so ever to do with salt so the reference is only there to essentially emphasize this fact.
Secondly their not really softeners either as they don't actually use any form of ion exchange. What they actually do is condition hard water and prevent any mineral deposits or scale from building up within appliances or other systems. Because of this they should be classed as more of a conditioner or descaler.
They do this through a process called Template Assisted Crystallization (or TAC for short). This process basically involves converting the magnesium and calcium in the water into hard crystals that are unable to stick to any surfaces.
One huge advantage of this is that as they don't actually trap any substances there is no need for pricey regeneration processes or the likes and additional costs for salt or other replacement or filtration substances.
Also as no salt is involved you can actually drink the resulting conditioned water.
Unlike salt-based softeners that require power, non-salt conditioning systems don't so also save you on your energy bills. Additionally they also don't need to be serviced.
One draw back with these systems is that as they don't actually remove the hard deposits from the water you don't benefit from your soap and detergents working more effectively or avoid the scummy film that often floats on the top of your cup of tea.
Aside from the few drawbacks, salt-free water conditioners offer a great a solution that both works well and is cost effective to purchase and run.
A great example of one of these systems is the Aquasana Rhino whole of house system but there are many other systems available on the market today. Decent salt free conditioners tend to range in cost from £500 all the way up to around a £1000.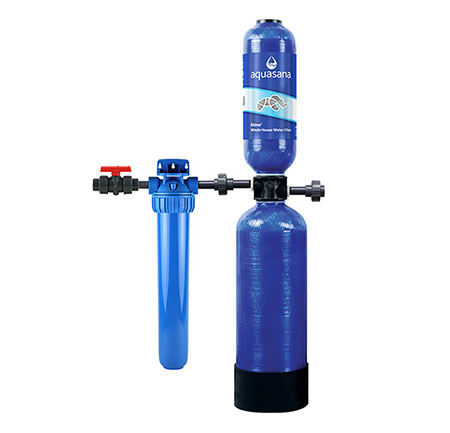 Electronic/Magnetic Water Conditioners
As with the salt-free systems, electronic or magnetic water conditioners are as the name suggests hard water conditioners and not softeners as again they do not actually remove the mineral deposits from hard water.
In basic terms an electronic water conditioner is a fairly simple device and works by using electricity to generate a magnetic field around your incoming water main.
Most manufacturers build their devices in a similar manner so most look pretty much the same in terms of their appearance, generally a small rectangular box with either one or two wires coming out of the base.
The box or control unit is normally fixed above the water pipe and the wire or wires are then coiled around the water pipe and secured in place.
Once setup and ready the unit is then plugged into a mains electrical supply. Once it has power it then starts to generate an electrical/magnetic field which in turn prevents the limescale deposits in the water from settling on any surfaces.
These devices have numerous benefits that such as the fact that they require no maintenance at all, are very easy to install and are generally quite cheap to buy, usually somewhere between £100 and £200
A great example of one of these products is the Eddy water conditioner and scale inhibitor. As a company we have installed these in numerous customers homes and have had great feedback in terms of how effective they have been.
We also have a full video that covers how to quickly and easily install the unit, this can be seen below and also a full project detailing how to install the Eddy water softener.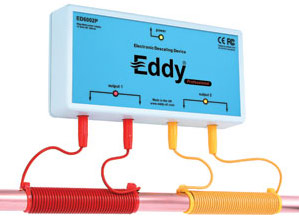 Which Water Softener or Conditioner Should you go for?
In terms of which unit you should go for, this really is a bit of a "how long is a piece of string" question as it really depends on your budget, the number of occupants in your home and how much water you use.
If money is no concern then you may want to consider a salt-based water softener as you will certainly be able to afford the initial out lay and running costs but be aware of the fat that you can't actually drink the water that it softens so will need to install separate drinking water taps.
However if you have some decent spare funds available you may want to look at the salt-free conditioners, but if funds are limited and you are after value for the money you spend then the Eddy system we have mentioned above is a great solution.
For more information on solving hard water problems and reducing limescale build-up, including a map showing all the hard water locations in the UK see our dealing with hard water project here.