Hard water is a problem experienced by many in the UK. Somewhere around 60% of UK homes have hard water and suffer the problems that this causes with limescale buildup and the devastating effect this can have on appliances and heating systems.
There are a number of ways of dealing with hard water issues and this project describes how to fit the Eddy electronic whole of house descaling device. This is a simple job to tackle which will alleviate the problems of limescale build up in most homes for substantially less cost than a conventional chemical water softener.
The Problem With Hard Water
Are you familiar with or have you experienced any of these limescale-related problems:
Furred-up kettle with lots of limescale floating about
Clogged shower head
Hot taps running slowly due to clogged pipes
Stubborn tidemarks around baths and sinks
White stains on taps, even though you've just cleaned them
Rising heating costs due to inefficiently operating boiler
Scummy film that floats on top of your tea or coffee
Spotty deposits over shower enclosures and misting on other glass surfaces
Scratchy and stiff towels and clothing
All of the above issues are indicative of the fact you have hard water. For further information on dealing with hard water and the problems it causes see our project here.
What's the Solution to Hard Water?
There are numerous solutions for treating hard water and the resulting limescale deposits it causes, here follows the three main methods:
Chemical limescale cleaners and lots of hard scrubbing. This method will remove baked on limescale, but will need to be repeated week after week. This can be a very expensive process over time, you'll be surprised how the cost mount up! Also the cleaners pollute the waste water, causing yet more problems for the environment
Conventional (ion exchange) water softener. The most expensive option, costing up to £1100, plus installation charges. These devices must be plumbed into your mains water supply, and consume a large quantity of salt in order to make them function, about £12 per month for a family of four people. The water generated by these systems is truly softened, but sodium from the salt replaces the calcium in your water. This means that treated water has substantially raised sodium levels. Experts advise that this water is not suitable for drinking, so an alternative source of drinking water should ideally be arranged (separate tap in kitchen). This is particularly important if you have children in the house, as they should consume even less sodium than an adult, and on no account should a baby's formula milk be made with water treated by an ion exchange water softener. Conventional salt based water softeners also generate substantial amounts of waste water with regular flushing of the resin tanks, increasing the water bill for those households with metered water
Electronic or magnetic water descalers. Some devices are simply powerful magnets placed around the incoming mains water pipe. A much more effective device is the electronic water descaler. The Eddy Water Descaler we are looking at in this guide is a great example. Typically these devices inhibit or prevent deposits from forming in pipework or appliances as opposed to the ion exchange method water softeners use
The above is just a brief run down on the different type of water softner and conditioner, for more information see our full project on water softeners here.
What is the Eddy Water Descaler and How Does it Work?
The first Eddy descaler was developed by the Surrey based manufacturers Eddy Water Descalers back in 1999 by the two London-based electronic engineers that founded the company.
Having both been troubled by the effects of hard water in their own homes they decided to work together to produce a cost effective unit that worked as well and many of the more expensive water softeners available at the time but unlike many of these that were produced overseas, Eddy wanted to produce their units solely in the UK.
After several years of perfecting their design the current and highly acclaimed Eddy ED6002P was launched in 2006 and is still receiving fantastic reviews to this day.
Eddy is also kind to the environment as, unlike with a salt based softener, there are no environmentally damaging discharges into your waste water.
So how does it actually work? Well, this device operates by wrapping coils of wire around the incoming water main (or rising main as it's also known) to pass a magnetic field through the water. The effect of this is to cause the calcium in the water to stay in solution and so inhibit it from adhering to taps, baths and kettles.
When developing this device, Eddy sought to better the output level of all rival devices by a significant factor whilst also managing to produce a unit that is economical to buy and run.
During the testing phase they found some competing devices to have output signals so low as to render them almost completely ineffective. Also unlike some inferior devices which operate with only one coil, Eddy Water Descalers have two, so increasing the time for which the water is exposed to the magnetic waveform.
Many in the industry regard these types of devices to be fairly useless due mainly to these poor quality units that have, in many ways, tarnished this technology. Fortunately the Eddy unit doesn't fall foul of any of this as not only does it work, it works well, hence the reason that we have used and installed it on numerous jobs.
This has been a crucial factor in its success and as we have mentioned, it's made in Britain too, and comes with a 12 month money back guarantee if not completely satisfied with the performance.
An Eddy Water Descaler represents an economical and environmentally friendly way of combating the nuisance of limescale. The treated water has an unaltered chemical composition, so is as safe to drink as normal tap water. No dangerous chemicals or cleaners are washed into your waste water.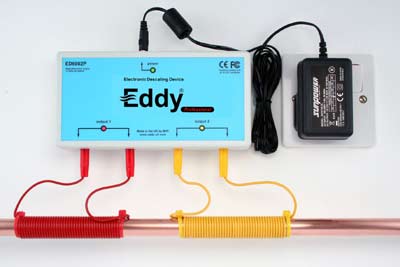 After installing the device the build up of limescale will be radically reduced, not only on visible surfaces like taps and kettles, but also in places where limescale damage cannot be seen, such as heating elements in washing machines, hot water tanks and boilers.
In these areas especially, excess limescale results in increased water heating costs and premature heating element failure. After fitting an Eddy water descaler, any small deposits of limescale that are still present, in kettles for example, should be powdery and easily cleaned away with a quick rinse or a gentle wipe.
Furthermore, of great interest to readers of DIY Doctor, the device is easily installed as a DIY operation, taking the average householder no more than 30 minutes to fit. Overall, electronic water descalers such as Eddy present a neat solution to a major problem for those of us in Britain (most of us) afflicted by hard water.
How to Install the Eddy Water Descaling System
The Eddy descaling unit is quick and easy to install and can easily be done on a DIY basis. Follow the simple steps below to install yours quickly and easily and start enjoying the benefits of less limescale buildup right away.
Note: The Eddy descaler can be fitted to copper, iron and plastic pipes and works just as well regardless of the material. However it is advised that you do not install them onto lead pipes and removing the existing limescale buildup from a lead pipe can expose your mains water to the lead which is harmful to your health.
Locate the incoming cold water main, usually under the sink, or in the under stairs cupboard. This will usually be a 15mm or 22mm copper pipe with a stopcock nearby. See an example in Fig.2 below

Fig.2 Typical location of incoming water main

Choose a convenient part of the pipe which is long enough to wind the two coils of wire around it (see Fig.1, illustration of typical installed device). Ideally this will be not less than 23cms (9 inches) long. There should be a space on the wall nearby (within about 8 inches) to attach the main Eddy device so that it's within reach of the coils wound on the pipe
When choosing an installation location ensure this is as close to the incoming supply as possible and certainly before any branches run off of the incoming pipe. If your water main splits as soon as it enters your property, no problems, just wrap one coil around each pipe as opposed to both around a single pipe
Wind the 2 coils of wire around pipe as described in Eddy installation manual (as seen in Fig.3 below). Ensure the coils are wound nice and tightly and then secured at each end using the small colour coded zip tie supplied with the kit

Fig.3 Coils wound onto mains water pipe

Attach the Eddy Water Descaler main unit to wall within reach of coils using the supplied heavy duty self-adhesive Velcro and plug the coils into the unit (see Fig4 below)

Fig.4 Fixing Eddy to wall and plugging in

Locate a mains socket within reasonable distance of the Eddy unit to enable connection of power cable via supplied mains adapter. (Use an extension lead if necessary, keeping mains socket/power adapter away from any damp)
Switch on and say goodbye to limescale at a cost of no more than 10p per week!
Current price of the Eddy electronic water descaler is £139.99 and is available direct from manufacturer or from our very own online store here.
For further information on electronic limescale prevention go to www.eddy.uk.com
email admin@eddy.uk.com or telephone Eddy Water Descalers on 020 8287 6668