Building Regulations: Approved Document B - Fire Safety
B1 Means of warning and escape
B2 Internal fire spread (linings)
B3 Internal fire spread (structure)
B4 External fire spread
B5 Access and facilities for the fire service
Approved document B of the building regulations involves fire safety matters within and around domestic houses. This includes adequate fire alarms and means of escape. Also covered are ways of stopping the spread of fire over internal and external linings. It is important the building stays stable in the event of fire and good access is allowed for fire fighting vehicles and equipment.
Please click on the image to the left to download Approved Document B of the Building Regulations.
Look to the related projects panel to the left of this page for all of the other Building Regulation Approved Documents and please check with the Governments Planning Portal website for any updates or amendments to these regulations. You are also advised to seek the assistance of an architect or

building surveyor for an interpretation of these regulations as they apply to the project you are embarking on.
There is an amendment to Approved Document B which can be seen here
Click on the book in the image below for an easy summary of the building regulations. This book is a must for those involved with any type of structural alteration. Even removing a wall in your home can require building regulation approval and with all home information available in Home Information Packs selling your home can be difficult if you do not have legal approval, where necessary, for work done on your house.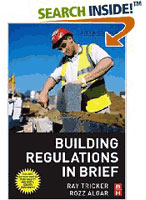 Please be sure to check on the Government Planning Portal website for updates to any Building Regulations before commencing work.