There are really two main types of fire proof paint; Fire Retardant Paints and Fire Resistant Paint also known as Intumescent Paint. Fire Retardant varnishes and sprays are also available.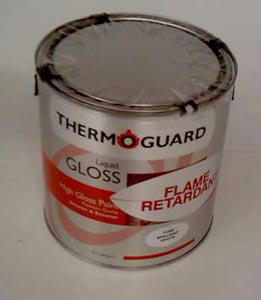 What are Fire Retardant Paints?
A Fire Retardant Paints main purpose is stopping flame and fire spreading over a given surface. They do this by releasing a flame dampening gas once they become hot. To ensure their effective they are tested against British safety standards BS 476, part 7. Once their effectiveness has been proven they can be applied to walls, floors and ceilings in any space.
In certain areas e.g. public areas such as hotels etc. it is imperative that the correct level of fire resistance is achieved to ensure that all relevant laws and legislation are adhered to. If you would like additional help and advice in this area call Property Repair Systems on 01626 872 650.
What are Intumescent Paints?
Intumescent Paints work differently to fire retardant paint; instead of releasing a gas they char and swell up when exposed to fire. This has the effect of creating an insulating coating which in turn then protects any materials from the heat generated by the fire. These types of paints are also be know as Fire resistant Paints.
Where can Fire Retardant and Intumescent Paint be Used?
Intumescent Paint and Fire Retardant coatings are suitable for use on most structural building materials such as:
Softwoods, like pine, larch and cedar
Hardwoods, such as oak, ash, beech and birch
MDF (Medium Density Fibreboard)
Chipboard
Melamine faced sheet
Brick and Stone
Plaster and Plasterboard
Metal
Concrete
Fire retardant coatings and Intumescent Fire Resistant paints are suitable for interior and exterior use including:
Doors
Decking
Bar–tops
Paneling and Matchboard
Cladding
Floors
Industrial buildings
Intumescent and Fire Retardant paints and other coatings can be applied to most surfaces including ones that are:
Painted
Varnished
Stained
Unpainted
Coated with multiple layers of non-retardant paints
What Finishes are Available?
There are a variety of finishes available for Fire Resistant Intumescent and fire retardant paints and coatings including:
Clear finishes
White finishes
Coloured finishes
Gloss
Silk
Eggshell
Matt
Metallic
Fire Retardant and Resistant Paints – Safety Information
The following points cover what you should look for and ensure when selecting paints:
Test Standards
Paints are tested under three 'test standards' and these are separated in different 'classes' set by the British Standard Institute (BSI). Each of the standards is given a code name and part number which are detailed below.
Class 1
Requires that the paint coating ensures absolutely no spread of fire. This is the lowest fire standard, and is a performance standard for varnish and paint that can be applied to ceilings and walls.
Class 0
Is applied to high–risk areas (fire escape routes and corridors etc….) when any surface coatings have to have a very limited ability to also catch fire and combust. In order for areas of this type to qualify all materials used including any coverings and coatings have to comply to Class 1 Surface Spread of Flame and also a very low 'fire propagation index'. These regulations are stated in BSI BS 476 Part 6. The basis of this test is to ensure that any coverings do not increase a fires temperature levels or intensity and does not enable it to spread
Fire Resistance
The fire resistant capabilities of a given material can be rated from 30 minutes to 60 minutes. To make sure any surfaces comply with this regulation, intumescent varnishes, paints or other coatings are applied to a surface to effectively stop a fire from breaching for the amount of time specified to that product e.g. a 30 minute fire retardant paint will hold a fire back for 30 minutes before it starts to burn through the protective surface coating.
This level of resistance has to comply with BS 476 Parts 20 – 23 1987 (see below for more information). As you might imagine the variation of materials that can be used in the construction of a building can be great and to these ends fire retardant paints can be purchased to cover all the major material types such as steel, plaster (this also includes lath and plaster walls and ceilings) and timber.
Further details on why the BSI is relevant to fire safety is available from the website Firesafe.org and the relevant British Standard (BS) are listed below and linked to the relevant area on the BSI website.
Certification – Why do I Need a Certificate?
In pretty much all cases you can obtain a supply certificate for any projects you undertake.
The main reason for a certificate is so that you can present it to your insurance company, Fire and Building Control Authority and submission to client records so that they can then confirm that you have complied with all relevant regulations and used the correct protective surface coating.
If you do not obtain the correct certificate(s) then, in the event of a fire, you may be held liable and prosecuted. Obviously this is aimed more at tradesmen or for DIY use in Industrial buildings, but you may need one to satisfy building regulations or indeed for your own peace of mind, even if you are doing it yourself in a domestic setting.
How to Coat Your Timber With Fire Resistant Paint
If you require a certain timber object to achieve a fire rating then it will need to be coated with a fire restistant paint. Read on below to find out how this should be done.
BSI Compliance With Class 0 and Class 1
For all types of timber be it bare timbers in a building or products made from timber, whether they are painted or unpainted (or treated with other coatings such as stain or varnish), you can use a single coating product like Timbercoat which will comply with class 0 and Class 1 as detailed above in Test Standards.
Timbercoat, Flame Paint, Flame Varnish and Wallcoat are products which are available online from Property Repair Systems and for the purposes of this project we are going to talk you through using them. If you are using another fire resistant paint or coating then follow the manufacturer's instructions.
Applying Colour Coating to Timber
First apply two coats of Timbercoat. This can be done by using a brush or a roller or you can even spray it onto the surface if you have the correct equipment.
The Coverage provided by the products mentioned above is usually 7 square metres per litre of paint per coat and this should then ensure an adequate coverage. This is especially important if you are spraying the paint as you need to ensure you have a thick enough coating of the paint to provide the required protection.
Once you have applied your covering of Timbercoat (or similar product) you will then need to apply two coats of Flame Retardant paint. Again this can be brushed on, sprayed on or even rollered on at a rate of 6 – 10 square metres per litre of coating applied per coat. The finish is personal choice and can be matt, vinyl, silk, gloss, eggshell or metallic, it is up to you how you want the final finish to look.
Applying Clear Coatings to Timber
First apply two thin coats of (Intumescent) Fireproof Varnish. As above, this can be rollered on, brushed on or sprayed on to the surface at a rate of 6.5 square metres per litre of covering per coat, to ensure adequate coverage of the coating and to give the surface it's required level of protection.
Next, apply one or two coats of Fire Varnish. Again this can be applied using by brush, spray or roller – at a rate of 10 square metres per litre of fire varnish per coat. You can choose whether you want to use Gloss, Matt or Stain, depending on the final finish you are after.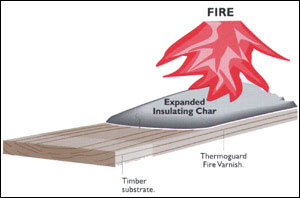 Applying Clear Coating Over Layers of Old Paint
This method is suitable for covering surfaces such as brick, plaster, plasterboard, or concrete which have previously been painted even if they have a thick layer of old, non–retardant paints.
First, using a product such as Wallcoat (or other similar product), apply one coat, using a brush etc…. at a coverage rate of 7 square metres per litre per coat to the desired surface, to ensure that you have an adequate thickness of the coating to provide the required fire retardant protection.
After applying Wallcoat or similar product apply a Flame Retardant covering. Use two coats of flame retardant covering at a rate of 10 square metres per litre per coat. Apply by spraying, brushing on or rollering on.
For the second coat you can choose from matt, vinyl, silk, gloss, eggshell or metallic finish to suit your own preference. This final coating can also be a hygiene paint e.g. for a bathroom, kitchen area etc…. but you will also have to ensure that what ever second coat you apply, this is also a flame retardant paint.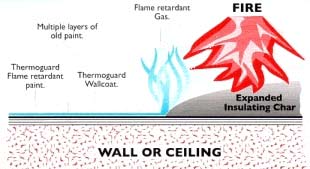 Applying 30 or 60 Minute Protection
The details outlined below can be applied to any and all cast iron or steel products whether they have been previously painted or whether they are unpainted but cannot be applied to any doors.
Firstly you need to start by applying one coat of High Build Primer using, again, either roller, brush or sprayer. This needs to be applied at a rate of 12 square metres per litre.
To ensure that the surface complies with a rating of 30 minutes, now apply one coat of Thermocoat (or similar product) at a rate of 2 square metres per litre (that is a thickness of 500 microns wet).
For 60 minutes we recommend that you get in touch with Property Repair Systems who will help you calculate the coverage you need according to your steel sizes and steel thickness (HPA Tables). This is a free of charge service, so give them a call on 01626 872 650.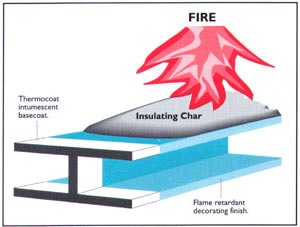 Fire Protection for Doors
Door Protection against fire is fairly simple as long as you follow these basic rules and guidelines.
Minimum Door Thickness is 35 mm
Doors must be solid – not hollow
If your door is not flat, but has sunken panels, then you need a minimum panel thickness of 12mm for Hardwood Doors (such as Oak) or 16mm for Softwood Doors (such as Pine). If the panels are thinner than this then you can purchase a Veneer Kit to increase the thickness. However the original door panels must be at least 9mm to qualify for veneering.
When using Door Protection paint or varnish for upgrading standard doors to 30–minute fire doors, you must include them as part of an overall fire risk prevention programme and this must include Intumescent smoke and fire seals to fill any gaps around the closure or the door, an intumescent lock, intumescent hinges and also regulation door closers with an intumescent protection card. Most companies specialising in this field (including Property Repair Systems) provide all of this as a Door Upgrade Kit.
Upgrading Ordinary Doors to 30 Minute Fire Doors
If you need to increase the thickness of your door see the notes on Veneer Kits above to make sure you can do so safely and within the regulations.
If your door complies with the regulations regarding required thickness, to upgrade to 30 minutes protection you will need to prepare your door to take all of the following:
Intumescent fire and smoke seals
Intumescent fire and smoke lock, hinge, and door closer
Intumescent protection card
Once you have prepared your door for the above items now clean the surface and then rub down any previous coating to give a good, grease and oil free 'key' to accept the new coating more readily.
Once rubbed down and prepared, now apply 3 coats of Timbercoat Intumescent Paint or 3 coats of clear Intumescent Varnish (or similar products, following manufacturers guidelines) at 13 square metres per litre per coat to ensure you get sufficient covering of the coating and the required protection.
Once you have applied the 3 coats stated above now apply 2 coats of Flame Paint or Flame Varnish finish at a rate of 10 square metres per litre per coat, using either brush, sprayer or roller.
Getting the Right Expert Advice
We trust Property Repair Systems to provide you with the right advice because we have been dealing with them for many years. They are experts in specifying fire retardant and resistant paints and products and door intumescent upgrades and are happy to provide free telephone help for all queries regarding fire resistance improvements and coatings. They also supply free specifications and product quotations. Speak directly to them about your needs: 01626 872 650
The easy way to obtain your vital fire certificate is to ask PRS for a free complete fire paint upgrade package for use with your building inspector. This includes a written specification, fire certificate application form, data sheets, quotation and coverage calculations.
It is obviously very important that you buy Fire retardant paint and other coatings from a reputable supplier. If you are buying elsewhere do look for the "BSI" mark on any products you buy for this purpose. Please do not take a risk and simply buy products without a clear specification from an expert, as you may not be able to obtain a certificate of supply in those circumstances.