If you need any help with any type of Flood damage, timber repair, maintenance or other damp problems Property Repair Systems will be pleased to give you completely free, no obligation advice on 01626 336180. The information you need may be in the project below, if not, call them.
Flood Repairs
After the debris has been removed, including any floor coverings, damaged plaster and plaster board you need to take the following steps;
1. Check your Insurance cover and advise your Insurers - take as many photographs as you can BEFORE disposing of any household contents: you may need evidence to prove your losses.
2. Clean and check the drains, air bricks (if you have a timber floor down stairs) and wash out all debris with fresh water. If sewerage is involved you should sterilise the floors and walls.
3. Ask a gas engineer, plumber and an electrician to check the services before using them.
4. Hire a dehumidifier and shut all doors and windows in the damp areas. Install a Humidity Meter to monitor the dampness in the air in the building. Install a large enough dehumidifier (or several) until you can bring the Relative Humidity below 60% on the meter (click here to look at Meters).
5. If timber floors are affected, lift boards and clean out the void underneath, including the air brick holes. If you are using a dehumidifier leave some boards up and fit temporary covers to the air bricks, to avoid trying to dehumidify the whole of the UK.
6. Keep a chart recording how much water your dehumidifier is producing - this will enable you to tell when most of the added water has been removed. You should see a sudden drop in water output, after several weeks, or even months.
7. Check and record the moisture content of the walls and timbers regularly - a simple electrical damp meter will give a good guide to progress. You are looking to bring timbers below 18% and masonry below 2%, but contaminating 'salts' may leave you with higher readings.
8. Walls should only be replastered using sand and cement render containing a Salt Inhibitor and Waterproofer - the Specification is critical if you are to avoid 'salts' from emerging later and ruining your decorations (click here to learn about re-plastering)
9. Old walls may benefit from the use of a Plastic Lining Membrane, rather than sand and cement - these membranes are easy to fix, waterproof and can be plastered or boarded immediately. They improve the warmth of the walls and floors, can carry insulation and prevent any damp or 'salts' from reaching the decorations (click here to learn about Lining Membranes).
10. Timbers and walls may grow mould - keep the humidity below 60% to avoid this.
11. Timbers may also be attacked by wood rotting fungi and insects. Check that the timbers have dried below 18% or consider treatment (click here to learn about Treatments).
12. Dry rot is a distant possibility - you can install simple test sticks in vulnerable walls and timbers to check if rot is occurring - they change colour from blue to yellow (click here to learn about Dry Rot Test Sticks).
Speak to real people now on 01626 336180 - qualified staff can provide immediate FREE advice, to avoid unnecessary work and expense - telephone calls are at normal, national call rates.
PRIORITY - Buy some of our Self Filling 'Sand' Bags - store flat and dry, when needed just wet the bag and the gel powder inside expands to fill it automatically. You can also click the images below to purchase Property Repair Systems Damp Meter and Hygrometer.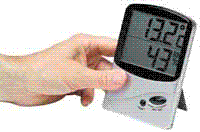 1. Use an Electrical Moisture Meter to check walls and floors - you are looking to bring timbers below 18% and masonry below 2%, but contaminating 'salts' may leave you with higher readings.
2. Install a Humidity Meter to monitor the dampness in the air in the building - try to bring the Relative Humidity below 60% on the meter.
3. Place Condensation Test Strips on the coldest walls - these will change colour if condensation is occuring.
4. Drill and install Dry Rot Sensors in wet walls and wood - these will change colour if Dry Rot becomes active.
5. Sterilise walls and floors with Sterilising Solution - to kill bacteria and viruses, from sewage
6. Neutralise salts in plaster using Salt Neutraliser before plastering or lining - this 'kills' the salt - salt tends to suck moisture from the air, making walls damp and ruining decorations.
7. Repair timber floor joists with Bower Beam repair plates - joist ends can be saved, no need to scrap good timber.
8. Repair large floor timbers with Timber-Resin Splice Kits - no size or span limits, retain all sound wood.
9. Treat joists and Beams with Boron Gel and Paste - no need to scrap damp wood, Boron based preservatives kill all rots, Guaranteed.
10. Seal damp concrete or solid floors with Epoxy Seal Coating - no need to wait until dry, full vapour barrier.
11. Damp proof walls with Ultra Proof Cream injection DPC - no smell, quick and clean to install.
12. Tank all below ground walls with Tanking Slurry coating - easy to apply waterproof paint, water based.
13. Replaster partly damaged walls with Renderproof in sand and cement - this concentrate acts as a waterproofer, salt inhibitor and plasticiser. The sand and cement holds back any 'salts' in the wall, preventing damage to skim plaster and decorations.
14. Line all totally stripped walls with Mesh Membrane - dimply, plastic sheet - allows direct plastering or lining with boards for instant dry walls - no need to delay decorations.