Wood rot such as dry rot is a fungus that, once it enters your house, can cause a great deal of damage to your timber. As with most issues that affect the structural integrity of your house, early detection and prevention are a lot easier and more effective than treating the issue when it's been given time to develop.
In this tutorial you will find information on dry rot treatment and repair and also the main causes of dry rot complete with plenty of dry rot pictures.
However if you are in any doubt about the type of rot you have, seek professional advice. To find a professional local to you, see the PCA website here.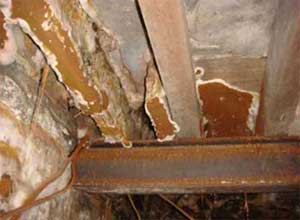 What is Dry Rot?
The term "dry rot" is somewhat misleading – this type of fungal decay was historically named "dry rot" to differentiate between rots that occurred in "wet wood" (i.e. newly felled timber) and "dry wood" (i.e. timber ready to be used in building).
In fact, dry rot needs for your timber to be wetter than it should be to establish itself – typically your timber will need to have a moisture content of around 28 – 30% for the fungal spores (usually appearing as an orange dust) to germinate and produce hyphae, strands that develop into a fungal body known as a mycelium.
Once the fungus is established, it only needs for your timber to have a moisture content of over 20% to survive, and it will develop hyphae (strands) that can travel across stone and brick to find more timber to colonise.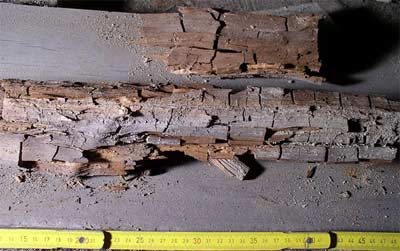 This fungal colonisation causes what is known as "brown rot decay" – and the fungus that most commonly causes dry rot in the UK is known as Serpula lacrymans.
The decay happens because the fungus feeds on your timber – it extracts water, hemicellulose and cellulose from the wood, leaving a brittle "skeleton" structure behind.
This decay cracks the wood in a fine, square pattern, and also makes it crumbly and a darker or browner colour.
Eventually, the wood will crumble into dust, which obviously could well cause parts of your house to collapse.
The rot won't affect your masonry at all as it doesn't feed on it – it simply travels through it.
Dry rot can be present in your walls for months or years before the fungus appears on the surface of your walls, so even if there are no fungal bodies on your walls there may be rot in the wall itself.
The easiest way to detect any rot in your walls is to use minimally invasive tools like Dry Rot Detection Sticks if you have any reason to think that your timber is or has been damp.
What Causes Dry Rot?
Dry rot occurs when your timber has been dampened for some reason – there are generally two reasons for this happening:
Your house is old and was built with non-kiln dried timber. Kiln dried timber must have an average moisture content of 20% or less to be classified as such and is now compulsory for internal building work. An old home may also have clay roof tiles which do not meet current Building Regulation water permeability standards and non-British Standard materials which may or be less effective at keeping water from outside your house from entering your timber
You've had moisture enter your timber as a result of a damp problem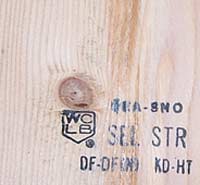 Even if your damp problem has since been solved, as mentioned above any Dry Rot that colonised whilst your timber was damp may well still be there.
Any and all of the damp problems that can affect a house can dampen your timber – examples include Rising Damp, Penetrating Damp, and damaged chimney and roof flashing.
If you haven't had a damp problem but think you have Dry Rot, this indicates that you do have a damp problem somewhere in your house.
the area of your house affected by the rot will be a useful indicator of the type of damp problem you may be facing. Take a look at our Damp pages for more information on solving any damp issues in your home.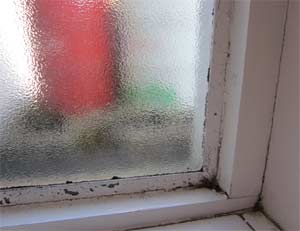 You must make sure that any damp issues are solved before you try and treat your Dry Rot – any treatments will become ineffective if your timber gets damp again as they will be diluted by the water, allowing the fungus to colonise again.
What's the Difference Between Dry Rot and Wet Rot?
Wet Rot is caused by different fungi to Dry Rot, and it is generally easier to treat because it cannot travel across dry areas to reach other timber – it is confined to the damp timber area it originally colonised.
Wet Rot also colonises timber that has a higher moisture content than the timber that Dry Rot colonises – this means that if your timber is really damp and then dries out some, Wet Rot will stop colonising it (as it is too dry for it) but Dry Rot will then move in as it is now "dry" enough for Dry Rot to colonise.
Dry Rot Pictures and Images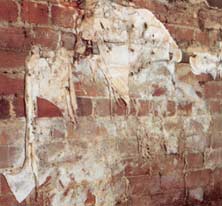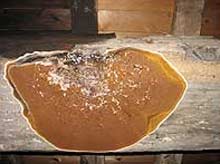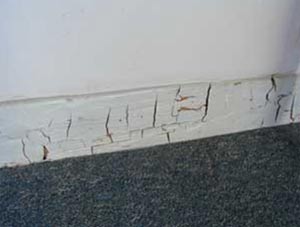 Wet Rot vs. Dry Rot Identification
| | |
| --- | --- |
| Dry Rot | Wet Rot |
| Wood hard to the touch | Wood soft to the touch |
| Hyphae (strands) or mycelium (skin) that are a grey colour | Hyphae (strands) or mycelium (skin) that are black, dark brown or white |
| Fruiting body (mushroom) that's an orange or rusty brown colour | Fruiting body (mushroom) that's yellow, brown or white |
Although these visual signs are a great way to identify whether you have rot (whether it's Wet or Dry Rot) ideally you should try and catch the problem earlier as the rot may be present in your timber for months and years before the visual signs of the rot appear.
This is why if you hire a surveyor to assess your rot damage, they will need to strip back some of your walls to examine exactly how far the rot has spread.
This is obviously far from ideal, and so it's great that there are products on the market that can allow you to detect any dry rot in your timber without stripping back your walls. Dry Rot Sensor Sticks are available online and these can be insert into a drilled hole in your wall.
The blue dye in the stick's stem (see the pictures below) turns yellow in the presence of oxalic acid, a product which only dry rot produces in any significant quantity.
Not only does this mean that it detects dry rot without you having to strip back your walls, but it also helps you to identify whether your rot is wet rot or dry rot if there are fungal bodies or cracks in your timber but you're not sure which type of rot is present – this is because wet rot does not produce the level of oxalic acid that the sensor reacts to.
Dry rot starts producing oxalic acid before it has done serious damage to the wood, so with any luck you will be able to detect your Dry Rot with the sticks while the wood is still able to be saved with treatment rather than having to be replaced.
To use the sticks, insert them into pre drilled holes in your wall that are 8mm in diameter and 110mm in length and leave the sticks in for 2 weeks before taking them out to read them.
It doesn't matter whether the stick is inserted along or across the grain of your timber, and you can insert the sticks in the outside facing surface of walls too.
If you're inserting the sticks in internal walls, a little bit of space should be left around the stick as it may swell.
In external walls this is also ideal but you will need to be careful not to leave so much space that rainwater can enter.
There is no minimum depth for the sticks to be inserted to, but it is ideal to insert them so that their full length is inside your wall (110mm).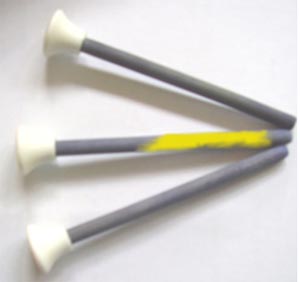 The sensor stick's stem can also be read with a damp meter to identify if there is a damp problem currently present in your house.
If you've used the sticks but you'd like further confirmation of exactly which rot is present and how far it has spread, expert guidance and advice can be obtained from a professional (see teh link above to teh PCA website).
Dry Rot Treatment and Repair
There are a number of different methods of dry rot treatment that can be used for wood rot repair.
Remember that if there's any indication that there is a damp problem in your house, you will need to find the cause of this and treat it before treating and repairing dry rot damage.
This is because any new damp will dilute the treatment chemicals that you have applied – the dilution will happen because all of these chemicals are water soluble so that they can enter damp masonry and timber.
If you do have Dry Rot present in your house, you should use the Fugenex sensor sticks mentioned above to understand how far the rot has spread in your house.
If you're sure that the rot is only present in exposed timber, i.e. exposed joists, then you will need to just treat the timber itself, along with any masonry that the joists are in contact with.
Obviously, if your timber's structure has been severely damaged by the rot, you will need to replace it (or get it replaced by a building professional). More information on which timber to use for different applications is available on the Timber Trade Federation website.
Once this is done it is still a good idea to treat the surrounding masonry and timber as fungal strands may have already entered that area too – they can be invisible to the naked eye if they are small.
If you have visible signs of dry rot on your wall as in the pictures above, or your sensor sticks indicate the presence of dry rot within the wall, you will need to strip the plaster off the wall and treat the bare wall underneath before replastering.
Dry Rot Treatment in Stone and Brick
The best product to use to treat and kill Dry Rot in masonry is Boron powder dissolved in water. However due to Brexit, on the 1st of September 2022, boron powder is no longer available as an off-the-shelf product and can now only be purchased and used by licensed professionals.
In light of the information above, if you want to get the professionals in to treat your dry rot issues then that's great, however it will cost a bit, but on the up side you will get a guaranteed fix.
If this isn't an option and you need a DIY solution then any infected masonry will need to be washed down using a masonry dry rot treatment to kill off any present spores. Aside from the immediate area any surrounding masonry will also need to be treated to ensure there are no spores present that can cause issues in the future.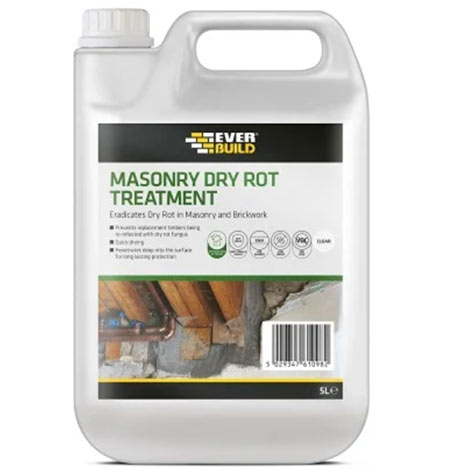 Dry Rot Treatment in Timber
As with the masonry treatment above, the professional approach is certainly an option and if you do have the funds available to go down this route then you can be sure of a long lasting fix.
However if your only option is a DIY fix then there are a number of different products available for dry rot treatment in timber.
Before any treatment takes place it is absolutely essential that the initial cause of the dry rot is fixed. As dry rot is caused by water and moisture ingress this very often means a leak, so first job is to find this leak and stop it.
Once the leak is fixed any trace of mould and fungal growth will need to be removed. Pull of any large fruiting bodies and place them in a plastic bad. Fungal spores are dangerous so wear masks, gloves, goggles and old clothes.
With any large growths removed you then need to scrub the entire area over using a stiff brush to remove any further spores.
Using a good quality fungicidal solution, next wash the whole area over to kill off any remaining spores and growth, including any surrounding timber and then leave it to fully dry out.
Once dried the final job then is to treat the immediate area and also any and all surrounding timber using a good quality wood preserver. This will ensure no future infection.
One point to note is that if any timber is too badly damaged then it will need to be cut away and replaced with a new section. Where this needs to happen, timbers should be cut at least 500mm beyond any actual damage and only pre-treated new timber should be used that will also need to be treated with a wood preserver.
To find out how timbers should be replaced see our repairing structural joists project here.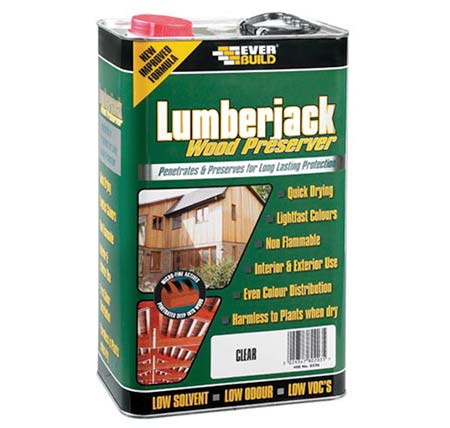 Once you have treated your affected area, if you have not applied a "coating" type treatment or you have treated your bare wall and replastered, you should also think about painting the affected area (this can be timber, masonry or plaster) with a special Rot Barrier paint – this is a special emulsion that stops any residual Dry Rot from travelling across the surface to reach more timber.
If you have identified a dry rot issue in your home this needs to be fixed as soon as possible to prevent any further damage. If you are able to, then a professional solution is the best route to take, however if you can't do this then there are many good DIY treatments available.