This project is the same for the Suffolk latch below, or the ring latch shown right.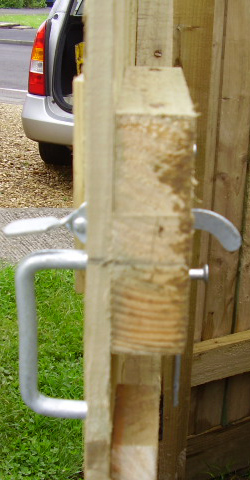 First look at the back of the gate and make sure you have a cross timber through which you can fix the latch. This can be seen in the picture below, left. If the cross bar is not at the right height (this is purely a matter of personal preference) a lock block can be added easily by simply fixing an additional piece of timber to the gate.
Please note, before you email us, in this example the client ordered the gate, then changed her mind as to which side it was to hang. The diagonal strut of the gate should run from the bottom hinge to the top, opposite corner, for maximum strength. This was pointed out to her but she insisted that we hang it anyway.
Drill a hole 32mm in diameter, the centre of which is 50mm in from the leading edge of the gate. Insert the handle & lever of the latch so that the lever sits on the bottom of the hole and is level through the section of the gate.
Now fix the latch bar across and over the lever. This again should be level with at least 35mm overhanging the gate post taking into account the gap between gate and post.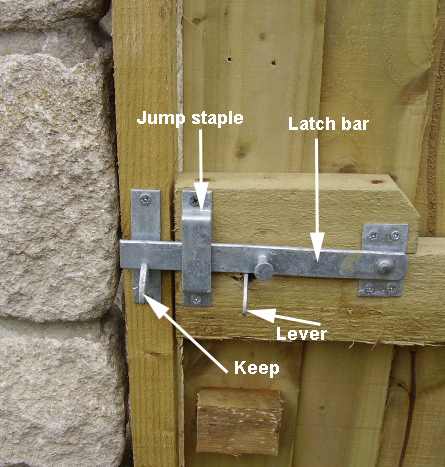 In this position, with the latch bar sitting on the lever, slide the keep up to the latch bar and fix so the latch bar sits in the notch in the keep. Then fix the jump staple (so called because it stops the latch bar jumping over 180 degrees when the gate bangs) in position level with the keep. This should allow, when closing the gate, for the latch bar to slide up the slope of the keep and drop into the groove. If, as sometimes happens, the latch bar just bangs into the point of the keep, then just drop the keep a little, or raise the jump staple.
For additional video tutorials on other security measures you can take at home visit our DIY Videos, Security section