DIY Doctor has received many letters asking about home and garden security and the best way to keep your home, garden tools, garden sheds, push bikes, motor bikes, lawn mowers and even cars and vans safe.
Home and garden theft is on the increase and we have even had reports of cheeky thieves using a victims own wheel barrow as a get away vehicle to carry a lawnmower and patio heater down the road to their lorry.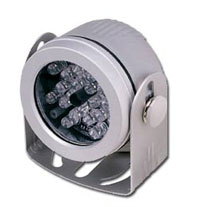 Home and garden security is getting trickier and trickier. There are a huge range of padlocks and lockable door furniture on the market but today's criminals are getting cleverer and cleverer.
Securing your home and garden is obviously a great and necessary thing to do, but should this not work, a fail safe device is CCTV. Our tool store below shows some of the most popular ways of locking up sheds and garages and there are also simple ways to put off would be thieves. We will deal with these later. For the very best in home and garden security take a look at a CCTV set up.
Buying CCTV is, for the layman a confusing minefield. Worry not! Help is available. Most security companies out there are happy to talk you through the situation you have and provide help on choosing the best security equipment for you. It may be, as it is in a lot of domestic cases, that all you need is an external camera, such as the one above left, connected to a TV monitor, via a video recorder. This can be set to timer as can an Infra Red light, to come on when you feel the most vulnerable. The only limitation is the number of hours your video tape will record.
Even this limitation can be overcome by using motion detectors so that your system is only turned on when triggered by a movement in your garden or near your house. The higher end recorders even have ways of varying sensitivity to motion and the best ones even have a "masking" capability which will shield the screen from movement you do not want to be detected. This saves the camera turning itself on when trees move in the wind etc.
Close Circuit Television is not anywhere near as expensive as it sounds and is by no means exclusive. The odds are, if you are unlucky enough to be burgled, you will be out. With a CCTV set up you stand a fantastic chance of recovering your stolen property.
In many cases, most of todays CCTV systems are very easy to install . If you are looking at simple deterrents for garden thieves and burglars, one of the easier ways to change a buglers mind is to install a motion detector light. As soon as the detector spots a movement in the garden it lights up the whole place like the Albert Hall. Sometimes these lights are put to a setting that is a little too sensitive and every time a leaf falls or a cat wanders in the garden lights up !
As a minimum measure garden sheds and garages should be fitted with a hasp and staple, to which a heavy duty external use padlock is fitted. If the windows in your shed open they should be fitted with casement locks and/or a steel mesh can be fitted over the windows. Most builders merchants can provide a steel mesh and even cut it to size foryou. A good shed, or garage alarm is worth its weight in gold as the noise from such a thing will scare thieves away and alert you to the danger at the same time.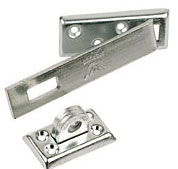 Locking bikes and mowers is a deterrent but unless they are actually locked to something the thieves can pick up the whole thing and remove the lock later at their convenience. Use a steel rope, such as the one shown left, with a strong padlock to lock these items to the shed wall or a steel rope cable lock to even lock to each other. Moving three or four cumbersome objects will be much too time consuming for a burglar to be interested in.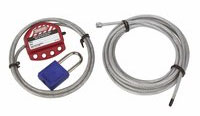 A lockable box in your shed is a good place to keep smaller items such as screwdrivers or nail bars etc which otherwise could be used by the thief as a tool for removing other security items you have in place or even as housebreaking tools.
Caravans, bike and motorbike trailers are a big target for the modern day criminal and specialist locks are available to keep these items safe. The image on the right is of a trailer lock. Theseare easily fitted and stop any amount on inconvenience.
Keeping your car safe is a must and it is not a difficult job to provide added locks to your garage doors. There is a danger however, that with locks all over the house and garden the number of keys required to keep your property safe reaches a ridiculous level. What a great invention the combination lock was ! Please remember though to make your combination as difficult as possible because 1111 is the very first number a thief will try!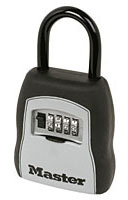 Locks are available with extended shackles to "hook" two or three items together such as the handles of garden spades and forks etc and there is a lock available for just about every eventuality.
If you have no room in the garage, a waterproof lockable garden storage cabinet is a good option. You can store all your garden equipment in one safe place, leaving free space in the shed.
There is also the common sense issue of arranging the correct type of home insurance so if the worst comes to the worst your goods can be replaced. We hope this project has given you a little insight into garden security problems and hope it helps you to stay safe.