Joist hangers are an extremely useful product in the building trade and no more so than in some of the DIY jobs we get asked about on this site. Quite simply a joist hanger does what it says on the tin. It allows a joist to hang where otherwise it would need considerable time spent trying to fix it, or build it in to something else.
The image below and left shows a row of joists fixed to a light grey wall. This wall was the outside wall of a house before an extension was put onto the side.
A 200mm x 50mm timber was bolted to the wall and the joist hangers were fixed to it. This allowed the new ceiling joists to be dropped into the joist hangers giving them a solid fixing in a very straight line. The images below shows how this is achieved.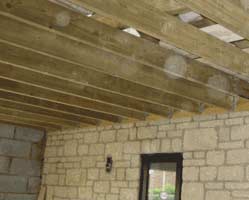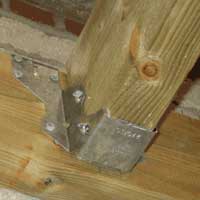 Joist hangers come in all sizes and a few different types. A rigid joist hanger such as shown on the left below, either hangs, and is fixed to, the top edge of an existing joist, rafter or wall plate. It is more usual to cut out a joint in a masonry wall and insert the rigid joist hanger. The hangers can then be used to support a row of joists. The down side to this method is the difficulty of keeping the hangers in an exact straight line given the tendency of brickwork joints to be a little up and down.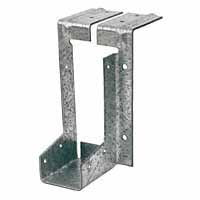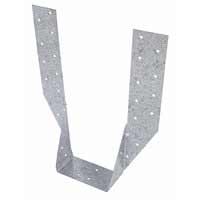 The hangers above are known as a jiffy hangers. This type of hanger is used only when abutting one timber to another. It comes with plenty of holes through which you can screw or nail the hanger to one timber while you drop another timber in the "shoe".
Joist hangers give roofing carpenters a great deal of flexibility. They are relatively easy to level in, fix very strongly indeed and allow the carpenter (by using temporary fixings) to get all timbers in place, with the correct spacing in between them, before fixing permanently.
The final image below shows a timber bolted to the wall which, in turn, has timbers attached to it using joist hangers. The image shows you just how useful joist hangers can be when, for example, installing a false ceiling or adding a new floor in a barn conversion.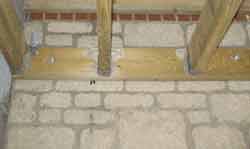 Why not check out our video section on joists and watch a film on "insulation between joists" to learn how to seal against air leakage.