Lead Flashing
When any part of a roof meets a vertical surface or abutment as with an extension, roof window, a dividing wall between two terraced properties or between a property and a conservatory, the joint between the vertical surface and the roof covering needs to be sealed against leaks. Lead is usually used for this and when lead is worked and installed in this way it is called Lead Flashing.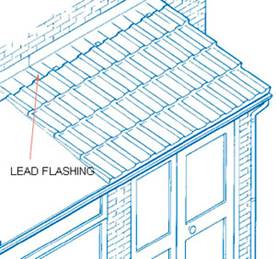 Lead is used because it is a very durable material which has the ability to expand and contract with varying temperatures. This is essential on a roof which is quite obviously open to all elements.
Lead can also be worked into the most complicated of shapes. When lead is worked into different shapes to suit different roof applications, the process is called "Dressing". Lead will not catch fire (but will melt at 327 degrees Celsius !).
As well as just providing flexible cover for joints in the roof, lead can be used as gutters and coverings for complete roofs.
Lead is extremely resistant to atmospheric corrosion, is a great sound-proofer, protects against radiation and offers no dangers to the effects of lightening. The drawbacks of lead are that it is extremely heavy and quite expensive.
Flashing Tape
There are however products available as an excellent cost effective alternative to traditional lead. They are most commonly known by the name "Flashing Tape". They are also quite often less expensive than traditional lead but still retain the lead look and finish and they can also be easily used in a DIY situation. These types of "Flashing Tape" can be purchased from most builders merchants and also the majority of the DIY sheds.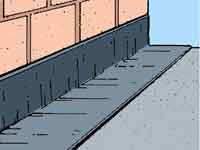 Flashing tape's are ideal when using in a situation where weight could be an issue, for example, in between a house wall and porch that has a sheet plastic or glass roof.
The tape itself is also very easy to apply as unlike the traditional lead flashing mentioned above they usually feature adhesive on the rear side which forms the watertight bond between the two surfaces. Generally supplied in sections, the tape is easy to use even on those awkward shapes, as you simply remove the backing tape as you apply, smoothing down with a dry cloth as you go.
Unlike traditional lead flashing, flashing tape can also be used without the need to heat it up which makes it ideal for use in DIY, although if you have to apply in damp or cold conditions, a simple blast from a hairdryer will help aid the adhesion.