How To Remove Polystyrene Tiles
Removing polystyrene tiles from walls or ceilings can be a tedious job and unfortunately there is no easy way of doing it other than getting stuck in with a wide scraper to scrape the tiles off. Although not the most inspiring of jobs this is the easy part. It gets tricky once you have removed the tiles.
Removing The Left Over Tile Adhesive
With all the tiles now removed you may notice a large amount of the adhesive still remaining on the surface that now needs to be removed. Again there is no easy way to get this off other than to break out the scraper and also a heat gun. Warm the adhesive gently until it becomes soft and then begin to scrape it off. Make sure you are wearing the correct safety equipment such as a mask, gloves and eye protection. The act of warming the adhesive will most likely produce fumes that could be potentially dangerous if breathed in.
Continue to heat the adhesive and scrape it off once soft. Once you have removed all the major bulk of the adhesive you may notice that you still have some residue remaining. In some cases this can be removed by simply scrubbing hard with cloth or a scouring pad. You can also try a cloth and white spirit or a solvent thinner.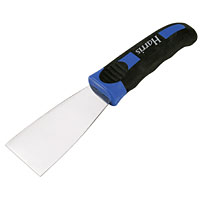 Again, make sure you are wearing rubber gloves, a mask and safety specs may not be a bad idea as you are using solvents above your head. Please be careful.