The 3 trades above are usually carried out by the same tradesmen. When learning to plaster and screed you get a pretty good eye for what is level and as you start using the plastering trowel or screeding float you begin to develop a feel for what is flat and smooth. The trowel becomes an extension of your hand and just by running it over the surface of the work you can feel where the lumps and bumps are.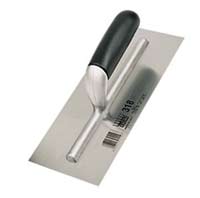 Also included in many plasterers CV is the ability to put up coving and decorative finishes such as cornices. This is because, in days gone by, the plasterer was able to actually shape these mouldings from raw plaster rather than just stick a pre-formed length of moulded mdf or plasterboard up on the ceiling. Some of the work which went into the forming of a ceiling rose has to be seen to be believed.
We run through the different uses of plasterboard, how to fix it and what with. We then show you how to tape it up ready for plastering and decorating. We show you simple ways of keeping a floor screed flat and level as well as how to make sure it is the correct thickness all over. We show you how to mend holes in plasterboard before you apply any skim plaster and how to patch up old walls before painting them.
We deal with how to work with the old lathe and plaster walls and ceilings and show you some tricks of the trade such as feathering out and repairing corners. We show you how to make sure your angles are upright using plastering beads and how to divide your wall into smaller areas so you can build your confidence while learning to plaster.
We give you an insight into the world of Venetian and polished plasters and then take you outside to develop skills in sand and cement rendering. We teach you what a scratch coat is and how to make sure your plaster dos not end up all over the carpet. When you have finished with this section, you can move straight on to the painting section to finish the job off.
By the time you have finished in the section you should be able to go and practice on getting very flat, smooth walls and floors and t really is within your grasp. Plastering is not an art, it is a process and can be learned.