Warning: To complete electrical works you must comply with Electrical Regulations - Click here for more information.
Please also see our project on the New Wiring and Cable Colours.

Underfloor Heating UK (A Division of C.J.Electrical (Ipswich)Ltd.)
Unit 7, Edison House, Edison Close, Ransomes Euro Park. Ipswich IP3 9GU
Tel: 01473 276688 Fax: 01473 276678
Underfloor heating is fast becoming the most popular form of heating. In most forms it is inexpensive to install, economical to run, there is no maintenance and above all, the heat distribution is total.
It is invisible in so much as there are no radiators or heaters showing. It can be installed under almost every floor type, wood, tile and laminate making it ideal for refurbishment projects. Even laid on top of an existing floor and covered with tiles the floor height is raised no more than 20mm.
You can see from the diagrams below the advantages over normal, radiator type heating, and when the ease of Diy installation is considered with the Deviheat system and also the many other DIY installation kits available, it is perfect for most heating purposes, in most homes. In terms of the Deviheat system (and again many other underfloor heating systems), this is simply a single heating cable which, acting as a kind of element, is laid all over the floor with an optimum distance between runs.
Using a Devimat system, the cable is stuck to a mat, which in turn, sticks to the floor. The cable must start and finish at the same point to allow connection to an electrical outlet and can be thermostatically controlled with a proprietary regulator.
Traditional Heating System
Traditional heating systems emit hot air which remains under the ceiling until it becomes cold, then it falls down and results in a draught
What is Deviheat?
Deviheat™ is an underfloor heating system that can be used in both domestic and commercial properties. The heating elements themselves can be installed under almost any flooring type from wood to tiles.
The deviheat™ heating system comes in either heating cables or heating mats and are controlled by one of 2 different types of thermosts - the devireg™ or deviheat™ thermostatic controller
The syestem itself provides efficient room heating, be it at home, at the office, in a work shop, sports hall or virtually anywhere that requires comfortable warmth.
deviheat™ can be installed in all types of floor whether they are new tiled floors, concrete floors or new or renovated wooden floors.
How Easy is Installation?
The area where the floor heating is to be fitted is measured. A sketch is made of the floor to determine the size of the devimat™ needed and marked to indicate where it should be placed and position of it's power supply connections. The mat must start and finish at the same place.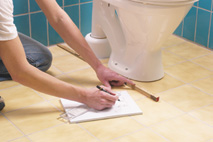 Next, a groove is cut into the floor and wall, approx. 10mm deep and wide, for the sensor which is pushed through a tube, laid in the groove. The end of the tube is taped up.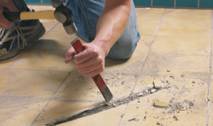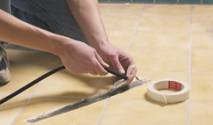 The mat is laid out as per the plan and the matting itself can be cut to get around corners and obstacles etc. Obviously the red heating cable cannot be cut and it is important that you have worked out the length of mat you require before you start to lay. If you fax a floor plan to www.cjelectrical.co.uk they will be pleased to plan your mat for you.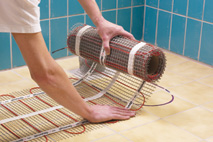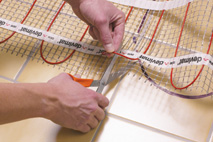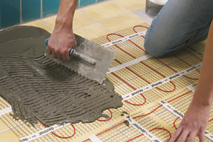 Tile adhesive is laid over the mat (this will require a thicker bed of adhesive than normally used when tiling) and the tiles are laid as normal. A simple, effective heating method for approximately 0.5p per square meter per hour!
Selection of a Devi heating system depends on the type of floor you have and the area you wish to cover. For help in determining what type of system you we have created a list of commonly asked questions below that should cover most of your requirements.
Question:
Why are there two different types of mat one for timber and one for concrete floors?
Answer
Our mats have been tested to the European standard IEC335/EN60335, it is recommended that no higher than 100W/m2 should be installed on a timber floor, as safety is paramount, we adhere to this instruction. It has been found that concrete absorbs heat at a higher rate than timber, therefore we developed a mat with an output of 150W/m2 to counter-act this.
Question
I have seen some products that are just a cable or thin foil, why is the devimat® a cable on a mesh?
Answer
During our product research, we discovered, that it was more desirable for the heating element to become an integral part of the floor rather than a foil type that separates the tile adhesive from the floor. We know that it is a better solution for the customer to have a product with pre-determined spacing for the heating element.
This removes the problem of cables being crossed or touching, which will cause failure of the heating element and can be very costly if the floor has been finished.
We have also found that without pre-determined spacing a warm-cold ripple effect can be created with a cable system that is one length to cover a variety of areas.
The devimat® is much easier and quicker to fit, there is no waiting for special glues or primers to dry, no sticking tape over lengths of cable. Simple to fit around obstacles, a much better option than foils - the mat can be cut to suit most areas.
Question
Can it be used with wooden or laminate floors as well as tiles and stone?
Answer
The devimat® is manufactured in Denmark 'the home' of wood and laminate floors, the devimat® is perfectly safe to fit under these types of floors. Please contact us for further details.
Question
How safe is it ?
Answer
DEVI have been developing and manufacturing heating cables for over 30 years.
All DEVI cables satisfy the requirements of IEC 800. The devimat® cable is double insulated with an earthed screen under the sheath and has the approval IEC 335/EN 60335.
All devimat® systems use a floor temperature sensor connected to a devireg® electronic thermostat to control floor temperature.
Question
Won't your feet get too hot ?
Answer
The devireg® thermostat can be adjusted to accurately control floor temperature to the level you find most comfortable.
Question
Isn't it expensive to run ?
Answer
The devimat® tile warming system only uses as much electricity as a standard light bulb per m². The on-off cycling effect of the floor temperature-sensing thermostat can reduce this by as much as 50%.
Question
Who can install it ?
Answer
Anyone can install it as long as they follow the straightforward instructions supplied with the heating system. However, it is advisable for a qualified electrician to connect the heating system to the electrical supply.
The cable is guaranteed for ten years if installed in accordance with the Installation Instruction booklet.
Question
What happens if the space on the floor is not a rectangle and the mat will not exactly fit ?
Answer
The devimat® can be cut across the width of the mat between the cable loops so that the mat can be bent round to provide e.g. an "L" shape. Care should be taken to avoid damaging the cable. Under no circumstances should the heating cable be cut or shortened.
Question
Will the heat affect the tile adhesive or tiles ?
Answer
DEVI warmed ceramic tiled floors will run with a surface temperature of about 22°C and the adhesive under the tiles will be a few degrees higher. This temperature will have no effect on the tiles or the tile adhesive. The majority of the leading adhesive manufacturers have confirmed this.
Question
Can electric heating on a wooden floor cause a fire?
Answer
A devimat® system installed to DEVI instructions will be completely safe as the cables are manufactured to IEC 335/EN 60335 standard. DEVI offers a 100W/ m2 specifically for timber floors. However, a qualified electrician should make the electrical connections.
Question
Can the cable on the mat be damaged if a ceramic tile is broken?
Answer
It is unlikely that the cable will be damaged as there will be a layer of adhesive between the tile and the devimat® which will offer mechanical protection. The devimat® will be installed with the cable facing down. This will give the screened cable, which is already tough, additional protection.
If there is any suspicion that damage may have occurred, the cable should be electrically tested.
Question
What happens if the floor floods?
Answer
DEVI cables and cold tail terminations are waterproof. Also all devimats have an earthed screen under the outer sheath should a fault occur.
Question
What happens if the floor is drilled?
Answer
Floors in which electric heating is installed should not be drilled. However should the cable be damaged, the earthed screen around the cable will protect the operator by causing the electrical protection device at the supply intake position to switch off the circuit.
Question
How much will it cost to buy heating under the tiles?
Answer
The total cost for an average 3.5m² net area bathroom (this excludes areas such as under the bath and toilet), including the DEVI floor sensor and devireg® electronic thermostat, would be £252.60 inc. VAT. Installation costs are minimal, the devimat® can be laid quickly before the tiles are fixed and the cable ends can be easily connected to a local electricity supply.
Question
How long will the heating system last?
Answer
Once the devimat® is installed in accordance with the Installation Instruction booklet, the cable should last as long as the other electrical wiring in the building.
DEVI has been manufacturing cables and thermostats for over 30 years. We have not known any cables to fail due to age.
Question
Will the system fully heat the room?
Answer
DEVI also install heating systems under new floors which provide full heating, but the devimat® system is used to provide a warm surface to walk on and it will keep floors in areas where water can splash dry.
Question
How is it controlled?
Answer
The system is controlled by the floor temperature sensor and wall mounted electronic devireg® thermostat. This prevents the floor from over heating. The most comfortable surface temperature will be 22°C. this is easily adjusted (and can be increased if required) by turning the dial on the thermostat.
Question
Can you install it on a wooden floor?
Answer
The system can be installed on a wooden floor. Normally a heat resistant compound is spread on the floor and allowed to set before laying the devimat®. As intermediate wooden floors can experience some flexing, it may be necessary to brace the floor by laying 15mm plywood and screwing it down at frequent intervals to limit the flexing so that the tiled floor has a stable base.
Question
Is it guaranteed ?
Answer
All deviheat® cables are guaranteed for 10 years when installed in accordance with DEVI installation instructions (thermostats and controllers two years).
Question
Won't there be a lot of upheaval if I install deviheat® under the new tiles ?
Answer
The new devimat® is designed to be installed on top of the existing floor so that the tile adhesive and tiles can be easily applied once the devimat® is fixed in position. There is no need to excavate the floor and the devimat® will increase the finished floor height by only 3mm.
Question
Can the system be installed on an asphalt/bitumen floor construction ?
Answer
devimat® can be installed on this type of floor as long as the surface is first coated with a primer. Refer to the adhesive company for guidance on a suitable primer.
Underfloor Heating UK (A Division of C.J.Electrical (Ipswich)Ltd.)
Unit 7 , Edison House, Edison Close, Ransomes Euro Park, Ipswich IP3 9GU
Tel: 01473 276688
Fax: 01473 276678
You might like to check our our video section on underfloor heating to watch a two part film on installation of underfloor heating.