Laminate flooring is one of the most versatile flooring materials, it can be laid on almost any surface provided that it is dry, firm and level.
Laminate flooring is also very hardwearing, durable and easy to clean and look after making it an ideal flooring choice for any busy home.
Due to it's popularity over the past 10 years or so, laminate flooring is available in a huge range of styles and finishes that will almost certainly suit any taste or style requirement.
Wit this in mind, in this DIY guide you will learn all about laminate flooring and how to correctly lay it.
What is Laminate Flooring?
As the name suggests, laminate flooring is essentially a high resolution printed design, in most cases either of a real wood or stone finish that is then stuck to normally a ply wood backing board and then covered with a tough hardwearing see-through protective resin top coat that shields the finish image from wear and tear.
In terms of the durability, laminate flooring has its very own scale that determines how tough and durable the resin finish is and to what areas its best suited. The scale itself runs from AC1 through to AC5, with AC5 being the most durable.
As with all things, laminate flooring varies greatly in quality, with the more expensive variations tending to be of a higher quality. Another fairly accurate gauge of quality is the thickness of the laminate with cheaper more lower quality laminate being around the 6mm thick mark and the higher quality thicker laminate tending to be around the 14mm thick mark, however this isn't always the case some top quality laminate planks can be around 6 – 7mm thick.
One common mistake that people make is confusing laminate flooring with real wood engineered flooring. As the name indicates, real wood flooring is produced by using "real wood" whereas laminate as we have stated above is simply a printed reproduction.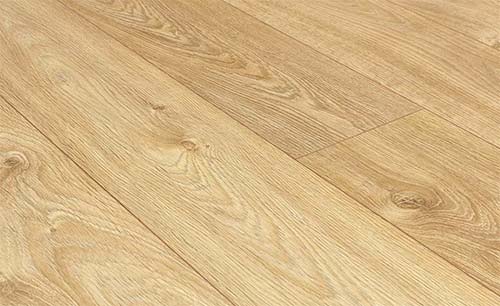 If you are new to the world of laminate flooring then it's important to know that there are a few different ways in which laminate flooring is laid as there are several different fitting types:
Tongue and groove: As with any other type of tongue and groove fitting, adhesive is applied to the tongue section before it is pushed into the groove and once cured creates a solid secure joint

Tongue and groove laminate flooring

Clip together: This is arguably the most popular type of fitting as it's very quick and easy to lay. There are a few different types of clip method but pretty much all employ a double clip setup so that the joints are firmly locked together. To lock the tongues, slide the board in at around 30° so that it slots-in when lowered

Clip together laminate flooring

Self adhesive: As you may have guessed, self adhesive laminate flooring features an adhesive covering over the underside of each laminate plank. To fit you simply peel of the backing paper ad in some cases dampen the adhesive and then lay the board in place and leave until cured

Adhesive backed laminate flooring
Laminate flooring also comes with a few different finish types that include the following:
Smooth/polished finish: This is in most cases the most popular finish-type and if you've seen many laminate installs the betting is that most if not all will feature a smooth or polished finish

Polished finish laminate flooring

Textured: These types of laminate finish are fairly rare and can be quite expensive. The aim of this finish is to try and emulate and aged or worn effect. When done correctly this type of finish can look rather authentic

Textured finish laminate flooring

Distressed: As with the above this type of finish again attempts to emulate an aged or antique type of finish

Distressed finish laminate flooring

Embossed in registration or EIR: This type of finish aims to match the actual finish and texture of a real wood floor by providing physical texture to the surface that aims to match veins, pits and grains in a real wood finish

Embossed in registration or EIR laminate flooring
As you can see form the above there is a huge range of different styles and finishes to match any home or style outline. To add to this already fairly extensive list laminate planks can also come is a range of different widths including wide planks and thin-strip planks.
Laminate planks of different sizes can also be mixed and matched when laid to create interesting visual effects or as opposed to laying your laminate planks in the traditional manner of following the longest wall in a straight line, you could lay them in a herringbone or "parquet" pattern.
What Tools and Products do you Need?
In order to successfully install your new laminate flooring you will need a selection of tools and products to complete the job. Here follows a list of the essentials:
Set of floor tensioners
Good quality wood glue
Cork expansion strips
Good quality laminate flooring
Skirting board or flooring trim/quadrant
Decent sharp hand saw or mitre saw
Tape measure
Pen or pencil
Good quality underlay
Hammer
Punch
Spirit level
jigsaw
What Different Types of Underlay are There?
There a few types of underlay available for laminate flooring, these underlay's need to be laid down before the actual laminate to provide an effective bed on top of the existing subfloor for the laminate blanks.
A decent quality underlay serves several purposes including providing a stable base for your laminate floor, it can also help to level very slight dips and depressions in the existing subfloor, it can also help to reduce the transmission of sound (the solid reflective nature of laminate can be rather noisy at times) and it can also help to reduce heat loss through the floor.
When it comes to the 2 main different types of subfloor, the following types of underlay are recommended:
Timber subfloors: The best type of underlay for a timber floor (OSB or plywood) is a breathable one. Timber is a ntural material and due to this it needs to be able to breathe. Installing a moisture barrier will simply trap moisture and cause potential problems down the line
Concrete subfloors: Concrete is porous e.g. it allows moisture to pass through it so in this case to prevent moisture rising up from the ground and damaging any laminate surfaces a moisture barrier should be installed
The only real exception to the above is when it comes to high moisture areas such as bathrooms or shower rooms. In these spaces a moisture barrier should always be installed below any laminate surfaces even if they are timber!
Poly foam – the thinnest and most popular type, is suitable for any firm, dry and level surfaces, such as a wooden floor. Prepare the floor and if necessary lay a damp-proofing layer first. The layers need to be arranged next to each other and for ease stuck together to prevent movement
Combined Underlay – this combines a foil backing that acts as a damp proofing layer and underlay in one material and can be laid down flat. It is slightly thicker than poly foam so can be laid on a slightly more uneven floor and provides better sound insulation. Tape the joins so that it retains its damp proofing capabilities
Wood Fibre Boards or Cork – this is the thickest underlay and can be used on more uneven floors because it is thicker and accommodates more irregularities. It provides good insulation for sound and heat. It will need an initial damp proofing layer laid below if necessary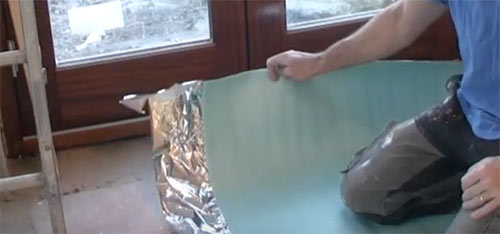 Preparing for Laying Laminate Floor
Before any laminate flooring planks go anywhere near any floor surfaces the first job is to prepare the floor surface.
As we have mentioned above, what ever toe of floor you are laying on it needs to be clear, clean, dry and level.
If you are laying on a concrete subfloor you will need to thoroughly sweep and vacuum the floor to remove any trace of any dirt or debris. The slightest grain of masonry can easily cause a laminate plank to sit proud of the surface which can dramatically affect how joints slot together.
If the floor is out of level when checked with a spirit level or if it has many deep depressions then it will need to be levelled first. This can be done one of two ways, the first using a self levelling compound (as seen in our levelling a floor project here) or the other method is to screed your floor, effectively laying a new one (see our screeding a floor project here).
If you are installing on to a timber floor, either OSB, plywood or floorboards there is also a few pointers that need to be adhered to.
Firstly, any and all nail heads and screw heads need to be pushed down below the surface. For screws use a drill/driver to screw them down through the surface of your material and for any nails use a hammer and pin punch to knock them below the surface.
Additionally for a laminate floor to last as long as possible, the surface you are laying on should not move in any way, shape or form! To this end any loose OSB or ply sheets should be fully screwed down, the same also goes for any floorboards.
The preparation work that you put in before installation begins will in many ways determine the overall success of your laminate flooring project so check, check and check again!
One final preparation step is to allow your laminate flooring boards to acclimatise to the room you're installing them in. As you floorboards are essentially timber they will expand and contract in the same way as other timber objects so to ensure they don't expand after you have laid them it's essential they acclimatise first.
To do this simply lay all of your flooring out flat on the floor of your installation space and leave for 5 – 7 days. After this you can then unpack it all.
Once unpacked sort through it all removing any damaged boards and stacking boards together that are of a similar size, shade etc. This way you can then easily mix it all as you lay it.
How to Lay Laminate Flooring
As we now know exactly what products and tools we need, what underlay we should use and also how to prepare the existing floors surface for laying laminate flooring it's time to crack on and get some flooring down!
Just before you do start to lay your laminate flooring it is a good idea to consider adding under floor heating. As your existing floor covering (if you had one) has been removed now is the ideal time to add under floor heating before you lay your new laminate flooring.
If you are interested in this very efficient form of heating, electric underfloor heating is a great place to start as it is quite easy to integrate. See our detailed project on under floor heating here for more information.
Additionally, we are going to be gluing all of the joints in our laminate floor. This will ensure that as the floor expands and contracts the whole floor moves as one and individual joints don't split apart.
Level Floor and Nail/Screw Heads
As we have stated above, firstly prepare your existing surface by fully sweeping and vacuuming it, regardless of whether it's a concrete or timber surface.
Next check the level of your floor. In the majority of cases if you are laying on a timber floor, your floor should be level enough to work with, the majority of issues come with concrete floors especially in older properties.
When checking floor levels use a fairly long spirit level (at least 1200mm) as this will help to identify dips and depressions also. Additionally, check as many locations as you can across both the length and width.
In the event that you do identify some issues, use the tips stated under the "Preparing for Laying Laminate Floor" heading above for information on how to resolve them.
Lay out Underlay
Once the floor surface is prepared correctly it's then time to get the underlay laid out. Roll out your roll along one of the longest walls and cut it at the end, ensuring it covers the full span of the room.
In a new build property all walls will be pretty much square so you can cut your underlay off square to the wall. However in an old property, as in our example here which is an old barn, all the walls undulate quite extensively so you will need to cut each end an inch or so longer and then use a utility knife to cut the underlay following the curve of the wall. This way it will fit exactly.
Repeat the above for the remainder of the room until it is fully covered and to retain the moisture barrier, tape each joint using aluminium tape or gaffer tape.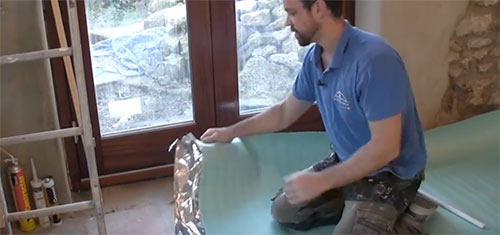 Mark Board Widths on Underlay
Before laying any boards you first need to work out exactly how your new laminate floor is going to sit in the room space. By this we mean that we want to lay all of our full width boards across the room leaving a uniform gap around the floor once it's laid and then "cut in" up to the wall, leaving a 10mm expansion gap.
So that our floor looks as neat as possible and the cuts we have to make are all uniform around the perimeter we want to keep an equal gap so in order to ensure this take one board and starting at one side of the room against the wall, lay the board down and mark its width on the underlay and then move it over and again mark its width. Repeat this across the width of the room.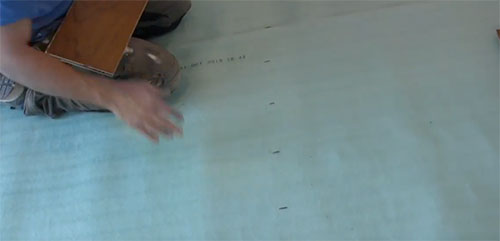 Once you have marked your board widths across the room space you will now be able to see exactly what size cut ins there will be. As said we want these to be equal on either side so simply measure the gap between the last board width you measured and the wall. Next, deduct 20mm from this for the expansion gap either side and then divide it by 2.
Starting in a new location repeat the above in terms of marking your board widths only this time come out from the wall the measurement that you arrived at above plus 10mm for your expansion gap and then repeat marks all across the room width. Once done the gap between your first board and the wall and the last board and the wall should be the same.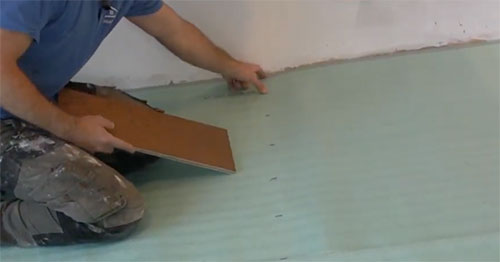 Repeat these marks across the floor in a further 3 or 4 locations along its length so that you can easily line up your laminate boards in the steps below.
Lay First Course of Laminate Floor Boards
When laying a laminate floor, the first course of laminate boards that are laid are the most important as the rest of the floor will follow them. Get them laid correctly and your floor will be perfect.
However get it slightly wrong even by a few millimeters and your floor will look an absolute mess!
In a new build property this is fairly easy as the walls and/or skirting boards you are dealing with will be straight and true, but as in our example here which is an old barn all the walls surfaces are wavy without a straight and true section anywhere.
With this in mind, starting along one of the longest walls, the best technique is to roughly lay out your first course of boards along the length of the wall, ensuring all joints are fitted tightly as they should be and that the boards are as square to the wall as possible.
To ensure all joints are fully closed together you can use your floor tensioners or you can knock them together with a hammer but don't hit the edge of the laminate boards themselves as you can damage them. Instead use a small cut off section of laminate, butt this up to the plank you want to knock and tap this with your hammer instead!
With the first course of boards laid out, lay a second course of boards against the first as this will help to hold the first course firmly together.
Remember for your second course start with only half a board so that all the joints are staggered along the length. This will make the floor and all its joints much stronger.

Once laid out you will then need to scribe your cut ins so that they match the undulations in the wall exactly and by doing this your floor will sit squarely in the room space and your cut ins will fill the gap around the perimeter in a uniform manner.
Before fixing your first run of laminate boards firmly in place, scribe the edge of the first board to fit the wall that is 90° to the long section of wall that you are starting from. Remember to leave 10mm for your expansion gap. Once scribed split all the joints of your two runs, add a decent bead of wood glue to each and them push them back together ensuring they are fully closed.
Tip: When applying glue to the tongues of your laminate flooring boards, flip the laminate board over and apply the glue to the rear of the tongue. This way once you squeeze the joints together any excess glue won't spill out!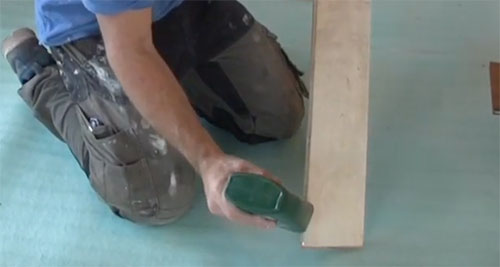 Now, position the first board in the first run 10mm from the wall to left and then position the first run of laminate flooring boards on the underlay marks that you made above along the length of the wall.
Once in place the next job is to scribe all of your cut ins and fix them in place between the first run of boards and the wall. For help on out to scribe and cut timber see our project here.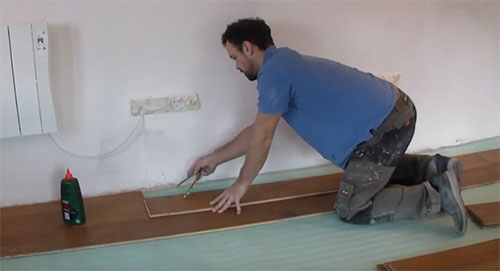 Again, remember to stagger all joints when fitting your scribed cut ins and also leave a 10mm expansion gap.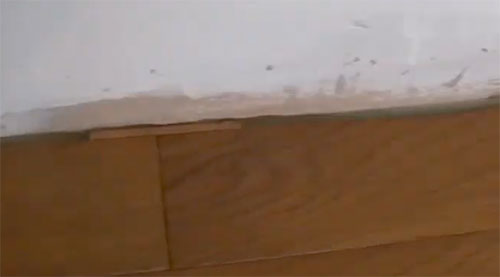 Note: If you need to knock any joints together using a hammer as we have done above you will need to ensure that the floor doesn't move as if it does this can mean big problems!
To prevent this happening, cut some small 10mm wide sections of timber that you can use as chocks to place between the laminate planks and the wall to prevent the floor moving.
Likewise, closing joint gaps between your first course of flooring planks and your cut ins isn't easy as you can get a drift or hammer in there as there's not enough space. To close these joints up simply use your floor tensioners.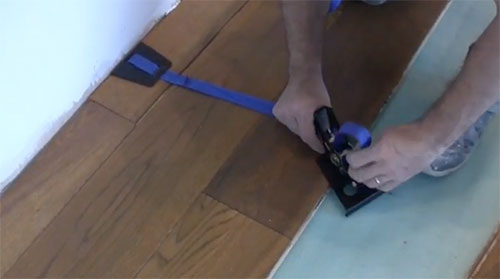 One final point is concerned with cutting laminate floor planks. To cut laminate flooring planks you can either use a decent sharp handsaw or a mitre saw. To accurately cut your scribed marks the best tool to use is a jigsaw.
Install Rest of Laminate Flooring
With your first few rows of laminate flooring laid and cut into the wall you can now crack on and lay the remaining laminate flooring.
As you did with your first few rows, ensure all joints are glued and fully pushed together, use a chock and a hammer to knock them together if needed or use your floor tensioners.
Also, ensure that you stagger each row by half a board so that all the joints are staggered and the floor remains structurally rigid and strong.
As you lay your boards make sure that you mix the different shades of laminate board throughout the floor for a even and authentic finish.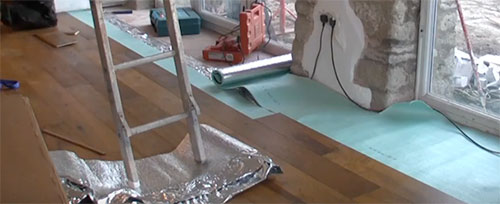 When you eventually reach the opposing wall, as you did at the beginning, scribe in all of your cut ins around any objects taking you time to ensure accurate measurements and cuts.
At the ends of each row, these will also need cutting in so use the same technique mentioned above to do so.
Tip: If you need to close up any cut in joints when you reach the opposing wall, the gap will be so tight that you won't be able to get a hammer and drift in and there also won't be any bare edges to get your floor tensioners on.
In this case the best tool to use is a pry bar and a chock. Place a chock in the 10mm expansion gap and then use your pry bar to lever off of the wall or other object against the chock to close the joint up. As in this example the object behind is a UPVC window and if this is the case for you, just be very careful not to break it!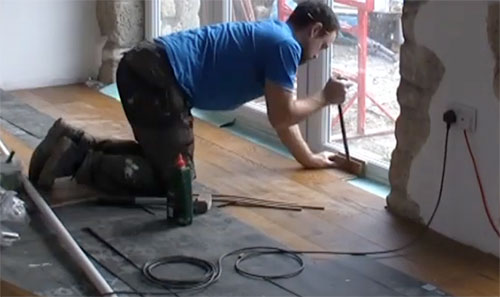 Fit Expansion Strips, Skirting Boards and Floor Trims
With the floor fully laid and all the cut ins completed one of the final jobs now is to fit the cork expansion strips in the expansion gap all around the perimeter.
Once done the next job is to fit the skirting or floor trim to cover the expansion gap. If you have fitted your laminate flooring up to your existing skirting you will need to fit some flooring trim or "quadrant" as it's also known over the gap.
Simply cut and fit the trim or quadrant strips over the gap between the skirting and floor, mitreing the corners for a neat finish.
In terms of fixing, ensure that you fix any quadrant or trim to the skirting or surface behind the flooring and not to the flooring itself. The trim will need to float above the floor so that when it expands it can move freely underneath it.
The same principles apply to skirting boards. The skirting, in this case, is simply there to cover the expansion gap.
Once your skirting boards or quadrant has been successfully fitted you are now pretty much done, top job!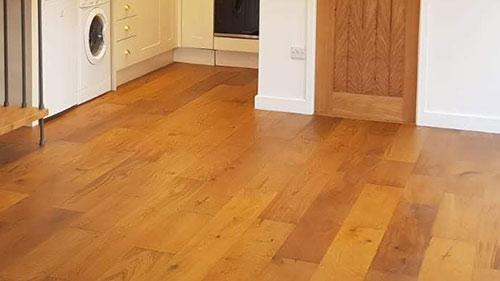 Laying a laminate floor can seem like a daunting job if you have never done it before but if you take your time and prepare any existing surfaces correctly and also get your first row of laminate flooring absolutely right, the rest should fall into place fairly easily.