Why Should we Insulate Underneath Underfloor Heating?
Heat rises, but not quite so well when flooring is placed on top of it. It then takes a little while for the underfloor heating to warm up whatever is covering it before it begins to heat the room. This is further explained in our project page on electric underfloor heating and also in our project covering water underfloor heating.
If all of the heat cannot rise because of obstructions, some of it will start to heat whatever is below it, this of course means your floor. Whether it is a timber floor or a concrete floor is immaterial, the fact is that by allowing heat to go downwards, it is not traveling upwards where it should be and heating your room and in light of this, you are wasting money!
So, how then can we direct the heat upwards where we will get the most benefit from the installation of an underfloor heating system – We insulate!
Insulating Ground Floor Slabs for New Buildings and Extensions
Insulation for floors comes in many shapes, sizes and thicknesses and in your current ground floor you may already have an insulated concrete floor ro slab.
This insulation, in a modern build, may come in the form of a Celotex sheets under your floor screed as you can see in the image (below) of a floor slab being constructed and a floor screed being placed on top of a floor insulation slab. In this instance, water pipes have already been laid for water underfloor heating.
Most insulation materials of this type are foil backed to reflect the heat back into the room and is (in this instance) 70mm thick to offer the best possible insulation qualities for the room.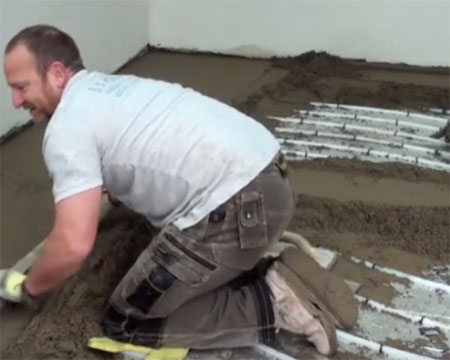 This type of insulation is fine when building a new property or putting on a new outbuilding or extension. The floor levels can be adjusted so that there is plenty of room for maximum insulation and, when finished, the new floor level will match the existing.
Laying the Insulation Under the Concrete Floor Slab
The image below shows what the floor slab insulation looks like when the concrete floor slab, rather than the screed, is poured on top of the insulation. The foundation walls are built up to damp proof course level and the damp proof membrane is laid inside them. The insulation, usually 50mm or 75mm thick is then laid on top of the damp proof membrane. The concrete is then poured onto the insulation.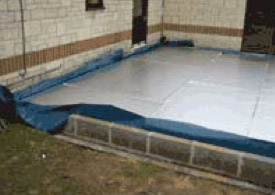 Under slab, or under screed insulation comes in many shapes and sizes, here follows a few examples: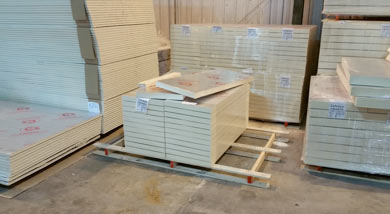 Insulating Existing Ground Floor Slabs or Hollow Floors
When it comes to underfloor insulation and heating in existing rooms where the floor has already been in position for some time, thickness is very important. You want the maximum insulation value and heating ability, for the minimum thickness of insulation as you don't want to raise the height of your flooring too much.
There are quite a few products available that give great heat output but are very thin as well as a number of products that are specifically designed for both timber (hollow) floors as well as laying insulation onto concrete floors (either a concrete slab or a floor screed).
All of these products will allow floor tiling to be laid on top of them as well as carpet and laminate flooring. There are of course certain rules to follow when laying them. We will deal with these rules later.
Some of the flooring insulation sheets are also tile backer boards which makes the job a lot easier. Again, you can find out more about these below.
With wood and laminate flooring becoming evermore popular, electric under floor heating systems are the perfect solution for this floor type.
Laying Laminate or Engineered Flooring onto a Water Heated Concrete Floor
To lay laminate flooring, engineered hardwood flooring or carpets onto a new floor screed with water underfloor heating is one of the easier jobs. There are no special procedures to follow, just the manufacturers instruction on how to treat the flooring and our tips on fitting laminate flooring on this page.
The Laminate flooring underlay is laid directly onto the concrete and the laminate or engineered flooring is laid on top of the underlay.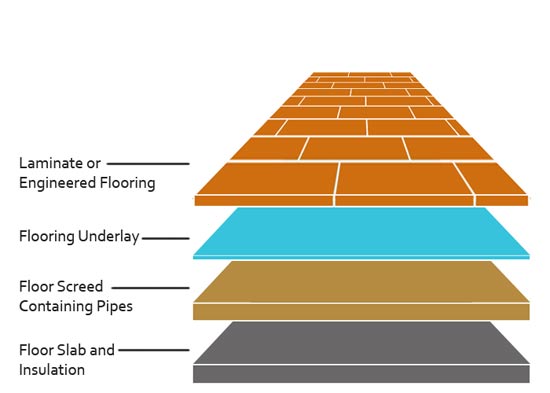 Laying Laminate or Engineered Flooring onto an Electrical Underfloor Heating and a Concrete Floor
Laminate or engineered flooring needs to be laid onto a perfectly flat surface. To lay them directly on top of the electric wires of an underfloor heating system therefore is a little unwise. While some brands of underfloor heating system will allow you to do that we feel it is worth an extra few quid to get the job done in the best way possible.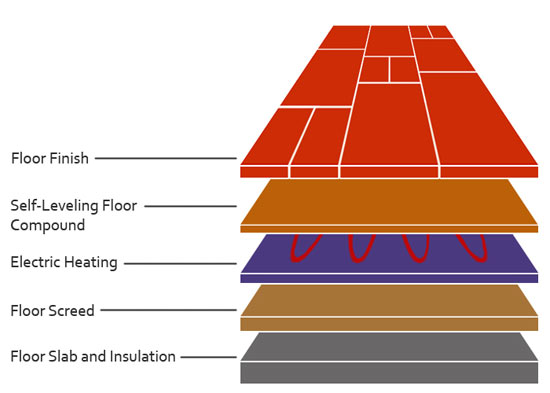 This involves laying a self levelling floor screed over the electric wires or matting and the image below shows an electric underfloor heating mat being laid. You can see the gaps between the wires which would, eventually, allow boards to warp and bend if laid directly on top of these.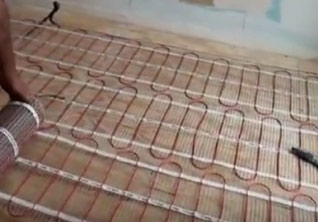 The self levelling floor screed is mixed according to the manufacturers instructions and tipped onto the floor. Spread around with the trowel until the top of the compound just covers the wires for the heating mat. You then leave for 24 hours to dry. You should now be ready to lay your laminate or hardwood flooring.

Laying Tiles onto an Electrically Heated Concrete Floor
This is the first of the various flooring options discussed on this page that require the use of an insulation sheet or tile backer board.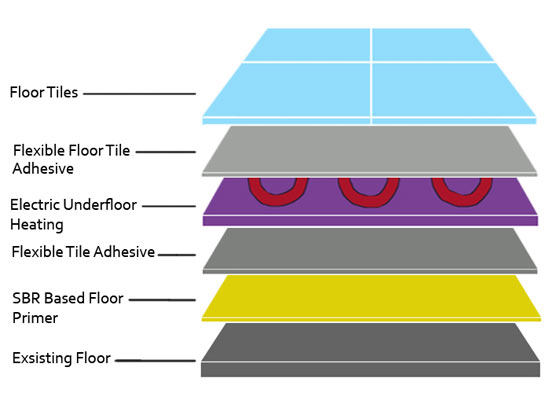 Tile backer boards these days act as insulation sheets also and you can see from the tags in the images below there are a few of them!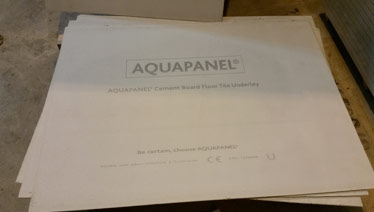 They vary from 6mm thick to 25mm thick and, genrally speaking, the thicker the board, the more insulation and rigidity (especially on wooden floors) it offers.
Building up the Layers of Flooring for Tiling onto a Concrete Floor with Underfloor Heating
Sweep and clean the concrete floor completely
Paint the floor with a professional SBR based primer to give the adhesive the best chance of working well. Use only a primer recommended by the manufaturer
Lay a flexible tile adhesive (check manufacturers recommendations) onto the primed floor ready to lay the insulated tile backer board
Press the insulated tile backer board down flat into the adhesive
Tape, or glue up the joints of the insulated backer board with materials recommended by the manufacturer
Lay the heating mat onto the insulation/backer board
Use a flexible adhesive recmmended by the manufacturer to lay the tiles
There is an alternative to the above method and that is to lay a flexible self levelling flooring screed or compound over the underfloor heating mat before you lay the tile adhesive for the tiles. This will make it easier to ensure that your tile adhesive is a uniform thickness throughout the floor.
What is an Insulated Tile Backer Board?
Tile backer boards are usually a cement based board with at least one of the side having either score marks or mesh attached to give a great key for the adhesive. They are waterproof and, most of the time, rigid enough to withstand movement when walked on. This allows them to be used under floor tiling but please check with the manufacturer to see if any other forms of rigidity, such as a plywood sub base are required.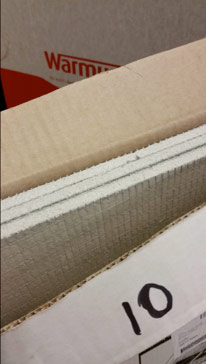 On walls, tile backer boards are there to provide a secondary waterproof layer behind the tiles but on the floor, the insulation qualities of products such as No More Ply, Warm Up, Aquaseal and Hardie all come into play in a large, energy saving way.
For floor tiles to stay intact on the floor there must be no flexibility whatever and companies such as No More Ply provide guarantees with their insulated backer boards and will supply the special adhesive and fixings required to fix to both concrete and timber floors.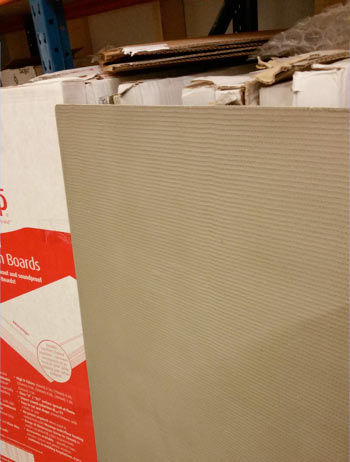 Insulated Backer Boards with the Fixing Kit
Most suppliers will recommend their own installation methods and supply their own specific fixing kits that have been developed and formulated specifically for their products.
Always read all packaging first before you start so that you fully understand how and when each product should be used.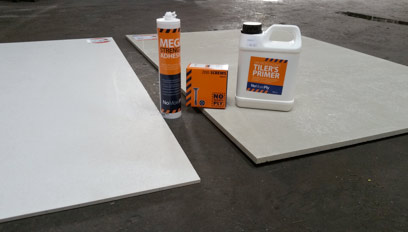 What Materials Should be Safe for use with Underfloor Insulated Tile Backer Boards
You should always use the manufacturers recommendations where possible. If not we suggest the following:
A good quality professional floor and surface sealer which is SBR based. Even though this professional SBR sealer is diluted with water it is guaranteed not to fail

Good quality professional SBR sealer – Image courtesy of Dimensions, Frome, Somerset

Always use a flexible adhesive where there is any heat involved. The heat from any form of underfloor heating drys the adhesive out very quickly indeed and the faster a cementitious based adhesive dries, the more brittle it becomes. Flexile adhesives such as those shown allow the tiles to settle more slowly as the adhesive dries out and less cracks will appear.

Flexible floor tiling adhesive with a slow set

Flexible adhesive can still be bought in a Fast Set option and this still retains a great deal of flexibility when dry

Flexible, Fast Setting Floor tiling adhesive

With some of the tile backer boards, having fixed the boards down, it is recommended that all edges are glued together also. This requires a super-strong yet flexible and waterproof adhesive. The below adhesive is supplied with the No More Ply tile backer board kit

Backer board adhesive with flexibility and strength

For backer boards which are being fitted to timber floors a fixing kit is usually required. This includes large washers to pull the boards down to the floor, tape to seal all of the joints and wood screws to fix. The kit shown is a Warm Up kit available from Tops Tiles in Frome Somerset

Fixing kit for Warm Up Tile Backer Boards – Image courtesy of Topps Tiles, Frome, Somerset
Laying Laminate or Engineered Flooring onto an Heated Wooden Floor
When laying laminate flooring or hardwood flooring onto underfloor heating which sits on a wooden floor the key thing is to make sure the insulation board is well fixed to the floor below it.
This should be done with one of the fixing kits above and nails and washers should be fixed every 300mm in all directions. A good thick underlay should also be used to take up any variations in the surface caused by the depth of the wires in the electric underfloor heating.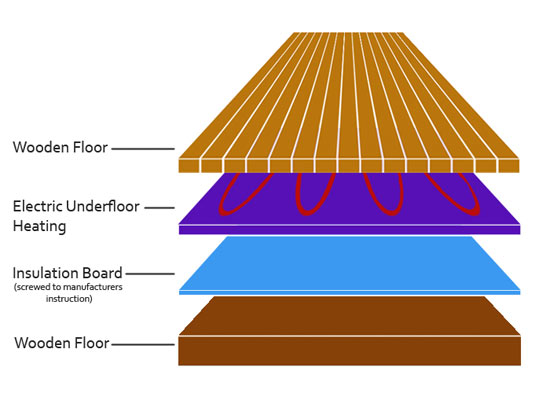 Laying Tiles onto an Electrically Heated Wooden Floor
Be absolutely certain you have chosen an insulated tile backer board that is rigid enough to take any flexibility out of the wooden floor.
The minimum thickness we would recommend is 15mm and this should be fixed every 300mm at least. The adhesive used should be flexible and we would suggest a slow setting adhesive unless you have to use the room within 3 or 4 hours.