Warning: To complete electrical works you must comply with Electrical Regulations – Click here for more information.
Why Have Wire Colours Changed?
28 years ago the United Kingdom agreed to adopt the colour blue for neutral conductors in flexible cables and flexible cords usually used for non fixed installations. At that time no move was made to harmonize the colours for fixed installations. The rest of Europe however was changing over very quickly. In 1999 it became apparent that a new European standard for wiring and cable colours meant that the UK would have to catch up pretty quickly and change fixed cable colours to suit.
Obviously millions of existing cables had the existing red, black and yellow/green colours installed and to limit the number of installations where new circuit additions would mean mixing the colours, it was agreed that (even though the new regulations did not become compulsory until 31st March 2006) from 31st May 2004 the new cable colours could be used. On this date the Institute of Electrical Engineers published Amendment 2 to British Standard 7671:2001 (The wiring regulations). The amendment specifies the use of new cable colours for all new fixed wiring electrical installations in the UK. These new colours are sometimes referred to as Harmonized colours. They bring the UK more closely in line with practices in mainland Europe.
Complete details on the changes can be found on the IEE web site.
What Have Wire Colours Changed to?
Very simply the changes mean that fixed cables in your home will (if any new circuits are introduced) carry the same colour wires as any flexible cables you have:
| | |
| --- | --- |
| Old Colour | New Colour |
| Live red | Live brown |
| Neutral black | Neutral blue |
| Green and yellow earth | Green and yellow earth |
The live Red becomes Brown
The Neutral Black becomes Blue
The Earth wires continue to be Green and yellow
Additions to the old cables mean that some installations will have mixed colours within them. A mixed installation is shown below.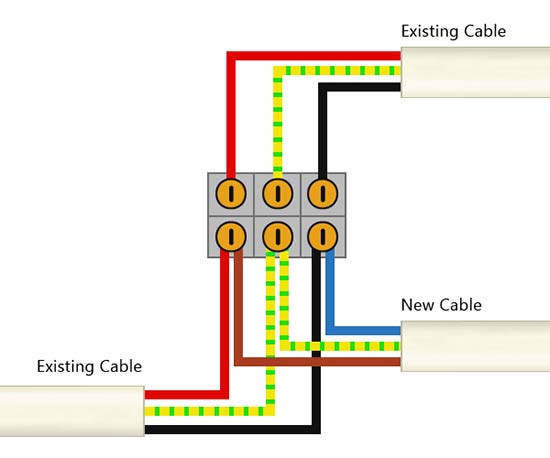 You can clearly see that red is connected to the new brown (live), black is connected to the new blue (neutral) and the green and yellow earth stays the same.
All installations where circuits and/or fixed cables have been added and the colours are mixed within the house must carry a warning of such at the fuseboard or consumer unit. The warning must be as similar as possible to the one shown below. Please go to the IEE website using the link above for information regarding the new wiring regulations to 3 phase installations or Extensions or alterations to 3 phase installations.