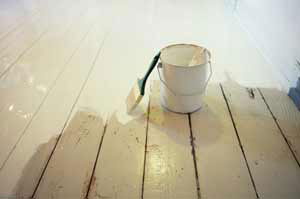 Smelly Paint Complaint
Many moons ago Crown paints appeared on watchdog to answer questions about an alleged problem with their Breatheasy paint…..Apparently it stunk when it was put on the walls……
Our own Mike Edwards, the original DIY Doctor was invited to Crown's head office where they explained that, although they did not yet know what was causing the problem they were taking it very seriously and showed him all the tests they were doing.
Mike appeared on TV to say that Crown had no idea what was causing the problem but confirmed that Crown were taking hundreds of enquiries from consumers who had purchased the paint and were even redecorating some of their homes for them as a gesture of goodwill, to help solve the problem.
The problem however, seems to have returned…
We have an entire forum section dedicated to THIS PAINT STINKS so get in there and have your say if you have had any problems with Crown paint.
Crown paint have been contacted again and their staff have posted a free advice number in the forum together with an apology and a link to an advice line where you can get help.
What is Wall Odor Phenomenon?
Wall Odor Phenomenon is a rare reaction though to be caused by the paint reacting to chemicals or bacteria on the wall surface. It is only thought to occur in about 1 in 100,000 cases of painting, but of course if it happens in your home that isn't much comfort!
It seems to be more likely on walls in direct sunlight or where there is a draft.
What Can I do about Smelly Walls?
If you have noticed a bad smell after painting do get in touch with the manufacturer to let them know what has happened. The only way this phenomenon can be understood more thoroughly is if customer's share their experiences.
You can visit the PRA (Paint Research Association) website for more advice and information. They also have the contact details for all the major UK paint manufacturers.
Also do get in touch with DIY Doctor by posting on the forum above, we do keep in regular contact with product manufacturers to update them if we are experiencing complaints, and this helps to reinforce your case if you are looking to get answers from large organisations.
Is Smelly Paint Harmful?
There's no evidence that Wall Odor Phenomenon affects your health.