Can a fireplace add value to your home?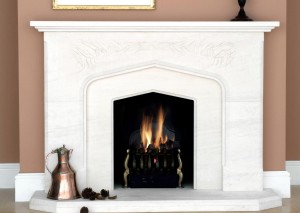 UK house prices have been gradually increasing over the last few years, but that doesn't mean that those who have decided to sell their house shouldn't still be looking to add further value to their residence, and squeeze every penny possible out of its sale.
There are many, many ways to increase the value of your home, and several have already been covered on this site; including techniques like insulation and draught proofing, to attracting birds to your garden. One method that has yet to receive much coverage is the installation of a fireplace; a project which can deliver many positive attributes to a home, and in doing so make it that much more desirable to potential buyers.
Considering how many houses in the UK have chimneys which are clearly large enough to support one, it's often a mystery as to why more houses do not include a fireplace. The central cause of the temporary decline and removal of fireplaces nationwide was down to the Clean Air Act 1956, a response by parliament to a marked increase in urban pollution, which forced homeowners to exclusively utilise non-smoke producing fuels, if they were situated within one of the many newly designated 'smoke control areas'.
However, the combination of relaxed regulations, the proliferation of non-smoke producing alternative fuels, and the increased popularity of fireplaces as a fashion statement, have gone a long way to encouraging a resurgence of installations in recent years. With the large number of options available to those seeking the installation of a fireplace, now may be the perfect time to invest in one; but it would be negligent of us not to mention what benefits they provide in more detail!
Cheap, energy efficient warmth and comfort
Of course, the most obvious application of value that a fireplace can provide is as a source of warmth; and if the correct source of fuel and construction are chosen; a cheap and energy efficient one. Energy efficiency is highly sought after in potential properties these days. After all, who could turn down the opportunity to save themselves money, while also doing their bit to save the planet?
In terms of the best source for the environmentally conscious (and who isn't at least a little bit these days?), electric fires are the superior option. Electrical fires produce no harmful by-products while heating a room, and are therefore a far more efficient system than almost any other source; especially when compared to gas or wood. Furthermore, electrical fires are cheaper to run than every other variety of fireplace fuel, with the exception of gas.
Of course, a fireplace doesn't have to be turned on after installation; their comforting, homely presence in a room is often enough of an appeal in itself! Many electric fires especially feature the functionality to project a facsimile of a flame onto a screen mounted in the fireplace, so you can still enjoy the soothing presence of a roaring fire, without expending any extra power on heat output, especially if you already have an effective central heating system.
Enhance the aesthetic appeal of your home
The design of a fireplace can be far more varied than many people think; there are a wide range of options when it comes to judging the size, style and material of a fireplace, so no matter what the design of the room in which it will be placed, you'll be able to create a look that either complements or contrasts it, with ease. Whether you wish to exemplify the rustic charm of a living room, or further the bold, angular modern design of a kitchen, a fireplace is an ideal choice for adding further aesthetic value to your property.
Smart and homely, a wooden fireplace adds further warmth to a room, and can be found in a wide variety of shades and hues depending on the type of wood, and the finish that has been chosen. The softer, more mellow colouration of wood (when compared to stone), tends to suit subdued interior designs, though wooden fireplaces are often combined with hearths or mantelpieces of harder material and hardier construction, like granite or marble, to stunning effect.
Stone fireplaces present a far more commanding, traditional impression than their wooden cousins, and can provide a far wider range of potential colours and designs. Limestone, slate and granite are often utilised for the purpose of fireplace construction, due to their durability, beauty and the ease with which they can be carved into complex designs. While such a fireplace sounds like an astronomically expensive extravagance, it's actually surprising how affordable they can be; with many companies, such as CountyStoneGranite.co.uk – specialising in providing bespoke stone fireplaces in a wide variety of shapes and sizes.
For those looking for a smaller, less extravagant design, a stone mantelpiece on a wooden or synthetic fireplace still makes a bold statement, and can often be manufactured from offcuts left over from larger projects; further reducing the cost of the design. Take a look at retailers like Shaw Stone for some stone offcuts if you haven't created your own.
Additional storage space
Fireplaces don't just provide a stylish addition to a room with no chimney; they also provide additional storage space; even when not utilised for their original purpose, they are able to add value to the residence in which they are installed. Most fireplaces have the room for a small television or computer underneath; though a smarter use of the available storage room would be to store a screen or monitor on top of the mantelpiece, with a computer or entertainment system stored in the space underneath. This way, your technology is tucked away while still easily accessible, and crucially, not interfering with the overall feel of the room.
Thanks to County Stone Granite for use of their images from the range of fireplaces on their site.