The 6 Best Dehumidifier Features You Must Know
Despite properly ventilating your environment, whether it be your house, caravan or garage, mould might still occur. This is no surprise as the UK is one of the most humid countries in Europe.
In fact, did you know that the UK is even more humid, on average, than Australia!
Mould grows at a relative humidity (RH) of around 65%. Given that the lowest  average annual humidity levels of Birmingham and London read 70%, and the highest 90%, you can see why mould is so prevalent in the UK.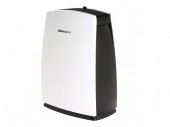 Before rushing out and buying a dehumidifier you need to do some research. In order to make this research as easy as possible we have provided you with the following 6 point check list.
1.    Desiccant is Best
There are two main types of dehumidifier: The desiccant model and the compressor model.
Desiccant dehumidifiers are more efficient in UK temperatures than compressor dehumidifiers. Because they are more efficient they are cheaper to run. Desiccant dehumidifiers are also more environmentally friendly because there are no gases used, plus they are quieter and lighter due to the lack of compressor components.
2.    Filter and Ioniser
Standard dehumidifiers come with a dust filter however for cleaner, healthier air an anti-bacterial filter is recommended especially for those with respiratory related problems.
Those suffering from hay fever and asthma should definitely look for dehumidifiers which feature an ioniser.
At a very basic level ionisers release negative ions into the air which then attach themselves to positive ions, such as dust and pollen, which are floating in the air. The enlarged ion becomes too heavy to stay afloat and falls either into the dehumidifier's filter or onto the ground where they can be vacuumed up.
3.    Auto Sleep/Fan Mode
Many companies advertise this feature under many guises however they all do the same thing. If you want to save money while running a dehumidifier look for this feature.
Auto sleep mode brings the relative humidity down to the required RH as set by the operator. Once the required RH has been reached the dehumidifier automatically turns itself onto 'fan only' mode. In this setting the dehumidifier uses much less electricity than if left on its 'normal' setting.
Typically the dehumidifier would revert back to 'normal' mode after half an hour to check the RH level again. If the RH is steady the unit reverts back to 'fan only' mode and if the RH has crept up the unit will stay in 'normal' mode until the RH is bought back down where the unit will go back into 'fan only' mode.
4.    Laundry/Turbo Mode
Many dehumidifiers feature a 'Laundry' or 'Turbo' mode. In this mode the unit works at full power bringing the RH down to 35%. As the name implies this is a great setting for drying clothes indoors.
Ordinarily drying clothes indoors is a bad idea, especially if there is little ventilation. A load of washing can increase the RH in a room by over 30%. Such conditions make an ideal breeding ground for Aspergillus Fumigatus, a very dangerous mould spore, which could lead to permanent severe lung and respiratory problems.
Obviously regular use of a dehumidifier avoids this problem, and you will also avoid the dreaded problem of condensation on the walls and windows.
A final added bonus is that in this setting dehumidifiers create a lot of heat and therefore blow out a lot of hot air which is perfect for drying clothes. The Meaco DD8L Desiccant Dehumidifier, for example, can heat the surrounding air temperature by around 10C-12C.
5.    Movable Louvre
A perfect companion to the 'Laundry' mode is a movable louvre which you can adjust to blow hot air in a particular direction.
You can set the louvres to the best position to pinpoint a stubborn damp patch on a wall or to cover a wider area such as a whole wall for drying paint quicker.
It is highly recommended that if you want to dry clothes indoors that you purchase a dehumidifier with a moveable louvre.
6.    Soft Touch Control Panel
Soft touch control panels not only look more modern but they last longer than the rotary style of control panel. Personally I like to see a LED screen with the RH reading. However most dehumidifiers don't have these but you can purchase a hygrometer, which is very inexpensive if you want to know the RH levels in your home.
Modern soft touch control panels are easily accessible and super easy to use. Being DIY Doctor readers I am willing to bet that you can operate a control panel without reading the directions!
Buying a dehumidifier isn't difficult but, as with anything, a little research beforehand makes the task much easier.
Please visit ByeMould.com who are an independent UK dehumidifier review website, for more information.