Fitting a loft light in your loft is an essential step if you are looking to use your loft space for any form of storage.
Trying to track down the Christmas decorations or find the suitcases whilst holding a torch in your mouth and balancing on the ceiling joists is just asking for trouble.
One misplaced footing and you can easily put a hole through the ceiling or worse still, end up falling through causing a considerable amount of damage, both to the ceiling and more importantly, to yourself.
With this in mind, if you want to use your loft to store stuff, fitting a loft light is an absolute must as it will easily and safely allow you to locate any item with the minimum of stress and hassle.
Where Should I put my new Loft Light and Switch?
In a standard sized loft e.g. somewhere around 7m x 5m, the general rule of thumb is to mount the light at the top of the ridge (the point where the 2 sides of the roof meet) at the centre of it's length should provide more than enough light to illuminate all the areas of the loft space.
In terms of the switch, the best place to put this is as close to your loft hatch opening as possible so that as soon as you poke your head up into the loft area, you can easily reach it and switch your loft light on.
There are no hard and fast rules particularly in terms of where you should locate a loft light and switch, ultimately it's up to you so put them where they work best for you.
What Type of Loft Light and Switch Should I use?
In terms of what light to use in your loft, you really have a few options:
Fluorescent Strip Light – Traditional fluorescent strip light as found in many kitchens, schools, factories, offices etc. Will provide a decent level of light but can be a little costly to run
LED Batten Strip Light – Very similar to the above but instead of using a fluorescent tube an LED tube is used instead. Depending on wattage (e.g. more watts the brighter the light) this type of loft light will provide more than enough light and as it uses LED's it will also be cheap to run
Standard Pendant Bulb Holder – The most common type of light bulb holder and found on the majority of ceilings in most rooms in the home. Can take a variety of different bulbs including fluorescent and LED and available in both screw (ES) and bayonet fittings (BC). Cost of running will depend on what type of bulb you use
Again, there are no rules on what type of light you can use, go for the option that will fulfill your needs the best.
How to Wire a Light and Switch in a Loft
Before you even think about Fitting a loft light you have to consider the safety implications of working with electricity – It's dangerous! For more information on working with electricity safely, see our project here.
The first job is to isolate the circuit you will be working on at your consumer unit. This means identifying the circuit you will be tapping into and making sure the MCB that manages it in the consumer unit is turned off.
This will effectively cut the power to that circuit allowing you to work on it safely.
For the purposes of this project we will be using the Quickwire splitter box and Switch and Load systems as it's one of the best solutions for quickly and safely adding lights, such as our new loft light to an existing lighting circuit for both new DIY'ers and professionals alike.
To find out more about the Quickwire splitter box, checkout our full review here.
Alternatively, you can also find out more about the Quickwire wiring system on their website here.
Step 1 – Locate Existing Lighting Circuit Cables in Loft
In this instance, as we are Fitting a loft light, we need to tap into an existing lighting circuit to get the power to run our new loft lighting circuit.
Finding the existing lighting circuit that powers our downstairs lights should be fairly straightforward. Simply look in one of the rooms below and make a note of the rough location of the light mounted on the ceiling.
Once you are up in the loft space, locate the rough area in which you noted the lights location on the ceiling below and you should then be able to fairly easily find the wires running to that light.
The size of the cable itself will either be 1mm or 1.5mm twin and earth. This is the UK standard size cable for lighting circuits.
If the cable looks larger than this, chances are that it will be 2.5mm twin and earth, which is used for socket circuits.
If you are unsure about what size cables are used for either lighting or socket circuits then see our cable sizes project here for more information
Simply then trace the wires backwards until you get to the rough location that you want to put your new loft light.
You may need to lift any loft insulation to get a clear view of the existing lighting circuit wiring so that you can easily trace it. Once you have successfully traced any wires, make sure you replace any insulation that you have moved.
If you have boarded out your loft then tracing any existing wiring does become a bit of a job. You will need to lift some of your loft boarding to be able to access and trace the existing wiring below.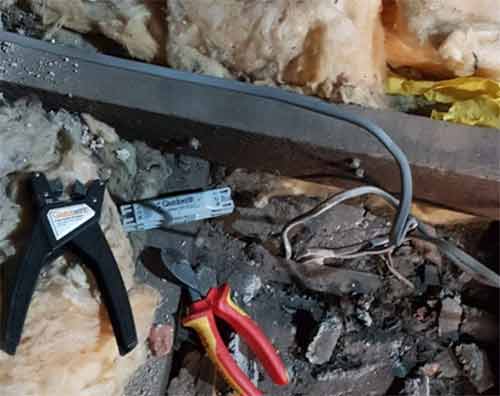 Step 2 – Cut Existing Lighting Cable in Half
With your lighting circuit cable identified, it's now time to cut into it to get some power for your new loft light.
Firstly, give the cable a very light tug to free up some slack. If it doesn't budge you may need to trace along it a bit and locate any clips that may be holding it.
Now that you have a little slack cable to play with, snip the cable in half in a suitable place with as much room around it as possible to make working on it as easy as possible.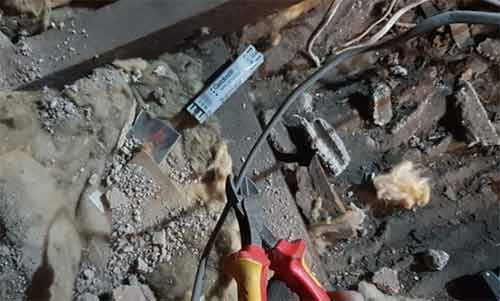 Step 3 – Strip Cables and Insert into Splitter Box
With your cable cut in half, it's now time to strip the ends and insert them into your Quickwire splitter box.
To use the Quickwire splitter box correctly there are some fairly strict requirements on how much you will need to strip off of the outer and inner cable sheathing.
To ensure that this is done correctly, Quickwire supply their very own cable strippers that will strip the cable to the exact requirements needed, these are:
Strip 22mm off of the grey outer sheath
15-17mm off sheath off of each internal cores e.g. live and neutral
If you are fairly handy with a Stanley knife or pair of wire strippers then by all means you can strip the wires yourself, but if you are new to DIY electrics you may choose to get hold of a pair of the Quickwire strippers.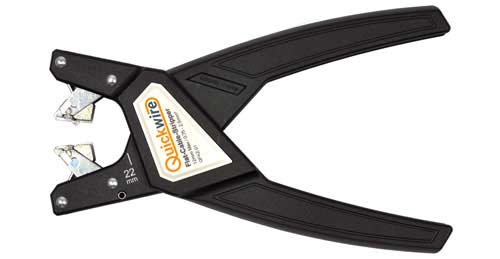 With each end of your existing light circuit cable stripped to the exact requirements stated above, you can now insert them into the splitter box.
Line up cables with the "L" and "N" markings on the splitter box, e.g. live first, earth in the middle and neutral and push into splitter box.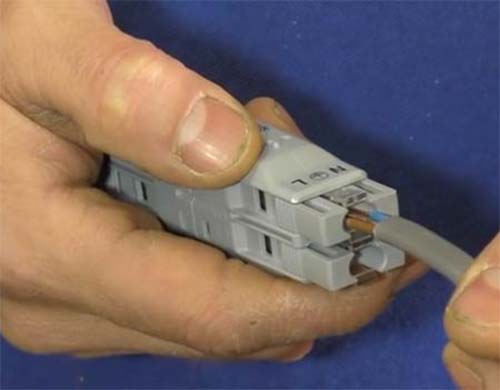 The splitter is fairly forgiving and will locate each wire in the correct slot for you, as long as they are roughly in the right place.
Check window on the side of the splitter box to make sure you have enough cable in the splitter before clamping it down. Ideally, the copper wire should extend down into the box. When the cable is fully in place, push the clamp down to lock it.
Repeat the above for the other end of the existing lighting cable to fully recreate the loop and ensure that the circuit you have interrupted, continues to work when the power is switched back on.
Give both wires a quick tug to check that they are both firmly held.
Finally, run a new length of 1.5mm cable from the splitter to the rough location of the switch
Strip the end as in the above and then fix it in place in the opposite end of the splitter box to the wires from the existing loop.
Give yourself a little extra cable at the end your new light is going so you have some to play with.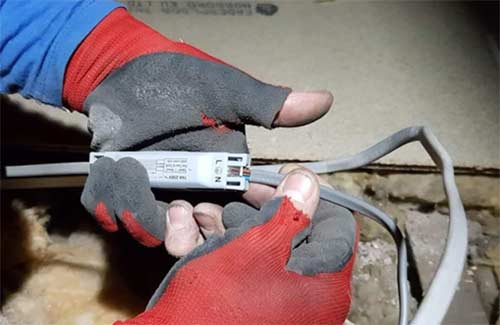 Push both ends of power cable into Quickwire junction box and add the new cable for the additional light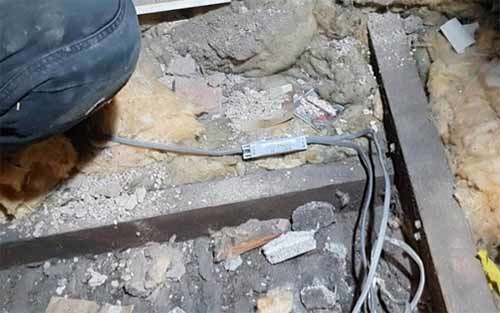 Step 4 – Fix new Light in Place and Wire up
The next job is to fix your new light up.
Whenever our electricians are setting up a lighting circuit in a loft, we always opt for fitting a strip light in the loft, particularly an LED one as we find they provide the best levels of lighting and are also cheap to run.
As you can see from the image below, this again is our lighting weapon of choice in this instance.
To fit your strip light, measure the width of the ridge area and divide by 2, this will give you the centre of the ridge, mark a point here.
The box that your LED strip light came in should also feature a fixing template. The template should feature a centre point mark and then a mark around 30-40mm either side. These depict the fixing points for your strip light.
Undo the screws or fixings that hold the top plate of the light on to the main body. With these removed the top plate should come off exposing the inside of the main body and the fixings points.
Place the light up to the ridge with the centre point on the mark you made earlier and then screw in a screw at each fixing point. Don't screw them all the way up at the moment, just enough to hold the light in place.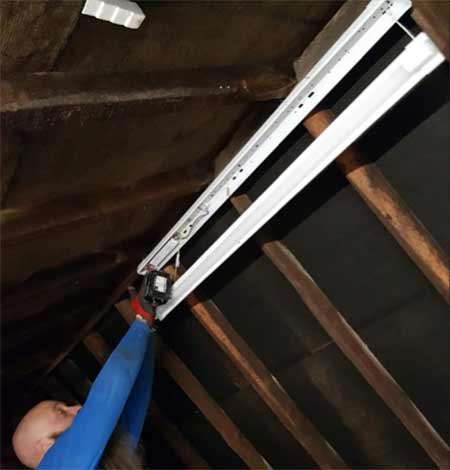 Now, run a length of 1.5mm twin and earth from the light over to where the switch will be placed. Again give yourself some slack either end.
Connect up the light by stripping the cable to the required lengths and then connecting each core to the correct terminal on the light e.g. live to live, neutral to neutral, earth to earth.
If you need any further help with connecting up a new light, see our project here.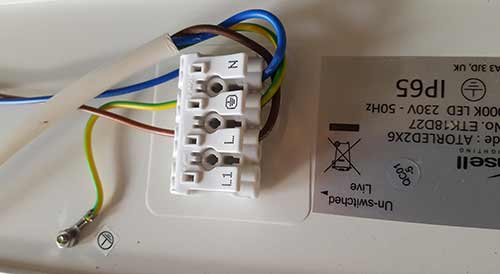 Step 5 – Fix Switch and Wire up
With our new loft light now all wired up and ready, it's time to get our switch in place and get that wired up also.
As we are only controlling 1 light we will need to use a single 1 way switch.
Unscrew the 2 screws holding the switch faceplate on to the back box, put the face plate to one side for a moment.
Use a screwdriver to knock out the thin plastic fixing hole covers and also one of the cable access areas so that you can pull your cable through. Screw the back box up in your chosen location.
Run a length of 1.5mm twin and earth in through the cable slot and give yourself enough to allow you to wire up the switch. Run the other end over to meet the other cables again giving some slack.
Strip off the cable sheath and cores and then wire up the switch, connecting the live wire to the "com" terminal and the neutral to the "L1" terminal. The neutral wire will now become our "switched live" wire.
To make sure that anyone that works on this switch in the future knows that this is in fact a switch live, you need to wrap a small piece of red insulation tape round the wire just as it comes out of the L1 terminal.
Step 6 – Connect up the Quickwire Switch and Load box
With all of the wiring now in place and your light and switch wired up, before everything will work you now need to connect the ends of all your cables into the Quickwire switch and load box.
This very clever little box handles all of the routing required to ensure that the switch has a constant live supply and when it's switched on the live supply is then routed to the light.
Traditionally this is done using cables and junction boxes and requires a fair bit of knowledge in terms of how it all goes together. Wiring junction boxes can also be quite a fiddly and frustrating job.
The switch and load box does away with all of this and using the same principles as the splitter box, features 4 ports that are clearly labeled in terms of which wire needs to go where.
Using the Quickwire wire strippers, strip off the ends of each of our 3 cables and then insert each into the switch and load box in the correct port as follows:
Power  – Takes power from the new cable that we've run from the splitter box
Load – Cable running to the new loft light
Switch – Cable running to switch
With all the wires inserted, clamp them down giving each a little tug to make sure it's held securely.
Before switching the power back on to run a test, give everything a quick check over to make sure all cables are secure and connected correctly.
Pop over to your consumer unit and switch the power back on to the lighting circuit and then pop back up into the loft.
Flick your new light switch on and it all well and good, your loft light should now burst into life. Give yourself a pat on the back for a job well done!
Step 7 – Clip up Cables and Tidy up
Just before we put the kettle on and admire our handy work we need to tidy all of our wires up so that everything is nice and neat.
Before you start, turn off the power again to ensure you are working in as safe an environment as possible.
Using some 1.5mm cable clips, clips your cables up to any available joists, just above any loft insulation that may be present.
In terms of the spacing's for each cable clip, the regulations state that for 1.5mm twin and earth cable, clips should be added at least every 250mm horizontally and at least every 400mm vertically.
Try to keep your cables clipped in as straight a line as possible to keep everything looking as neat as possible.
Once all your cables are clipped up nicely, you are finished, congratulations on a job well done!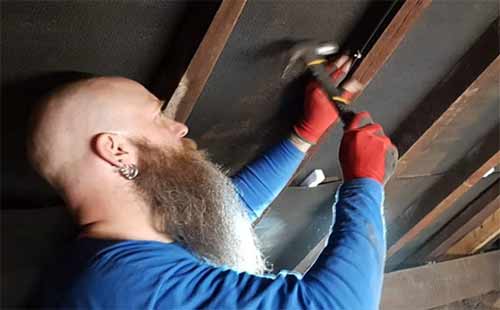 Wiring up a Loft Light Using a Standard Junction box
If after reading through the above you don't want to use the Quickwire system, that's totally fine, you can certainly wire up your loft light using a junction box instead.
As with anything to do with electrics, the very first job before we do anything is to turn off the power!
With the power isolated, locate an existing lighting circuit in the loft and cut through the wire. Strip back the outer cable sheath and also the sheathing on both the live and neutral wires.
Using a 5amp junction box, you now need to reconnect each end of the existing cable to the terminals inside plus run a new cable out to the rough location our switch will be placed: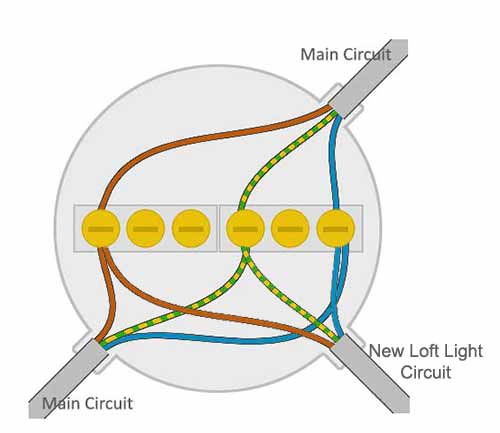 With the junction box all connected up and a new cable running out to the switch, you can now get the switch wired up.
Strip back the outer sheath of the cable and each of the inner cores and then connect the live wire to the "com" terminal on the rear of the switch face plate.
Run a new length of cable from the switch out to where your new loft light is going to be located and strip back the sheathing on both ends of the cable as you did above.
At the switch end of the cable, connect the live wire of your new cable to the "L1" terminal on the switch.
Using 2 6amp terminal blocks, connect together both neutral wires into 1 of the terminal blocks and then connect together both of the earth wires into the other terminal block.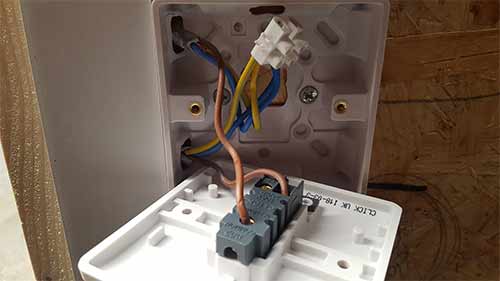 Finally, connect up your light, connecting the live wire of your incoming cable to the live terminal of the light, the neutral to the neutral terminal and the earth to the earth terminal
To keep everything neat and tidy, clip all of your cables up using the specifications for spacing stated above and once done, go back to your consumer unit, switch on the power and test out your brand new loft light!
Is it Ok to do DIY Loft Lighting?
In short, yes, you are totally fine and within the regulations to wire up a new single light such as a loft light.
However, there is some degree of "competance" required. By this we mean that if you have absolutely no idea about electrics and all of this is totally brand new to you, then maybe you should get a professional electrician in to wire up your new light for you.
This is a good route to take if you are new to DIY as not only will you get the job done right, but most decent electricians will also explain what they are doing and why if you ask them and this can help further your own knowledge for any future jobs.
If you are fairly practical and have a good basic knowledge of DIY then there is no reason why you shouldn't attempt jobs such as this.
For more information about what electrical jobs you are allowed to tackle yourself, see our Part P project here.
What if I can't find an Existing Lighting Circuit to Take Power From?
When trying to locate an existing lighting circuit to tap into for your new loft light, it might be the case that you cannot find one and the only existing circuits you can find are the socket circuits.
If this is the case then you will need to tap into one of these. This is totally fine to do, but there are some rules on how it's done.
To do it you will need to insert a junction box as described in "Wiring up a Loft Light Using a Junction box" section above, only this time you will need to use 2.5mm cable to match the existing socket circuit.
You will then need to run this new 2.5mm cable to a 5amp "fused connection unit" (or FCU for short).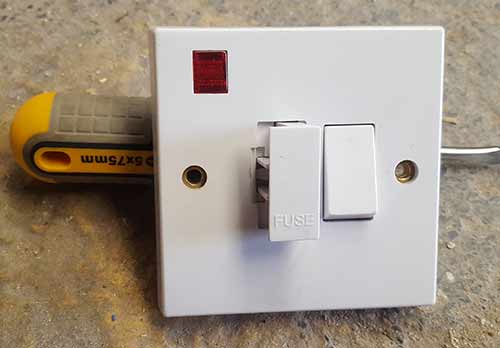 This unit contains a 5amp fuse that effectively reduces the existing 16amp socket circuit down to the required 5amps for a lighting circuit.
Once you have connected up the fused unit with your 2.5mm cable from the junction box you then run 1mm or 1.5mm cable (lighting circuit cable) to your switch and then on to the rest of the new circuit.
Fitting a loft light may seem like quite a daunting task to anyone new to DIY but as long as you follow the instructions above and make sure all lighting circuits are isolated (power turned off) before you work on them then it's more than achievable to do yourself.