More and more people are looking to move up rather than out, however financial restraints can make it impossible for people to go for a full loft conversion. In these cases, the best way of making good use of your loft is to lay loft boards and use it for storage. Once you have taken the first steps to do this you might realise the potential to go ahead with a full loft conversion!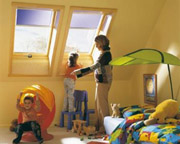 Boarding a loft for storage does not give you any more living space but it can provide an economical storage area so you can free up space in your existing rooms. Check out our loft flooring project for advice on how much weight a loft floor can bear, and How to Board a Loft for Storage to find out how to increase loft insulation and give yourself useful storage space at the same time.
Using a Loft for Storage
Loft Ladders
The first step in gaining access to your loft is to install a loft ladder. This can be done quite simply, and very inexpensively. If you fit a proper loft ladder you will no longer need to go into the shed and get out that rickety old ladder and lug it upstairs, only to risk breaking your neck!
You might need to enlarge your loft hatch to fit the ladder and we have a project to help you with that.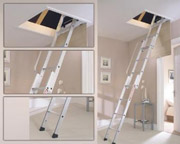 Sliding aluminium loft ladders are fine for the occasional foray into the attic, but if used more regularly a wooden loft ladder is perhaps more pleasing to look at, especially if the ladder is left extended for any period of time. Loft ladders can be purchased from any DIY stores or your local DIY builders merchant.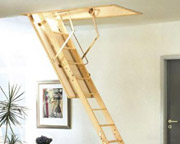 If you are going to install a loft ladder yourself it can be done very easily, most ladders will come with complete fitting instructions and all the required fittings so you can then simply fix it in position.
Loft Lighting
Once you have gained access to the loft for your storage, the next stage is to introduce some light. The most cost-effective way of doing this is to fit electric lights, and it is a simple job for any qualified electrician to install lights for you. Find a qualified NICEIC electrician in our 'Find a Tradesman' Section. We recommend that you have a light switch with an 'on' indicator light fitted outside the loft, so you can tell if you have left the light on by mistake. You could have a two-way switch so you can turn the light on or off at the top or bottom of the ladder. Our Lights and Switches Projects explains this in greater detail.
Insulation of your loft and storage area is a great idea (especially if this space is going to be habitable). There are now regulations in place governing the amount of insulation required in your loft space, this is covered below.
Loft Boarding and Loft Insulation
It is often useful to install some loft boarding to enable you to make the most of the space available in terms of storage. However, with the required thickness of insulation under the current building regulations being 270mm (as of August 2013), it is not possible to lay loft boarding down on top of the insulation without causing problems to both the integrity of the insulation and the fixing of the boards to the ceiling joists below.
Please remember that putting cases etc on top of insulation (especially when laid at 90 degrees across joists) is not a great idea. You can lift the floor to your loft with some simple timber studwork to give you a good platform for a few cases.
However if you want to fit a more sturdy system we can recommend a new invention called StoreFloor from LoftZone.co.uk which allows you to install a solid loft floor over increased insulation. The loft boards are fitted to a structure that will not squash the insulation which ruins the insulating capacity of the loft insulation. This makes StoreFloor an ideal system for your loft storage, sitting above the recommended 270mm of loft insulation, while still maintaining an air gap under the loft floor to allow air to circulate, preventing condensation forming on the underside of the loft boards.
Loft Conversions
Where the budget allows, converting a loft to make new living space is an excellent solution to the problem of needing more room, without having to go to the effort and expense of moving house. There are many specialist loft companies throughout the UK, who can provide a comprehensive loft conversion service, which covers everything from planning through to building you a full loft conversion.
Most of these specialist companies will have in-house experts with all the necessary knowledge and expertise to complete the job from start to completion, or they will work closely with a trusted contractor who can provide specialist expertise if required. Most loft conversion companies will also have a great deal of knowledge in the many products and accessories available on the market. They will be able to advise on the best purchases in terms of flooring, stairs, doors and windows for your loft conversion.
When undertaking a full loft conversion the possibilities are huge and the range of products vast. You will need to carefully consider what you want to get out of your new room and what it will be used for e.g. storage, home office, gym with sauna, playroom additional bedroom etc. Things you need to give thought to include: styles of staircases (like spiral staircases); roof domes, roof windows, and roof window blinds, insulation, and how it will be heated, you could consider underfloor heating. Underfloor heating means you won't need to fix radiators which is useful in attic space where wall space is often limited. Find out more about heating ideas on our other projects.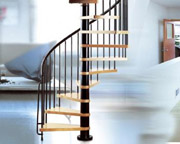 Skylights or Roof Lights
If you are going to convert your loft into a usable room you will want to introduce some daylight. The most economical way to do this is usually to fit a skylight or roof window. Roof windows can also provide a very handy escape route in the event of a fire in the property. Again, most loft conversion companies will supply this service or there are many independent contractors that will carry out this job for you (see the link above to our Find a Tradesman page).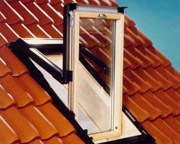 There is a huge range of roof windows available on the market in many sizes, shapes and colours, some of which are DIY kits. They come complete with full instructions and are relatively straight-forward to fit if you have some basic knowledge of DIY. We recommend that you investigate the thermal and insulating properties of the window and the frame. Many skylights have an insulating collar that can be purchased separately, which can be fitted around the window to improve the insulation around the window.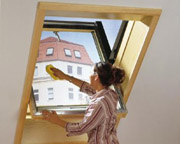 Once fitted you will be amazed how much light this will introduce into your attic space, and this is where the magic begins. All those boxes and bits of unused furniture can now be safely stored away, and found again, or the home office you always wanted will now be well lit!
Planning Permission and Building Regulations for Loft Conversions
You will need to find out whether, whatever alterations you are making to your loft, work is covered and approved by Building Regulations. Get in touch with the relevant Local Council office before starting any work or ordering any fittings.
There is generally no need for planning permission when fitting a roof window, installing a loft ladder, fitting loft insulation or boarding a loft for storage. However you cannot use your loft as a room for 'general use' without Building Regulations (and Planning Permission may also be required). The Government's .Gov website has lots of useful information on Planning and Building Regulations. If you are in any doubt you should contact your Local Authority for more information.