Basements cellars and their building regulations are covered in the following pages. Turning an old basement into living accommodation or a utility room, laundry room or playroom is covered, under most circumstances under the Governments Permitted Development planning rules but it is as well to check on their website. See figure 1.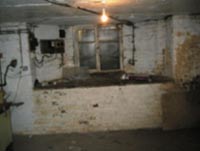 Building regulations in existing cellars and basements will almost certainly apply if the basement has not been in use as the new insulation regulations will come into force. You need also to be aware of fire regulations in basements as well as basement ventilation, ceiling height, damp proofing and clean water supplies.
You may need to tank or line your basement to prevent water ingress or you may allow the water in through the basement walls to collect it in a basement sump and pump it out again.
Project pages such as turning a basement into a utility room or bathroom may require water or waste to be pumped to the surface to allow it to enter an external sewer system. This can be done using proprietary pumping devices.
New houses present the opportunity to build the new basement room to your own specification and add another floo9r to your property, albeit below ground! With the modern method of foundations being to concrete the foundation trenches right to the top it is often not much more expensive to excavate for a basement as it is to excavate for deep footings. See figure 2