In the Uk developers are slowly getting the idea that constructing a basement when a house is built is the way to go. Land prices are horrendous so why not make the most of every available inch. The major problems to constructing a basement are the cost of construction and the possibility of leakages if the basement is poorly built. The cost of construction is now recognised as actually being cheaper per sq meter if a standard format is adopted and unique products are used. An example of this is Insulated Concrete formwork (concrete is poured into polystyrene lined formwork and the polystyrene is left in place) where the increased energy savings within the building, together with increased thermal and sound insulation performance make sound economic sense.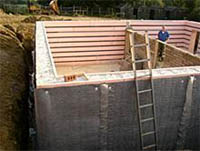 The second identified format is keeping the basement structure water proof and that is now a problem of the past. Waterproofing techniques and products have come on so far and so fast in the last 10 years that basement leaks should no longer exists.
Waterproofing below ground is often referred to as tanking. Tanking has a variety of applications and many professional companies that operate in this field will always do a site survey to make sure the best method is adopted. Depending on the position of the plot and the nature of the ground surrounding the property it may be that the new basement is covered in a Cement based slurry.
This system is a specialist waterproof coating which simply sticks to the floor and walls and acts as a physical barrier to water. Or it may be that the pressure of the surrounding water is great enough to actually allow it into the building where it is controlled behind special wall coverings called Cavity Drain Membranes.
The internal space of the basement is completely protected against damp while the water is being controlled and disposed of by suitable drainage or proprietary pumps. Plaster or plasterboard can be applied to the membrane and decoration takes place as normal.
Basement construction has moved on to a level where every new property should have one. If you are involved in a self build project. or any type of new build housing scene, it makes perfect sense to call in the real experts when basements are being discussed. Many specialist companies will offer free, no obligation quotes whereby your basement requirements will be evaluated and from here they will tailor a solution that will meet your exact needs.