Laying a new gravel path in your garden is a great DIY job to undertake and one that can be done fairly easily and cheaply with great results. The principles of laying a gravel pathway are pretty much the same as for laying a driveway and even a patio sub base so these can be applied to these jobs also.

The first step to a simple gravel path, driveway or patio base is to find out how firm the ground is underfoot (or car!). This project is written mainly to walk you through the process of how to gravel a driveway and path, but the sub base preparations are the same for a patio. Toppings can vary and you can see a couple below.
We use the same principle as designated by the building regulations for foundations and get a 50mm x 50mm square timber peg and a lump or club hammer. See our Foundations DIY How To Project for this.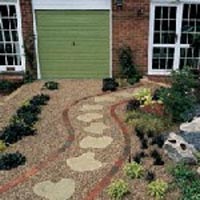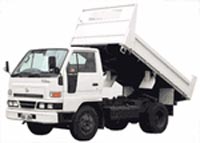 From the surface of the proposed path or driveway you will have approximately 200mm of material forming the driveway, so as an exploratory measure dig down 200mm for an area of about a square metre. Drive a 50 x 50mm peg in here and if it is hard to do after 150mm (6 inches) then the ground is firm enough for your path or driveway. You can now excavate out the full area.
Excavation can be done by hand, or you can hire a digger from a local tool hire store. A digger could be quite expensive (you will usually get a free driving lesson from the company when they deliver it but check this at the time of hiring) but can save you days of back breaking work. You will probably need to hire a skip also.
If while digging you find any areas which seem softer than the rest, dig these out. The base you are laying is flexible and will sink into soft areas of soil making unwanted dips in your path or drive. Try and find a base which is solid throughout the entire area.
Admittedly this base structure can be "topped up" from time to time, but a little time and effort spent now can save a great deal later on. This does not apply to patio bases where you will not be able to get to the sub base later so it's vital you fill all soft spots at this stage.
It is just as well to lay weed fabric before filling the sub base. Weeds can fight their way through the most compact of materials and a few pounds spent at this stage will save so much trouble later on.
The stone we are using for the base is called scalping stone. This is what is left when any particular quarry stone has been used for the purposes it was excavated for. It's one of the cheaper forms of base and much easier to lay and level than the old traditional broken brick hardcore. You can see what scalping stone looks like in our Garden Makeover How To Project.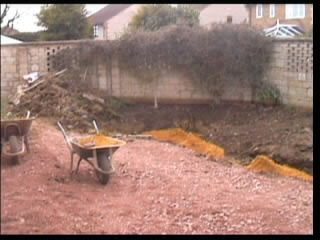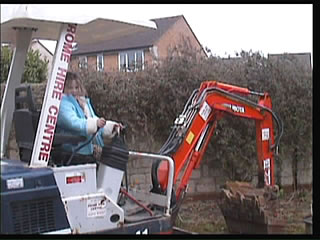 You have a choice at this stage. You should be able to dig the side of the drive or path down vertically and when the base is in it will obviously keep the soil or lawn in place as shown in the top image.
The shingle, or gravel, when laid on top, is very likely to spread when walked and driven on and you may wish to contain this.
If you have a lawn either side of your path, stray shingle can not only damage your mower, but the mower can easily "throw" stones out. This can be very dangerous. To find out how to contain your shingle and support the sides of your path or drive, see our Edging Stones DIY How To Project.
Working out how much scalping you need can be done using our graph below. Measure the area you need to cover and find it on the square metre range of the graph. Read across to the depth line (150mm) and then down to the volume.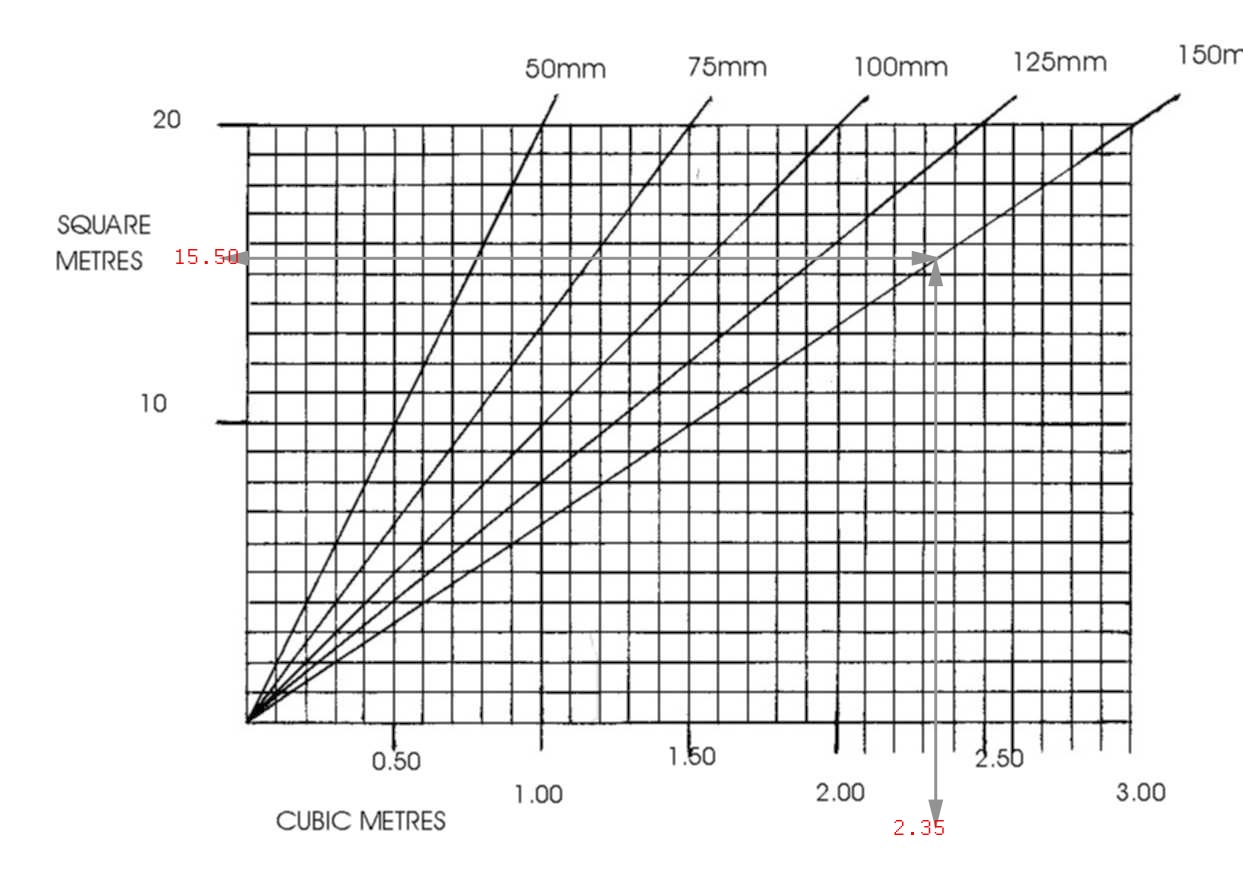 For the example above we have chosen an area of 15.50 square metres.
Follow the line across to the 150mm depth line and you can see that we would need 2.35 cubic metres of material.
We now need to transfer that into weight as quarry stone and aggregates are sold by the tonne. Scalping has a similar weight to volume ratio as gravel and averages out at about 1.85 tonnes to the cubic metre.
This material is put on a weighbridge before it gets to you so try and order it after a few dry days. It weighs a lot more when it's wet.
Check with your supplier for the conversion rate they use for weight to volume.
Aggregates and stone vary quite a bit in weight and you do not want tonnes of stone left blocking your garden. Please note the above figures are only a guide.
Before the scalping's are delivered, you need to hire a vibrating plate from the local tool hire shop. As you can see from the photo it's not a huge weapon but very very heavy.
Be careful when loading and unloading. Get this on site before the scalping delivery and run over your excavation with it first. This will definitely show you where the soft spots are.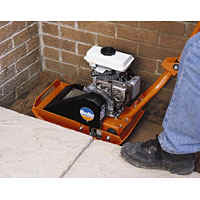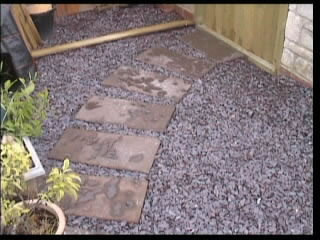 When the scalpings are delivered, ask the driver to back in and tip slowly at the far end of the drive and drive forward as they begin to tip out.
Most drivers are used to this and will not mind at all. This makes your task of leveling them very much easier…..BUT….If the ground is not suitable the driver will not risk getting his lorry stuck so be prepared for a long haul.
Level the scalpings using a shovel and large rake. Keep an eye on the level across the width of your path. You do not want any humps or dips which will retain water. Use a long piece of straight timber to make sure you have the correct level.
150mm of scalpings will compact with a vibrating plate to about 125mm. To finish with 150mm you will need to lay approximately 165-175mm. This is not an exact science and it is never going to be absolutely perfect, but as with everything else in the building trade, the better you prepare, the better the job is.
When the scalpings are laid you can now add your shingle, gravel and patio slabs. There are several varieties of shingle and gravel and this is purely a matter of personal taste. Take some time out visiting builders merchants, DIY stores and garden centres to compare the types and, of course, the prices!
We have used a lot of crushed slate recently as you can see above. Very nice but expensive. The quantities can be worked out by using the graph above, but which ever route you decide to go down to gravel your driveway and path ensure that you have a solid base to lay on top of and that you are happy with your choice of materials as once it's down it's an expensive job to rip it all up again.
For an introduction video to driveways and paving see our Paving and Laying a Path in your Garden tutorial video.
For informartion on scalpings and how they are used in driveways, patios and paths watch our Scalpings – some facts and information video.