I have a cast iron toilet waste pipe and I have just fitted a new toilet. How can I connect my new plastic waste pipe to my old cast iron pipe?
This is a question asked of DIY Doctor at least once a week and if you look on the forum it will be there too. The answer? Take a look at the flexible connector below.
This, without all of the proper tools such as angle grinders, heavy duty hole saws etc. is the best way to get from cast iron to plastic.
If you want to connect a 32mm, 40mm or even 50mm plastic pipe to a cast iron soil pipe then its best to cut off the cast iron pipe below the joint you want to make then replace this section in plastic. Then you can follow our projects on connecting sink, basin, bath and shower wastes. In this project you will see how to use a boss clamp to join other pipes into a 100mm or 4 inch soil and vent pipe.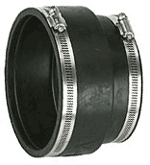 If you have the tools available, or are willing to hire them, a straight pipe coupling will allow you to get from a cast iron pipe to a plastic pipe with a lot of grinding down.
However, almost always the cast iron pipe is against the wall making it impossible to get the grinder behind it so the flexible coupling method is the best way in our opinion.
Most jobs we do of this nature require quite a bit of pipe work adaptation and it is often better to remove the cast iron pipe altogether and replace it with plastic.
Both of these items are available in the toolstore below as is the plastic pipe itself and all the tools you need. If you want to see how to replace the whole soil pipe in plastic, click here.