Householders and DIY Enthusiasts, with little or no experience of central heating systems and few or no tools, can still save money and/or discover the reason for a fault and put it right simply by understanding and following a basic fault finding process. We hope that this project will save you a fortune on unnecessary call out charges and give you the confidence to try and identify the cause of the fault that is making your hot water or heating too hot.
With any luck, and if the solution is not beyond your level of confidence and expertise you will be able to make the repair, at least until you can get a professional in to look at a more permanent fix on more reasonable "daytime" rate.
Initial Check and Central Heating Safety
We have covered the safety aspects of fault finding your central heating system relatively thoroughly in our project about finding faults with central heating systems that have no hot water or heating.
Please read this before you start this project as this covers a wide range of general fault finding tip and suggestions. This is over and above the safety aspects that you need to consider before you start.
Once you have read the project described above, you will then be ready to start the specific fault finding described here. The key symptoms that we are trying to address are faults where your central heating system, or hot water system is producing heating or water that is too hot.
Finding the Cause of Central Heating Faults When the Hot Water is Too Hot
This table suggests the most common causes of the water in your heating system being allowed to get too hot, and the most likely solutions that are available to solve the issue:
Symptom
Possible Fault
Likely Solution
Hot water is too hot
Cylinder thermostat is set too high
Turn it down – 60°C is the recommended temperature
Loose Cylinder Thermostat
Reposition and tighten up strap
Cylinder thermostat incorrectly or poorly sited
Ensure there is a good thermal contact between thermostat and cylinder – remove dirt or insulation
Cylinder thermostat switch broken
Replace thermostat and test electrical circuits
In order to try and diagnose these possible faults with your central heating system, you will need to follow a logical and methodical sequence in order to rule out potential faults as you go. To help you do this we have created a flow diagram for you to follow.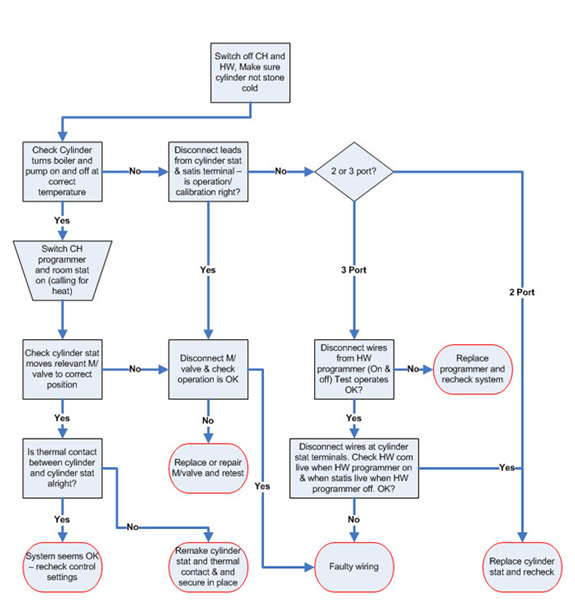 Finding the Cause of Central Heating Faults When the Heating is Too Hot
With some of the bitter winters that we have had over the years, this might not seem a very serious problem, but ultimately it will be expensive and might be the sign that there is something more seriously wrong with your central heating system.
Follow this flow chart to identify problems and work out the likely repair required for you heating system and why it is too hot and cannot be turned down: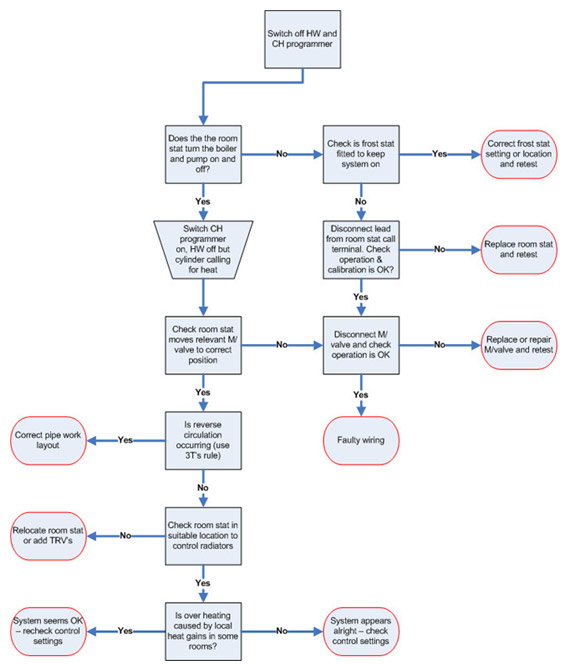 Central Heating – Fault Finding & Repair
This is the reference book, written by John Reginald, that we use when it comes to any form of fault finding and repair. We can credit it with many of the ideas that we describe in these projects.
We recommend this easy to follow book that will assist you in your diagnosis of faults in a logical and efficient manner. Keep it handy for those unfortunate times when your heating system is having problems and you need to fault find quickly and effectively. Remember to read the safety section so that you remain safe at all times.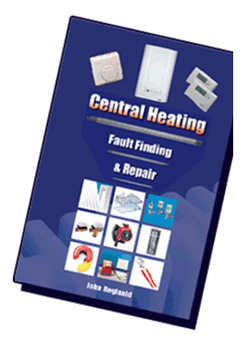 Other Central Heating Faults and Fault Finding Information
There are a number of other pages that will help you if you are looking for further information about specific problems.
Combi or Combination Boilers: For further information about combis please see our Combination Boilers project, which has more detailed information specifically around combi boilers
Radiators: Please have look at our project on radiator problems which will cover, in more detail, the issues that can occur with radiators and what you can do to resolve them