The gutters that surround the roof of your home are integral to the overall effectiveness of your roof in terms of how efficiently rain water is moved away from your home before it can cause any damp issues associated with penetrating water and moisture.
During storms and showers, rain hits your roof and runs down it, falling into your gutters when it reaches the eaves. The water is then transported along the horizontal guttering sections until it reaches a downpipe where it then runs down into what ever surface water drainage system you have.
This can be either a specific surface water drain, a soakaway or possibly even a rainwater harvesting system.
If at any point in the above process there is a fault with the guttering, rain water can easily find its way down onto the external walls and down into the foundations of your home and if walls are not protected sufficiently or are damaged, can find its way into the cavity and then sometimes in through internal walls causing damp and mould.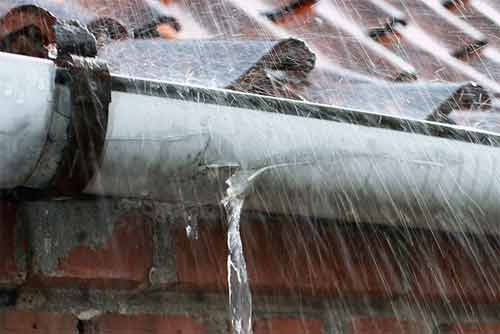 Additionally, if your guttering becomes clogged with leaves and other debris that then creates blockages, water can easily overflow and find its way onto external walls.
With this in mind, I'm sure you can appreciate how important your guttering is to the overall weatherproofing of your home and to ensure that damp issues never occur, it needs to be kept in tip top condition.
How Often Should I Clean my Gutters?
In answer to this question, the time frame between gutter cleans really depends on several factors; where you live and what surrounds your property.
You will certainly want to clean them at least twice a year towards the end of spring and also towards the end of autumn.
The main reason for this is that during spring, flowers and trees will expel lots of seeds and pollen and this can build up in gutter runs. Towards the end of spring this process declines so you will want to clean them at this point as opposed to the beginning as you'll just have to clean them again a month or so later.
This is also true for autumn when all the leaves and foliage starts to fall. If you have lots of trees surrounding your home, clean your gutters when they are all nearly bare so that you can be sure that you have removed as much leaf matter as possible in one go.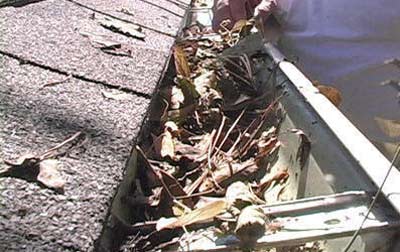 Obviously, this is only a very rough guide. If you are experiencing large amounts of rainfall and you have water pouring over your gutters at the beginning of spring you're going to need to get yourself up there and clean them asap!
Pretty much all areas of the UK experience a fair bit of rain and wind, especially towards the north. Large volumes of rain coupled with brisk breezes can easily loosen the moss on your roof and also blow leaves off of trees, so if tis is true for where you live, it may be necessary to check and clean your gutters 3 to 4 times a year.
Also, as we have briefly touched on above, if you are surrounded by trees and other vegetation then you are going to be naturally more susceptible to blocked gutters simply due to the volumes that you have around you.
Cleaning Gutters From a Ladder
How that we have established how often you should clean your gutters the next task is to actually get on with the job.
Ladder Safety
Cleaning gutters is not a nice job in any form. It's messy, often smelly and at time quite an awkward job.
Unless you have a bungalow or a single storey property you're going to be cleaning gutters on a two storey property which means working at heights.
If you are not comfortable with working at heights, please don't attempt this job, call in the professionals.
If however you are comfortable with working at height then you are good to go.
The first job is to get your ladder in place. To do so, pick an end to start from and move the ladder in to position.
Ensure that both the feet of the ladder are firmly planted on a solid, level base. Don't be tempted to place it on grass or on a slope, it will either sink and become unstable or strike out from the bottom, either way it will cause you to fall!
On most properties the gutters will be fixed to facia boards that are in turn fixed to the eaves or area of the roof that overhangs the walls.
Comfortably accessing your gutters form a ladder in this scenario can be pretty trick and also dangerous as you will inevitably end up leaning in order to get a good view of your gutter.
To avoid any potentially dangerous leaning you should always use a ladder stay or ladder standoff.
These incredibly useful items attach to the top of your ladder and then rest on the external wall of your property and push the ladder itself away from the wall allowing you easy access to your gutters and roof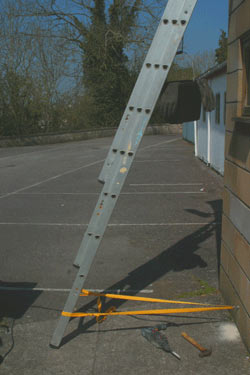 If you are lucky enough to have any tower scaffold or a work platform then this is the ideal piece of kit for this job as it allows easy access and also plenty of safe movement. This is certainly the most preferred method of carrying out this type of job.
The above is just a brief run down on using a ladder safely. We strongly suggest that you also read our full ladder safety project found here for more tips and advice on working safely at heights.
What Should I do With the Debris I scrape out the Gutter?
Before we get into actually cleaning any gutters, it's a good idea to have somewhere to put all the rubbish that you scrape out.
You could of course just throw it down on the floor as you go. This isn't a bad idea if the debris is actually dry e.g. dried leaves, twigs etc.
But if it's a wet, stagnant sludge then it's going to make a big mess on the floor plus splash everywhere and will ultimately create more work in cleaning it up after you have finished with the gutters themselves, even if you throw the waste onto a tarpaulin or plastic sheet.
There is also the potential danger of dropping it on an unfortunate passer by, especially if you are working on or near a foot path.
To these ends, it's best to pop the rubbish in a bag or bucket as you work. It's safer and a lot less hassle in the long run.
With this in mind, there are a few options:
Plastic Bag: This is a good option if you are dealing with fairly lightweight debris such as dried leaves etc as you can squash plenty into a bag and you can also easily secure the bag itself to the ladder, either through some kind of clip or tying it
Bucket: This is the option to go for if you are dealing with damp or soaking wet rubbish. Buckets are much sturdier than bags and as wet rubbish tends to weigh a fair bit, ultimately much safer. Their one downfall is that they are a little tricky to position and hold securely
In all honesty, a bucket is really the best option to go for as it's rigid and easily accessible. Bags are ok, but you'll forever be fighting with it to get the gutter waste in.
There are DIY solutions to this however. Using an old bucket, chop the base off so it it's hollow all the way through and then pop a bag over the bottom. Pull the bag up and fold the top just over the top of the bucket and secure it in place with a bungee or some gaffer tape.
This solution is okay, but not ideally suited to any heavy waste.
If you go with the preferred option of the bucket, you'll need some method of holding it in place while you work as you can't hold it with one hand whilst working with the other as you'll have no spare hands to hold the ladder.
You can purchase specialist ladder hooks that simply clip on to your ladder. These then feature a hook that you can then hang buckets or any other items on.
Alternatively, if the section of roof you are working around is fairly level then you can put the bucket on the roof, but be careful, falling buckets can cause some serious injuries!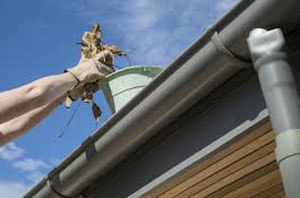 If you don't have the funds to purchase a ladder hook then a quick DIY solution is to use an old wire coat hanger.
Bend the hanger in half and the larger end should then slot over a ladder rung, while the hook can be used to hang your bucket or other item on.
One point to note is that this isn't very strong and won't take too much weight. One solution to this is use two hangers and then twist them together.
One additional idea is that it's also a great idea to tie some rope to the handle of your bucket, run it over one of the rungs and then tie it off somewhere below. This will allow you to safely raise and lower your bucket, without the need to carry up and down your ladder.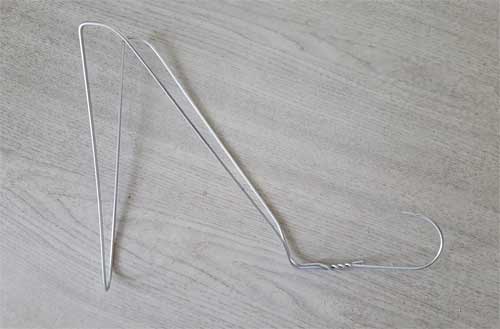 Clean out all Debris From Guttering
With your ladder positioned at the start of your guttering run and secured on a flat, level and even surface and your bucket secured, it's now time to start cleaning your gutters.
Climb your ladder and get yourself comfortable. Ensure that you are positioned so that you don't need to lean to reach any debris. Over reaching can cause your ladder to become unstable and you could easily fall and seriously injure yourself, so before you do start, ensure you are safe to do so.
For this particular job, a pair of waterproof gloves is essential! Even if you are dealing with dry leaf matter, there is always some sludgy, decomposing vegetation in the base of the gutter (unless you live in a warm, dry climate).
In terms of actually removing the waste, you can either scoop it out by hand, use a trowel, use a plastic bottle with the bottom cut off or even use a specialist gutter scoop (as seen below).
The easiest method is to scoop the waste matter towards you in a heap and then scoop it out into your bucket.
Make sure that you get as much of the waste out as possible. Push your trowel or scraping device into the guttering as you scoop, but don't push too hard as some guttering can be a little fragile.
As mentioned, only work in a small area at a time, don't be tempted to over reach.
Once you have totally cleared the area your currently working in, descend the ladder and lower your bucket down. Move your ladder over to your next working area and repeat the above again. Keep going until you reach the end of the gutter run.
Wash Down Gutters
Now that all the major gutter debris has been cleared, it's time for a final wash down.
Washing out the gutter will remove any final waste matter and leave them totally clear.
There are several ways to do this:
Using a Hose: This is probably the preferred method. Starting at the beginning of your gutter run again (ensuring that you're working with and not against the slope of your gutter), ascend your ladder with a hose and run the hose with a decent flow. This will wash any remaining matter down the run towards your downpipe. The flow itself will clear a fair amount of gutter from one position, but you may need to move your ladder to the centre of the run to fully clear it
Using a Bucket: Fill a bucket with clean water and get it to the top of your ladder. Gradually tip the bucket into the gutter to create a decent flow of water. The flow will carry any remaining waste towards the downpipe. This isn't quite as effective as using a hose as there is no constant flow of water, but will certainly do if you don't have a hose
Specialist Gutter Cleaner: These are mainly used when cleaning your gutters from the ground. Essentially it's a long pole with a hose running through it, with a hose attachment one end and a hose sprayer attachment the other, positioned at around a 180° bend. The bend hangs over the gutter and directs water down into it. These are quite handy, but without the ability to see the gutter itself, things can easily be missed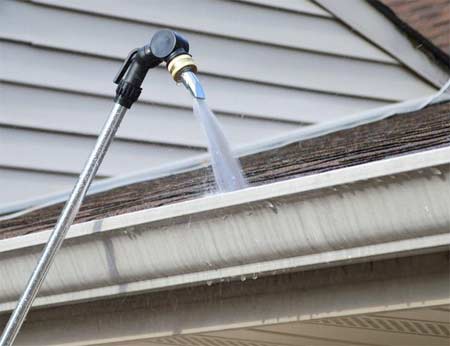 Overall, the best and most thorough method is to get up there and use a hose. By being able to visually see what you are doing will in most cases mean a much more thorough job.
As stated above, run your hose until any final waste has been washed away.
Check and Clean Downpipes
With your vertical gutter run now nice a clear, it's time to turn your attention to your downpipe or pipes.
Unless you have an uncommonly long run of guttering or an abnormally large roof area, you wil most like have just one downpipe, either at one end of the run or in the centre.
The down pipe is an essential part of your guttering system as it is the method by which rain water is moved from vertical gutter runs down into the drain or soakaway.
Over time if they are left un-cleaned or un-maintained they can easily become blocked through leaf matter and other waste items being washed down them, creating a buildup that eventually turns into a blockage.
A tell-tale sign of any blockages can be large amounts of water sat in the base of the gutters and a covering of water over the mouth of the downpipe that does not seem to disappear, or drains away very slowly.
If you suspect a blockage, tap up and down the downpipe with a screwdriver or similar. Where no blockages are present you should hear a hollow, echo-type sound, but where blockages are present, this will sound more like a dull thud.
In the event that you find a blockage it will certainly need to be cleared fairly quickly.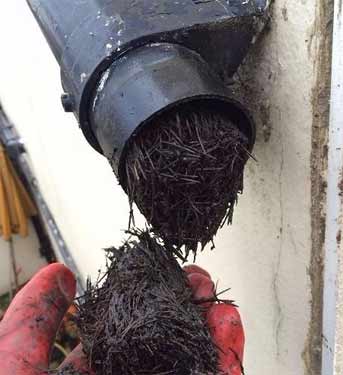 Depending on how bad it is will really depend on how easy it is to remove. If it's not too bad, then simply pushing your hose down the down pipe until it hits the blockage and then turning it on can create enough pressure to force it out.
If this doesn't work then the best solution is to take it off. Again, how easy this is will depend how the surface water is dealt with for your particular property.
In most cases the downpipe should run down to a gully or drainage channel and then drain straight into this via a shoe fixed to the base of the downpipe.
Downpipes like these can be easily unscrewed from the wall and removed from the running outlet. You can then push a stick or other long thin item down the pipe and clear the blockage. Once cleared, the downpipe can then be fixed back into place.
On occasion, this won't be the case and the downpipe will run straight into the ground. If this is the case with yours then the only course of action you have is to cut the pipe off near the base, remove it and clean it out and then re-attach it.
When it comes to re-attaching it you will need to use an adaptor or socket, ideally, one that features an access point such as the one in the image below. If tis isn't possible, then a straight pvc to cast iron adaptor will be needed.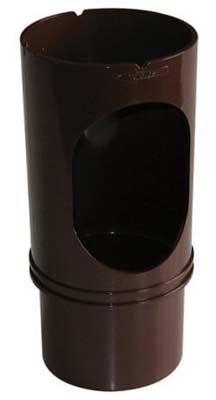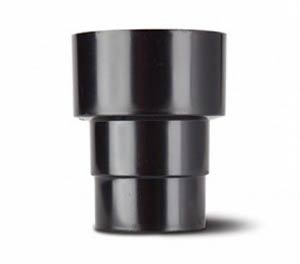 You could of course just blast the blockage free with a hose or long stick while it is in situ, without removing it, but this is not necessary the best idea. You might dislodge it from your downpipe but it can easily travel down into your drain or soakaway and create a blockage here, potentially causing a great deal more hassle and expense.
Running Repairs
Another advantage of getting up a ladder to clean your gutters is the fact that you will also have a good opportunity to spend some time checking them all over for anything that needs repairing.
Any chance that water has to escape it will do and if it does, there's a good chance that it will find itself getting into places that you just don't want it to be.
During heavy downpours, even the slightest crack or poorly sealed joint can cause a raging torrent to pour down do defects of this nature need to be sorted asap!
Check over your vertical gutters in fine detail, looking for any cracks, splits or joints that are not sealed fully.
Over time, expansion and contraction can cause PVC gutting joints to come apart or clips to pop open. If you find any of these, clip them back together and check that the rubber seal that runs around the mouth of the joint is flush with the contour of the gutter so that it seals fully.
If you find any splits or cracks then in an ideal world this section of gutter should be replaced with new.
If this isn't a practical solution there are products that can be used to form a temporary repair, one such product can be seen below.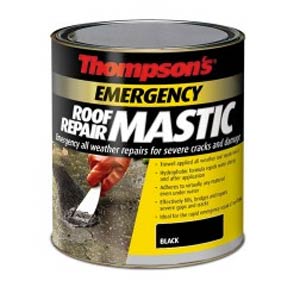 Aside form checking your vertical gutter runs and joints, you should also check over all downpipes for the same issues and replace or repair where necessary.
If you would like to know more about maintaining your gutters including the different parts of a guttering system and how to install them, check out our installing plastic guttering project here.
Cleaning Gutters From the Ground
We did very briefly touch on this above in terms of hosing out gutters, but it is also possible to clean them from the ground.
There are several methods of doing this, one being using a high pressure water jet that simply blasts all the dirt and debris out.
As we've already mentioned, this really is less than ideal due to the mess that it creates.
There are also specialist gutter hoovers that you can buy. These aren't too bad for lightweight waste, but can struggle with heavier and wetter material.
It is possible to build your own gutter hoover if you so wish. There's quite a good guide on doing so that can be found here if you wanted to give it a go.
Overall, cleaning gutters from the ground is certainly possible, but on the whole it's much better to actually get up there so that you can see exactly what you are doing and what needs removing.
Prevention is Better Than Cure
As with a great many things in life – preventing something from happen is often much easier than sorting it out once its happened.
To these ends there are quite a few products available now that can help to prevent the buildup of waste leaf matter and organic waste in gutters, some of these are as follows:
Foam Gutter Filters: This is essentially a long piece of foam that slips inside your gutter filling to prevent leaves and other matter from entering but still allowing water to flow through it and then down into the gutter itself. These are fairly effective but in some cases will still allow tiny dirt particles to pass through and buildup over time, so their certainly not a maintenance free solution. Additionally, during very heavy downpours, they can restrict the amount of water that can flow into the gutter, causing it to overflow. These are not too common in the UK and mainly feature in the US

Foam gutter filter

Gutter Guard: These work in a similar way to the gutter filters above. Essentially, they clip on to the top of your gutter and stop large and even some small items from entering. As above, these are mainly a US thing and not that common in the UK and they do again reduce the flow of storm water that allowed to enter the gutter under heavy downpours so not ideal

Snap on gutter guard

Gutter Brush or Gutter Hedgehog: These are the more common option in the UK and on the whole, certainly one of the better solutions. In essence it's a long flexible brush that can be manipulated to fit almost any shape. It simply sits in your gutter and the bristles prevent any debris from entering but at the same time, doesn't effect the ability for water to flow in. To keep the brush or Hedgehog in place special clips can be purchased that clip it to the gutter, preventing it from being blown out

Gutter brush or gutter hedgehog
At the end of the day, no matter how good a product is at preventing leaves and debris from entering a gutter, it's virtually impossible to stop it altogether.
Cleaning gutters is not a nice job and certainly not one that most would choose to do, but it has to be done. Now that we have shown you how to clean gutters and guttering, it's now just a matter of getting it done.