As Autumn arrives it's a good idea to finish all of the outside jobs before the cold weather sets in. This Autumn Maintenance Check Guide helps to ensure that you carry out all those end-of-the-year jobs that will protect and preserve your home and garden as we enter the colder wetter Autumn season.
Frost Damage
All external decorating should be finished and remedial work using sand and cement mortar should be done before the Autumn temperature falls, because frost can affect this sort of work badly.
Frost damage will affect the structural integrity of cement and mortar, and you don't want to be doing the job twice! On a building site for example, sand and cement work is not allowed to commence unless the temperature is at least 3° and rising.
Heating Checks
Now is the time to check your heating is working. Don't wait until you need it, give it a trial-run in Autumn to make sure that it is working properly. This means that if you need repairs to your boiler or heating system you can book it in before you really miss your central heating. It's also handy to do this now as most plumbers' prices rise during the winter.
Book a Central Heating Service
Preparing for the cold weather should be done now and your boiler, or other heating should be serviced (by a competent, registered person) in Summer or Autumn. Do not wait for cold weather to find out that something is not working properly.
Heating engineers get really busy at the beginning of the cold winter weather, as customers turn on their heating and find a pump has seized or a pilot light won't light.
Beat the rush by booking your annual boiler service in the summer months. If you haven't yet had your boiler serviced, it isn't too late to find a registered local engineer. Check out the listings on Checkatrade to find an engineer who has been vetted by Checkatrade and rated by other customers. (there's a link at the bottom of this page).
Expansion Tank Maintenance
If you have a feed and expansion tank in the loft you can carry out a simple test to make sure it's working well, by moving the float arm up and down a couple of times while watching to check the valve lets in water and then shuts the water off.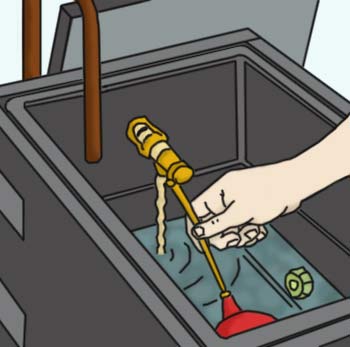 This means you can effect your own repairs or it will at least can save you time and money by finding the fault with your heating system before you call a heating engineer. Read more about tracing central heating faults in our Projects section.
Loft Insulation
Autumn is a good time to top up your home insulation.
Do you know how much loft insulation you should have? While you are in the loft, make sure you have a depth of at least 270mm of loft insulation. This often means raising the level of your loft floor if you use your loft for storage. Click here for more information on raising your loft floor.
Make sure it is laid away from the roof eaves to let in air for loft ventilation, and prevent damp via condensation.
Pipework in Your Loft
Check pipework in the loft is insulated. Pipes can be insulated using purpose-made pipe insulating foam tubes which are really easy to fit. They are usually a grey coloured dense foam tube. They simply slot over the pipes and help to prevent them freezing.
There are also special elbow joint insulating materials, which allow you to insulate bends and corners in your pipes, or you can tape insulating foam or tape around the bends.
We have loads more advice and information about home insulation in our Projects area.
Stopcocks and Isolating Valves
Check your loft for a stopcock and make sure all stopcocks (this applies to the whole house) are working.
Give isolating valves a quick turn and test to make sure they do turn off the supply.
Including these checks in your Autumn maintenance regime means that if you do get a water leak or a frozen pipe you can be confident that you can turn off the water supply.
If you do get frozen pipes later in the year we have advice on curing the problem see our Winter Checks page.
Stop the Drafts in Your Home
Check all door and window draughtproofing, including the letter box.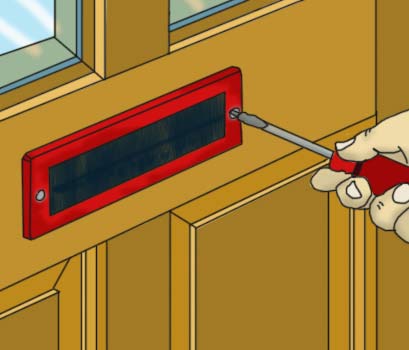 Adding a threshold strip to external doors is quick and easy way to stop draughts and save money on heating.
Read more about Draughproofing and Insulation, and get ready for winter this Autumn.
Check Ventilation to Stop Condensation
Autumn is a time that we tend to shut up our houses and the resulting lack of ventilation can cause condensation.
In older houses with solid walls, the appearance of damp in the colder months is common. This is usually caused by condensation. Read more about causes and cures for Condensation in our project here.
Condensation can be reduced greatly by making sure rooms are well-ventilated and extractor fans are installed.
Check Exterior Walls
Pick a bright Autumn day to have a look at pointing and brickwork to make sure there are no cracks or flaking that need to be repaired. We have a video guide to repointing walls at the end of our pointing project.
Water can find its way into the smallest defect so be sure to look carefully. You can use a pair of binoculars to save you climbing a ladder or erecting scaffolding for a visual check.
As a final check, make sure there is no soil or other debris build up against any house walls which could cause a breach of your damp proof course.
Check Air Vents and Air Bricks
Check that air bricks are clear of dirt and debris to ensure you get a proper flow of air under your suspended floor which helps prevent condensation and wet and dry rot. Read more about air bricks in this project.
Make sure that trickle vents in windows are clear of debris. Trickle vents allow you to have a flow of air in the room when windows are shut tight without experiencing a draft.
Find out why ventilation is so important in our homes and how to ensure good ventilation in our project here.
Clear Drains, Gutters and Gullies
In late Autumn, when the leaves have fallen, remove leaves and other blockages from drains and gullies, and clean and repair leaking gutters and down pipes.
This prevents rainwater running down your walls and soaking into brick, stone, timber and render – See our guttering projects section here for more information.
We also have a dedicated project all about cleaning your gutters that will walk you through all that's involved.
While these surfaces will resist damp if they are in good condition if they become soaked over long periods of time they may allow water into the house, especially if the surface is damaged by freeze thaw action.
Roof Maintenance
Use binoculars or a camera with a good zoom lens to check the condition of your roof. If you have cracked or slipped tiles, damaged flashing, or valleys and gullies that are full of debris, you will need to hire scaffolding to carry out maintenance. Read more about using ladders and scaffolding safely. Otherwise you should get quotes from reputable roofing companies to carry out repairs before the damage becomes more serious, and we give you some great tips on finding a good tradesman in the Find Tradesman tab at the top of the page.
See our projects on roofing repairs and maintenance for further information on what to look out for.
Check Outside Taps
If you have an external tap, make sure both the pipes and tap itself is insulated to prevent freezing.
If you haven't got an outside tap add our fitting a outside tap project to your list for Spring!.
Fit a Water Butt
There is unlikely to be a shortage of water over the winter period, but you can take advantage of seasonal special offers by buying a water butt and fitting it now. It will have plenty of time to fill up over the winter!
Clean Paths, Patios and Decks
Get the pressure washer out or scrub some anti-fungal cleaner onto paved and decked areas to help to prevent them from being slippery when they are wet.
See our range of Pressure Washers in our DIY Superstore – watch the video reviews where you see this symbol in the store.

Treat Timber
Fences, decks and sheds will survive the winter months much better if they are treated to repel the rain and damp air.
Clean and oil the deck with proprietary deck treatment. Or you can apply decking stain after you have thoroughly cleaned the timber to remove dirt, moss and algae.
Sheds and fences can be stained or painted to make them more weatherproof, and they will also look more "cared for". You can completely change the look of you garden shed by applying different paint finishes.
See some examples of fence and shed treatments in our DIY Supestore.
Exterior Lighting
It is much nicer to come home to some lighting when the evenings are dark, so consider fitting a PIR light near your front door or garage to light your way home. See our project on choosing and fitting exterior lighting.
If you already have exterior lighting fitted don't forget to check they are in working order and the bulbs are working.
Home Security
Darker nights mean your home is more vulnerable to burglary so check all the door and window locks are working properly.
You should also ensure your shed, garage and any outbuildings are fitted with suitable locks to deter burglars. See our guides about home security.
Chimneys and Flues
You should have your chimney swept and flues checked to make sure you can use them safely when the nights get colder.
You might want to think about fitting a woodburner which is a more efficient way of heating a room than using an open fire, and still gives you the cosy feeling of having a real flame fire.
Dry Lining Walls
For a long term condensation remedy it is as well to look at warming up the walls by dry lining them. This involves battening the walls fitting insulation between the battens then fixing and decorating plasterboard.
The battening can be done using 19 x 32mm battens with their 19mm thick polystyrene sheeting in between. A polythene vapour barrier is required on top of the battens before 9.5mm plasterboard is fixed to the wall. Instead of the polythene barrier you can fix Vapourshield plasterboard which has silver foil on the back.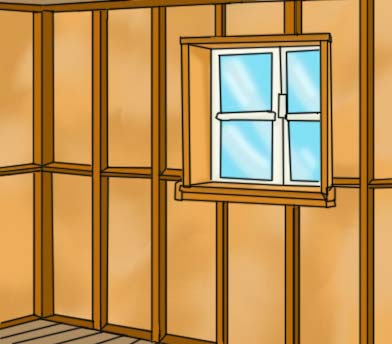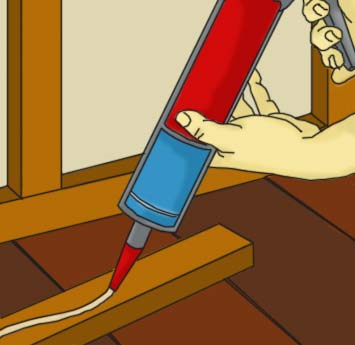 There follows a quick guide to the process, but you can read the full instructions for fitting Dry Lining here.
Start by stripping off all the old wall coverings and remove skirting boards carefully as they may be re-used.
If mould growth is present treat the wall with Fungicidal wash killing off spores in the plaster. Follow the instructions on the container.
Fix battening at 400mm centres, after fixing all round the perimeter of the wall/room. Measure carefully as the long vertical joints of the plasterboard must finish in the centre of a batten.
Fix a horizontal batten if you intend to have a Dado or picture rail.
Make sure the surface of the battens are all aligned by packing out behind them where necessary. The battens should be secured with plugs and screws or a strong adhesive. Click through to our DIY Superstore for all products mentioned on this page.
To allow for the new wall surface, all sockets and switches will need to be disconnected from the supply and moved forwards. Battens need to be placed round these as shown in the diagram, below.
Cut the polythene to fit very tightly in between each section. There should be no fixings required and a tight, friction fit is all that is required. There should be absolutely no gaps whatsoever.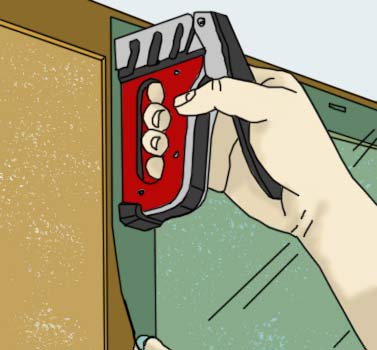 Staple the polythene vapour barrier to the battens as seen in the diagram, above, and then nail or screw the plasterboard to the battens. If you have never done this before, go to the project on partition walls to see how to fix plasterboard.
Socket and light switch face plates can be put on and skirtings and other mouldings etc can now be replaced.
Please remember this idea is a solution for walls affected by condensation only. If the wall is wet as a result of water ingress from outside you should get to the cause first.
Water coming into the house can be caused by many problems. This may be defective pointing, cracked or split render, broken bricks or simply old bricks which have become porous. See any of our projects on damp walls for more information on how to deal with wet walls.
Do you have any tips for Autumn Maintenance checks? Get in touch with your ideas or tweet us @DIYDoctor.