Fitting a gas hob into a worktop is not dissimilar to fitting a kitchen sink (see the related project list at the base of this page).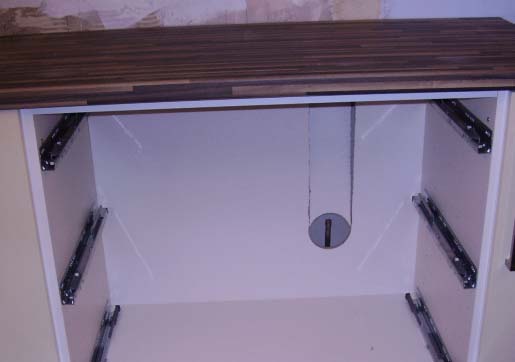 It must be noted here that although a DIY enthusiast, or even a carpenter is allowed to fit a gas hob into a worktop or base unit, they are not allowed to connect it to the gas. Please see our project on gas safety and DIY installations.
You can see from the above image that the gas fitter has already brought the supply to the rear of the hob unit and we have cut out the back of the unit ready for connection to the hob later. The hob is sitting in a drawer unit so the cut out will not be seen when the drawers are replaced. The cut out is wedge shaped so, with a little help from some adhesive, it can simply be dropped back into the slot where it will stay.
A gas hob is cut into a worktop and sits over a kitchen base unit like the one in the image above. Before it is cut you need to measure the hob itself, or use the manufacturers fitting instructions and/or template to make sure you know the exact opening size to cut. If there are no instructions the usual size of the hole is 25mm less (all round) than the actual size of the hob.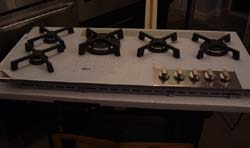 Having measured the hob the correct cut out size must be transferred to the worktop. Mark this with a pencil then use some masking tape to form a clear edge to cut to. Pencil marks are hard to follow when there is a lot of fine sawdust about. Additionally, dont forget to wear a dust mask!
Drill a 25mm hole inside the cut out area (more than one can be drilled if it makes life easier for you) and use a jig saw to cut out the hole required for the hob. When the hole is made its time to fit some clips to hold the gas hob in place. These clips should come with your hob.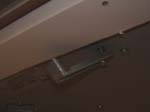 The clips are fitted to the underside of the hob and tightened onto the worktop to hold the hob firm. The hob should also sit on some sealing strips to keep the joint between the underside of the hob and the top of the worktop, clean and waterproof.
Drop the hob down onto the sealing strips and tighten the clips. Its now time to call the gas fitter.