Securing your home and ensuring your family is safe at all times is of paramount importance. Apart from making sure that all windows and doors are locked at night and during times when no one is in is a given.
However, if you would like to bolster home security a little more then it's certainly worth looking at the many additional security systems that can be added to your home. Find out more below.
How to Improve Your Home Security
We all like to feel secure at home and the idea of being burgled is upsetting for all of us. There are steps you can take to improve home security and make you feel more secure:
Put off burglars: Stop them from attempting to gain access by fitting security lighting, CCTV cameras, burglar alarms and ensuring that your home looks "lived in" at all times
Stay in control : Ensure you have secure door entry systems, so you only let in people you trust. Always use good quality mortise locks and additional security chains
Raise the alarm: If someone tries to get into your home, a burglar alarm may be all it takes to send them packing
Gather the evidence: When any situation occurs, ensure you get it all on tape for the Police by fitting CCTV security cameras or other recording devices
Don't forget, that as an additional bonus an alarm will also normally reduce your home insurance premium – but you must set it to benefit from these reduced premiums.
What are the Different Types of Burglar Alarm System Available?
Different Burglar alarms have different ways of detecting an intruder. They also have various methods of raising the alarm.
These can vary from loud noises, bells and bright lights, to informing a security centre or even yourself via an SMS text to your mobile phone.
They may also include a combination of the above. The common alert types for home security system are as follows:
Bells-Only Alarms
This alarm type normally only features an alarm system. When a sensor is tripped e.g. a door is opened or a motion detector picks up movement when the system is armed then the it will trigger the alarm bells to start ringing and alert anyone in the surrounding area.
The disadvantage of this is that it depends on whether anyone does actually take notice and respond.
Notification Alarms
When the system is triggered, a response is either sent to a monitoring centre (Police or private security) or an email or text message is sent to a designated phone number or email address alerting the recipient to a potential break-in.
Speech dialers also fall under this category and they are designed to call a set of phone numbers until they receive a response or can leave a message.
When it comes to the sensors or detectors, home security systems tend to use several types:
Magnetic Contacts/Door Sensors
Magnetic contacts or sensors on doors and windows are attached to either side e.g. the fixed window or door frame and to the opening section.
When closed create a circuit but when they are separated i.e. the door or window is opened when the system is still armed the circuit is broken and the alarm is activated.
These types of sensor can come in a range of different types and styles, from those that are connected to a main central system to those that are independent and just secure a single window or door such as the one below.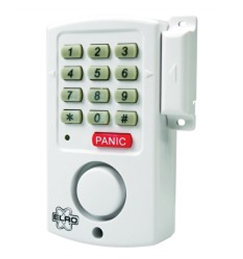 Interior Passive Infrared Detectors(PIR's), Motion Sensors and Infrared Sensors
Although technically 3 different types of sensor, they all work in a similar way by detecting movement and/or body heat within a defined arc and then activate an alarm, like the one shown below. This type connects to a central alarm and triggers it when it detects either heat or motion.
This is the most common type of sensor used in burglar alarms. As with most modern systems they can either be hard-wired to the main control panel or they can operate wirelessly.
Many of the latest types of sensor are also pet friendly so they don't constantly go off when your dog or cat are roaming around.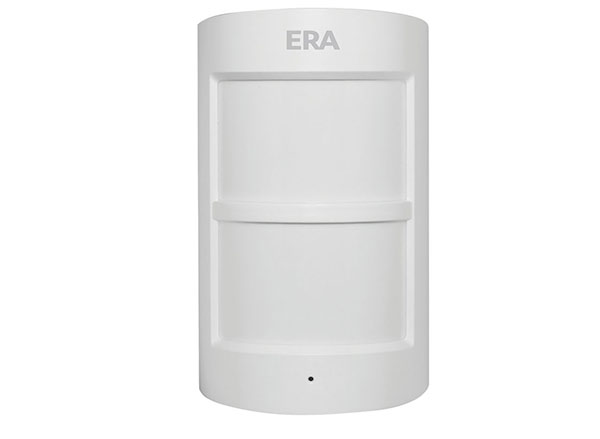 Glass Break Sensors
As the name suggests, this type of sensor senses when a pane of glass has been broken and someone is trying to enter the property.
When connected to a piece of glass, it senses for vibrations and when it detects one strong enough to suggest the glass has been compromise it then triggers the alarm.
Although more commonly used on large industrial properties with many windows and doors, they can also feature on some more higher end domestic systems, or you can actually now buy individual sensors that can be placed on an individual window, such as the one below.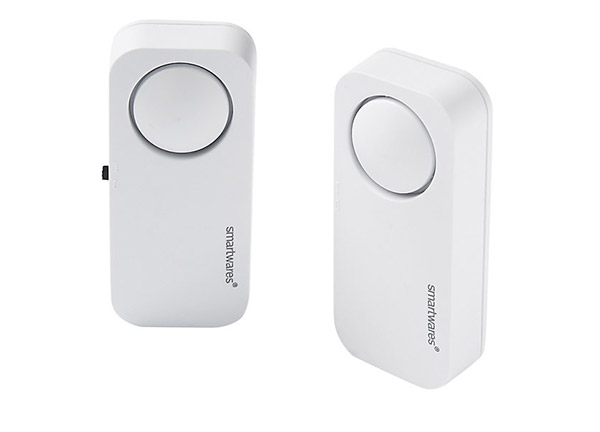 DIY Alarms
If you are a fairly competent DIYer you will be able to fit a self-install security system, with no problems. This is a great option if you are on a budget.
DIY security alarm kits are available in a vast array of options such as wired or wireless. Obviously the latter is easier and quicker to install as you don't have to run wires, but both feature upgrade options such as extra PIR's, magnetic contacts, cameras and remote controls and a whole host of other gadgets.
Most kits are available as bells-only or notification versions, with varying subscriptions available to affiliated monitoring services.
The latter may be a little tricky to setup as it might involve configuring app's, SIM cards or WIFI connections so reading and following the instructions is essential.
One point to note is that only certain DIY kits can be used with a monitoring service as most companies supplying a monitored service will insist that the system is installed by one of their own engineers.
With either type you can 'personalise' your system with a PIN that activates and deactivates the alarm when required. This will either be done through a keypad somewhere in the property or, more recently through an app on your phone or tablet.
A great example of a modern DIY alarm system is the system available from SimpliSafe.
This is a great example of a modular WIFI system that's both easy to setup and also add to. The basic system comes at a reasonable cost of just under £200 but you can easily purchase additional door or window sensors, cameras, video doorbells, fire and flood detectors and much more.
They also offer a full 24/7 monitoring service, text message notification as soon as an alarm is triggered and also police dispatch when a visual threat is identified.
Being a modern "smart device" it is also fully compatible with Apple watches, Alexa and Google Assistant so can be configured using these devices.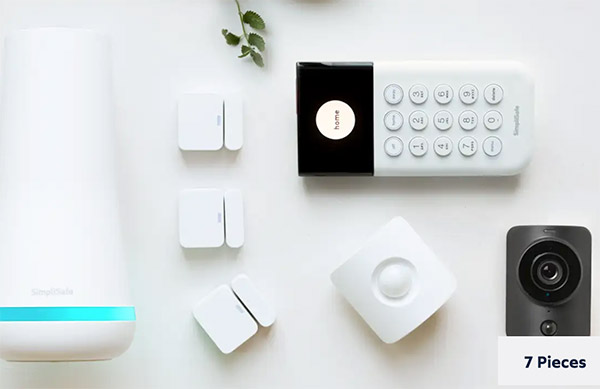 Monitored Alarms
The main benefit of a monitored alarm is that if it goes off you know it won't be ignored. How many times have we just turned over and gone back to sleep if we hear and alarm in the night?
Monitored alarms are linked to a security centre that is manned 24-hours-a-day. They will alert one or more of your nominated key holders.
These alarms are fitted by a professional who is recommended by or employed by the security company.
Although the Simplisafe option we have mentioned above also offers a full monitoring service, actual monitored alarm systems are a little more comprehensive and often keep all of the monitoring systems in-house so they are controlled by they're own dedicated staff.
As you would imagine, this service comes at a cost (normally monthly) and the actual amount will ultimately depend on eth level of service you opt for, but will generally be a fair bit more than that offered by the more DIY systems.
There are now quite a few companies supplying these services both local to many regions around the UK and also some of the more well-known national brands such as ADT and in the last few years, Verisure.
Like SimpliSafe, Verisure have fully embraced the technical advances of recent years and their system is again wireless, can be easily added to and scaled up, uses high quality components and can all be controlled from a smart phone or tablet app.
More comprehensive systems such as this often incorporate fire and heat alarms for additional cover.
Most companies will offer a maintenance contract for your alarm system that is often built into your monthly/annual fee. This can include remote error checking and also on-site checks and repairs.
There are normally several levels of security cover when it comes to these more premium services: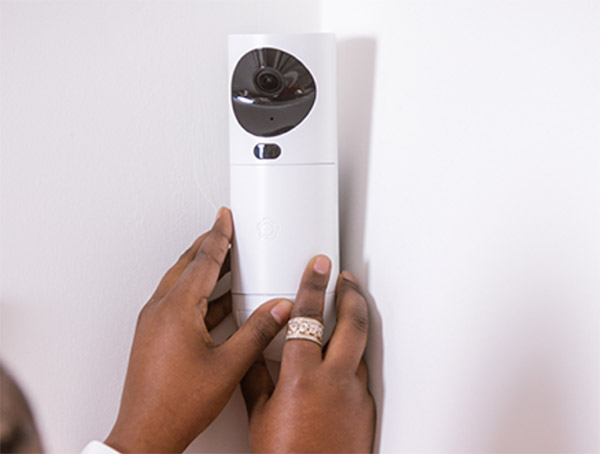 Keyholder Monitoring
This service is normally supplied through your monitoring company and depending on the level of support you have, or how much you pay, in the event the alarm is triggered the company will either send out one of their own security officers to inspect your property or contact your nominated keyholder.
In terms of your nominated keyholder, common stipulations are that they need to be within a 20 – 30 minute car journey from the property (so they must be capable of driving) and have a set of keys that will enable them to access the property. If you change your locks then you must supply your keyholder with a new set, this is your responsibility!
It is also your responsibility to keep the monitoring company up to date with the name(s) and contact details of your chosen keyholder and also supply second and sometimes third options if the primary contact is unavailable or away.
Monitoring companies that offer these services are normally the larger ones such as ADT and Securitas as these services tend to be more focused on business and industrial properties which commonly use these types of service.
Police Monitoring
This level of support ensures that not only is your monitoring company notified of any breaches in your security system but also your local police station (normally contacted by the monitoring company).
Under most contracts, for the police to be called out at least two sensors within the property must be tripped (e.g. a door sensor and a motion detector).
Although this sounds like a great feature there are a few things to be aware of in that firstly your monitoring company must be registered with the local police, secondly that this does not necessarily ensure that the police will attend in a timely manner as it depends on what else they are dealing with at the time and thirdly if they respond to three false callouts within 12 months then you will be struck off the list and they will not respond again.
It's also worth noting that where a company does offer this type of service, it will cost.
Fire Monitoring
In the same way that the police can be notified in the event that a breach or threat is detected, this can also be the case for fires if you have fire monitoring.
Again, before a call out is actual made it must be verified either visually from what the cameras pick up or from what any fire detectors detect.
Also, in the event of false callouts, if this happens too often you will again get struck off the list.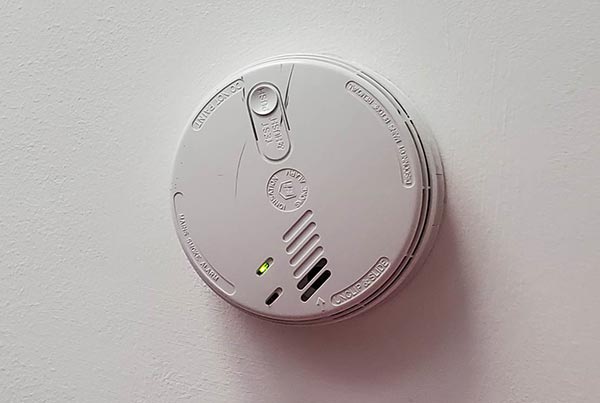 Cost of Installing a Burglar Alarm or Security System
You can buy single magnetic alarms for windows and doors and these generally cost around £20 each, however they will only protect the single window or door they're fixed to.
A full DIY security system can range a great deal in price, starting at around £190 and going all the way up to and over £1300.
With the advances in technology in recent years, DIY systems are now a real option in terms of how well they can secure a home or building.
When it comes to monitored security systems the costs do vary quite a lot. The cost of actually buying and installing the system ranges from around £190 (simplisafe) up to £1300 and monthly monitoring costs start at around £15, with mid range costs of around £30 and higher end up around the £100 mark.
As you would imagine, what you initially layout for the system reflects what you actually get. The lower the cost the more basic the components you will receive (normally 1 of each e.g. door sensor, PIR, camera etc.). This is also the case for how much you pay for monitoring costs e.g. the more you pay the more comprehensive cover you will get.
GSM Alarms
First of all let's do some explaining. What is a GSM Alarm? Well GSM means Global System for Mobile communications. So it doesn't need a phone line, it works with a SIM, like your mobile phone, so like the Simplisafe and similar systems mentioned above, it's wireless.
These days GSM alarms are designed to let you use your mobile phone or tablet as a remote control for your security system. These generally work through a simple app.
There are different options available for GSM systems as there is with the other systems mentioned above such as temperature detectors for fire and flood detectors for, well, floods, indoor and outdoor cameras and much more.
When a sensor is tripped, this can then trigger the system to send notification to an app and also to a control centre, depending on whether you have a monitoring contract or not.
CCTV Systems
CCTV means Close Circuit Television. If you own your property it is perfectly legal to install a CCTV system. Just check if you require planning permission.
CCTV systems are in a way the original type of security system. They are basically a series of cameras setup to monitor the inside and outside of a given building that capture images and relay them to a central control unit.
The unit then records the footage form each camera, allowing you to either watch it live or play it back in the event of an issue.
Many modern CCTV systems also allow you to view the footage they capture and record over the internet in a web browser or through an app.
In terms of positioning cameras, they should only be trained on your property, and not your neighbour's property, unless they give their permission.
Just be careful where you are pointing your camera, any cameras trained on areas beyond your property boundaries could amount to harassment, and they could contravene The Human Rights Act.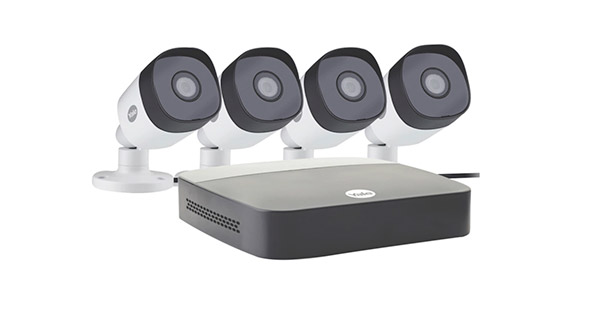 Panic Button
Panic Buttons bring peace of mind, especially to the elderly and vulnerable. A panic button does what it says on the tin. If you hit the panic button, it will raise the alarm.
You can get wall-mounted panic buttons, integrated intruder alarms and panic buttons and it may be combined with a personal alarm worn as a pendant. When activated it dials one or more of the programmed contacts as well as alerting a customer security centre.
Due to their obvious effectiveness, most system suppliers (ADT, Yale, Simplisafe, Verisure etc.) now all offer the option to have a panic button feature as part of a system.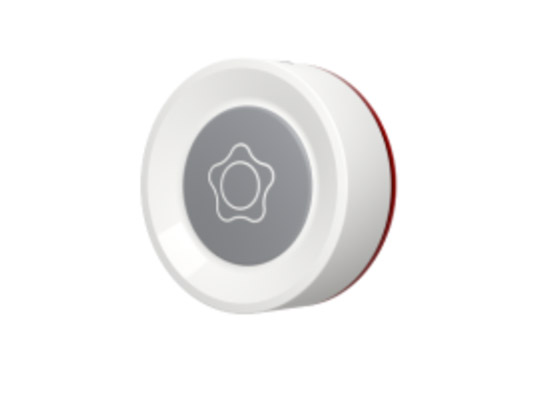 Dummy Burglar Alarm Box
You can fit a dummy alarm box on the outside of your house, which may deter a small-time opportunistic burglar. However professional thieves can tell the difference between a working alarm system and an empty plastic box sitting on the outside of your house.
This device is not likely to work very effectively, and you won't benefit from reduced contents insurance premiums either, so you're probably better off spending the money on better locks for doors and windows to secure your home better.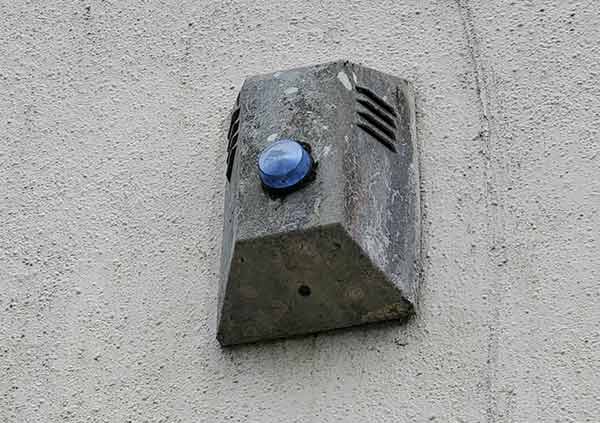 How To Identify 'At Risk' Areas
Different types of homes have different weak points when it comes to home security and identifying each and ensuring that it's covered by a camera or sensor is key to ensuring your home is fully secured..
A house with large gardens may have large areas around ground floor windows that are badly lit at night. This will allow intruders to pick an easy access point without being seen.
In situations such as these, the addition of PIR security lights to light the area up if they sense movement is a great idea. Also a burglar alarm and security camera would add additional levels of security.
In a second floor flat, the main at risk area would be the hall adjacent to the entry door as this is the only reasonable entry route. A door entry system with a video link might be the best solution here.
A terrace house with a long footprint could benefit from detectors at the front and back doors. These may have magnetic contacts on each door or PIR's positioned on the walls opposite.
In most homes the front door is generally deemed the most likely entry/exit route. So it makes sense if you are fitting a home security system to have the control sited near the front door so you can arm and disarm it easily when you leave or enter your home.
Using Exterior Lighting to Improve Security
Outdoor lighting is a simple, cost-effective, way of protecting your property against both vandalism and burglary. It's fair to say that intruders would much rather go about their business in the dark!
The different types of outdoor security lighting include the following.
PIR Security Lighting
PIR (Passive Infrared Sensor) motion sensor lighting is activated when someone walks within the detection area. The light will come on for a set amount of time, and then if there is no more movement it will turn off until it detects movement again.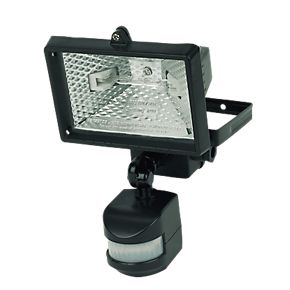 Dusk to Dawn Security Lighting
'Dusk-to-dawn' lighting provides all-night illumination. The time that the light comes on can be set by a timer or is activated by a light sensor. These will not alert you of any movement on your property, but they should make your home much less attractive to burglars.
Hi-Lo Security Lighting
'Hi-Lo lighting' switches on automatically at dusk using a light sensor. This light is less bright than the full setting, which is triggered if it senses movement or body heat within range. Hi-Lo lighting effectively combines the two systems above.
Don't forget to include back doors and side alleys when you are fitting security lighting.
It is convenient to have motion sensor lighting at the front of your home so you can find your keys, but don't forget the main purpose is to show up any likely burglars. Stand outside your home in the dark and check which areas might benefit from a security light.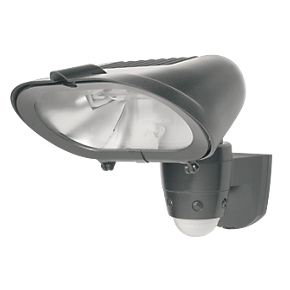 Solar and LED Energy Saving Options
The majority of the cheaper security lighting available will either use a Halogen bulb or domestic-type bayonet or screw in bulb. If these lights are left on for long periods during the day or night this can mount up in terms of energy usage and costs.
Fortunately today, most security lights are available as LED's so it's worth shopping around. They will be more expensive to purchase but will save you a fair bit in the long run.
On a comparative level a 20W LED security light will use 90% less energy than its 400W counterpart.
As well as LED options, many outdoor lights are available in a solar version meaning that not only can they be easily fixed in any location (as you don't need to connect to the mains) they are effectively free to run!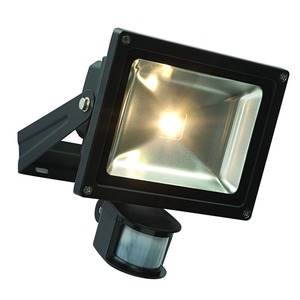 Unlike in the past, when security systems were quite new technology and due to this very expensive, today's offerings are much less so and are certainly an option even for those on a tight budget. Coupled with the easy setup and huge steps forward in technology, todays home security systems should certainly be an option for anyone looking to secure their property.