Going to the tip with your garden rubbish can be a pain. Its time consuming and nine times out of ten there is a queue at the weekends. Local councils now charge for garden waste bins so when you add up the cost of time wasted at the tip or the charges for garden waste collection, buying a garden shredder or chipper makes perfect sense. Especially if your garden contains trees, grasses and bamboo like the one in the photo!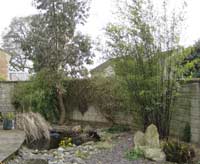 Branches, rose bushes and especially bamboo needs trimming regularly to keep it tidy. Bamboo grows so fast you can almost watch it which is fantastic news for makers of bamboo flooring!
Garden shredders and chippers come in many shapes, sizes and prices. Generally speaking the more you pay, the stronger the motor and the better the chopping, shredding or chipping action you get.
Many chippers and shredders "spit" the wood mulch or chips out directly onto the ground, (or use a collection bag to save additional raking up!) but some (as in the images) have a built in waste basket underneath. Always remember to wear a safety mask, gloves and goggles. Unless you have purchased a 'silent' machine, then ear defenders should also be worn.
The branches are fed in (usually) at the top with most domestic shredders. The better quality shredders will easily eat up the wood and the leaves but the cheaper ones will clog on the leaves sometimes. This makes it hard work as, although its easy to clear the blockage, its very time consuming as the safety housing covering the motor needs to be removed every time. There is a safety cut out switch which prevents the motor running while the cover is off.
Feeding branches into the shredder is automatic after you have inserted it. The motor slowly pulls the branch into the blades and their turning action pulls more branch in, chopping and shredding as it goes. A large STOP switch is usually available in case you get an item of clothing caught on a branch.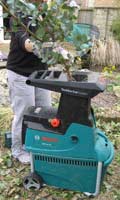 Using a garden shredder to clear your garden can save you time and money and the waste is then so easily disposed of.
A section of bamboo, the same size as the one in the top left image, only just filled the container in the photo below whereas it would have taken 3 garden bins and at least two trips to the tip. Not to mention all the sawing!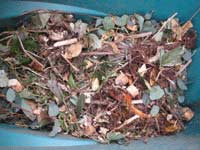 Take a look at our video section on Green Living and go to the composting section to watch an excellent 5 part video on how to set up a compost bin in your garden.